Now that the Fall season is just about here, it's time to start thinking about updating your look! But wait. You don't have to reinvent yourself every season to stay stylish boldly—you need to give your style a few tweaks.
If you're unsure where to start, French girls are always a great place to look for style inspiration because they have a fantastic way of making everything they wear look chic and effortless. Ready to be inspired? Here are some of our favorite French fall style rules, trends, and checklists from French girls that you can start incorporating into your look right now.
French Girl Style Rules for Fall
Fall has arrived, and you know what that means—it's time to start stocking up on your autumn wardrobe! If you're looking for style inspiration, the French can teach us a thing or two about how to dress for fall. Here are French girl-style rules for fall to keep in mind as you get dressed this autumn.
Shop Timeless Pieces
French girls are known for their effortless style, and an easy way to emulate the look is to invest in timeless pieces that will last you for years. When shopping for fall pieces, make sure to purchase classic clothing that can be worn many times over. For example, if you are looking at a pair of black high-waisted jeans, think about whether or not they would be flattering ten years from now. If the answer is yes, then they're worth the investment.
Choose Fall Prints
Opt for fall classics like plaid, houndstooth, or chevron for prints. These prints tend to be more classic than the floral patterns we see in warmer months, and they can easily transition into the winter season.
If you're not interested in wearing a lot of prints, then stick with simple colors like black or white dresses with some texture like lace or velvet, which will enhance your outfit without being too flashy.
Wear Fall Fabrics
As the weather turns and starts to get chillier, it's time to put away those light fabrics of summer and break out the heavier materials. Consider fall staples like cashmere and wool because they are cozy without being too bulky, so you can still move freely in them.
Ignore Trends, Stick to Basics
The key to French girl style is to build a wardrobe around classic pieces that you know will never go out of fashion. You should stick with neutral colors and simple silhouettes when shopping (think black pants, white tees, and navy sweaters). You can always add a pop of color or pattern with accessories such as scarves or shoes—make sure those pieces are timeless!
Prioritize Comfort Over Fashion
When it comes to dressing for the season, French girls choose comfortable clothing but look elegant and on-trend. They make sure they can move quickly in their outfits while still looking great. For example, they might wear a pair of wide-leg trousers with an oversized sweater or jacket to give them a lot of room to move around without compromising their style.
French Fall Fashion Trends
The French have been known for their impeccable style for decades, and this fall is no exception. Here are some of the trends to consider.
Fall Layering
In France, autumn is all about layering. It's not quite cold enough for thick wool coats and heavy sweaters, but it's too chilly for a light jacket. What does one do? Layer. In France, you'll see men wearing button-down shirts under sweaters or a scarf and a blazer over the top. Women wear long-sleeved dresses with tights, ankle boots, and a light coat. Fall layering is an art form in France—one that can take years to master—but no matter how simple your layering is, you will look chic. Don't be afraid to layer!
Thick Materials
You should also switch from thin materials like cotton and linen to thicker fabrics such as corduroy and wool during autumn. Although these materials may feel warmer than lighter ones, they will not always heat your body quickly when the temperature drops outside. Try looking for clothes made of flannel or fleece instead if you want to stay warm and cozy during fall.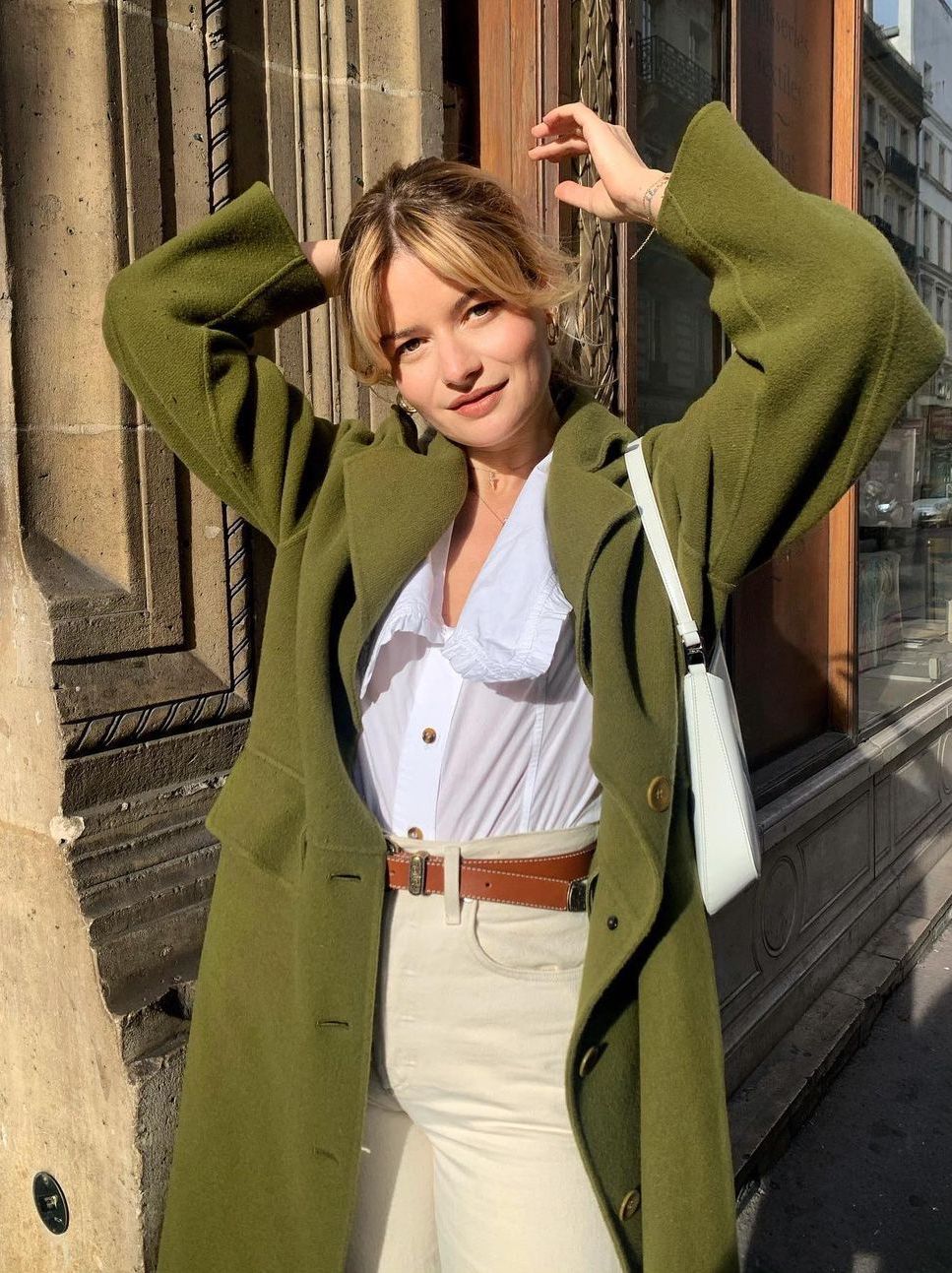 Statement Handbag
Statement handbags are this season's must-have French fashion item. If you want to look like you're living in Paris, strutting the streets of Montmartre arm in arm with your beau, then you need a statement handbag.
This year's trend is all about boldness: after last season's muted, neutral trend, it's time to step out with a bag that will grab everyone's attention. Traditional black and brown leather bags are out; bright, vibrant satchels are in. Don't be afraid to clash your bag with your outfit for a unique look that will have everyone talking about you well into next season!
70s Influence
The 70s are making a comeback this fall in Paris. The French have been wearing flared pants and oversized scarves for the past two months now, but the trend that's picking up steam is the fringe jacket. This jacket is made with bright colors and soft fabric and has fringes hanging off the sleeves and bottom hem.
French Girl Fall Fashion Checklist
Fall is here, and it's time to update your closet with some season-appropriate French girl-inspired pieces—so you can be stylish, warm, and chic as the temperature drops. We've rounded up some of the favorite French girl fashion trends for fall, so you can look like a Parisian without even trying.
Wool Blend Blazer
The wool-blend blazer is a staple in any Parisian wardrobe. Pair it with jeans and a basic tee for an effortless look, or throw it over a slinky slip dress when the weather starts to turn. This piece will keep you looking put-together while keeping you snug as the days grow shorter and the nights chillier.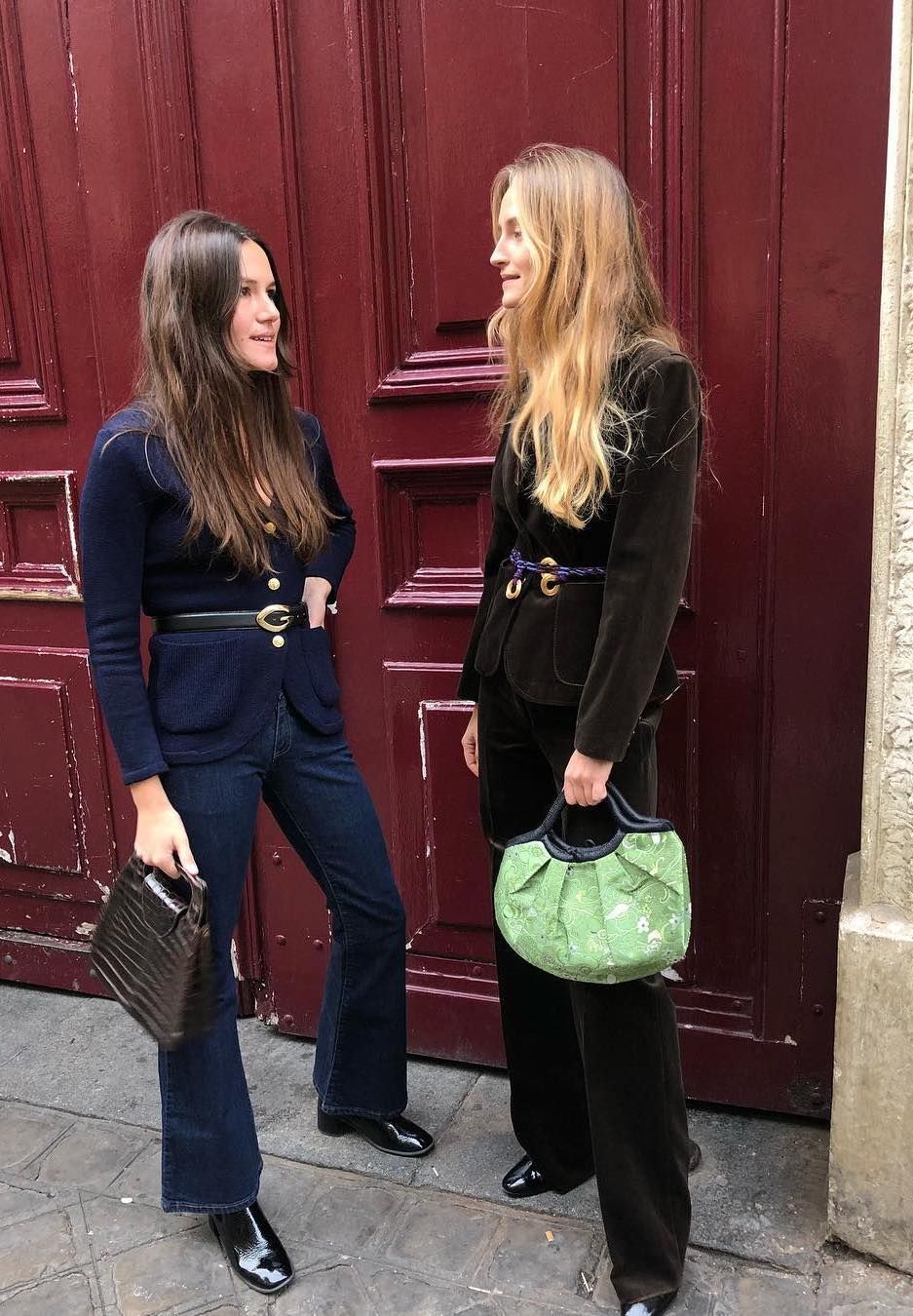 Trench Coat
The beige trench is another classic piece that can be worn in any season, but it's especially great for fall when temperatures start to drop, and you want to look fashionable without sacrificing comfort or warmth. The trench coat is one of those timeless pieces that never go out of style, so if you invest in one now, it will serve as an excellent addition to your wardrobe for years to come!
Basic White T-Shirt
The basic t-shirt is a staple of every closet, and it can be styled in so many different ways! The best part about this item is how versatile it is: wear it with jeans or chinos for casual looks, under jackets and blazers for more formal occasions–the possibilities are endless!
Breton Striped Top
For decades, the Breton striped top has been a staple for the French girl look. The classic white and blue striped top can be paired with almost anything, including straight-leg jeans and a statement jacket, or even dressed up with a long skirt and heels. The Breton striped top is flattering on all body types, so it's no wonder why it's always in style!
Turtlenecks
A turtleneck is an easy way to add chicness to any outfit. Turtlenecks are also very on-trend right now, thanks to celebrities like Kendall Jenner and Bella Hadid rocking them on the runway. They look great under a suit jacket or paired with your favorite jeans and boots for a casual feel. You can even wear a turtleneck as an outer layer by layering it over another shirt like a button-down blouse or cardigan sweater!
High Waist Jeans
The jeans are perfect for the fall season. Not only do they add dimension to your outfit, but the high waist adds a touch of class and sophistication. Unlike low-waisted jeans, high-waisted jeans don't show your underwear when you sit down. You can pair the jeans with a simple top or a blouse for a more formal look.
Knit Dress
A knit dress is something you should always have in your closet. It's easy to throw on, and it looks great with any color or style of shoes. You can wear them for any occasion, whether it's a fancy event or just going out for groceries. The knit dress is an absolute must-have for any French girl!
Black Straight-Leg Jeans
Black straight-leg jeans are the perfect addition to any outfit this fall season! They're so versatile that you can wear them with a casual t-shirt and sneakers, to an elegant blazer and booties. Plus, they're slimming too, making your legs look longer than ever before!
Oversized Blazer
The oversized blazer is an essential French girl's fall fashion checklist item for two reasons: it is classic and comfortable.
The oversized blazer makes dressing easy because you know that whatever you pair it with will look good. You'll want to find a big jacket in a classic color like black, navy, or cream so that it goes with everything.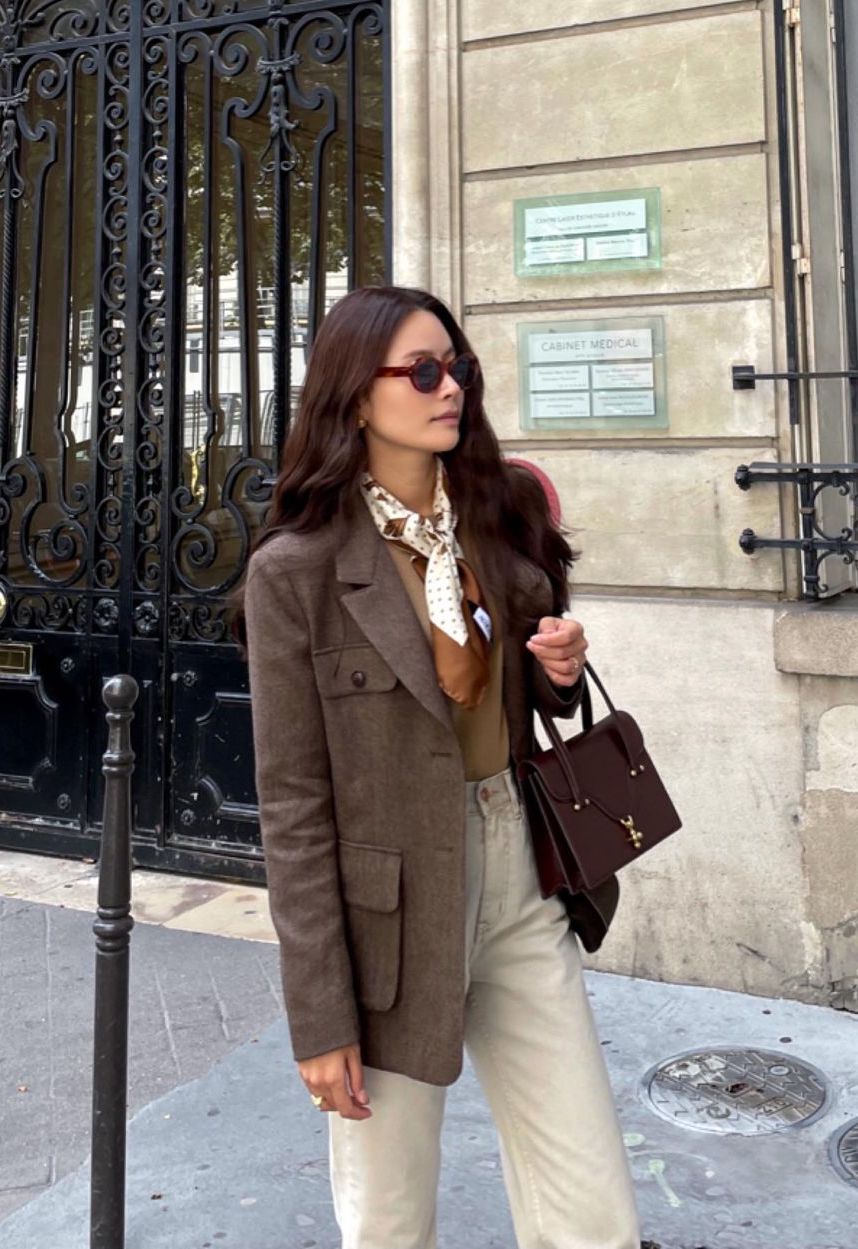 A blazer can accentuate a cute sundress or add a touch of class to a basic jeans-and-tee combo. The plaid blazer is a staple in any French girl's wardrobe because it can be paired with almost anything.
Cozy Sweater
A cozy sweater is the perfect addition to a French fall outfit. Whether you're going out to brunch or going apple picking, the cozy sweater is your go-to item for this time of year. A lightweight cashmere sweater in a bright color will be perfect for those cool but sunny days in September and October when you aren't ready to break out your puffer coat yet.
For colder days when you still want to look cute and cozy, pair your cashmere sweater with some leggings and boots, or layer it over a long sleeve tee and jeans.
Chunky Knit Cardigan
This fall, a chunky knit cardigan is another trend from France that we're super excited about! There are many ways to wear these cardigans: over a dress for a more dressed-up look, with jeans for an easy everyday outfit, or even layered underneath your favorite coat on those chilly days.
White Button-Down
The white button-down is a staple of French fashion, whether in Paris or the South of France. That's why it's the perfect item to add to your fall French fashion checklist. Whether you wear it tucked into jeans with a statement necklace or layered under a dress with a knit scarf and ankle boots, this classic item will become your go-to fall look.
The Perfect Navy T-Shirt
A simple navy tee can make or break any French girl outfit and that's why it's so crucial that you include one as part of your French girl fall fashion checklist. A tee is a perfect piece for layering—you can wear it with literally anything!
Try pairing it with a neutral long skirt and sneakers for a casual look, or tucking it into your favorite high-waisted jeans with a statement necklace for something more formal. Don't be afraid to experiment!
Silk Camisole
A silk camisole is a perfect addition to any French Girl look because it adds elegance and sophistication without looking too formal or stuffy. Plus, you can pair it with almost anything—jeans, skirts, dresses—and it always looks great!
Leather Ankle Boots
Leather ankle boots are another fall/winter staple that provides just enough coverage to keep you warm without being too stuffy for when you want to wear shorts or skirts. Look for a pair of black leather ankle boots with a slight heel for maximum versatility—they'll go great with all of your skirts, dresses and jeans! Leather boots are definitely one of the French girl shoes you must have.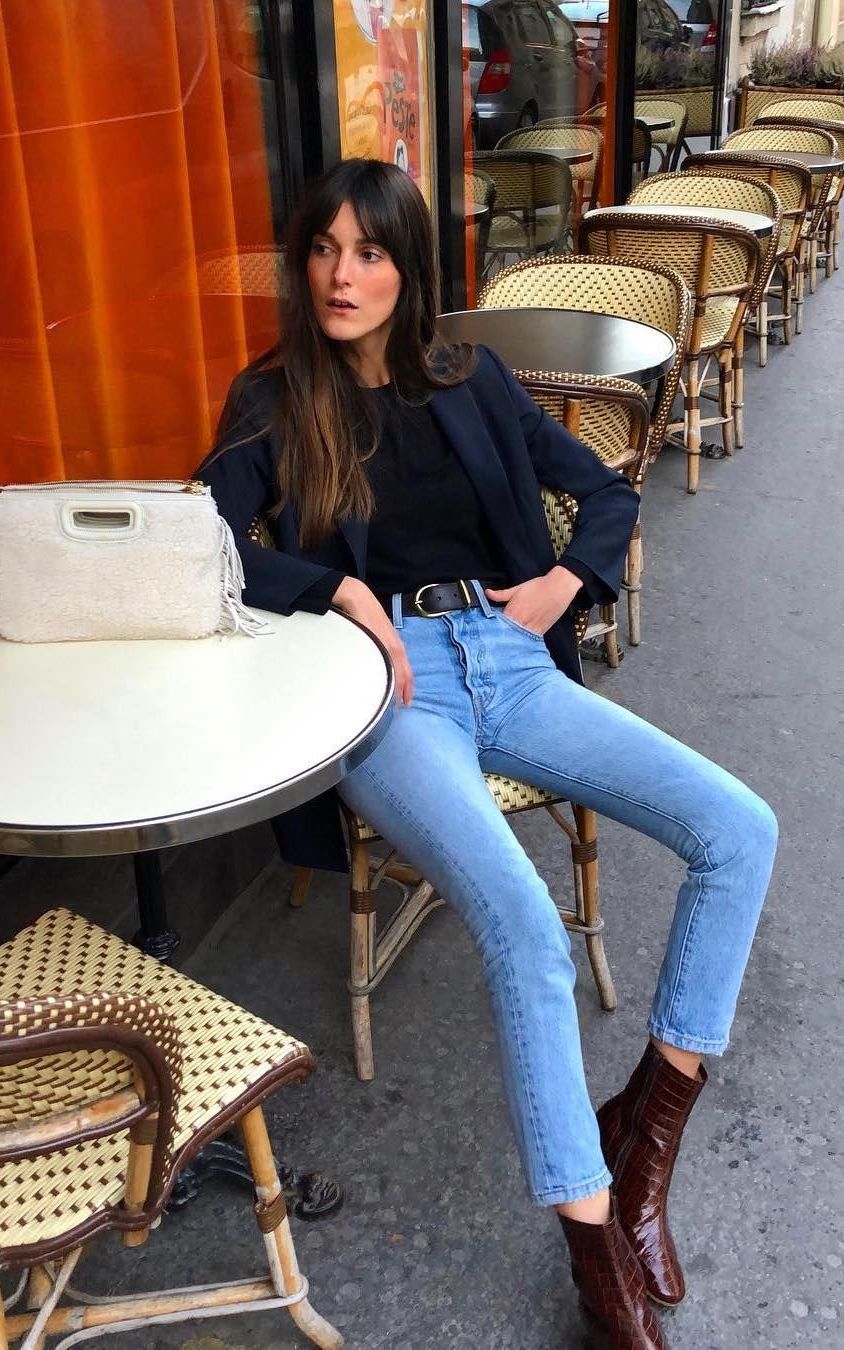 Leather Handbag
French girls are the ultimate cool girls. And what's the ultimate cool-girl handbag? A leather one, of course! But what kind of leather handbag? Well, you can't go wrong with a medium-sized handbag, though there are also other options to consider (see below). You'll want to make sure that this is a bag that can hold everything you need for the day, like a wallet, phone, makeup, and perfume.
Brown Leather Belt
A brown leather belt is perfect for pulling together any outfit and making it look more polished. This accessory is both stylish and functional, so it's a no-brainer for French-girl fashion!
Cashmere Scarf
A cashmere scarf is a perfect way to keep your neck warm and add a touch of style to your outfit. Look for a neutral color that will complement the rest of your wardrobe, like camel or navy blue. As an added bonus, a cashmere scarf can be worn with both casual and formal looks, so you'll never find yourself without one if you buy one in a neutral color.
French Fall Fashion Outfits
We have a few French fall outfit ideas to inspire you if you want to know exactly how to dress like a French girl in fall.
With a new season comes new trends for the most stylish looks around the globe. Designers and fashionistas have their eyes on French fall style, where stylized looks take the spotlight. Shop French chic with these must-have clothing and styles.