There are some items of clothing that every woman should own before she turns 30. If you feel that your closet doesn't serve you well, then you might be missing some of these key wardrobe staples. Putting an outfit together should be easy every morning and these French wardrobe basics will help give you the foundation to look your best each day!
A well-rounded French wardrobe isn't complete without a few key basics. These are the pieces that you can always rely on to create chic, effortless looks.
Lots of readers ask me where to shop for French style affordable wardrobe basics. I recommend checking out H&M, & Other Stories, Gap, and Banana Republic for cheap wardrobe basics. In my recommendations below, there's a mix of high and low pieces! Sézane is a classic for French wardrobe basics, but it can be pricey for some.
Here are some essential French wardrobe basics to get you started with French girl style.
Black/White T-shirts
A simple black or white tee is a staple in any French girl's wardrobe. Wear them on their own or under heavier sweaters.
Black/White Tank Tops
Tank tops are perfect for layering under blazers or cardigans. They also work great on their own in the summertime.
Button-up Shirts
A few white and blue oxford style, long-sleeve button-up shirts are always good to have on hand for layering. French girls tend to size up and wear them loose. Figaret is a mid-range French clothing brand known for its shirts, while this Sezane Tomboy shirt fits the bill for a bit cheaper.
Blue and White Striped Marinière
The classic Breton stripe top is another key piece in a French wardrobe. It's perfect for nautical-inspired looks in the summertime, too. A striped shirt is a wardrobe staple in France. It's best for casual days and everyday errands. Go for the Colette shirt by Sezane, or the very traditional Saint James brand shirts.
Cashmere Sweater
A cashmere sweater is a luxurious and timeless piece that can be dressed up or down. It's perfect for layering in the winter or wearing over a T-shirt and a pair of jeans.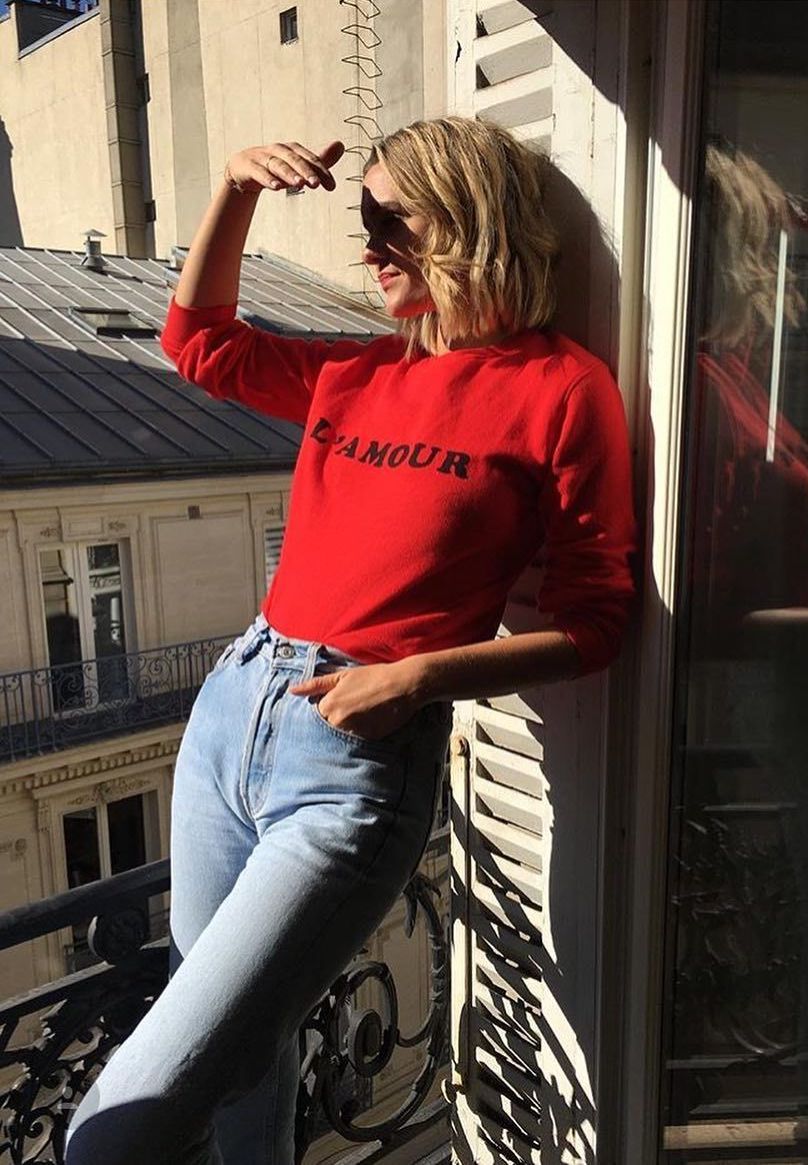 Little Black Dress
Every woman needs a little black dress in her wardrobe. It's perfect for so many occasions, from work to after-work drinks.
White Linen Dress
A white linen dress is perfect for summertime. It's airy and breathable, making it ideal for hot weather on the French Riviera. French designer brand Chloé makes beautiful dresses with English embroidery.
Floral Dress
A floral dress is perfect for spring and summer. It's feminine and pretty and can be dressed up with heels or down with sneakers.
Beige Linen Shorts
Beige linen shorts are a summertime essential. They're perfect for days when you want to feel put-together, but still relaxed and comfortable.
Black Silk Midi Skirt
A black silk midi skirt is a versatile piece that can be dressed up or down. It's perfect for work, dinner parties, or brunch with the girls. I really love the Anine Bing bar midi skirt.
Blue Straight Leg Jeans
Denim is always in style in France, and a great pair of straight-leg jeans are a closet staple. They can be dressed up with a blazer and heels, or down with a simple t-shirt! Levis and Reformation are my go-to jeans.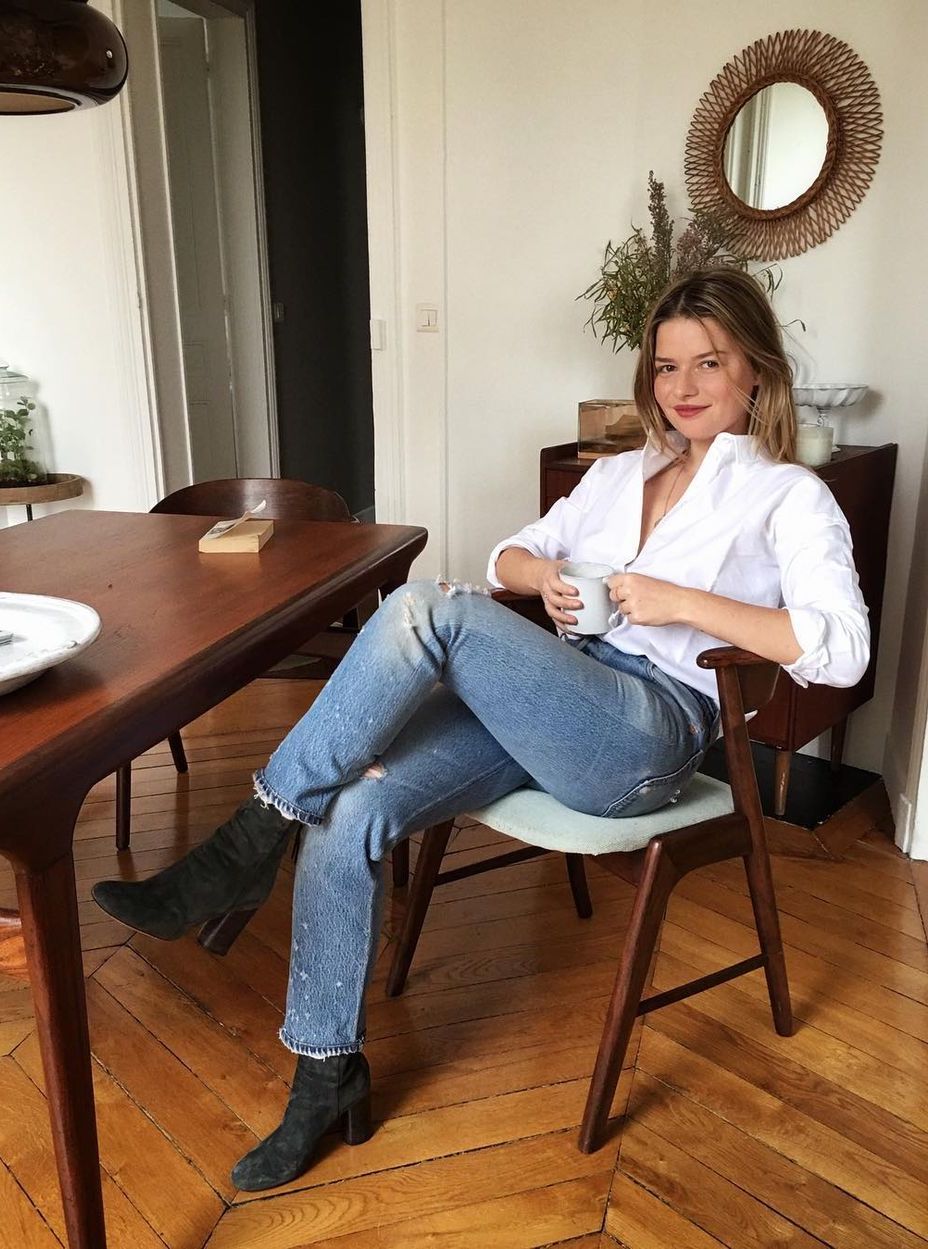 White Jeans
White jeans are perfect for spring and summer. They can be worn with a floral top and sandals for a chic, put-together look.
Black Tailored Pants
Black-tailored pants are perfect for work or formal occasions. They can be dressed up with a blouse and heels, or down with a T-shirt and flats.
Beige Tailored Pants
Beige-tailored pants are another versatile piece that can be dressed up or down. They're perfect for work, springtime events, or casual get-togethers.
Trench Coat
A trench coat is a must-have in any wardrobe, but it's especially key in a French wardrobe. It's the perfect piece for transitional weather and can be styled in different ways. The Sézane Scott trench is a French girl classic wardrobe piece.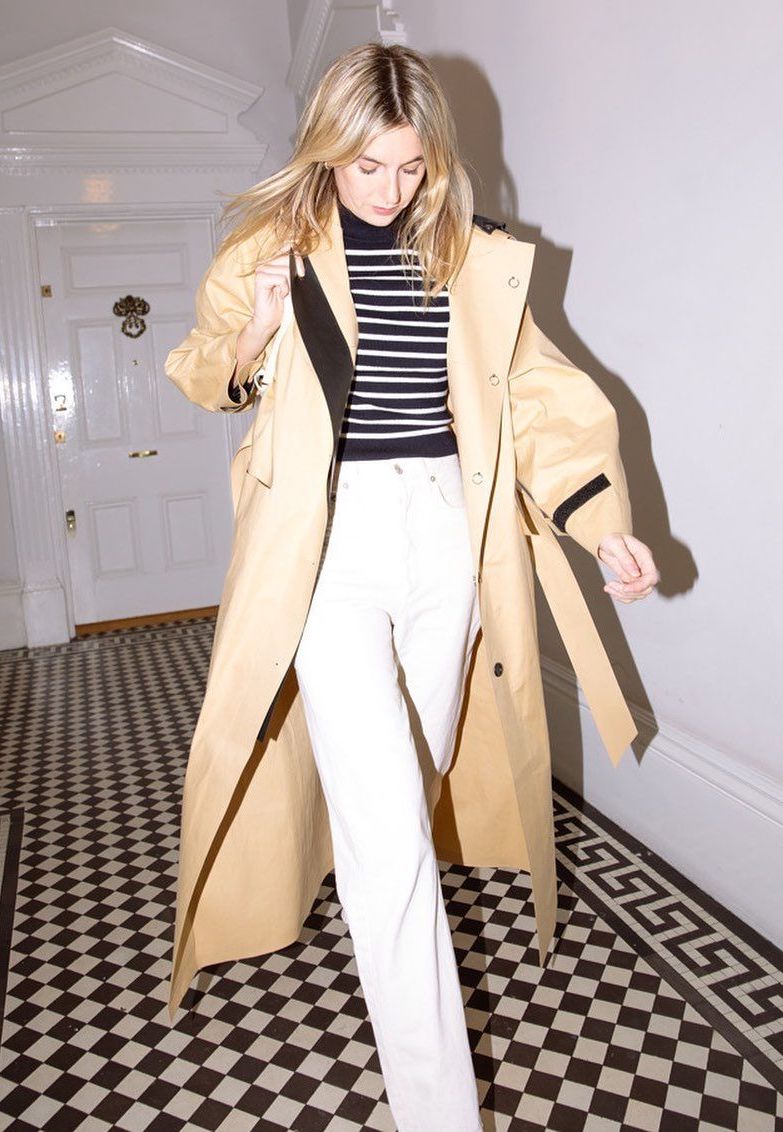 Fall Blazer or Jacket
A blazer or jacket is perfect for layering in the fall and winter. It can be worn over a t-shirt and jeans, or over a dress for a more polished look.
Black Blazer
A black blazer is a versatile piece that can be worn with slacks and a button-down shirt for work, or over a t-shirt with black jeans. The most desired black blazer for French wardrobe basics is the YSL Le Smoking jacket. Save up for it or splurge if you can!
Camel Wool Coat
For winter, a camel wool coat is a key piece in any French wardrobe. It's warm, chic, and perfect for layering over sweaters and dresses.
Hermès Silk Scarf
Hermès has a French heritage like few other luxury brands and owning one of their silk scarves is vital. Hermès has been known for producing high-quality leather goods for over a century. The company has a strong reputation for craftsmanship and quality, and its products are synonymous with luxury and style.
Hermès silk scarves are renowned for their intricate designs and fine craftsmanship. The company employs skilled artists who create unique and beautiful designs, which are then printed on the finest silk using traditional methods. Hermès silk scarves are highly collectible, too; the rarest designs can fetch high prices on the secondary market, making them a popular item among collectors and fashionistas.
Hermès silk scarves can be worn in a variety of ways, making them a versatile accessory that can be worn with both casual and formal attire. They're perfect for adding a pop of color to any outfit. They can be tied around the neck, used as a headscarf, or even used as a belt.
Leather Crossbody Bag
A leather crossbody bag is perfect for days when you want to be hands-free. It's also a great option for travel, as it can be worn over the body. Get one in brown and one in black leather if you can!
Gold Pendant Necklace
A gold pendant necklace is a timeless and elegant piece of jewelry. It can be worn with a t-shirt and jeans for a casual French girl look. The Van Cleef & Arpels Zodiac Pendant necklace is a great investment pick.
Black Flats
Black flats are perfect for everyday wear. They're comfortable and chic and can be dressed up or down for cocktail hours or coffee with friends.
White Sandals
White sandals are great for wearing to summertime or springtime special events.
Brown Leather Sandals
Brown leather sandals are perfect for summertime. They can be worn with shorts or a sundress for a casual look or dressed up with a skirt or pants.
Gold Strappy Heels
Gold strappy heels are perfect for a night out or a special occasion. They add a touch of glamour to any outfit and can be worn with a variety of different looks.
Leather Ankle Boots
Two pairs of brown and black leather ankle boots are perfect for fall and winter. These shoes can be worn with jeans or skirts, and are a great option for transitional weather.
Knee High Leather Boots
For fall and winter, black knee-high leather boots are a must-have. They can be worn with dresses, skirts, or jeans, and are perfect for colder weather.
Now that you know the basics, you can start building your French wardrobe! These pieces will help you create chic, effortless looks that are sure to turn heads.