Ever wondered how to wear a trench coat like a French girl? Today I'm going to share some French style trench coat ideas as well as some history behind this iconic garment!
The trench coat is a key staple to own if you want to get French girl style.
The French are probably most known for wearing the trench coat year-round and treating it as not just a staple but a fashion statement. The trench coat is one of the most versatile articles of clothing one can own, it can be worn over workout clothes, on the way to a day at the museum, or over a business casual outfit.
French Girl Trench Coat Style
The key to styling a trench coat the French way is to keep your outfit clean, simple, and minimalist. While trench coats can pair well with just about anything, French girls avoid looking too flashy overall. The trench coat is really the perfect French outerwear choice for so many seasons from spring to fall!
Here are a few ideas for how to style a French trench coat:
With a White Tee and Black Jeans
This is a great simple everyday French girl outfit with a trench.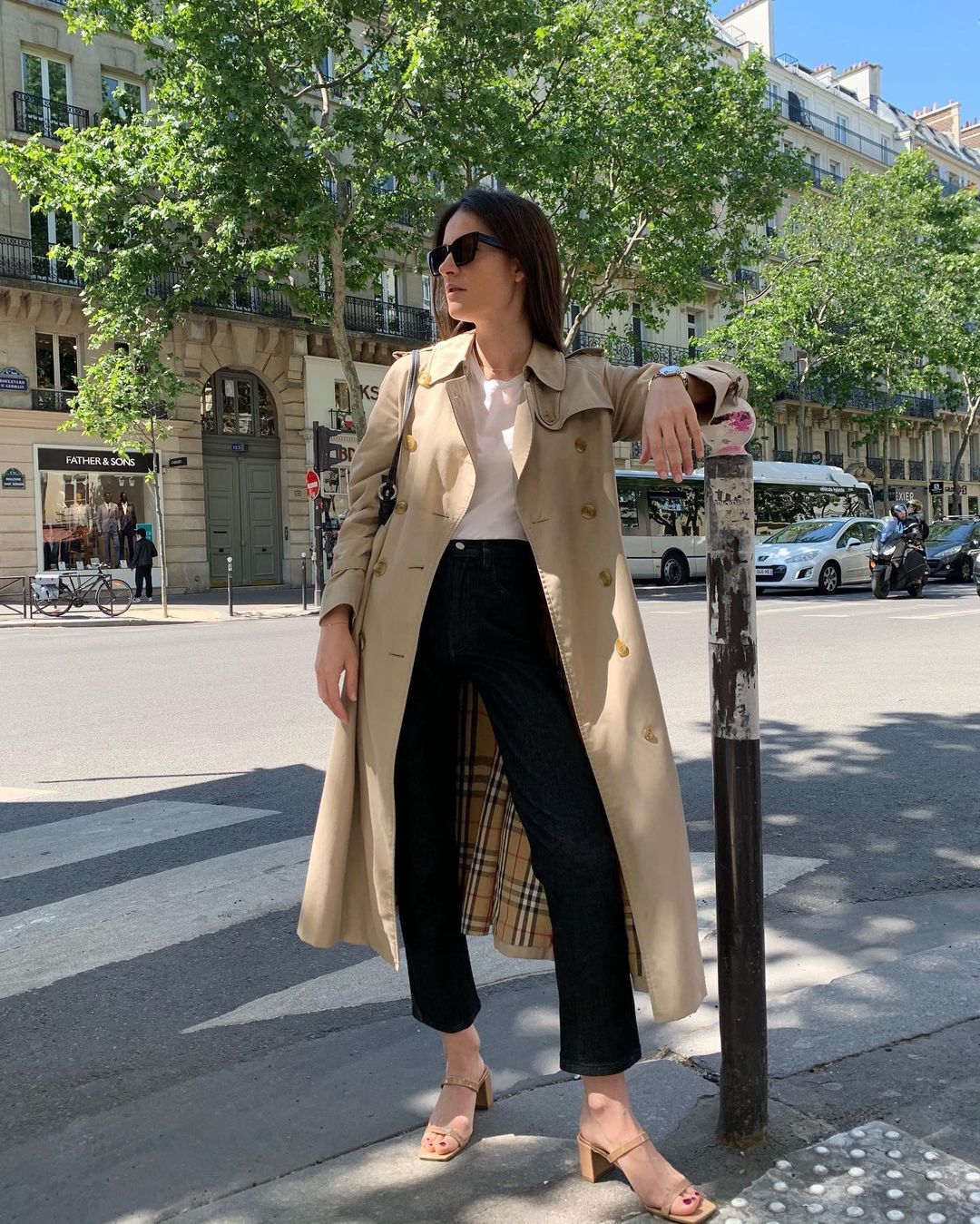 With White Jeans and a Wicker Bag
Pair your trench with a good pair of French white jeans and a Jane Birkin-inspired wicker bucket bag for the ultimate French girl outfit.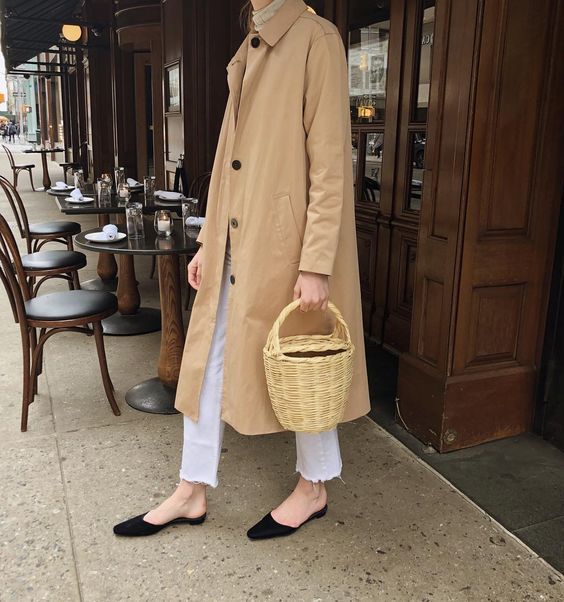 Over a Quilted Jacket
I love how Leia layered her trench over a quilted jacket in the winter to keep warm. It goes to show how the trench is really a year-round piece!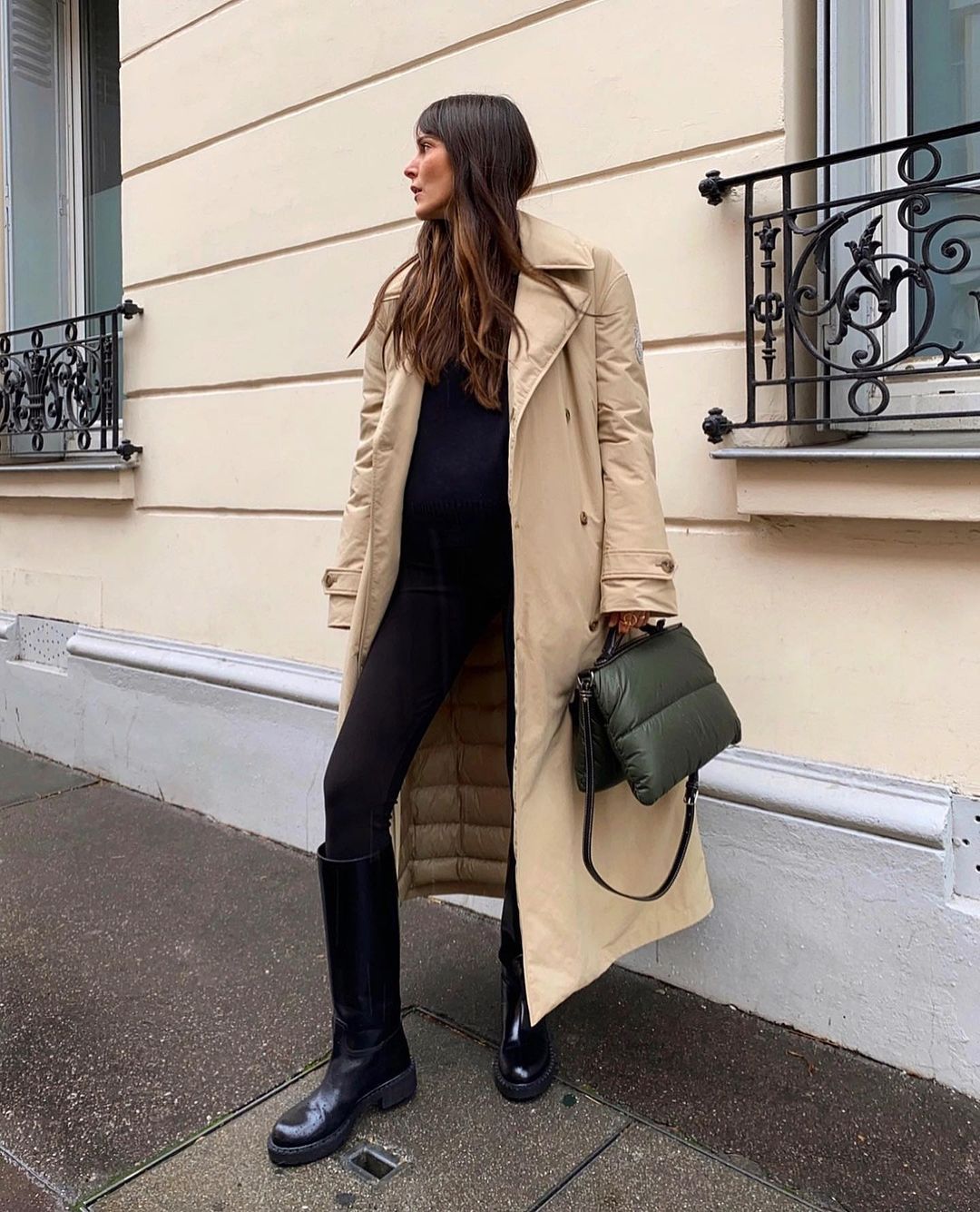 Best French Trench Coats to Buy
If you don't get own a trench coat, here are my recommendations for brands to consider when buying French style trench coats. It's probably best to go with a classic beige trench for your first buy, but you can often find trench coats available in different colors like ivory or khaki green if you prefer to switch it up!
As one of the French wardrobe essentials, you'll definitely get lots of use out of this classic outerwear piece!
Sézane
Sézane knows how classic the trench coat is which is why they designed the clean-cut Scott trench coat in three colors: camel, khaki, and navy! This affordable French trench coat has a large lapel collar, raglan sleeves, a row of buttons on the shoulders and on the cuffs, a slit in the middle of the back so you can sit down comfortably, as well as a removable waist belt to tighten it as needed. Get it fast because this trench sells out every season!
Sandro
Sandro always has cool and interesting French trench coat designs. One season they created a stunning trench coat with a pleated back.
A.P.C.
A.P.C. is an awesome French minimalist fashion designer who makes high-quality French trench coats. You will have these coats for years!
Burberry
Even though Burberry is an English fashion brand, it's super popular with French girls. Sometimes they buy these trench coats vintage or find a gently used one. This is definitely an investment piece of clothing but with a style this iconic, you can't go wrong!
Affordable Trench Coats
If you're on a clothing budget, then it's best to go with a fast-fashion or vintage retailer like & other stories, Gap, Mango, or H&M.
Trench Coat History
Throughout the course of history, we have seen many styles come and go. In the 1920s the flapper dress was in style, then in the 40s and 50s, women started dressing in aprons and housewife style clothing, while men suited up to go into the office. Then came the 1980s with neon workout attire and mini skirts. While styles come and go, there are always a few pieces that never grow old. One of the most constant chic pieces is the trench coat!
The trench coat is not only timeless but also genderless, anyone can rock a trench coat, from a college student to an elderly man. One of the reasons the trench coat has probably been such a wardrobe staple is because it originated in Europe.
A Practical Military Garment
The trench coat, though fashionable, was not designed to be a fashion staple, but in fact, was designed for its purely utilitarian needs. It may surprise you to learn that the trench coat was not designed for fashion models to wear down runways, but in fact was used in WWI to repel rainwater, absorb sweat and stay clean for long periods of time.
In fact, the trench coat was even designed before WWI. The first design emerged around 1823, albeit this design was a rough version of what we know today. The first trench coat model was crafted from rubberized cotton and was initially just meant to be a rain jacket.
A Functional Need
As WWI approached and the need for a lightweight, breathable type of coat was needed, a man by the name of Thomas Burberry came up with a revolutionary design for the trench coat. Thomas Burberry, of that Burberry brand, invented the "gabardine" which was a waterproof and breathable fabric.
The Burberry trench coat was designed to be a more functional type of rain jacket, and from this need, a fashion staple was born. What started off as a military need would slowly make its way into society for the long term.
The original design of the trench coat is still very much seen in the current design. The classic beige coloring was practically designed that way to help officers stay camouflaged in combat – even though we now look at these neutral colors as being trendy and timeless, in true Parisian style.
Mass Appeal
Trench coats were such a sought-after look was that they were seen as suitable only for high-ranking officers, making them more attractive to affluent consumers.
After WWI soldiers would continue to wear the trench coats when they were off duty, walking around the city in these long, beige coats. There was this idea after the war when these men would come home looking tired and more masculine than before, that made the trench coats attractive to the masses, especially those of high classes. The trench coat quickly caught on and transitioned from soldiers' off-duty uniforms into a staple for French women.
The design of the trench coat was unmistakably Parisian in style, from the clean-cut shape to the neutral tone and the ease of just slipping it on top of an outfit to make any ensemble look effortlessly chic.
If you read my French style rules, you know that Parisian style is all about less is more, and the trench coat embodies that idea perfectly.
Since it was designed with functionality in mind, this look is simple and androgynous, two words that perfectly describe the Parisian style. As time went on, the trench coat only gained popularity as many style icons began catching on to this Parisian trend.
Hollywood Takes on the Trench
After the war, the trench coat became glamorized, mainly by Hollywood stars. The trench coat, having a unisex look to it, was worn in movies by gangsters, leading screen men and the sultry actresses who accompanied them.
Seeing women and men of such high status wearing the trench coat made it an even more sought-after item by the general masses.
Some of the most iconic roles where we see trench coats are Humphrey Bogart in Casablanca and Audrey Hepburn in Breakfast at Tiffany's. Hollywood and pop culture had a huge impact on the popularity of trench coats, especially in America. Hollywood essentially replaced the image of a soldier wearing a trench coat with that of a slick gangster or a spy, even a seductive female role, akin to the femme fatal roles in movies like James Bond.
Designers Create Their Own Versions
Shortly after Hollywood reintroduced the trench coat post-WWII, the trench coat started popping up in various colors and styles, while keeping its original frame. Designers went ahead with this style placing their own spin on it.
Even Burberry kept redesigning the trench coat. Many designers adapted the trench coat with their own styles, removing some of the original utility pieces of the trench coat while adding some female touches, making it shorter or longer in length, adding belts or different color combinations.
A Timeless Fashion Staple
The trench coat is just one example of how so many styles today have been adapted from past centuries. The idea that one of the most fashionable and iconic staples in most people's wardrobes started out as a way for military men to stay warm and dry during battle shows that inspiration and style can come from just about anywhere!
This also goes to show that Hollywood and media in general play such a big part in deciding how we as a society view fashion, even something as simple as an outerwear coat. Hollywood cemented the trench coat as a timeless fashion staple, even if it came from elsewhere.
Instead of remembering the coat as something worn by soldiers during the First World War, we associate the trench coat with gangsters or chic women like Audrey Hepburn and Meryl Streep.
Regardless of how or why the trench coat became popular, it is still to this day an essential in so many wardrobes, from Paris to America!