As the temperature starts to rise, it is time to start thinking about the perfect Parisian spring wardrobe for you to wear during the months of March, April, May and June. I am always so inspired by the way Parisians dress in Spring. I wanted to create a list of the perfect spring wardrobe staples inspired by Parisian style that you can use for inspiration and your spring dressing. These French-inspired spring wardrobe essentials will be perfect for that season in between winter and summer when it's not too hot and not too cold. I hope you'll be inspired by these Parisian spring wardrobe ideas!
Parisian Spring Wardrobe
The spring season is in full swing! As lovely as spring can be, the weather in Paris can be a bit temperamental – with cool mornings and warmer afternoons. It can be difficult to know how to dress when the weather is transitioning from the chill of winter to warmer weather. Unexpected rain can be your outfit's enemy – but layers and transitional pieces are your best friend.
To make sure you're ready for the season, we've gathered all your spring wardrobe essentials you should incorporate into your closet. You can ensure you're prepared for April showers, May flowers, and any mix of chilly mornings and sunny afternoons.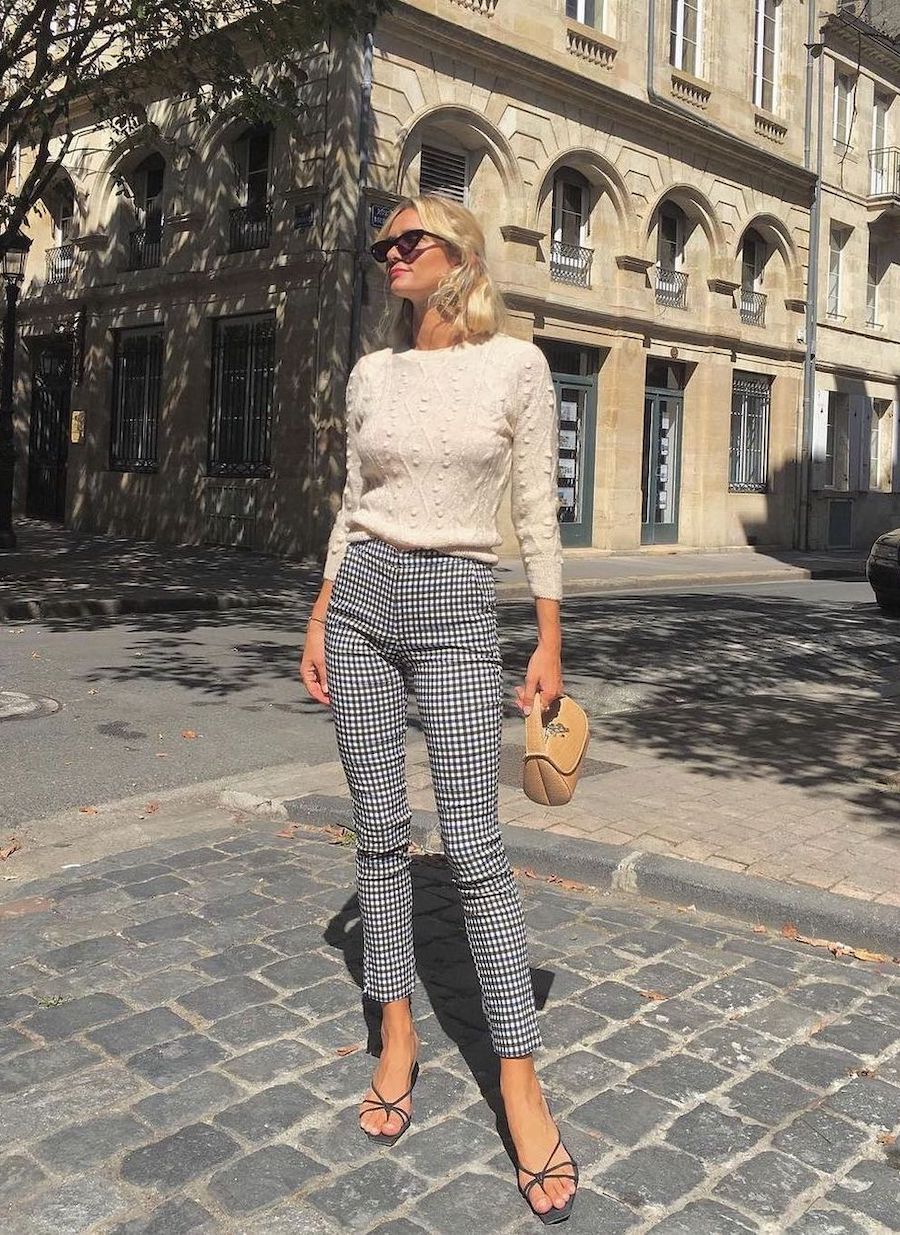 Be sure to check out the list of French wardrobe essentials for year-round, too!
Spring Staples
By gathering a few staples for your spring wardrobe, you'll be ready for every occasion – and any weather.
A trench coat, white jeans, and leather ankle boots are just a few of the closet essentials you'll need to be prepared for all your springtime events – whether it's a Memorial Day picnic or a happy-hour meetup on a rainy evening.
Trench Coat
A trench coat is the perfect transitional piece for spring. In the afternoon, it's too warm to wear your heavy wool jacket. The mornings, meanwhile, are too cold to go without a jacket entirely. A trench coat is a perfect piece that won't have you roasting by the afternoon but will keep you toasty in breezy mornings.
Most trench coats are waterproof and can be dressed up or down. This makes it the ideal piece for rainy weather – and the perfect piece to transition from day to night. Whether you decide to cinch the belt in a knot around your waist or leave the coat open to show off your outfit, a trench coat is the perfect lightweight outerwear piece for your closet.
Cozy Wool Sweater
Although spring afternoons may be warm, you might find yourself still shivering when the mornings are cooler. You may still be a little chilly sitting outside at brunch – but want to enjoy the sunshine.
A cozy wool sweater is the perfect item to add to your spring closet. It can easily be paired with a pair of shorts so you don't get hot if the afternoon is warmer – but if it's cooler, you can wear the sweater with a pair of jeans.
Cardigan
For days when the weather is temperamental, a cardigan is the ideal layering piece to have in your closet. It will keep you warm if you're inside the store picking up groceries, or running errands on a chilly morning.
You could layer a cardigan with a blouse, t-shirt or tank top and easily take it off if you get a bit warmer walking around in the afternoon. It's the perfect piece to transition your outfits from morning to night and can be worn with almost any outfit.
White Jeans
As you transition from deep, warm colors in your winter closet, white jeans are the ideal garment to have in your spring wardrobe. They're perfect to wear to a picnic in the park or an outdoor concert.
Wear them with a colorful floral top to brighten your look – or pair them with something more neutral for a spring look that's classic and chic.
White jeans also transition well into summer, as the light color won't keep you as toasty as some darker ones will.
Cropped Blue Jeans
While you may have worn full-length jeans all winter, cropped blue jeans are the ideal piece for your spring closet.
They're perfect for days when there's a slight chill outside, but you know it's going to be sunny in the afternoon. A cropped pant is very stylish in this season and is flattering on all body types.
Cropped blue jeans are a nice middle-ground piece for when it's too cold yet for shorts – but perhaps a bit warm for full-length jeans. Paired with a heeled sandal and leather jacket, you're ready for any spring event.
Floral Wrap Dress
A floral wrap dress is the perfect chic garment to have in your spring wardrobe.
It's bright, colorful, bold – and makes it easy to put an outfit together. Wear it with a pair of sneakers or sandals for a casual daytime look – or pair it with heels for a more elegant evening.
A floral wrap dress is perfect for any occasion – whether you're heading to a work meeting or enjoying a weekend hangout with friends.
Beige Leather Bag
As much as we love bright, bold colors and florals in the spring, having a few neutral pieces in your closet makes it easy so you can transition your pieces across outfits.
A beige leather bag is perfect to pair with any of your other spring wardrobe staples – and will complement any other color.
It's a timeless piece that can hold everything from your keys and wallet to sunscreen – and adds an elegant touch to bring your outfits together.
Ankle Boots
Leather ankle boots are the ideal spring shoe, as they can be worn with everything from dresses to your white jeans. They're comfortable and can be worn casually with a t-shirt, or dressed up with a skirt!
A black or brown pair is the perfect neutral to complement any outfit. A colorful pair, however, can add a nice bright touch and be paired with other floral prints, or as a statement to an otherwise neutral ensemble.
Rain Boots
As sunny and lovely as springtime can be, the season is also known for being rainy.
Rain boots are your best friend and an absolute essential for your spring wardrobe. You never want to get caught wearing sandals if it's downpouring outside – so be sure you have a pair in your closet.
Although they're a practical piece, they can also be extremely stylish – and can be paired perfectly with a pair of jeans for a casual weekend look.
Whether you choose to get a black pair that goes with everything – or a red or yellow pair to brighten up cloudy, rainy days – rain boots are one of the top pieces you should have in your closet for this season.
Wicker Basket Bag
Another great Parisian spring accessories staple is the classic wicker basket bag, inspired by 60s style icon Jane Birkin who was famous for toting around a large handle basket in Paris. You can keep all your essentials in these basket bags as they tend to be very round and large. Birkin got hers from a local craftsman in Portugal, but you can buy these online via Etsy today!
Let us know your personal favorite spring wardrobe staples in the comments below!