As the days get longer and the weather gets warmer, summer in France begins to feel like magic. Days are filled with barbeques and picnics in the park, and nights are spent having happy hour on outdoor sidewalks and watching stars on the beach.
Building an effortlessly chic French girl summer wardrobe can be difficult. You need lightweight items that won't stick to your skin during toasty afternoons – and something that will keep you warm if there's a bit of a breeze after the sun sets.
To keep you stylish and cool in the heat, we've gathered the best French summer wardrobe essentials you need in your closet.
With a few staple items, you'll have all the necessary pieces to look chic in France this summer whether you're lounging by the Molitor pool or walking to lunch on Boulevard Saint Germain in the midday sun.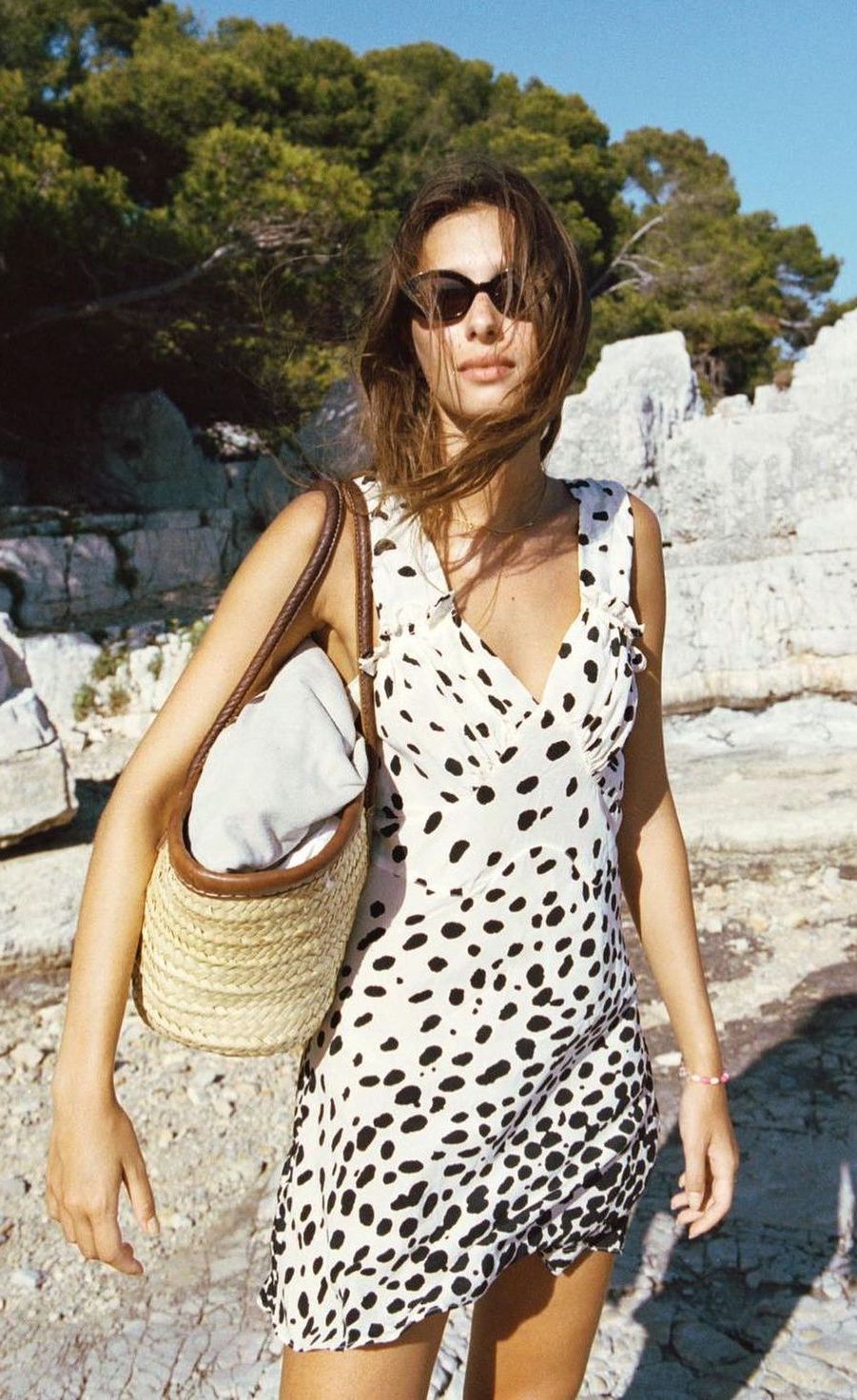 Basic Tank Tops
Basic tank tops are a staple that can be paired with other simple or statement pieces in your closet. Tank tops are lightweight, which makes them ideal for scorching summer days. They're perfect for pairing with shorts, lightweight pants, or a skirt. Pick up a few neutral tanks in black, gray, or white – along with one in a statement color – so you can match them to any outfit.
Wear one under a blazer so you're warm in an air-conditioned office – but when you step out for lunch, you can shrug the outer layer off and stay cool in the midday sun.
White Linen Dress
When it comes to summer fabrics, linen is your best friend. While synthetic fibers like polyester and acrylic will trap heat and keep you warm, natural materials like cotton and linen are breathable. You definitely want airy fabrics in summer!
A white linen dress is both a fashionable and practical piece for your summer closet. In addition to the lightweight fabric, the white color won't hold in heat as a darker color would. This dress is ideal for wearing on an especially warm day at the beach or at a picnic.
Wrap Dress
A wrap dress is ideal for when you want an outfit that you don't have to put too much thought into – or you need something you can easily layer underneath. It can be thrown on over a swimsuit, which makes it perfect for days spent by the water.
Pair it with a pair of sandals for days spent walking, or with heels when you meet for drinks on a rooftop in the evening.
Floral Mini Dress
The first season that may come to mind when you hear "florals" may be spring – but the print is also perfect for summer. A flirty floral mini dress is one of the summer wardrobe essentials you'll want to have in your closet.
Whether you're going on a date, reading on a blanket in the park, or enjoying ice cream for dinner, this is one of the best dresses to have in your closet.
Linen Shorts
Just as a white dress will keep you cool in the summer, linen shorts are the perfect breathable bottom to wear in the toasty months. They are dressier than cutoff jean shorts and can be worn for nearly any occasion.
Whether you're wearing them with ankle booties or a sneaker, you can dress them up or down. Pair them with one of your basic tanks for a casual daytime look, or with a dressier blouse for a chic ensemble.
White Jeans
For days when you want to wear pants but don't want to feel suffocated in the heat, white jeans are an absolute summer wardrobe essential.
They can be paired with everything from a dressy blouse to a t-shirt. Although you're wearing pants, the light color will keep you from overheating.
This garment is ideal if you're going to be outside in the evening when there may be a breeze after the sun goes down.
Linen Pants
Linen pants are a French summer staple because they are the perfect pants to wear to dinner when it's hot out. Some dinners require you to look presentable, so having a sleek pair of linen pants in oatmeal or beige, or even black is perfect for staying cool yet looking chic.
White Mini Skirt
You should have at least one white mini skirt for your French girl summer wardrobe. These skirts are easy to throw on with just about any top. They keep your legs cool and feel breezy in the wind. Just be sure to wear your swimsuit underneath!
Midi Skirts
Midi skirts are the perfect summer piece to transition from daytime to evening. If you're indoors the day and it's cooler, this will keep your legs warm in an air-conditioned space. During the evening, a flowy midi skirt will still allow your skin to breathe.
Whether you choose a silk midi skirt that has an elegant look, or a cotton one with a fun printed design, it can be paired with t-shirts or tanks and transitioned for any occasion.
One-Piece Swimsuit
A simple one-piece swimsuit is a closet staple – and can be worn for more than just swimming or lounging by the pool. It's stylish, and chic, and is perfect for throwing on for days spent under the sun.
A simple one-piece is also great because it can be worn with a pair of cutoff shorts – so if you're heading for drinks or dinner right after the pool, it can be worn as part of your outerwear.
Bikini
A high-waisted bikini is fun and flirty, which makes it a summer wardrobe must-have. The waist-accentuating cut is flattering on every body style.
Choose a design that is sleek and modern – or opt for a bold retro print. No matter what style you choose, this bikini will make you feel confident in the summer sun.
Leather Sandals
Although hearing the words "leather" and "summer closet" together may make you sweat, fear not. When gathering your summer wardrobe essentials, leather strappy sandals should be one of them.
The strappy design will keep you feeling elegant and cool in the summer months. Although they're made of leather, the strappy, breathable design will keep you from getting sweaty in the summer sun.
They can be worn with everything from linen shorts to dresses – and are perfect for wearing to a picnic or afternoon brunch.
Espadrilles
If you're looking for a casual and comfortable French girl summer shoe, espadrilles are a closet must-have. With a chic canvas material and rope soles, these shoes are casual – but still have a chic element to them.
This makes them perfect for pairing with dresses and skirts. Try picking up a pair that are black, white, or navy so they complement nearly any color palette your outfit may have.
White Sneakers
White sneakers are a closet essential for when you are going to be doing any kind of walking. They'll protect your feet from the hot sidewalk and go with any outfit.
Whether you're wearing linen shorts, a midi skirt, or a floral mini dress, white sneakers will make any ensemble look effortless and cool.
Gold Strappy Heels
For occasions when you need shoes that are a little bit dressier, gold strappy heels are the ideal closet staple. The gold color is reminiscent of the sun itself – which is perfect for summer!
Wear strappy gold heels with any of your summer dresses for an outfit that can be easily put together, but keeps you feeling stylish and chic even in the south-of-France heat.
Straw Market Tote
You'll absolutely need a large straw market tote bag if you want to fit in with French girls this summer. Use it to carry your beach day essentials or bring back your fresh fruits and vegetables from the local farmer's market.
Wicker Basket Bag
Channel your inner Jane Birkin with a cute basket bag to carry your daily essentials this summer. Wicker basket bags can be bought from Etsy.
Which one of these French girl summer wardrobe staples do you like the most?