Building the perfect everyday wardrobe comes down to the basics. Without a solid set of French wardrobe essentials, it's hard to follow the French style philosophy of the Five Piece French Wardrobe. These wardrobe essentials will take you through every situation that life may present: from coffee with friends, to a job interview, to a first date or a birthday party. They are the foundation of your wardrobe, from which you'll easily create outfits for years to come!
Do you have every item on this list of French wardrobe essentials?
Wardrobe Essentials
Let's start with the basic items of clothing you should have in your closet. Remember every piece should fit you well, not just be present.
1. The Silk Shirt
The silk shirt (in white, black and navy) can take you from day to night. It's a classic wardrobe staple. If you can get one that can tie in the front, even better! We love Banana Republic and Everlane for this wardrobe staple.
2. The Cotton Button-up Shirt
Easy and versatile, the cotton button-up shirt is great for casual meetings with friends and weekends out of town. Get this shirt in white and blue. We recommend Everlane or JCrew.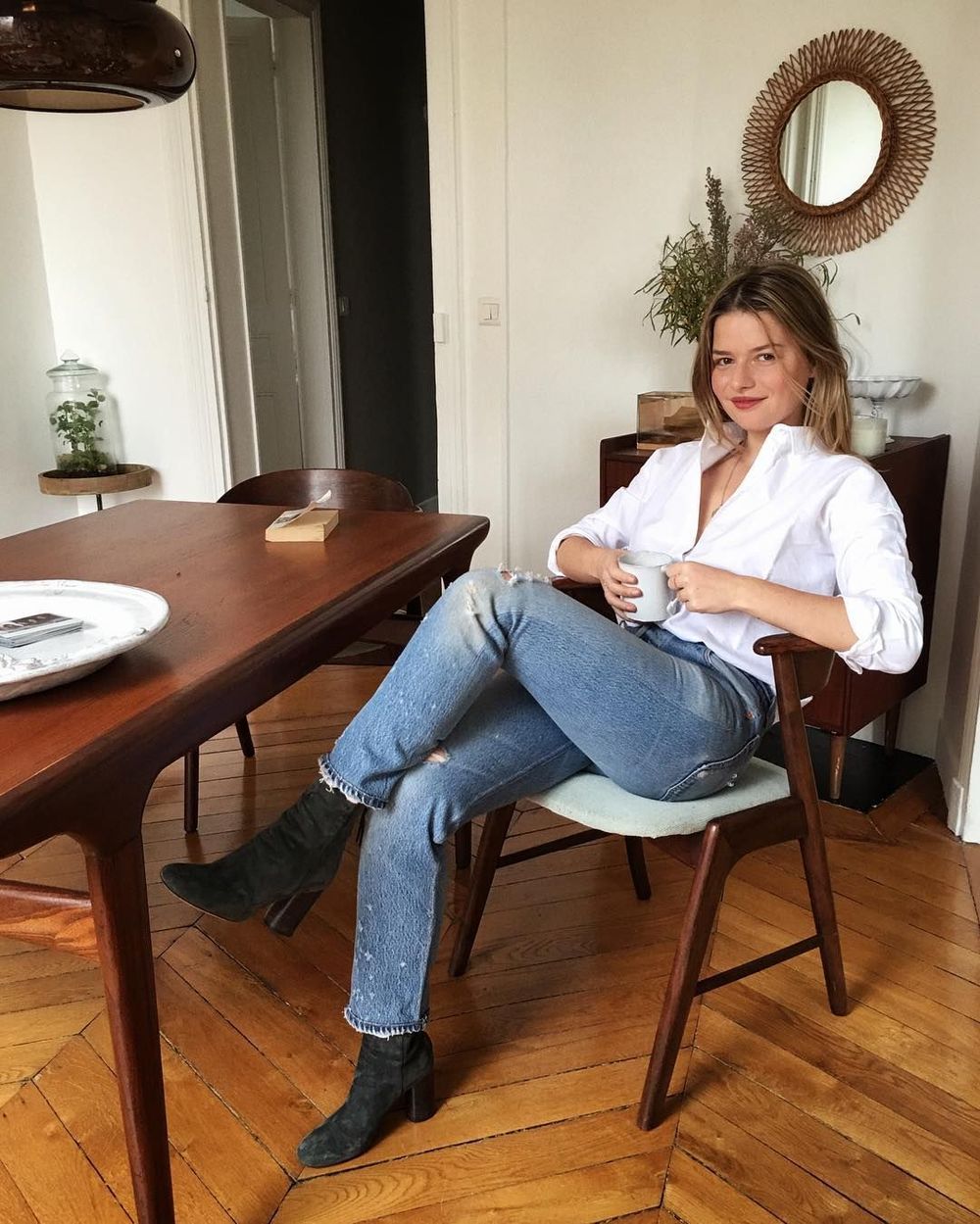 3. The Straight Leg Jean
The straight leg jean is the classic Parisian wardrobe staple. It's the go-to jean for when you just don't know what to wear. Not too loose but not to tight, it fits your leg like a glove with just the right amount of open leg space! Go for & Other Stories for a European fit, Reformation for a flexible fit, or Gap for an affordable pair.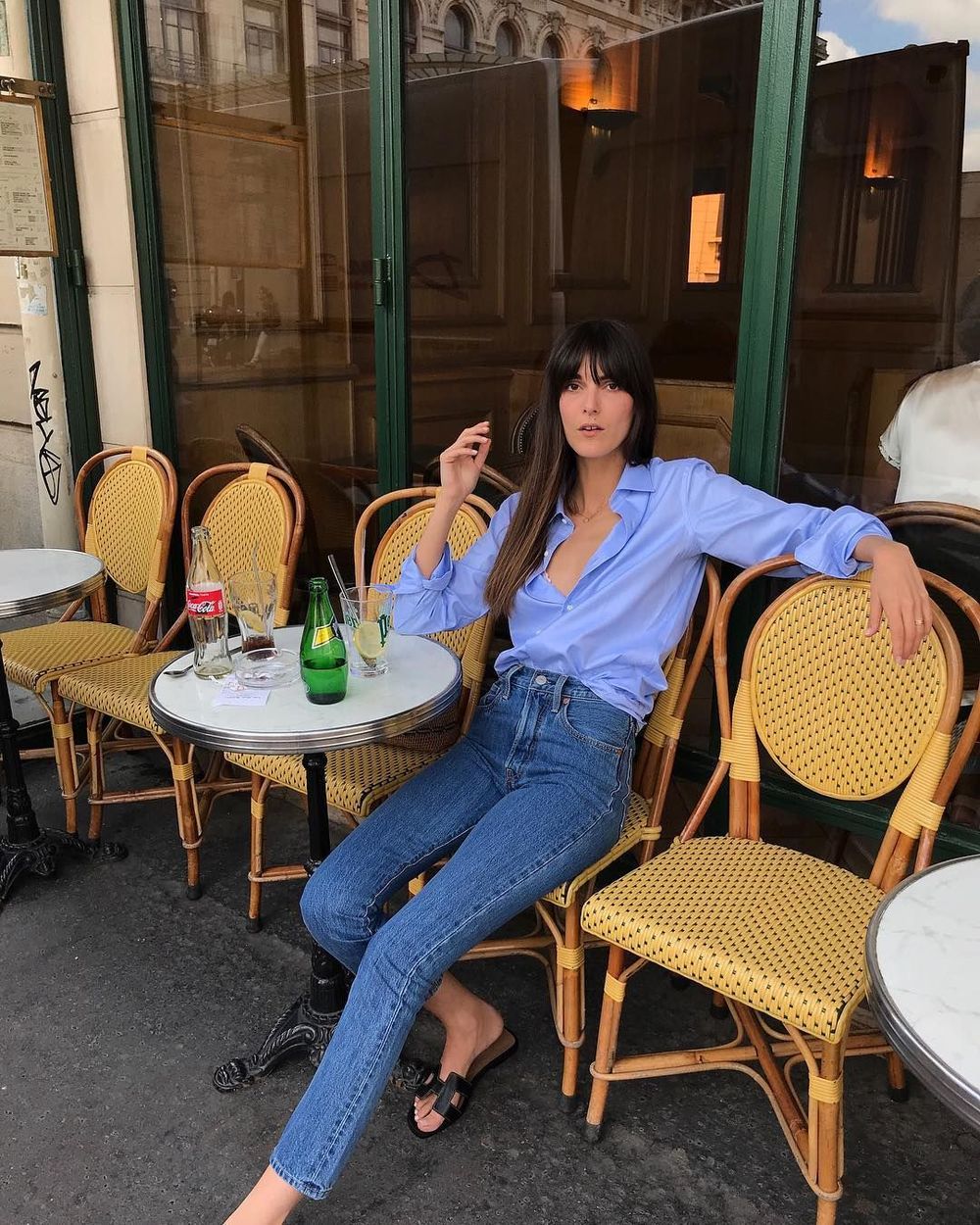 4. The Marinière Striped Top
Blue and white stripes are synonymous with classic French style. Saint James is the ultimate brand of choice for this style, but you can pick up a dupe at places like JCrew or Maison Labiche.
5. The Cashmere Sweater
While it doesn't snow in Paris, it can get quite chilly in the winter, so French girls prepare for the cold with cashmere sweaters by Eric Bompard. If you can't make it to the store in France, then try this one from Nordstrom or Everlane.
6. The Vintage Cardigan
French girls love their vintage clothing! The one piece you're sure to find in almost every French girl's closet is a cute vintage cardigan. Etsy is a great place to look for these, but you can also find them on the many French vintage Instagram shops.
7. The High-Waisted Pant
High-waisted pants hug your curves and that's why French girls love them. Whether a straight leg or flared bottom, high-waisted pants are a must-have for your wardrobe. Here, Jeanne Damas wears the French brand Nathalie Dumeix.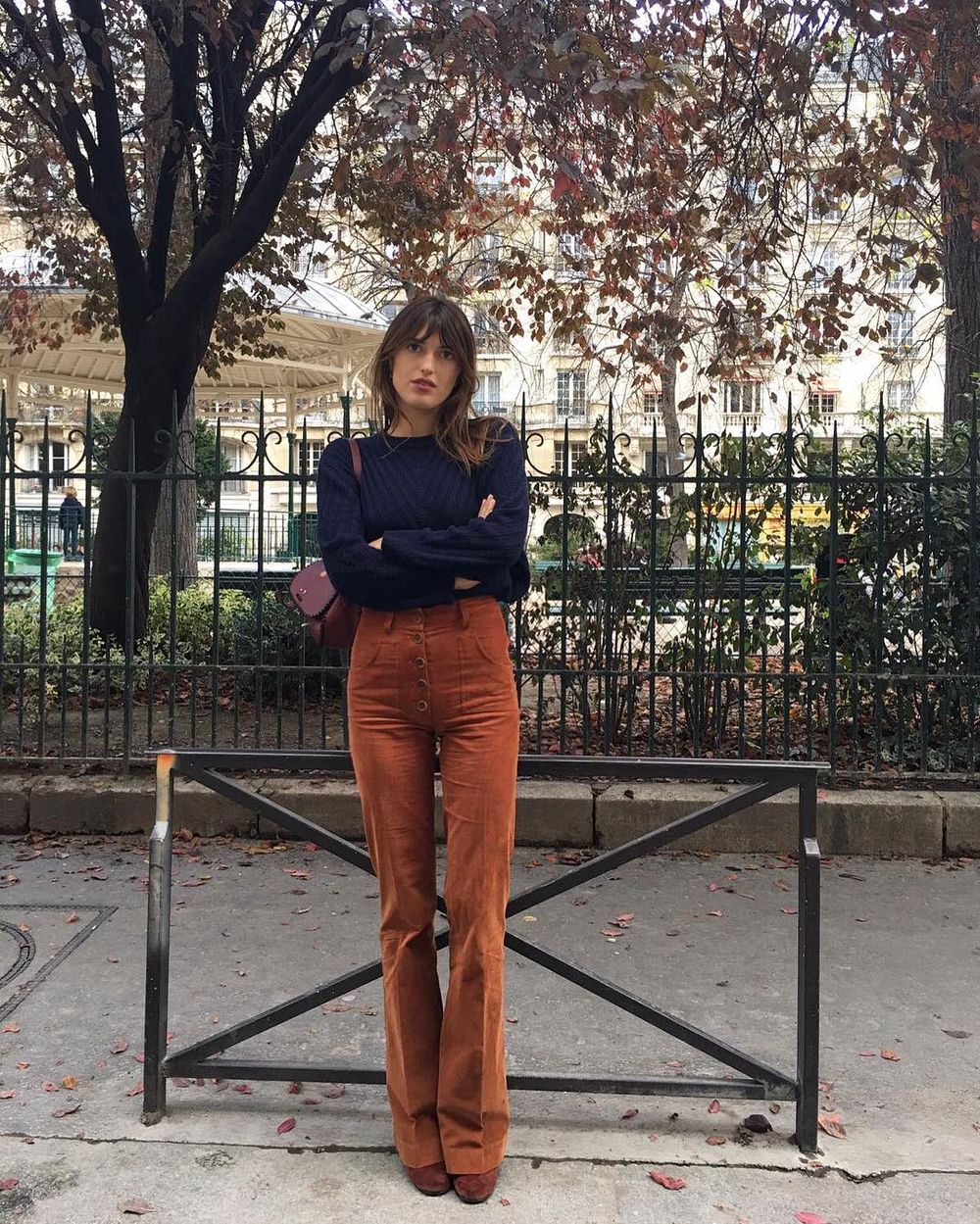 8. The Wrap Dress
The wrap dress is a favorite of French women everywhere. It's universally flattering as it can be adjusted to fit your body shape. Go for a midi length dress from Reformation or Rouje.
9. The Little Black Dress
Ah, the little black dress. It carries you through so many different nice occasions. When you don't know what to wear to that event, go for the LBD! Accessorize it with a fun piece of jewelry or colorful handbag. I love this JCrew slip dress.
Accessory Essentials
10. The Ballet Flat
Easy to walk in, simple, and chic, ballet flats are a timeless French girl shoes. Repetto is the French brand of choice when it comes to these classic shoes, but you can also go for a cheap yet solid pair from Everlane or H&M to start off. In any case, you need at least one pair of cool French girl style ballet flats!
11. The Silk Scarf
A scarf made from silk is the classic French accessory you must have. It's great for those early spring and late fall days when the air is still a bit nippy on your neck. It's also a great way to add some color to your white button-up shirt. Hermès is well-known for crafting luxurious silk scarves for French women, but if the price tag is too high, then go for this Longchamp one, or this JCrew one.
12. The Leather Handbag
The one handbag that is considered a French wardrobe essential is the leather handbag. You can find lots of different brands who specialize in fine leather goods in France. The leather handbag holds all your daily necessities and is soft to the touch. I recommend a brown or black leather handbag like this one from APC.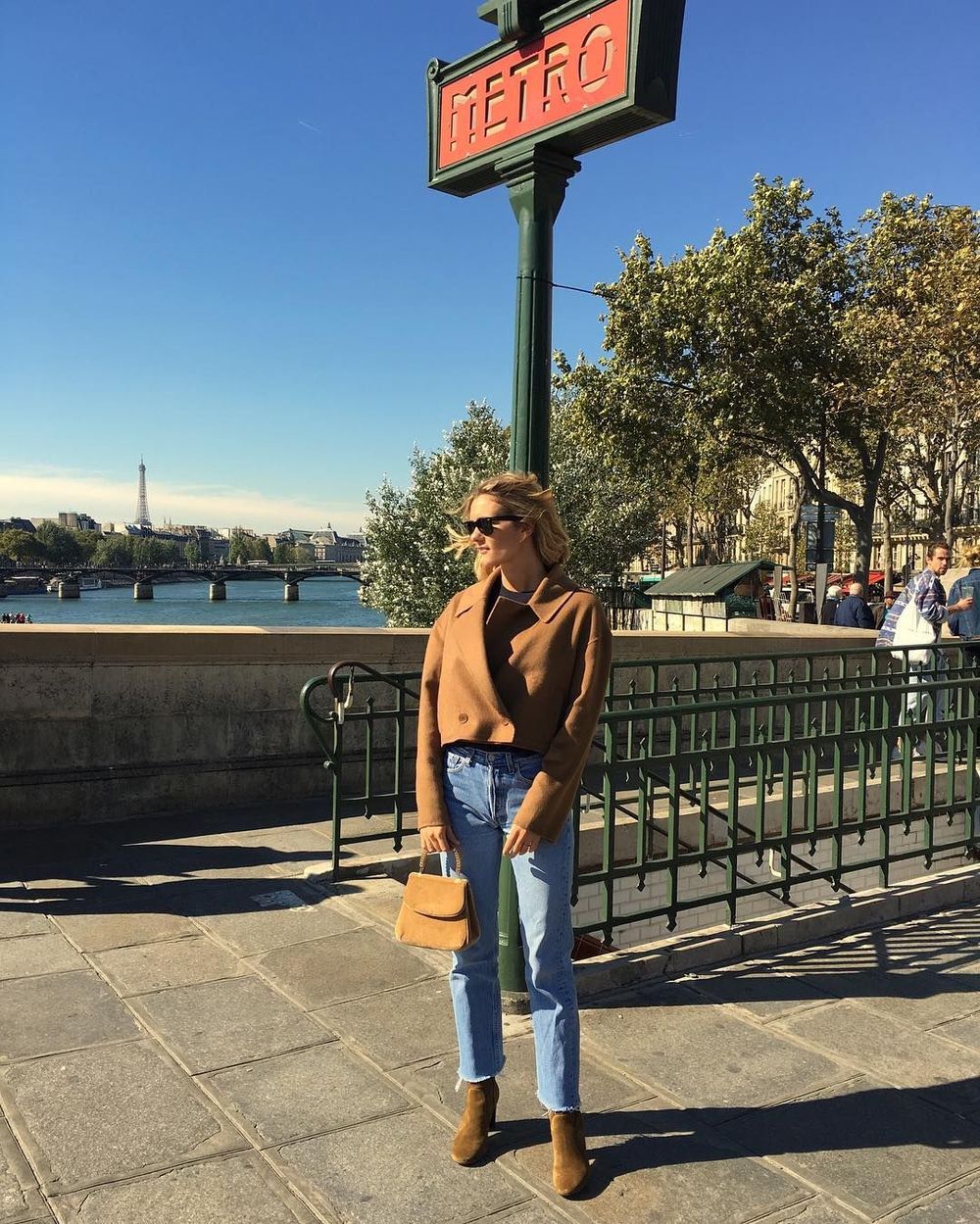 Outerwear Essentials
13. The Blazer
Everyone from ordinary women to celebrities seems to own a blazer in France these days. Whether it's fitted or masculine, the blazer has become a wardrobe staple. You can wear it to work, or wear it out to dinner with the sleeves rolled up. It can be fitted or oversized, solid colored or plaid. The blazer is definitely a wardrobe essential. Isabel Marant is well known in France for her boyish blazers for women.
14. The Trench Coat
The French style trench coat is an iconic coat that nearly all French men and women own. Because it rains so much in Paris, it's become a wardrobe essential! Even when it's not raining, the beige trench coat is a chic option that can easily pair with many different outfits. Burberry is the iconic maker of these coats but you can find less expensive versions by COS and Mango.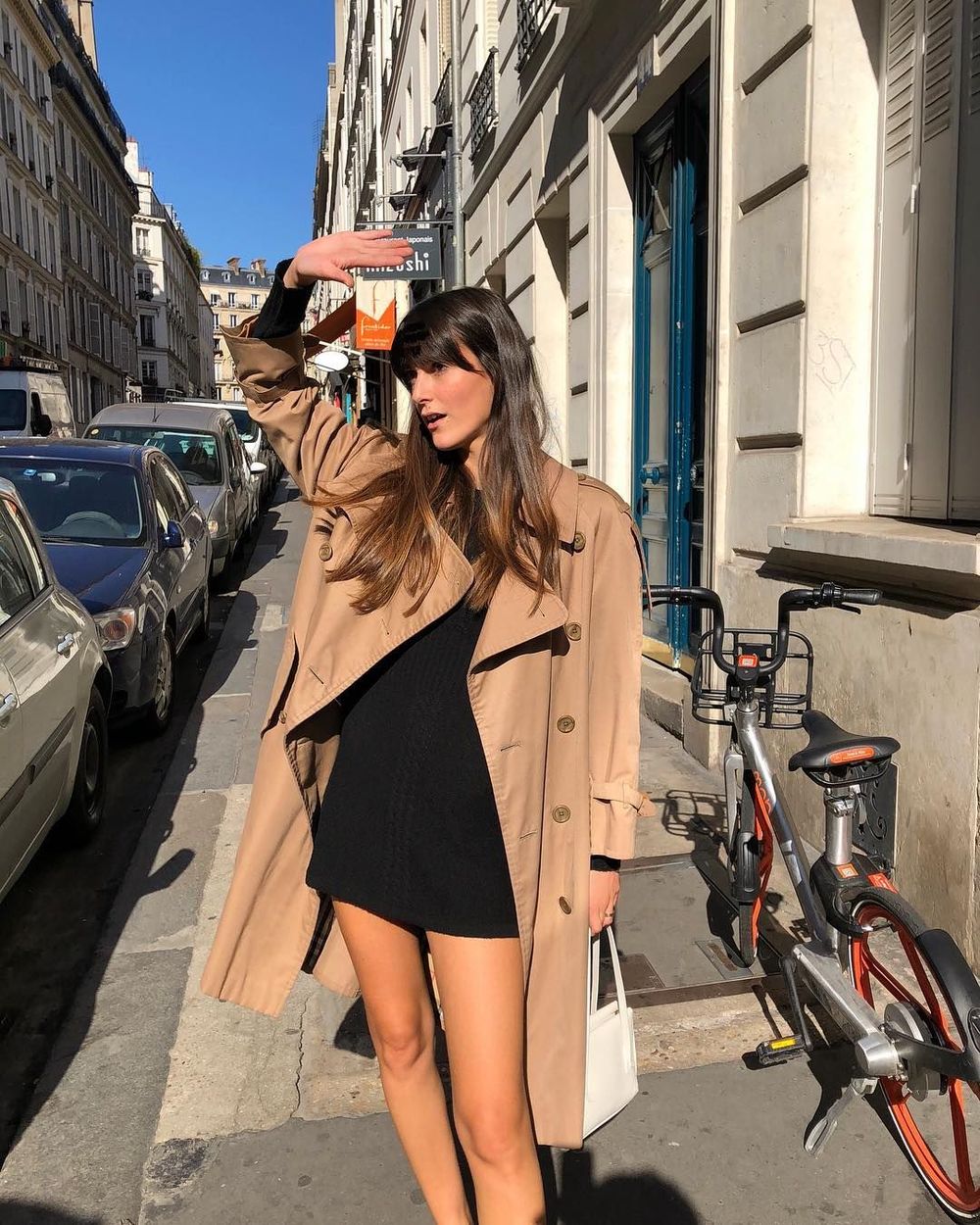 15. The Wool Coat
For chilly Parisian winters, a wool wrap coat or wool button-up coat is a wardrobe essential! Grab one in camel or black for a chic statement. The cutest wool coats can be found at & Other Stories and Mango.