Shoe shopping like the French isn't as easy as it seems. While you can find plenty of shoes that look cute, how do you know which ones fit in with French girl style? How do you know which ones will last over time? How do you know what shoe style to wear with a particular outfit?
In this article, we'll cover the French wardrobe shoe essentials for all seasons to help you curate the perfect French capsule wardrobe.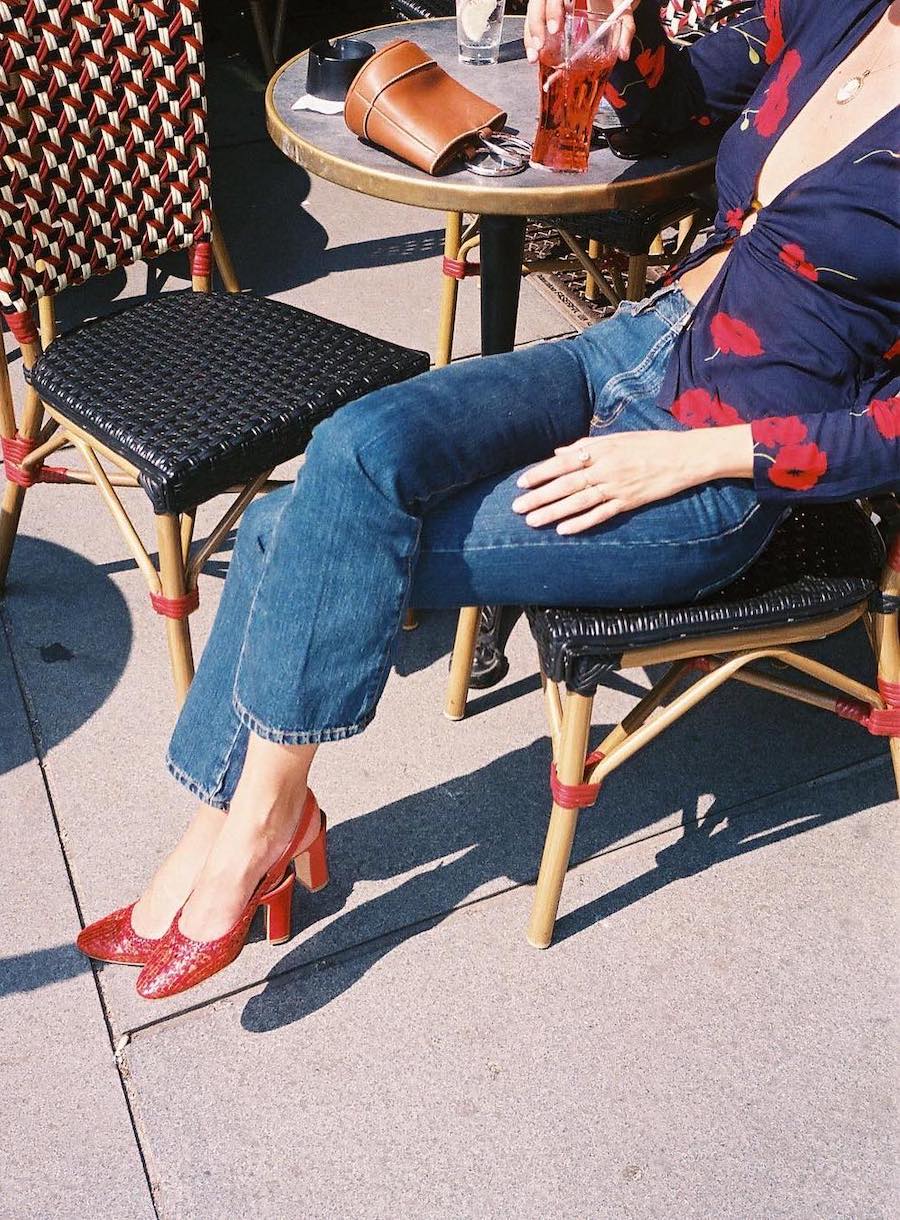 French Girl Spring/Summer Shoes
Spring and summer are the best seasons for wearing cute, open-toed shoes. Once the weather warms up, many French women go shopping for new airy shoes, thinking about those bright warm days and all the walking in parks like Jardin du Luxembourg to be done. Here are the best summer and spring shoe styles to try in your quest to look more French.
Ballet Flats
Ballet flats are a great shoe for balancing comfort and style. These shoes are very on-trend yet walkable. They can be worn with anything from dresses to jeans. Ballet flats come in many different styles and colors, so they are easy to match with any outfit you choose. Ballet flats are also very lightweight, so they won't weigh your feet down or make them hurt after walking around in them all day long.
The best part is that these shoes will last for years because they're made out of durable materials like leather which means that even if you get them wet, there's no need to worry about them getting ruined! You can wipe away any dirt or grime with a damp cloth and go on your way without having to buy another pair anytime soon.
White Sneakers
White sneakers are a great neutral to pair with your spring/summer wardrobe. Because they're white and clean-looking, they go with just about everything. White sneakers are more comfortable than heels—even Veja ones–a Marion Cotillard favorite!
You'll be able to walk around in them all day at work or out on the town. Make sure you wear an outfit that's light enough that your sneakers don't clash with it.
Slingbacks
When it comes to French girl spring and summer shoes, slingbacks are a must-have. The most coveted is the Chanel slingbacks which have a beige body and black cap-toe. They're a classic, versatile option that lets you dress up or down depending on the occasion.
If you can't afford Chanel, there are lots of slingback styles to choose from. They're typically open-toed and have a heel that's generally between 1″ and 3″. Slingbacks can come with other design aspects like a cap toe design or embellishments on the front.
Slingbacks are usually made of leather but can also be made from fabric or suede. They're an excellent choice for all weather conditions because they're comfortable, breathable, lightweight, and don't require much maintenance.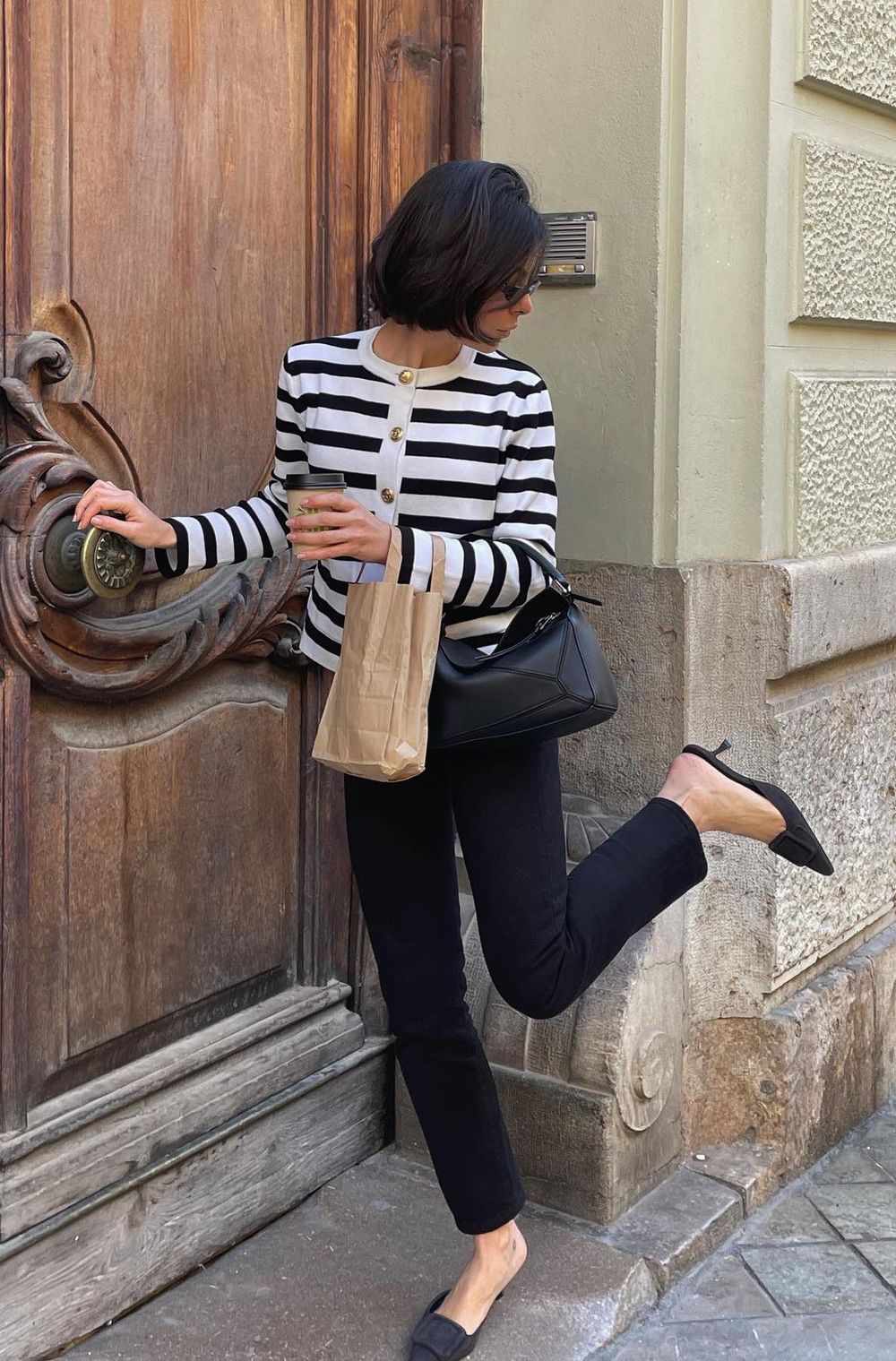 Espadrilles
Espadrilles are another French spring/summer staple that will never go out of style. Espadrilles have been popular since the 14th century! Iconic French actresses like the femme fatale Brigitte Bardot cemented their place in the French fashion world.
Typically sandal-like in form, espadrilles are shoes with a flexible sole made from rope or rubber that has been wound around a core. They can be any height—from a simple flat design to an elegant 3 or 5-inch heel—and have become more popular in recent years due to their versatility and comfort. Even the Duchess of Cambridge is a big fan. Espadrilles are perfect for everyday wear and summer vacations, so you'll want to stock up this season!
Brown Leather Sandals
Brown leather sandals are the perfect addition to any French girl spring or summer wardrobe. Go for the classic brands Rondini or K.Jacques, both made in Saint-Tropez, France for decades. Their simple design will match just about anything and can be dressed up or down depending on your mood. These shoes come in a neutral brown color, but you can switch it up with metallic leather if you want.
The leather straps give them a softer look than your normal sandals while still keeping you cool and comfortable as the weather heats up. They're also super easy to slip on, making them great for any European beach day or walking around cobblestone streets in the south of France.
White Strappy Sandals
White summer sandals are the perfect way to stay cool this summer! A clean white color and simple design make for the perfect addition to any outfit: dress them up or down, depending on your mood.
Most often, sandal straps are made of breathable fabric that keeps your feet cool all day long—no matter how hot it gets outside! They usually have an adjustable ankle strap to get just the right fit for maximum comfort every time (which means no more blisters from ill-fitting sandals).
French Girl Fall/Winter Shoes
Fall can be a tricky season to navigate, especially when it comes to French shoe essentials. The weather is unpredictable, and Paris is known for its rain, which means your choice of footwear can make or break your entire outfit. We've got a few great ideas for what to wear this fall and winter season in France and add to your French girl shoe wardrobe.
Leather Ankle Boots
Leather ankle boots are a comfortable and stylish way to stay warm in the colder months, and they are an easy way to add a touch of sophistication to casual outfits. They are versatile enough for many different clothing styles, from a pair of skinny jeans and a turtleneck sweater to a floral dress and cardigan.
Depending on the weather and personal preference, they can be worn with socks, bare legs, or tights. The leather material is durable and will hold up for many years when properly cared for.
Knee-High Boots
Knee-high boots are another great option for fall and winter fashion. They pair well with jeans, dresses, skirts, leggings—basically anything in your closet!
It's important to note that these boots may feel tight at first; however, this is normal as they will stretch over time with wear. If you're looking for something casual or dressy, consider knee-high boots for your French shoe collection today!
Evening Shoes
Evening shoes are a necessary part of the French girl wardrobe. You need a few pairs of evening shoes to wear to cocktail parties, dinner parties, and nighttime soirées. French girls love evening shoes that have unique decoration patterns, heel height, and toe shapes. However, you need these two basic shoes to start! These evening shoes will be your best foundation.
Black Evening Pumps
If you're looking for an elegant and classic shoe that will match every outfit, look no further than a pair of black evening pumps. Roger Vivier is the most luxurious shoe brand in France, but you can still get a pair of chic black heels if you're on a budget.
If you go with a small heel, black evening shoes will be comfortable enough to wear all night long. Regardless, a pair of black evening pumps will never go out of style. You can pair them with any outfit, whether you're dressing up a casual look or toning down a more formal one.
Gold Strappy Heels
A pair of strappy gold heels will add the perfect touch of sparkle to your outfit. Go for ones made with 100% real leather, so that they are both comfortable and durable. Gold heels are ideal for wearing to special events where you want to look your best. Wear them with a classic little black dress or a floral skirt to make a statement that's sure to turn heads!
---
Lastly, French girls are very concerned about the environment and try to shop responsibly as much as possible! That's why eco-friendly brands like Veja have really taken off in recent years. How do you stay stylish while also being conscious of the environment? That is the question more and more French consumers are asking themselves as part of their fashion consciousness. There are many ways to put your fashionable foot forward in quality and sustainability.
I hope the post above provided you with some helpful info on the French girl shoe essentials for various seasons!