Handbags are essential accessories for French girls. Right now, mini bags win out over larger styles when it comes to Parisian street style trends. If you want to buy handbags that French women love, here are the 10 handbag styles you need to add to your wardrobe.
Remember, French girls like to appear low maintenance and stick to classic colors – anything that is too bright doesn't make the cut. If you love French girl style, here are some French girl handbags you must own.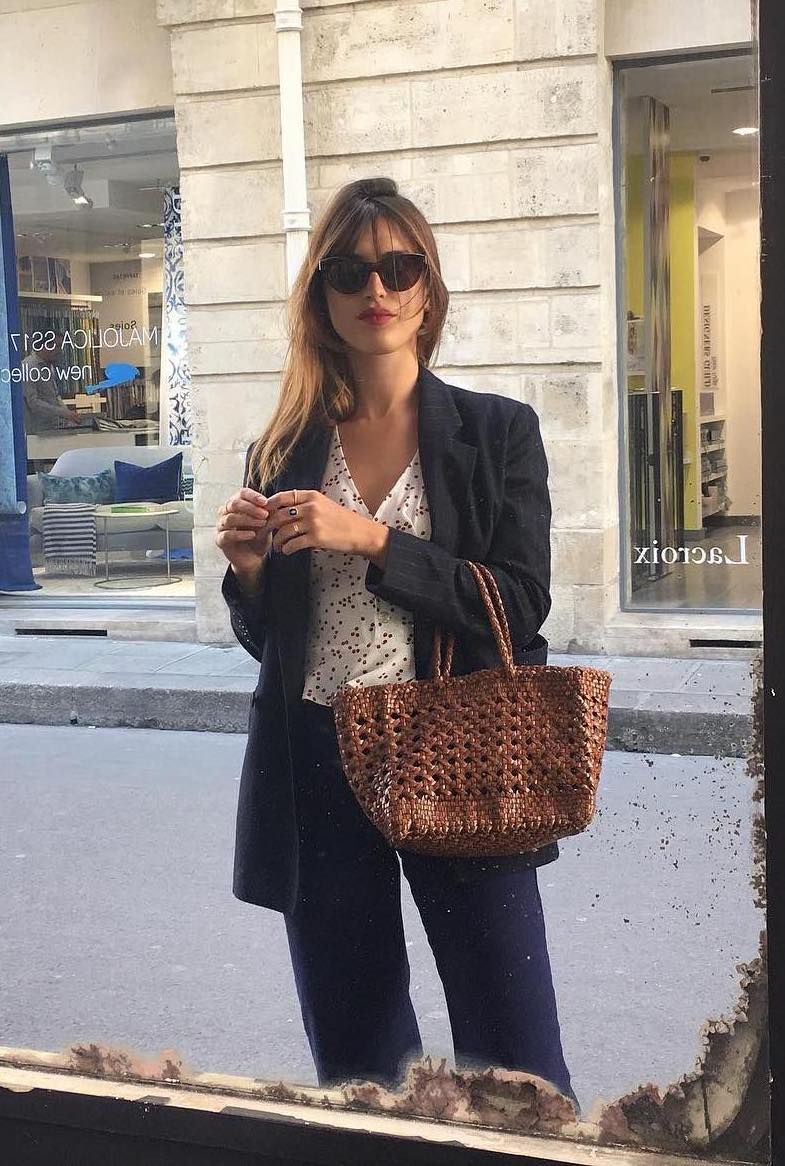 Beige Crossbody Bag
A beige crossbody bag is an essential everyday handbag to add to your closet and use often. Get one that is spacious to fit your phone, wallet, and your latest French novel. Crossbody bags should sit comfortably across your body. You may want to adjust the strap so you can reach things inside the bag conveniently.
Beige leather bags are very versatile as a day-to-day bag because they match many different outfits. The beige color will help you create the perfect neutral outfit. This is one of the most-wanted designs for French girl style.
Brown Leather Bag
A brown leather handbag is one of the best French girl handbags you can buy for your fall wardrobe. It's versatile and spacious enough to hold your essentials. A high quality leather material is a guarantee the bag will stand the test of time.
Black Leather Handbag
A black leather bag is designed to accommodate all your essentials when on the go. It's classic, fashionable, and comes in different styles. Leather bags can fit every occasion and are more comfortable than other types of bags.
If you carry your bag in places where it might get scuffed or damaged, the black color is the perfect fit. Black also goes well with most outfits, especially in winter.
Wicker Basket Bag
Wicker basket bags are the epitome of vintage French girl style. The wicker basket bag is one of the best French handbags to bring out in the spring and summer, although, Jane Birkin wore hers year round!
Whether you want to enjoy your summer at home or get the perfect finishing work for your look, you can't go wrong with a wicker basket bag.
Straw Market Tote Bag
The straw market tote bag "panier" is seen absolutely everywhere in the south of France, especially around the French farmer's markets. It's sometimes referred to as the French market bag for this reason. Whether you're running to the farmers market or going to the beach, there's no better summer accessory than a straw tote bag like this one from Vanessa Bruno. This trend solidified in the 1960s thanks to Brigitte Bardot and continues to grow.
You don't have to go for a fancy bag with embellishments unless you want to. A simple straw market tote bag with brown leather handles is the perfect way to complete a French girl look.
Large Tote Bag
If you go to work or school everyday, you need a large leather tote bag for all your materials. If you have a busy day ahead, a large tote bag like the Saint Laurent Sac du Jour large bag is perfect for carrying your notepads, laptop, and more. It's the perfect French girl work handbag that will last for years. The Longchamp le Pliage tote bag is a great affordable French style tote bag.
The right bag will completely change the look. Whether you're getting back into the office or looking for something to fit your keys and phone, carry around your baby esssentials, or just an extra pair of gym clothes, a large leather tote bag fits the bill.
Small Evening Bag
When heading out to dinner in Paris, you don't want to carry a large bag. A small evening bag is practical and can hold all your essentials – lipstick, cash, perfume, etc. It's the icing to every outfit and works well for nights on the town. Some French evening bags come with embellishments like crystals or silver hardware. We love the ones by Roger Vivier.
Black is the color to wear at night and works all year-round. For a sparking or shining touch to the design, you can go for silver or gold metallic hardware. This handbag is sure to be used all year round!
---
I hope you found this list of French girl handbags for your wardrobe useful! What handbags do you own?