Fall is almost here, and soon enough, it will be time to update our wardrobes for the season. The classic French fall wardrobe includes minimalist pieces and timeless silhouettes. With the weather starting to turn cold in Paris, it's time to bring out warm sweaters and cute jackets.
The French wardrobe philosophy is all about having a minimalist wardrobe that emphasizes quality over quantity. The idea is to invest in timeless pieces that will stand the test of time, rather than buying cheaper and more disposable pieces.
French wardrobes usually include neutral colors like black, white, and navy – base pieces that can easily be mixed and matched for any occasion. Buying fewer high-quality pieces also has environmental benefits since clothing production requires large amounts of energy and water. Investing in stylish but sustainable items is sure to elevate your wardrobe game!
The French Girl Fall Wardrobe Checklist
To create the perfect French fall capsule wardrobe, start with classic pieces like a trench coat, wool blazer, or leather jacket. Layer these over basics such as plain t-shirts and sweaters in neutral colors. Add some statement items like printed scarves or bold jewelry to add a bit of personality to your look. Finally, complete your French girl autumn capsule wardrobe with versatile bottoms like corduroy pants and suede skirts. Once you have these pieces, getting chic French girl fall style will be a breeze!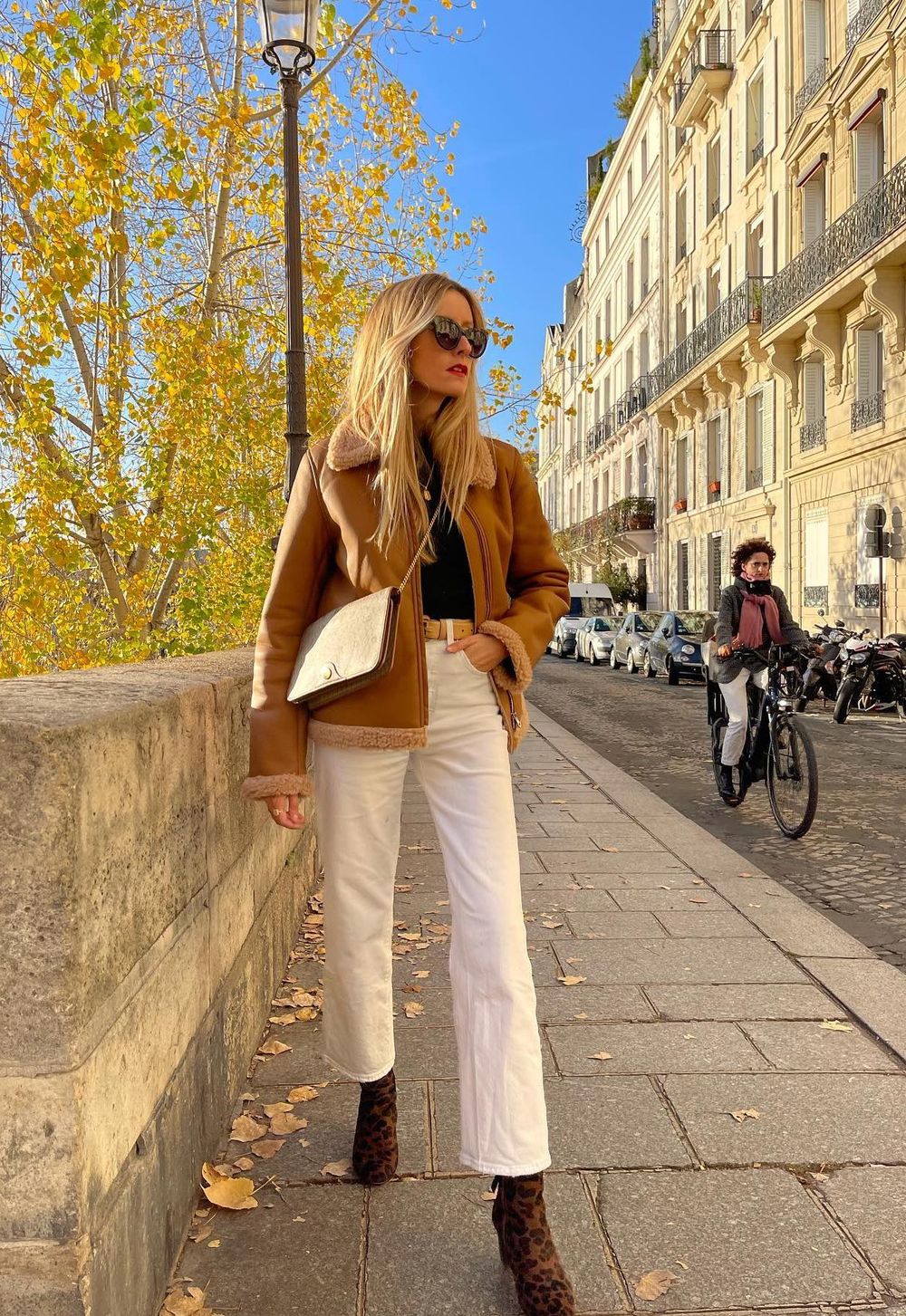 Corduroy Blazers
The corduroy blazer has had a rough history in the fashion world. It's often looked down upon and associated with the style of choice for out-of-touch dads. However, corduroy is making a comeback this fall, and it's time to give this unique material a chance. Plus, it's something you can rock in the office or wear on your day off.
The key to incorporating this trend into your wardrobe is to keep things simple. Pairing a corduroy blazer with a white tee and jeans is casual and trendy but still appropriate for the workplace. You can also take this style a step further by wearing a turtleneck underneath your blazer, which gives you a chic vibe.
Another great way to wear this trend is to pair it with an equally textured item. For example, pairing a corduroy blazer with corduroy pants will give you an extra-stylish look that will keep you warm when the weather starts cooling down. No matter how you decide to wear it, one thing is certain: this look is sure to make waves in the French fashion world!
Plaid Blazers
If your fashion sense is all about bold, beautiful style, then our take on the classic blazer is sure to speak to you. The oversized plaid pattern of this blazer is an instant conversation piece, and the oversized buttons give it a hint of nautical nostalgia that's perfect for those days when you just want to channel your inner captain while looking stunning.
But don't let the sweet, whimsical details fool you—this jacket has some serious staying power. It's made from stretchy twill, making it wrinkle-resistant and easy to throw in a suitcase or overnight bag. And the breathable fabric will keep you comfortable no matter where your day takes you.
Shearling Coats
When it comes to fall wardrobe basics, we have to say that shearling coats are one of those things you just can't live without. They offer a chic and classic French girl look, but they're also warm and comfortable, making them the perfect autumn accessory. Shearling coats come in many different styles and colors, so you'll be sure to find one that suits your style. If you're looking for something more casual, try a plaid coat with jeans or a t-shirt dress; if you want something dressier, go for a solid color like black or brown.
Depending on how cold it is outside, there are plenty of options for how much coverage you want from your coat. If it's chilly but not freezing out, try wearing one over top of a sweater for an added layer of warmth without bundling up too much underneath. If the weather outside has been particularly wet lately and you're worried about getting wet while walking around town during your lunch hour or after a dinner date, night dinner date nights with friends (or significant others!), then consider investing in some waterproof boots as well – they'll keep your feet dry while still being fashionable!
Wool Wrap Coat
Wrap coats are a fall wardrobe staple, and you'll wear this one year after year. The wool blend creates a sleek, smooth look that's polished enough to wear to work or running errands around town, while the wrap silhouette adds an element of femininity.
This wool wrap coat is a classic choice for your fall wardrobe. The unlined wool-blend fabric is warm and cozy without being too heavy, perfect for the fall months. The two-tone color palette adds a subtle pop of color that's chic and modern. A long length makes this wrap coat perfect for wearing over dresses or pants so that you can pair it with your favorite outfits from the season.
This wool wrap coat is a must-have for your French wardrobe this season. Max Mara is well known for making beautiful wool wrap coats. Get a coat that has been crafted from a soft wool blend. The American ones sometimes have an oversized shawl collar that can be worn up or down – avoid those. A French girl style wool coat is unlined to create a sleek look that will last all day long without getting weighed down by an extra layer of fabric inside.
Sweaters
Sweaters are the perfect layering piece for French girl style. French girls love wearing wool and cashmere sweaters in various neutral colors and styles. Depending on your preference, you can pair wool sweaters with jeans, skirts, and even over dresses. A turtleneck sweater dress is a great option for the office, or you can wear a cozy chunky knit with your favorite jeans when you're running errands.
Knit Dresses
Knit dresses are everywhere this season! Even Jeanne Damas herself loves knit dresses for every occasion, from casual to dressy. Try a classic A-line style in a solid color like black, cream, or burgundy for everyday wear.
It's the perfect way to add texture to any look without sacrificing comfort. Try an off-the-shoulder style in a midi-length silhouette with sheer bell sleeves and floral embroidery detailing when you want something more formal but still comfortable.
Corduroy Pants
This season's French must-have? A pair of classic corduroy pants. Corduroy pants are traditional and practical, but they're also incredibly flattering and come in various cuts, making them the perfect choice for any fall wardrobe.
Corduroy pants are comfortable, durable, and excellent at keeping you warm. They pair perfectly with a classic top, or you can go more casual with a hoodie or sweatshirt. Corduroy looks great dressed up or dressed down—so stock up on this fall staple today!
Straight Leg Jeans
In need of an update on your jeans? Consider the French girl favorite straight-leg jeans. They're classic and versatile, making them the perfect choice for any wardrobe. Straight-leg jeans are flattering no matter your body type, and they come in all sorts of different washes.
Pair straight-leg jeans with a plaid blazer for a cute but casual look, or dress it up with a chic silk blouse for something more refined.
Leather Ankle Boots
Leather ankle boots are my favorite items to wear during the fall season in Paris, France. The leather material keeps your feet warm, and the ankle height provides extra protection from the wind and rain. You can pair leather boots with almost any outfit, from jeans to dresses!
Leather Handbag
A simple leather handbag is another one of those must-have fall wardrobe basics. The color brown is very versatile in matching other colors, so it'll go well with anything in your closet! You can also use this bag for day or night events; it's not limited to daytime use only! Plus, a medium size is ideal because it has enough room to hold all your essentials without being too bulky or heavy when carrying around town.
---
It's the perfect season to update your wardrobe with these French fall clothing staples—pieces that you can mix and match with other items in your closet to create a cool, Parisian vibe while staying warm, stylish, and comfortable at the same time. I hope you enjoyed our guide to dressing like a French girl this fall!