If you're looking to expand your French fashion wardrobe, but don't know where to start, then this article will help you pick out some of the best French fashion investments you can make. These elegant pieces are guaranteed to last. They will quickly become your favorite go-to pieces in your closet.
Whether you're shopping from top designer boutiques in France or discount retail stores, these are 11 items that will instantly upgrade your outfit and elevate your style status. If you have any friends that are just starting on their upgraded fashion journey, please share this article with them, they will thank you later!
French Fashion Investment Pieces
Here are the best fashion investments you can make for your French wardrobe!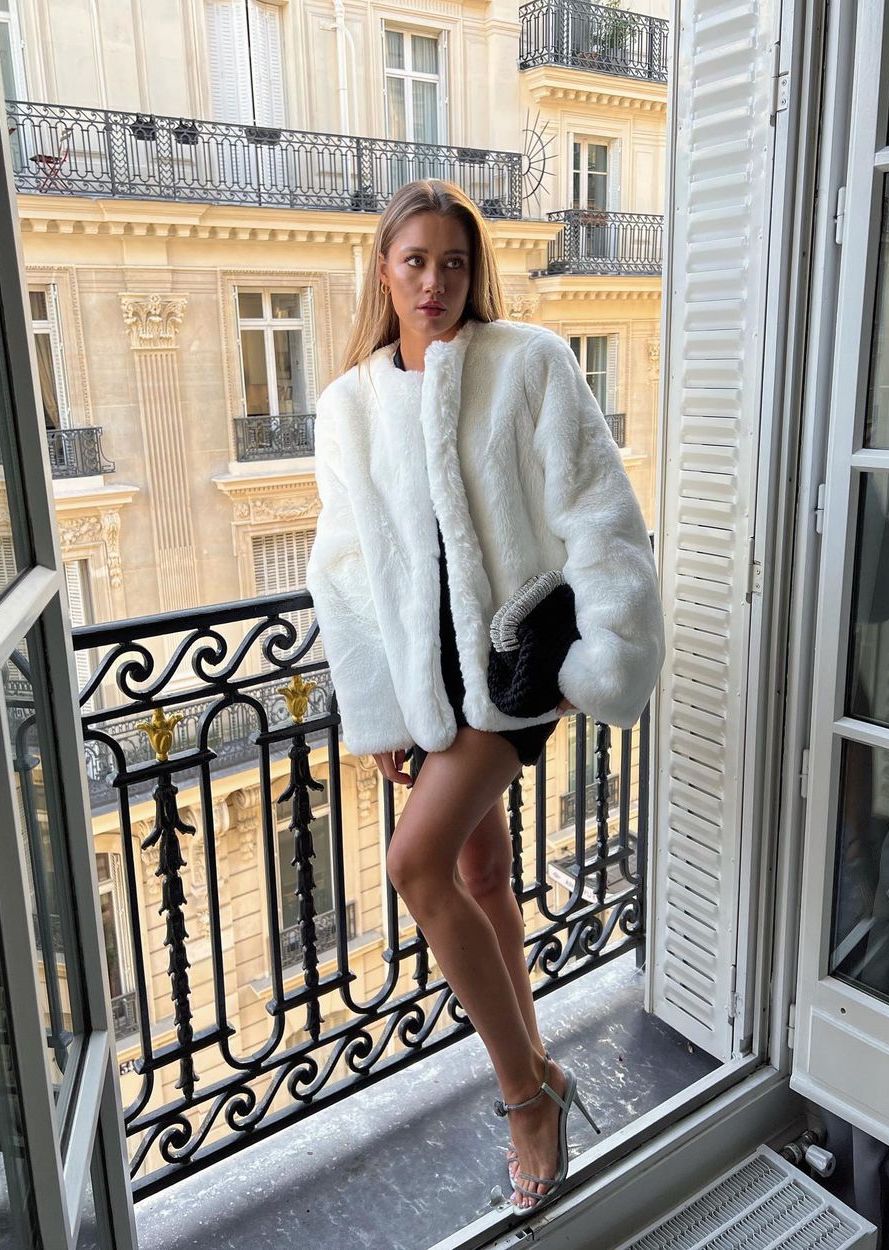 Saint Laurent Le Smoking Blazer
You can wear a black blazer with any and everything. You can dress it up, dress it down and make an outfit unique to you. This particular blazer we recommend investing in is by legendary designer Yves Saint Laurent. The Le Smoking blazer is classic and chic with slanted pocket flaps, silk lining, all-black hardware, and short-cropped sleeves. The outside back has two tiny gold buttons that fasten onto each other, these buttons are such a nice detail because they don't get in your way while you're moving around.
This type of jacket will definitely be one of your best French fashion investments because it can be worn with so many different outfits and remain stylish without looking dated or out of place in any situation.
Figaret Button-up Shirt
A Figaret button-up shirt is a classic work staple that any 5-piece French wardrobe should have. It can be worn under a suit or on its own, with simple accessories and comfortable shoes. As it's made of soft cotton, it's perfect for spring and summer.
With embroidered details around buttons, pockets, and collar, it has some key design elements that make it stand out from other button-ups but still maintain a professional feel. At $150, it is an investment piece but worth every penny; you won't regret having something that you can wear to work daily as well as dress up with accessories to go out on weekends or evenings in your city.
2-3 French Designer Dresses
A French designer dress by an upscale brand like Lanvin, Chanel, or Chloé is a good investment because it can be worn multiple times on different occasions. If you choose to invest in one, make sure you find one that fits your body type and style. You don't want to wear something that makes you feel uncomfortable or doesn't fit well. Be sure to take good care of your dress as well, so that it lasts longer and stays in good condition over time.
Obviously, a French designer dress will not come cheap, but if you take care of it properly, you should be able to wear it many times over before having to replace it with another one. So even though it might seem like an expensive purchase at first, you'll get much more use out of it than if you bought something cheaper that didn't last as long.
Chanel Flap Bag
The most desired bag on a fashion lover's wish list is without a doubt, a Chanel flap bag. This classic style has been around since 1955 and hasn't lost its touch. It comes in different colors and materials such as leather or lambskin and can be found in different sizes such as mini or maxi.
If you want to make an investment that will last you forever, look no further than a Chanel flap bag! Its timeless design will never go out of style and it will keep its value over time! These bags come in all shapes, colors, and even different sizes so there is one for everyone. Whether you want something small enough to carry your phone, keys, credit cards, and lipstick or something larger that could fit your laptop, iPad, and other essentials, there is a flap bag for every occasion.
Chanel bags have consistently proven to hold their value. The price tends to rise every few years, so if you've considered this bag for years already, now is the time to buy as prices will only go up.
Hermès Silk Scarf
In terms of sheer value, a Hermès silk scarf might be one of your greatest fashion investments. The medium-sized scarves can run you up to $400 USD. Nevertheless, they are timeless and classic accessories that will never go out of style.
A Hermès silk scarf is an investment in both luxury and practicality: they can dress up any outfit while keeping you warm on those chilly days. A silk scarf from Hermès comes with a hefty price tag, but it'll last forever. The best part? You can wear it every day without worrying about ruining it! Plus, it'll add some flair to even your most basic outfits.
Cartier Necklace
Cartier necklaces have been symbols of luxury for decades, and they always appear on red carpets around the world. A timeless piece by Cartier is a great jewelry investment. They are worn by famous Hollywood actresses and royals alike. You can shop authentic Cartier necklaces from Selfridges.
Cartier will make you stand out with a classic touch that never goes out of style. Let's be honest – who doesn't want to look like a princess? They may be pricey, but they will last you forever! Women have treasured Cartier jewelry for years and they have been crafted so perfectly by French artisans for centuries that no one can resist.
Christian Louboutin Pumps
Investing in a quality pair of shoes is one of your best fashion investments. Christian Louboutin pumps are coveted by petite women because they create an elegant, timeless look and feel. The elevated heel creates a long leg line, which works well with most body types and helps women appear taller.
To help these shoes last longer, it's best to use leather care products such as polish to keep your red soles shiny and intact. Christian Louboutin pumps start at around $750 USD per pair. Before you can take advantage of these luxe bargains, stop by an authorized retailer near you to make sure your shoe meets Louboutin's quality standards and ensure proper fit on your foot before purchasing.
Roger Vivier Clutch Purse
A Roger Vivier clutch purse is a timeless piece that will never go out of style. If you're looking to invest in one evening item, make it a good-quality evening bag. This is an investment that will last forever and is highly versatile, making it ideal for both day and night looks.
Vivier handbags are made from calfskin leather and feature Swarovski crystals and metal hardware. The interiors often have compartments, zipped pockets, and sometimes a cardholder. There are top handle options or straps that can be worn across your body.
Hermès Leather Sandals
Hermès leather sandals are always in style and can be worn with any French summer outfit. Hermès Oran sandals have become classic and timeless, making them a great investment pieces.
The sandals come in many different colors and designs, allowing you to find one that matches your style perfectly. For example, if you prefer a classic look, you can purchase a pair of simple brown sandals or if you want something bolder, try out a pair of red sandals. No matter what color or design you choose, these French girl shoes will always be in style because they are so versatile.
You can wear Hermès Oran sandals with jeans on casual days or dress them up with a nice skirt or dress on formal occasions. These shoes will also last forever because they are made from high-quality materials such as real leather that is handcrafted by artisans in France.
Carel Shoes
As a staple item in any fashionista's wardrobe, Carel Kina shoes and boots are well worth their high price tag. The versatile shoe can be worn with just about anything, making it an easy and smart choice if you plan on investing in a single pair of shoes. The high-quality Carel footwear is made from soft leather and features details like braided edges that add visual interest to your outfit.
Aubade Lingerie
Aubade lingerie is well known for its comfortable and stylish bras. They have a wide range of styles and colors to choose from and are made with high-quality materials. If you're looking to update your bra collection, Aubade is a great French lingerie brand to consider with a storied past. Aubade bras will help lift and support your breasts while also making them look beautiful.
---
Buying well-made, high-quality fashion pieces can seem daunting and expensive. If you invest in a few top items, however, it will help you to build your wardrobe to stand the test of time. Because they're high quality, they'll last longer than cheaper items that fall apart over time. With these style essentials on hand, in just a few months, you'll be able to dress thoughtfully and creatively like a French woman!