People around the world admire Parisian style. In this guide, I want to share a few ways about how to dress like a Parisian woman, even if you don't live in Paris or France! There are so many style tips we can learn from Parisians.
What Parisian Style Really Is
The best way to describe the Parisian style is effortless comfort. It's all about light fabrics, simple combinations, and elegant yet simple choices that perfectly encapsulate the vibe of Paris.
Now, effortless doesn't mean not trying or throwing on the first thing you see. It's the exact opposite. You want to look like you don't care – but you have to make an effort to accomplish that.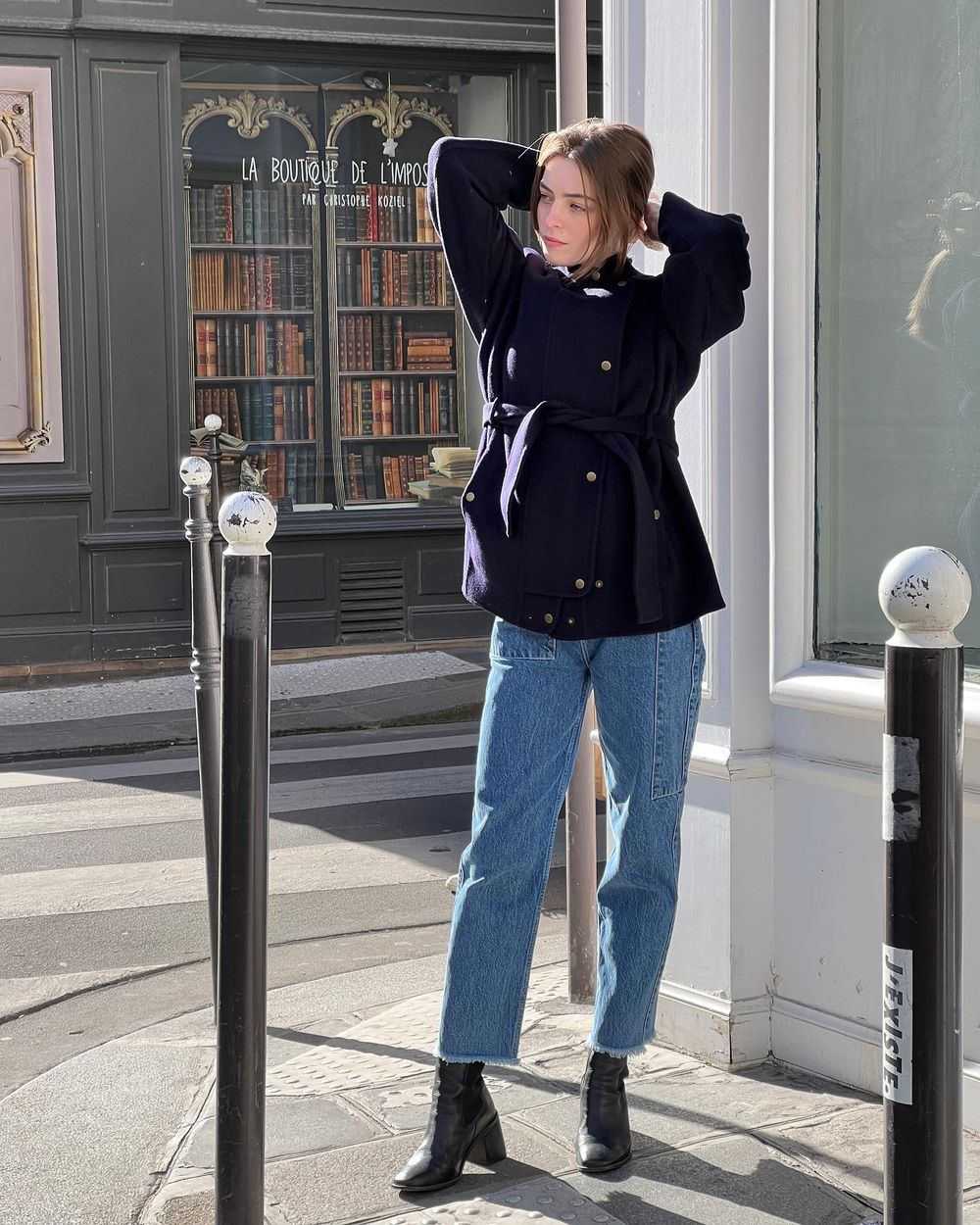 Master the "Décontracté" Undone Look
There are several ways to translate "décontracté," it could mean laid-back, relaxed, and, perhaps, a little bit careless. That's exactly what you should try to go after if you want to wear a Parisian-style outfit.
Make no mistake, French people do care about the way they look – but they are constantly playing a little game where they put effort to look like they make no effort at all. You have to look messy but tidy at the same time.
Wear the "Masculin-Féminin" Look
Outfits that look both masculine and feminine could seem a little weird, even as a concept, for non-Europeans. The thing is, the mixed look is fairly common in Europe, even more so in France.
In fact, it's been a thing in French fashion since the 60s! And it's not that hard to master. You have to bend the rules a little bit to craft your next great outfit. If you want to, start slow: wear a shirt and a tie, see how it feels. That's simple yet very Masculin-Féminin.
Invest In Timeless Luxury Pieces
Can you ever go wrong with a white shirt and blue jeans? What about with a black blazer and corduroy pants? Of course not! French women don't hesitate to invest in the finest luxury pieces for their wardrobes.
That's the very embodiment of timeless elegance. Parisians intuitively go for these kinds of classic outfits – and you should do the same. A high-quality Hermès silk scarf is a better purchase than 5 or 6 cheap fast-fashion dresses.
The great thing about wearing timeless pieces is that you don't have to think too much about it. Go for neutral colors and simple clothes and get on with your day. If you think that's a little too simple for you, you can always add a French twist to your outfit. Here are the best French fashion investments to make.
Stick to Neutral Tones in Your Wardrobe
There's no room for bright oranges or green tones in a Parisian woman's wardrobe – because flashy colors are the last thing the French will go for. You want neutral or opaque colors and nothing more than that.
Think about white and light blue during the summer and beige during autumn. In contrast, the only yellow you'll see on a Parisian outfit is on thin golden necklaces or bracelets. Believe it or not, this limited color palette gives way to great, diverse outfits.
Pay Attention To Details
The little things matter – especially when you're wearing simple, effortless outfits. The type of watch you're wearing, whether you have your sunglasses on or not, the kind of French style shoes that you paired your denim jeans with.
Parisian women have a sharp eye to figure out who knows what they're doing and who doesn't. So, yes, you have to pull the effortless look by putting a little effort – but it's a great thing when your outfit finally clicks!
Iron Wrinkles Out of Your Clothing
Going for an effortless look doesn't mean being sloppy. You should iron your clothes and have everything nice and tidy. It's a terrible sight to see someone wearing the right outfit – but have it ruined by wrinkles and overall sloppiness!
You may get away with not ironing your pants every once in a while, but going out with a wrinkly shirt is a dead giveaway you're not doing things the right way. It takes five minutes to iron your clothes, so you better do it.
Lightweight Jewelry
There's no place for big jewelry, excessively luxurious watches, or anything flashy in a Parisian's wardrobe. You want simple things that complement your outfit, not outlandish garments that stand out.
Take, for example, the classic black sunglasses. It's a Parisian fashion staple – simple, stylish, and sophisticated. That's what you should try to imitate!
What's the jewelry equivalent to black sunglasses? Thin gold necklaces, small earrings, and pearls. Elegant and discrete watches are also a perfect Parisian choice.
Only Wear Simple Accessories
As we have talked about above, you want the black sunglasses equivalent of accessories and jewelry. Big hats, extravagant purses, and other flashy items are a no-no when you're on the streets of Paris – and are a great way to tell everyone you're a tourist!
Your purse should be small, preferably in a neutral color, and have no logos on top. French people hate showing off logos! They simply do not care about brand recognition – and emphasizing that kind of thing is rather off-putting for them.
Know the Trends, but Don't Follow Them
There's something special about Parisian style fashion: they go for a timeless look instead of chasing the latest trend (that won't last for long). When you walk the streets of Paris, it feels like everyone threw the first thing they found – but it always looks both classy and classic.
You should keep up to date with fashion trends, but you shouldn't mindlessly follow them. Mix it up and see what works and what doesn't – but don't try too hard.
Find Your Own Personal Style
Parisian-style fashion is more of a way of doing things than a list of things you have to check before you walk out the door. Similar to all things fashion, you should let your personality shine through your clothes instead of imitating others.
If you want to feel a little more French, you should dress more simple, casual, and comfortable.
Don't Dress Like a Tourist!
Parisian people will know whether to talk to you in French or English depending on what you wear. They can spot a tourist a mile away based on their clothes!
Forget about pieces with logos, flashy jewelry, and outlandish colors. Keep your wardrobe simple, neutral-colored, and, more importantly, avoid wearing try-hard clothes.
French people don't care about blatant displays of wealth – and you should avoid them if you're trying to go for a Parisian-style outfit.