There's no country that has as much of an illustrious fashion history as France. Since the days of Marie Antoinette, France has been synonymous with luxury fashion and upscale design. At the turn of the 20th century, the luxury fashion industry was still in its infancy. Fashion "brands" didn't really exist, rather individual designers serviced well-to-do clients directly, and those in the know.
Over time, with production capabilities increasing, fashion designers were able to produce prêt-à–porter, or ready-to-wear, clothing for a wider market. These iconic French fashion designers spearheaded many of the most prestigious luxury fashion houses we know and love today.
Historic French Fashion Designers
Here is a list of the most iconic historical French fashion designers who founded the most sought-after fashion brands in France. These designers began the French girl style trends we know and love today.
Gabrielle Coco Chanel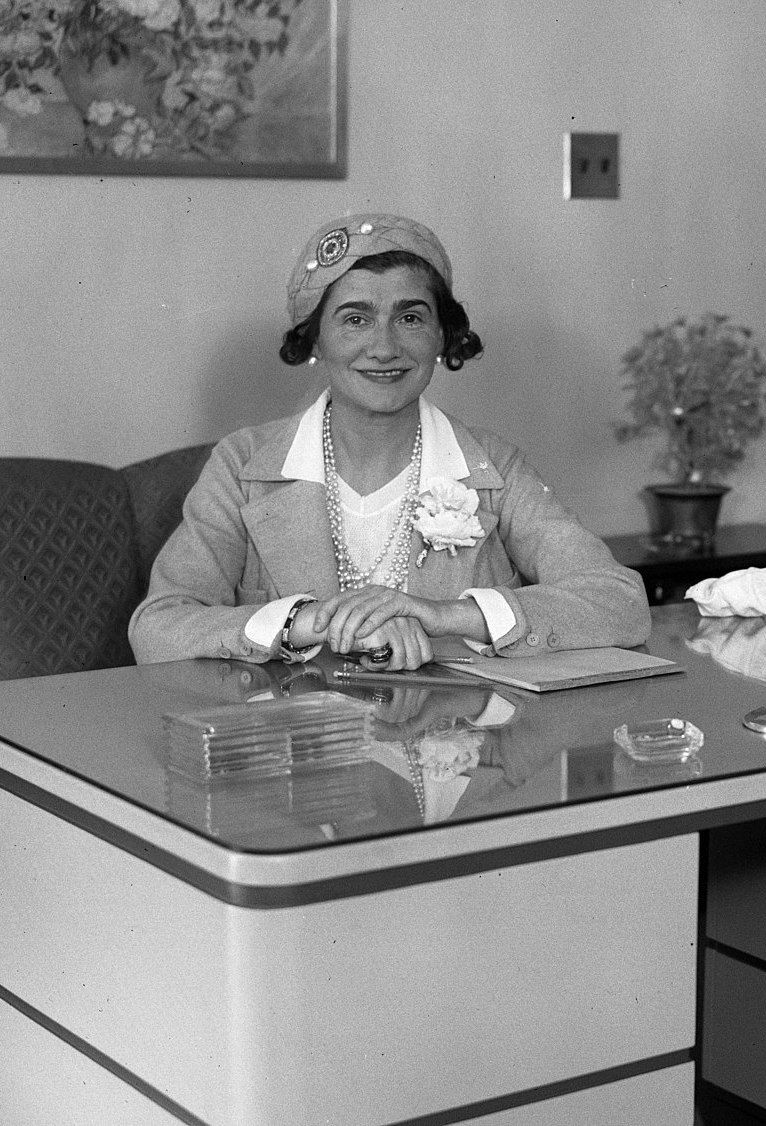 Even though she's widely regarded as the most influential designer of the 20th century, Coco Chanel's impact goes way beyond fashion. Born into poverty, she quickly made her way through the world of fashion and became the true style icon of the post-World War I era. A true innovator, Coco redefined what a fashionable woman should look like.
She was the first to introduce some of the tailoring methods previously reserved for men to create a more comfortable and functional, but still elegant, feminine standard of style. Some of her designs, such as a "little black dress", remain staples in French fashion to this day. Besides women's apparel, Coco also left her mark on the sphere of perfumes, accessories, and jewelry.
Louis Vuitton
The history of French fashion wouldn't be the same without Louis Vuitton. After starting out as a trunk maker, Vuitton found himself working for the wife of Napoleon III, Eugenie de Montijo, as her personal container creator and packer. This provided him with access to the royal and elite clientele and a couple of years later, he started his own leather goods company which rapidly expanded beyond French borders.
After the death of the legendary designer, his son Georges took over the company, leading it to worldwide prominence and introducing some of the most recognizable leather bags such as the Keepal and Speedy.
Christian Dior
Often credited for introducing French fashion to the world, Christian Dior started his career as an assistant designer to Robert Piquet. After World War II, he started his own couture firm and rose to global fame, mainly thanks to his revolutionary design, dubbed the "New Look". In the postwar era of depression, he set out to help women rediscover elegance and joy, introducing a more feminine line, adjusted shoulders, and a full A-line skirt, all quite revolutionary at the time. Dior remained a key figure in the fashion world until his death in 1957.
Hermès
Today, Hermes is known worldwide as likely the largest family-owned manufacturer of leather goods. However, not many know that the company was founded way back in 1837 by Thierry Hermès, initially supplying other leather riding gear such as saddles and bridles to the European aristocracy and elite.
Over time, the company's range expanded to include accessories and clothing. Some of the best-known Hermès products are inspired by famous showbiz stars and style icons, including the Kelly Bag (named after American actress Grace Kelly) and the Birkin Bag (named after English model and actress Jane Birkin).
Jeanne Lanvin
The story of Lanvin, one of the most prominent fashion houses in France, begins in 1889 when Jeanne Lanvin, aged only 22 at the time, opened the hat shop in Paris. The turning point in Lanvin's career happened when she started designing dresses for her daughter, Marguerite. This inspired her to open a children's clothing department. Pretty soon she started designing for mothers, too, and thus gave birth to the mother-daughter dressing concept.
As the business grew, Lanvin also opened shops for menswear, lingerie, and home décor. However, she was perhaps best known for her perfume and beauty company Lanvin Parfums.
Pierre Balmain
Although he studied architecture, coming from a family of boutique and drapery business owners, Pierre Balmain was always destined to work in fashion. His career started in years before WWI when he worked in several different fashion houses. After the war ended, in 1945, he decided to start his own business, establishing Maison Balmain as a couture house. The company had meteoric growth, mainly due to its commitment to quality evening wear.
Balmain's designs attracted the attention of some of the biggest stars of the moment and his creations were worn by Sophia Loren, Brigitte Bardot, Katharine Hepburn, and others. Balmain is also significant as one of the first French designers to make a significant breakthrough in the American market.
Nina Ricci
Originally from Italy, Maria Nielli moved to France at the age of 12 and is an integral part of French fashion history. However, in the fashion world, she's known as Nina Ricci, a combination of her childhood nickname and her husband's surname. Initially, Nina worked for years as a creator for the House of Raffin. She founded her own luxury brand in 1932, at the age of 49. Nina Ricci's designs were known to be very simplistic, yet refined, elegant, and feminine. In 1941, with the help of her son Robert, she successfully expanded into the perfume business.
Hubert de Givenchy
A true visionary and innovator in the world of fashion, Hubert de Givenchy opened his own couture house in 1951 after years of mastering the trade alongside Jacques Fath, Robert Piguet, Elsa Schiaparelli, Lucien Lelong. He made an immediate impact on the fashion scene, largely thanks to the immensely popular Bettina Blouse which remained his signature creation. Givenchy also left the mark in the cinema world, designing outfits for Audrey Hepburn in many of her movies.
Yves Saint Laurent
For decades, three letters, YSL, have been a guarantee of style and quality. Yves Saint Laurent learned from the best, as his first job was at Christian Dior's fashion house, where he took the reigns as creative director after Dior's death. He launched his own label in 1961.
Yves Saint Laurent was a fashion trailblazer in many ways. He was the first to introduce multiple ground-breaking trends and redefine women's clothing. His trademark creations include Le Smoking, a tuxedo suit for ladies, thigh-high boots, tight trousers, and many others. Even after his death, the YSL fashion house continues to stir up the fashion industry.
Jean Patou
One of the essential French fashion houses of the 20th century, Jean Patou, started off as a small dressmaking salon called Maison Parry in 1912. After World War I halted his initial success, Jean Patou reopened his house in 1919 and soon became known for designing sportswear for women. He was dedicated to making fashion natural and comfortable and is credited with inventing knitted swimwear and the tennis skirt, as well as designer ties.
Jean Patou's significance goes beyond his creations as some of the most notable designers, including Karl Lagerfeld and Paul Gaultier, worked for his house.
Rene Lacoste
Despite his original career as a tennis player, Rene Lacoste as a fashion designer stepped away from traditional on-court apparel to create new and unique sportswear. Even as a player he replaced the formal shirts worn at the time for more comfortable and stylish short-sleeved knit polo shirts. These shirts later became the most recognizable product of his brand. His big break came when his famous shirts with signature crocodile insignia made their way to the US market.
Christian Lacroix
Extravangace and lavishness are the first things that pop to mind when thinking about Christian Lacroix. It's no wonder considering where he drew his inspiration from. As a child, Lacroix drew costumes for theater and opera, and later in life, he was drawn to the tradition of his native Provence, as well as Oscar Wilde, the Beatles, Barcelona, and Venice.
He founded his couture house in 1987 and besides clothing also designed accessories and footwear. He also remained faithful to his first love and was involved in designing for the stage.
Lucien Lelong
From his childhood, Lucien Lelong was predestined to be in fashion. His father owned a fashion store and young Lucien studied at the Hautes Etudes de Commerciales in Paris. He established his own fashion house in 1910, ultimately becoming one of the most influential French couturiers from the 1920s to the 1940s. Among the designers who worked for him are some of the biggest names of French fashion including Pierre Balmain and Hubert de Givenchy.
Paul Poiret
One of the most prominent designers in Paris prior to World War I, Paul Poiret left a lasting imprint on the world of fashion. His contributions and creations of his namesake fashion house are often compared to the legacy of Pablo Picasso in 20th-century art. He was a firm advocate of Neoclassical and Orientalist styles and is best known for promoting the idea of replacing the corset with the brassiere. In addition, he's credited as the inventor of the hobble skirt.
Sonia Rykiel
Sonia Rykiel was a breath of fresh air in the fashion scene in the 60s and 70s. She revolutionized knitwear, created the famous Poor Boy Sweater, and was the first to put printed slogans on her sweaters. All this earned her the nickname the Queen of Knits. Rykie has been known for going opposite of the current fashion trends and combining elegance and comfort in her bright-colored creations. She was also famous and loved in the findustry for her vibrant and entertaining fashion shows.
Jean Paul Gaultier
Even without formal fashion education, Jean Paul Gaultier is easily one of the most influential designers of the late 20th century. Enfant terrible of fashion, as he was often called, Gaultier often caused shockwaves throughout the industry and the culture as a whole He was the first to use plus-size women and older men as models and attracted attention with his unconventional creations. He became known to the wider audience through his collaboration with Madonna during her Blonde Ambition Tour.
André Courrèges
One of the pioneers of introducing futurism and modernism to fashion, André Courrèges was among the most original French designers. He started his career working for Balenciaga, where he met his wife and lifelong collaborator Coqueline Barrière. Together, they established Courrèges Haute Couture Maison in 1961. They attracted a lot of attention with their futuristic creations with an accent on geometric shapes and designs. Courrèges is one of the designers credited with inventing the mini skirt and the most deserving for the popularity of go-go boots.
Marie-Louise Carven
The founder of House of Carven, Marie-Lousie Carven was instrumental in shaping the French fashion industry in the post-World War II years. She showed interest in fashion from the earliest age, designing outfits for her cat. My childhood love for fashion turned into a full career. The focus of her creations was clothing for petite women. as a petite woman herself, she was inspired by her own inability to wear outfits of the top couturiers. This earned her the nickname of "the smallest of big couturiers."
Marie-Louise Carven made some long-lasting contributions to fashion. She was the first to patent a push-up bra and among the first designers to launch a prêt-à-porter line.
Pierre Cardin
One of the revolutionaries of the industry, Pierre Cardin redefined fashion by introducing innovative, geometric, and futuristic designs. By his own words, Cardin's father wanted him to study architecture, but young Pierre turned to fashion, only to still employ geometry as the basis of his signature style. His most famous creation is the Bubble Dress. Cardin is also the designer who introduced the concept of street fashion and was the first one to launch a unisex line of clothing.
Guy Laroche
After his initial career in the military, Guy Laroche turned to fashion and started his journey as an assistant to Jean Dessès. After visiting the USA and learning about new ready-to-wear manufacturing methods, he returned to France and founded his company which went on to become one of the most notable French fashion houses. With the knowledge he picked up overseas, Laroche was the first designer to bring ready-to-wear outfits to France. Later he expanded to the fragrance industry, creating some of the most popular perfumes, including Drakkar Noir.
Agnès b.
Agnès Andrée Marguerite Troublé, better known as Agnès b.is best known as the owner of the namesake brand which, besides fashion, also dabbles in the film industry. Interestingly, she started her fashion career in journalism, working as a junior editor for Elle Magazine. After two years in Elle, she left the job to pursue a career as a designer and eventually managed to launch her own label in 1966. Over time, her company expanded to include accessories, skincare, and cosmetics products and has shops all over the world. Agnès b. also designed shoes, bags, watches, and eyewear.