You simply must know about these French clothing brands if you are a fan of Parisian style and French fashion. France has some of the most amazing clothing designers where you can get the coolest clothing to create chic French outfits.
I'll never forget my first trip to Paris when I was able to discover the amazing fashion scene that France is known for. Le Marais is a neighborhood of Paris that is particularly known for up-and-coming fashion designers and independent French labels to launch a store. In this neighborhood, you can find some of the most cutting-edge French clothing to buy.
In this article, I'm going to share with you some French clothing brands that you can shop from the US, and others you'll have to visit the next time you take a trip to France!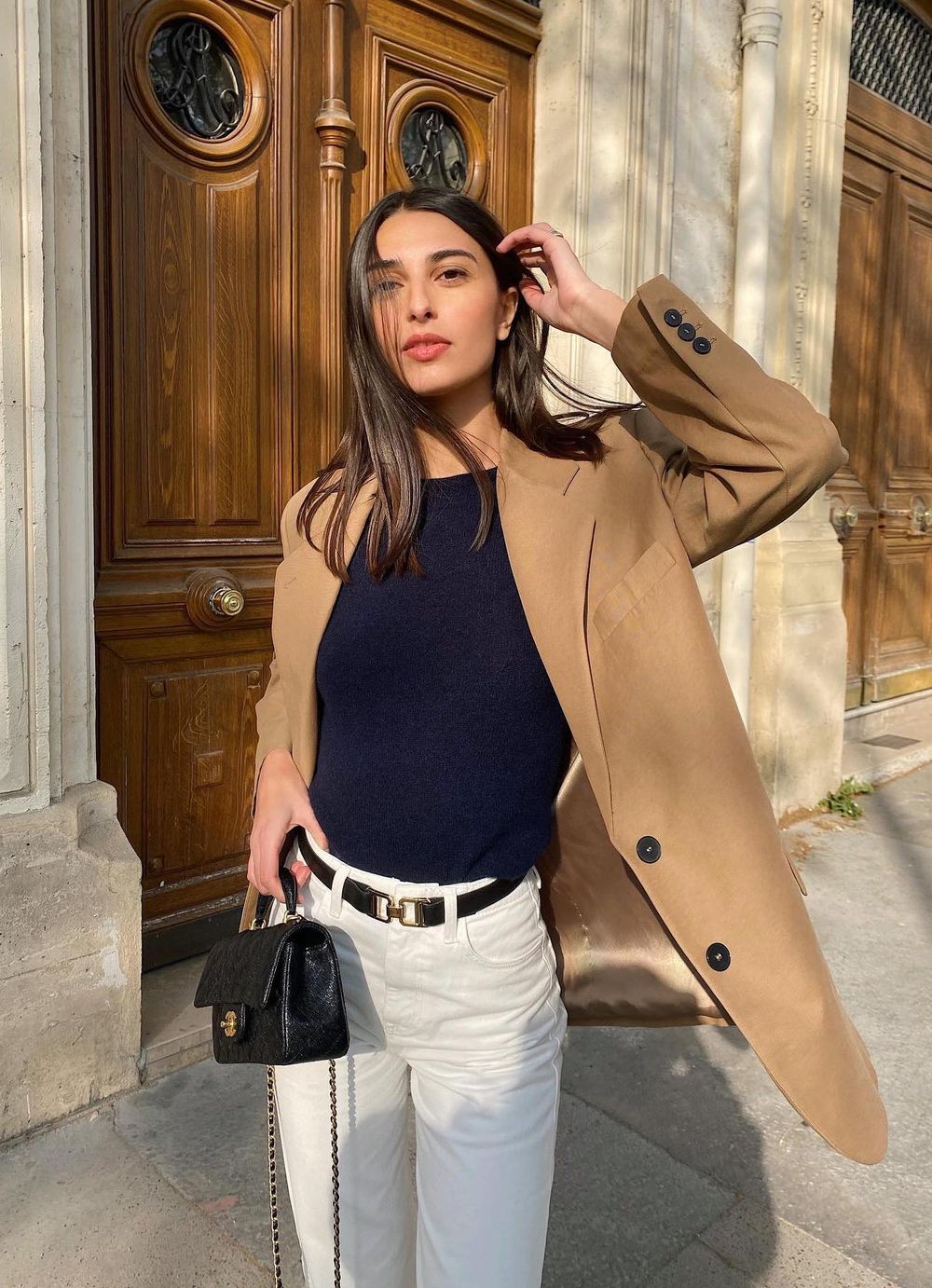 French Fashion Clothing Brands
French girl fashion is one of the most sought-after fashion trends. The French girl style emits a timeless, elevated aesthetic, from the paired simplicity with depth to the seamless minimalism.
People usually find French fashion appealing because of its effortless yet elegant aura. Our generation isn't a massive fan of high-polluting fast fashion anyway – we prefer investing in well-made, versatile clothing that looks sophisticated. French fashion scores a mark here as well.
Walking into a French clothing store, you won't find hipster shorts and funky floral capes as they wear in fashion shows. Instead, you will find wardrobe staples in fresh designs that perfectly fit your outfit.
But here's the thing: to dress like the French, you have to shop from the French! This article lists the best French clothing brands to satisfy your passion for French fashion. Continue reading to discover the finest affordable French clothes companies.
Sézane
An average person would set up a yard sale if they found an abandoned suitcase full of vintage clothes. But not Morgane Sézalory – she revamped the old clothes she found at estate sales and sold them on eBay instead! The vintage pieces quickly became eagerly awaited monthly collections, eventually inspiring Sézalory to launch Sézane. This beloved French clothing brand features high-quality clothing at reasonable pricing.
Jacquemus
Those low-cut draped skirts and tiny purses you've seen everywhere on the internet? You may thank Jacquemus for that. But the actual selling point of the brand isn't the people who wear it (even though Bella Hadid and Hailey Bieber have no doubt convinced hundreds to buy Chiquito bags) – it's the brand's approachable nature. No matter your gender or region, Jacquemus is sure to level up your wardrobe game.
Figaret
Figaret Paris has been cultivating elegance and the craft of shirtmaking with enthusiasm since 1968. The brand has developed from a local boutique to one of France's most recognized clothing establishments. You will find attention to the littlest details, superior material, and unique patterns in their apparel.
Sandro
Consider boyfriend jackets, embroidered denim, and ruffled white button-downs: the Sandro brand's roots strongly intertwine with Paris. This brand has become people's go-to shop for achieving a subtle look with a noticeable edge. Sandro's designs capture the essence of the fantastic and trendy Parisian spirit, the easygoing French charm, with a slight twist.
See by Chloé
See by Chloé offers more affordable everyday clothing for a younger age group while maintaining the classic Chloé ultra-feminine vibe. The brand induces a Gallic aesthetic with a bohemian character, with a name that suggests luxury without feeling inaccessible.
The Kooples
The Kooples is a French clothing line that provides Parisian street flair to men and women. The brand was influenced by rock music and is recognized for continuously changing the outfits, providing a fun, unique touch to the classic Parisian chic style.
Mirae
Mirae is a sustainable brand that chooses suppliers who employ green production processes like recycled water and renewable resources. Moreover, Tara Jarmon and her daughter Camille make sure to produce designs in small batches of 30 to 100 pieces and uses sustainably created natural materials or deadstock fabrics. Their go-green efforts result in an accessible Parisian style fashion at a low private and environmental cost!
A.P.C.
A.P.C. is known for its preferred essentialist approach, and yet its designs aren't lifeless or dull. Each piece of A.P.C. clothing is sewn with a level of expertise that shines through independent of frivolity. What started as a classic jeans and raw denim apparel brand now offers exclusive menswear and womenswear collections, ensuring that we have timeless, accessible styles for every stage of our lives.
Saint James
Saint James is one of the most classic French clothing stores on the market. Its nautical-themed designs and celebration of maritime set it apart from the "trendy" crowd. Here it's all about traditional French design! The striped blue and white long-sleeve shirt, initially designed as sailor uniforms, has been associated with French fashion throughout the years!
Petit Bateau
Petit Bateau is mostly known as a children's clothing brand, but the brand has been selling womenswear for years! It's great for French classics like high-quality t-shirts and classic striped Breton shirts. The quality and feel of the Petit Bateau products are apparent – you can be confident that these garments will survive many washes. With its quality and timeless style, it is no surprise that Petit Bateau has such a cult following. Shop from the US via Amazon.
Maje
Maje is one of the leading participants in the market, providing French luxury at an affordable price. With its bright, glamorous, and urban aesthetic, the brand bridges the gap between luxury and the mass market. Maje's dedication to expertly manufactured clothing has made it the go-to brand for models like Alexa Chung.
Ba&Sh
Taking inspiration from Parisian shapes like maxi dresses and flared trousers, Ba&Sh tries to combine freedom of expression with a cheerful elegance in their clothing. You might even remember Blair Waldorf carrying a Ba&Sh bag in one of the Paris episodes of Gossip Girl!
Claudie Pierlot
Claudie Pierlot outfits, like some other labels on our list, have a sporty but elegant look. Pierlot designs are similar to the French version of preppy womenswear. Claudie Pierlot launched her fashion house for Parisian women. She created stylish and effortless looks suitable for everyday wear – you could don her outfits on the streets from morning to evening!
A.M.I. Paris
After working at Dior, Givenchy and Marc Jacobs, Alexandre Mattiussi founded his namesake label A.M.I. which means "friend" in French in 2001. Today, his brand is an effortless wardrobe of elegant, wearable men's garments and is a sought after establishment in the luxury landscape.
MaisonCléo
MaisonCléo is another mother-daughter partnership. Cléo is a certified seamstress who develops tailor-made things for her clientele, whereas Marie used to work in the fashion sector with young designers. Together, they offer low-cost apparel made of high-quality materials.
Stella Pardo
Stella Pardo is a colorful French clothing designer with a boutique in Le Marais, Paris. Her premium knitwear is handmade and sells out fast. With influence from South America, each of these designs is sure to keep you warm while looking chic.
Vanessa Bruno
Vanessa Bruno is a French clothing brand with a founder who has been designing clothes since she was 25 years old. The Cabas Tote bag is the brand's signature piece. Channeling a classic Parisian comfort and the romance of France, Vanessa Bruno designs are perfect for the feminine woman.
Marie Marot
Marie Marot's style is sleek, simple, and feminine at the same time. Though she specializes in button-up shirts, each item is conceptualized and designed to symbolize liberty. Marot recently did a collaboration with American clothing brand J.Crew. The brand focuses on cross-generational apparel suitable for teenage girls and 80-year-old women alike. Her designs are defined by three words: ageless, comfortable, and uncomplicated. Shop via Farfetch.
I.R.O.
French women adore leather coats, and I.R.O. has some of the finest available. They are pricey, but you are paying for quality. I.R.O.'s edgy apparel collection is fueled by sophisticated aesthetic experiences influenced by the '70s in America, cheerful Japanese lunacy, and Parisian romanticism.
Jour/Né
Jour/Né, comprised of Lou, Jerry and Lea started their newly born venture to provide people with functional, ready-to-wear wardrobe options. They dedicate their leisure time to designing high-class, ready-to-wear, everyday clothing items. And when they say ready-to-wear, they mean it! All of Jour/Ne's clothing items are pre-washed, ensuring longevity.
Musier Paris
Musier Paris, founded in 2018 by Anne-Laure Mais, sprang to prominence after Bella Hadid wore one of its cropped overcoats on a yacht in summer 2019. The company refurbishes its collection every season with stylish and timeless attire. Whether you choose a fitting Pearl Cardigan or enticing Animal Print Mules, each piece is long-lasting and well designed, so your desire to wear them won't fade after only one wear.
Zadig & Voltaire
If you've ever wondered how the French manage to seem so effortlessly stylish, a look at the Zadig and Voltaire collection could be the answer. Founded in 1997, the company quickly rose to prominence due to its iconic style (more tunic necklines, please) and high-quality materials. Though Zadig and Voltaire's initial concentration was on womenswear, the company has since expanded into menswear and children's clothing over the years.
Eres
Eres has been labelled the "Coco Chanel" of swimsuits. The luxury French swimwear brand focuses on producing clean, sophisticated items that express supreme elegance. Every piece of Eres' swimwear has an unrivaled sense of timelessness and minimalism, which is the polar opposite of what other brands offer: provocative garments.
Rouje
Rouje has been designing retro clothing, shoes, and accessories that anyone can effortlessly pull together since its start in 2016. Founded by French influencer Jeanne Damas, this cult classic has a collection of vintage-inspired blouses and knits that pair well with high-waist jeans or silk slips. You can expect the whole feel to be delicate and feminine yet chic, just like its founder. The brand has taken initiative to be eco-conscious and has launched an "upcycled" collection recently.
Ernest Leoty
Ernest Leoty, which labels itself as "couture for leisure," creates modern designs with a Parisian sensibility and technological performance in mind. The brand is named after a prominent corset maker of the nineteenth century who designed the first "modern" corset. Today, the brand draws on its tradition to create beautiful activewear that flatters and moulds your figure.
---
Instead of hopping on a new fashion trend every season, French women choose to stock their closets with timeless and elegant basics. These mid-range, contemporary, vintage-inspired, and high-end brands are where they turn to for the best style.
Among the myriad of clothing apparel companies in the market, the French fashion brands listed above are definitely the ones every French diva has on their list. So, what are you waiting for? Try these talented French clothing brands to cultivate your French girl look with sophisticated classics.