I've rounded up the French fashion labels you need to know about for an effortlessly chic wardrobe. These collections, from mod and minimalist to floaty and flirty, invite us all to dress with French girl style.
Coming up: a snapshot of must-know French fashion labels (and the names behind them).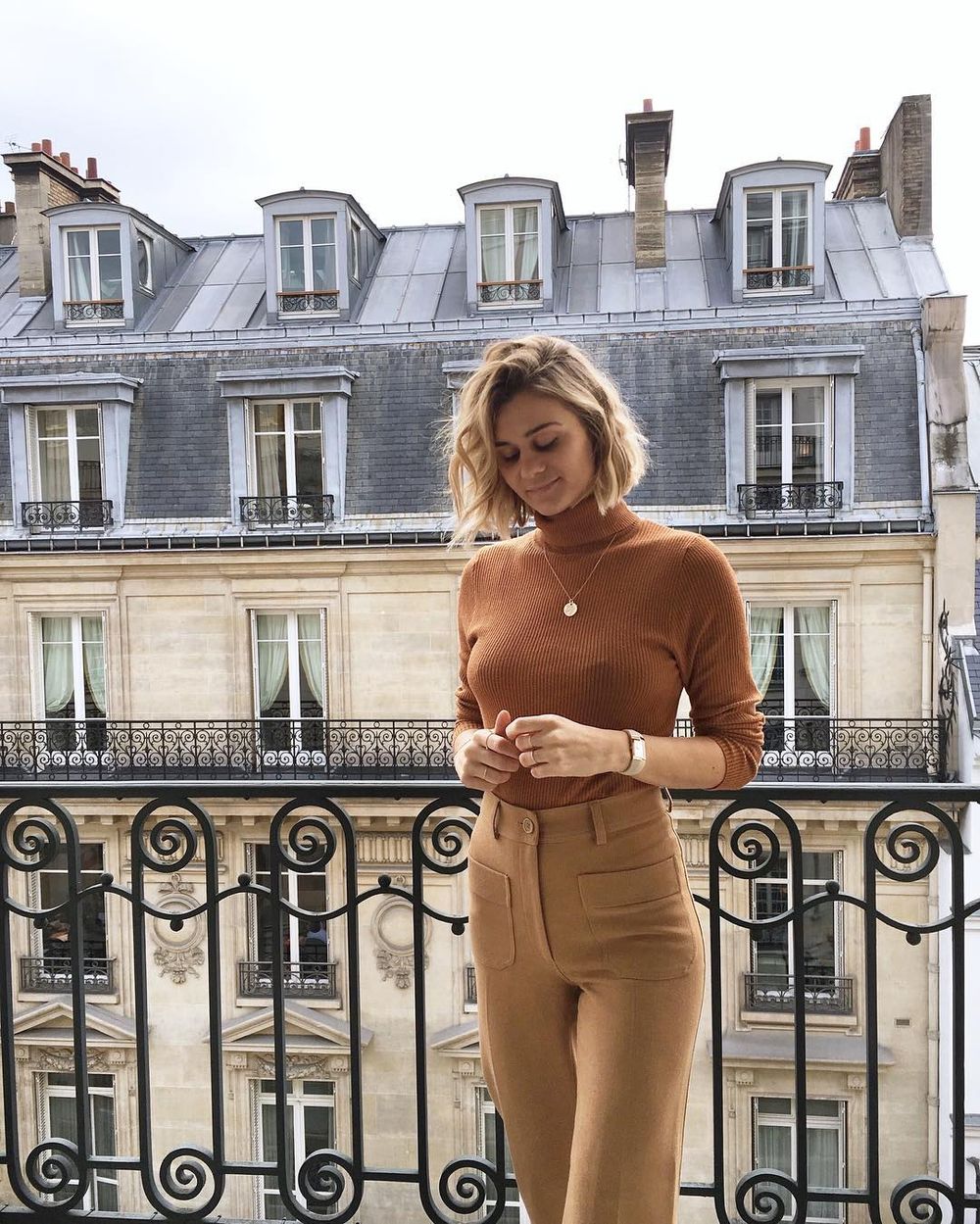 1. Rouje
Bespoke prints, high-quality fabrics (think: delicate lace, Italian knitwear, 100% cotton denim, and viscose crepe), feminine details, and flattering cuts make Rouje pieces distinctive, casually chic, and timeless.
French influencer and socialite Jeanne Damas founded Rouje after explosive Instagram success.
Key pieces: Floaty dresses, menswear jackets, chunky knits, and mules.
2. Jacquemus
Jacquemus designs tell the beautiful story of carefree, sunny days in the south of France. Natural fabrics in earthy colors are refreshed with modern silhouettes and surprise details. Simon Porte Jacquemus heads up this creative team.
Key pieces: Cropped jackets, strappy sandals, and sleek skirts.
3. A.P.C.
The minimalist's dream label, A.P.C creates casual pieces with clean lines and classic fits for everyday style. Jean Touitou runs the show here.
Key pieces: Jeans in raw denim, simple shirts, and leather ballet flats.
4. Sandro
The allure of the Sandro label is its sophisticated, slightly androgynous pieces that command attention while being understated. This label does urban cool like no other. Evelyne Chetrite is in charge of Sandro fashion design. 
Key pieces: Sporty sweaters, chic cardigans, and tailored jackets.
5. Eres
Eres flaunts everything you could want in beachwear, lingerie, and athleisure wear: ultra-comfy and supportive yet super-stylish designs. The activewear is made to be mixed with dressier pieces, like a boxy blazer, for sporty street style.  Marie-Paule Minchelli is the creative direction lead behind Eres.
Key pieces: One-piece swimming costumes, matching crop top bras and leggings, and jersey lingerie.
6. Amélie Pichard
This French fashion label breaks all the rules. Amélie Pichard accessories are adventurous, eco-conscious (it's one of the first labels to use plant-based leather), and injected with humor. Amélie Pichard herself is head of this eponymous French fashion label.  
Key pieces: Structured bags made from fabrics like cork, raffia, waxed linen, or denim (with the label's iconic crocodile resting on the flap).
7. Claudie Pierlot
This label is quintessentially French in its simplicity and elegance. Claudie Pierlot tweaks French style staples to keep them current, fusing classic and contemporary design elements. You can thank Vanessa Pierrat for Claudie Pierlot's preppy French designs.
Key pieces: Floral blouses, print jackets, and high-waisted jeans.
8. Etoile by Isabel Marant
Boho meets rock 'n' roll in this cultish French fashion label. A favorite among big names like Alexa Chung, Kate Moss, Sienna Miller, Beyoncé Knowles, and Gisele Bundchen, Etoile is the label for international It-girls wanting a laidback Parisian look. 
Isabel Marant herself is the creative director for this spin-off brand, inspired by her more expensive main line.
Key pieces: Great-fitting jeans, motif T-shirts and sweaters, and printed dresses.
9. Maje
Maje offers diverse looks for different moods, always bold, elegant, and feminine with a touch of edge and whimsy. This is the ultimate brand to turn to for French girl style if you are a feminine woman.
Key pieces: Swing dresses, leather biker jackets, and embroidered shorts.
10. See by Chloé
This French fashion label screams casual and ever so cool. See by Chloé is a solid label for lowkey glam and a youthful spirit of spontaneity. Gabriela Hearst brought affordable French style to the masses which this line serves up. Turn to parent label Chloé if you want a more expensive approach.
Key pieces: Printed floral dresses, 70s silhouettes, wide-leg pants, comfy dresses, and slouchy shoulder bags.
11. Sézane
Sézane pieces are for now and forever. This French fashion label crafts high-quality, eco-friendly materials into luxury garments with enduring appeal. Morgane Sézalory is the founder behind this cult French label with an obsessive following. She began this brand as a vintage clothing seller on ebay. Her fan base is incredibly loyal.
Key pieces: Printed shirts, floral dresses, bohemian skirts, high-collar blouses, and extra-long shirt dresses.
12. Veja
For almost two decades, Veja has been giving us some of the coolest and most comfy sneakers. This label doesn't only care about style but also about people and the planet. Sneakers are brought to life using ethical production and earth-friendly materials (like upcycled plastic bottles) and are frequently spotted on high-profile feet, like Meghan Markle's. Sébastien Kopp and François-Ghislain Morillion are the founders of Veja.
Key pieces: Esplar, Campo, and V-10 sneakers.
13. Zadig&Voltaire
Zadig&Voltaire pieces tempt us to experiment to find our individual style. Cashmere and lace contrast with wrinkled leather and studs to create interesting outfits that feel amazing to wear. This is modern luxe with rock-girl edginess. Cecilia Bönström is Zadig's creative mind.
Key pieces: Satin tunics, leather pants and shorts, and slogan T-shirts.
15. Saint James
Saint James gives us elegant nautical style. This French fashion label awakened fashion's love for the stripe. Silhouettes and fabrics are constantly updated to keep designs fresh, yet they retain the unmistakable Saint James' clean lines and simplicity. 
Key Pieces: T-shirts, tops, and dresses in every type of stripe you can imagine.
16. Courrèges
Welcome to space-age style. Courrèges uses new materials like vinyl to create statement pieces with streamlined silhouettes, sleek lines, and flashes of exciting details. Nicolas Di Felice is the creative mastermind here.
Key pieces: Vinyl jackets, minidresses, and tank tops.
17. AMI Paris
As its name hints, AMI Paris designs are inspired by chic, simple, comfortable Parisian style. This label lets us look well-put-together without trying too hard. Alexandre Mattiussi is behind this up and coming French label.
Key pieces: Demin jackets, ruffled blouses and dresses, and relaxed-fit jeans.
18. Coperni
Simple, sporty silhouettes are enlivened with eye-catching embroidery and origami-inspired details. Sébastien Meyer and Arnaud Vaillant are the young designers who brought Coperni back to life.
Key pieces: Crop and bra tops, slip dresses, oval leather handbags, and origami handbags. 
19. MaisonCléo
A mother-and-daughter power duo makes all MaisonCléo designs by hand, using quality fabrics like silk, cotton, and linen. The label aims for transparency and sustainability as it creates quirky, ever-stylish pieces loved by Emily Ratajkowski and other chic actresses. Marie and Nathalie Dewet are the creative geniuses behind this fashion label.
Key pieces: Pretty blouses, sexy tops, miniskirts, and long tube skirts and dresses. 
20. Mirae
Mirae designs are brought to life by another mama-and-daughter dream team. This French fashion label is fun, flirty, and for women who like to stand out. Camille and Tara Jarmon are the mother-daughter duo behind this French fashion label to watch.
Key pieces: Flirty dresses, floral skirts, 60s vibes, crop tops, and wide-legged pants. 
21. Patou
Patou creates beautiful pieces with playful details that make the everyday delightful. This French fashion label is adored for its understated elegance. Who runs Patou? That would be Guillaume Henry!
Key pieces: Turn-up trousers, cotton trench coats, and tailored shorts.
22. The Kooples
You'll find strong silhouettes for strong personalities in The Kooples' collections. The designs mix glamour, nonchalance, and rock 'n' roll attitude for what the label describes as its innate rebellious elegance. Tom Van Dorpe is behind this beloved French label. The Kooples is known for its rocker leather jackets, sleeveless motif T-shirts, and light-printed dresses.
Whether you prefer classic Parisian style or new-wave French fashion, those are the hottest French fashion labels to watch!
These are the top French fashion labels right now:
Rouje
Jacquemus
A.P.C.
Sandro
Eres
Amélie Pichard
Claudie Pierlot
Etoile by Isabel Marant
Maje
See by Chloé
Sézane
Veja
Zadig & Voltaire
Saint James
Courrèges
AMI Paris
Coperni
MaisonCléo
Mirae
Patou
The Kooples
Next up, discover the best French lingerie companies.