These French spring wardrobe staples are pieces that every woman should own. I love curating my wardrobe around the French style. Spring is a great time to play around with layering pastel colors, wearing trench coats and so much more. If you want to create a unique look for your personal style this spring then I'm sure you'll be inspired by these French spring wardrobe pieces!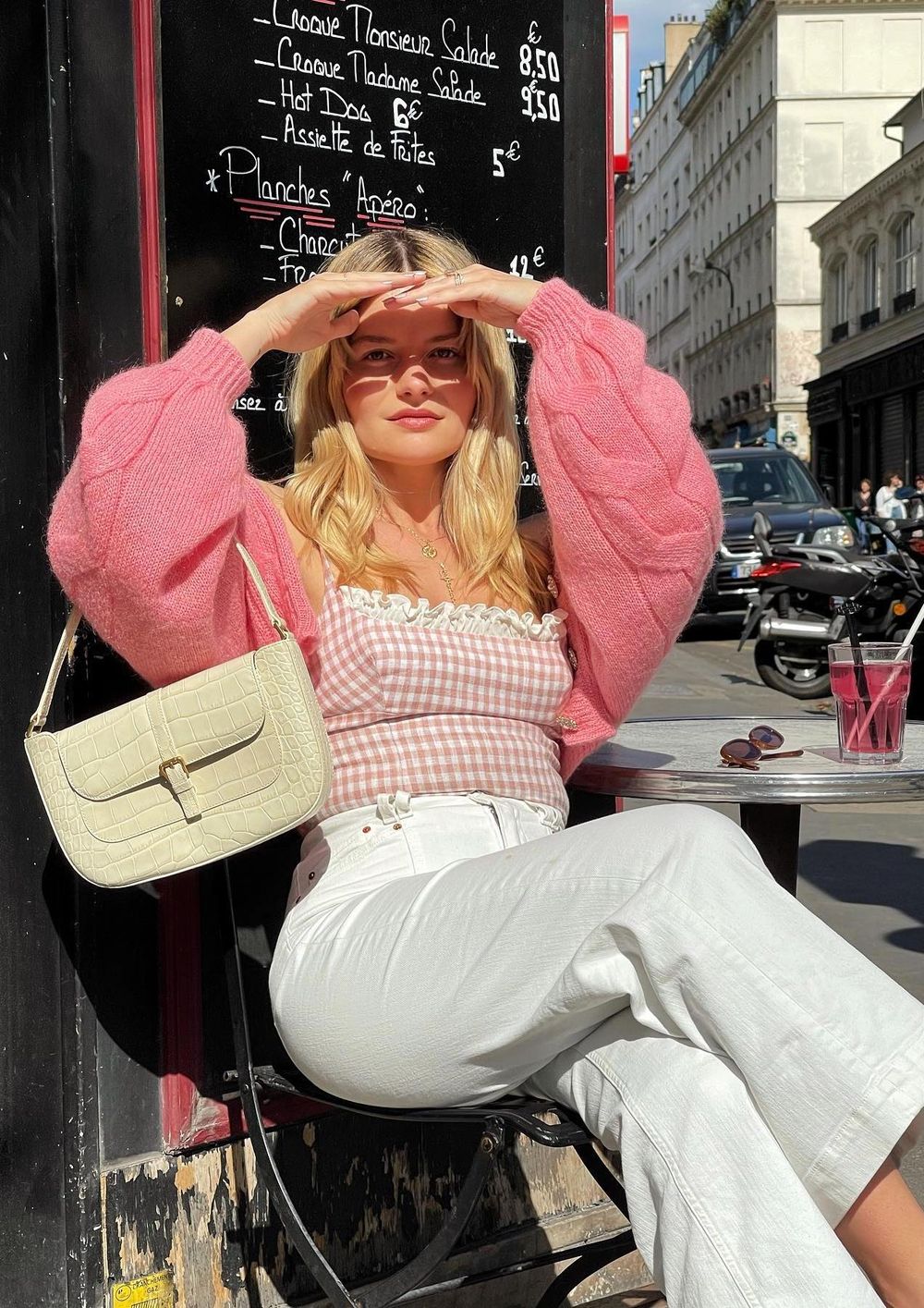 French Girl Spring Wardrobe
If you're like most people, you probably haven't given a ton of thought to your French spring wardrobe. You know that you have to wear something when the weather gets warm. However, you don't want to be that person wearing winter clothes when it's 70 degrees outside. Sure, jeans and a t-shirt will work, but there are other ways to make sure you look good without breaking the bank in the process. Let's discuss some of the French woman's spring wardrobe staples.
Trench Coat
Spring is quickly approaching and, with it, a whole new season of French fashion trends. But when it comes to outerwear, there's one piece that never goes out of style: the French trench coat. You probably already have a go-to trench in your closet, but this season is all about color. Designers make trench coats in every shade of the rainbow, from springy pastels to bold, eye-catching hues.
As far as function goes, you can't beat a classic double-breasted trench. It's a flattering shape on most body types, and the details make it feel dressier than your average raincoat. A large cut is perfect for wearing jeans or leggings for a relaxed look that's still polished and put together.
Wool Blazer
Are you looking for a blazer to complete your French spring wardrobe? You've come to the right place. The wool blazer comes in a wide variety of colors and styles, so you'll be able to find one that fits your aesthetic. The wool blazer is made from 100% wool, making it perfect for spring—when it may be chilly in the morning but start warming up by mid-afternoon.
Wool yarn is also breathable and will let sweat evaporate from your skin, so you will not be stuck sweating through your coat on warmer days. Get a wool blazer that is machine washable, and steam ironed for easy maintenance.
Spring Cardigans
A spring cardigan is a French girl spring wardrobe essential that can elevate any outfit. Whether you're looking to dress up or dress down, a great floral or beige cardigan can be the perfect addition to your look. With so many great styles and colors to choose from, there's no reason not to stock up on a few for your French style spring wardrobe.
If you're looking for something that can pull double-duty in your closet, a spring cardigan is a great choice. Not only will it keep you warm if the weather gets chilly, but it will also make a perfect addition to any of your work outfits. If you need something more casual, go with a neutral color like gray or brown. These colors are versatile and easy to style with anything in your closet, so they're an easy pick for anyone who wants something they can wear all day long.
Knit Sweaters
Knit sweaters are a quintessential piece for your French spring wardrobe staples. They're the perfect option for those cool spring days when the sun is shining, and there's a slight chill in the air, but a heavy sweater would be stifling.
Lightweight and easy to mix and match with just about anything, knit sweaters are incredibly versatile in both color and style. You can go with a classic crew-neck sweater or something more modern like an off-the-shoulder top or knitted sweater. There are dozens of incredible styles on right now that you have to check out before they're gone.
Floral Wrap Dress
Floral wrap dresses are a French girl spring wardrobe essentials staple. They look great on every body type and can be dressed up or down. The wrap dress is versatile enough to take you from day to night, making it a perfect piece to have in your closet.
This dress is easy to wear, looks flattering on any body type, and is ideal for all occasions. It's also an affordable way to get dressed in the morning without having to overthink what you're going to wear today. The wrap dress design has been around since 1974. Its popularity continues today, with many designers still creating new styles each season that cater specifically to women who want their clothes to feel like they're wearing pajamas all day long.
Breton Striped Shirt
This is a classic French spring wardrobe essential staple, and while we can't say the French sailor invented it, what we can say is that this top is a must-have for any serious fashionista. You may think you're going to look like a walking cliché wearing a Breton striped shirt, but you won't! Saint James and Petit Bateau are the brands of choice for Breton striped shirts.
Breton striped shirts are super versatile: you can wear the marinière under a blazer or cardigan during work hours and then take off the layer for happy hour, or throw on some jeans and boots as you head out the door for post-work drinks with friends. It's a must-have!
White and Blue Button-Up Shirt
The white oxford button-up shirt is the cornerstone of any well-rounded wardrobe. It's a blank canvas, able to be dressed up or down depending on your mood, and it just looks good on everyone. Get it in baby blue too!
A white oxford button-up shirt can be dressed up with a blazer or dress pants and shoes. It can be dressed down with denim jeans and even sneakers. Pair it with a pair of dark chinos, brown loafers, and a tweed blazer for an easy, classic look that's ready for anything. Or wear it untucked with shorts and sandals down at the beach. Whatever you're up to, the white Oxford button-up shirt will help you express your style.
Straight-Leg Jeans
Straight-leg jeans are one of the most essential items in your French girl spring wardrobe. You can dress them up or down for just about any occasion, and they're sure to flatter your figure in a way that lets you feel comfortable and confident.
In the past decade, jeans have become more popular than ever before, and it's no wonder why: their style is timeless and adaptable. Pair a great pair of straight-leg jeans with a button-down shirt for a classy look, or throw on an oversized sweatshirt for a casual feel. If you're looking to make your pants pop, accessorize with a belt that matches your shoes—you'll be feeling like a million bucks.
Midi Skirts
Midi skirts are the perfect piece to add to your wardrobe with the arrival of spring. They're fun and flirty but appropriate for the office.
You can pair spring midi skirts with a blouse and ballet flats for a stylish workday look, yet professional, or you can rock them with a crop top, high heels, and a statement necklace for an outfit that's perfect for a night out. Because they do double duty in both casual and formal situations, they're great investment pieces that'll keep you looking put together at every event.
White Pants
White pants or white jeans are a French spring wardrobe essential for many reasons. First of all, they are a great staple for layering. You can wear them with anything from a trench coat to an oversized t-shirt. You can go with knitted white pants, off-white cream jeans, or bright white palazzo pants. Just get yourself some white bottoms!
You'll never be at a loss for what color shoes or accessories to pair with them. The best thing about white pants is that you can pair them with literally anything in your closet. The key to wearing them is to keep the rest of your outfit simple so they can shine.
Silk Scarf
The silk scarf is a spring fashion staple, and there's a reason for that: it's one of the most versatile items you can wear. You can use it as a neckerchief, a headband, or even tie it to your bag for an easy pop of color. No matter how you wear it, it'll add a little something special to any outfit.
Since scarves are so versatile, they're also easy to mix and match with your existing wardrobe—and they feel incredibly fresh when paired with other trends. This season we love silk scarves in bright colors and fun patterns.
Wicker Basket Bag
Wicker Basket bags have been a staple for French spring wardrobes for decades, thanks to Jane Birkin who found hers in a small Portuguese fishing village and took it back to Paris with her. Wicker bags can be worn with everything from a t-shirt to a blouse to a leather jacket. The light beige color is perfect for spring, as it is less heavy and airier than a dark leather handbag.
Wicker bucket bags are incredibly versatile, able to be dressed up or down to suit any occasion. They can be dressed up or down making them a fabulous addition to any wardrobe, one that you'll find yourself reaching for again and again!
Straw Tote Bag
Every season, certain items are essential to your wardrobe. This spring, it's all about the straw bag. Straw bags pair well with every outfit and can be used casually and formally as accessories. Straw bags are great for holding flower bouquets or fruit because they create an aesthetically pleasing look that conveys freshness.
Pairing a straw bag with your look is simple and easy. Try pairing it with a crop top and jeans for a casual look. To dress up the look, wear it with heels and bold jewelry. For those who want to add more color to their outfit, try adding flowers or even fruits to your bag!
Beige Ballet Flats
Spring is right around the corner, which means it's time to consider adding some beige ballet flats to your wardrobe. While the ballet shoe style may seem basic, it is also chic and versatile, making it a great addition to anyone's closet. Repetto is the best French ballet flat brand.
Beige ballet flats are a perfect option for spring, whether you're heading to the office or out on the town with friends. They provide a polished look when paired with dress pants or a skirt and blouse at work. They also look great with jeans and a blazer for an evening out. Pair them with shorts or a skirt and t-shirt for a casual look that still feels pulled together.
Beige Chanel Slingbacks
When it comes to French spring wardrobe must-haves, it's hard to beat a pair of beige leather slingbacks. They're comfortable and classy and add a touch of luxury to any outfit. If you're looking for something that is both tasteful and stylish, we suggest these beige Chanel slingbacks. Of course, if you can't afford an authentic pair, here are a few Chanel slingback dupes:
These slingbacks are made of soft leather and feature a 2″ heel. They pair well with just about everything from jeans and a t-shirt to your favorite little black dress and can be worn with or without socks. If you can't afford the originals, then there are several Chanel slingback dupes that you can buy online and get the look!
---
The key to any wardrobe is to stick to what works for your body and skin tone. If you're trying to maximize your limited clothing budget, there are certain items you should make sure are in your closet year-round. These wardrobe staples create the foundation for all of the outfits you put together this spring and beyond.