It's that time of year again: summer! If you found yourself envying how French women stay stylish in summer, then I've got some tips to help. There are a handful of tricks that only French women seem to know. I want to pass these secrets on to you. You can look chic throughout the hot summer months by following this advice.
French Summer Fashion Rules
The summer is approaching, and so are the unofficial French fashion rules. Here are the things to keep in mind as you get dressed in France this year!
Summer Wardrobe Colors
There is a distinct difference between summer and winter wardrobe colors in Paris. During the summer months, if you are looking to blend in with the fashionable crowds of Paris, avoid wearing black and dark shades of brown. Instead, opt for white or pastel-colored dresses and skirts for your French summer wardrobe.
French women tend to stick to neutral and pastel colors for their wardrobes. White is always a great color for the summer, but don't be afraid to incorporate light blue or other pastels into your wardrobe as well. By sticking to these lighter colors, you can beat the heat while looking classic and elegant.
You can also wear fun patterns such as gingham and plaid. Polka dots are another favorite. When you purchase clothing for your summer wardrobe in France, it's best to choose classic pieces in fun colors and patterns.
The one exception to this rule is the color red! French girls love to wear a pop of red in the summer months.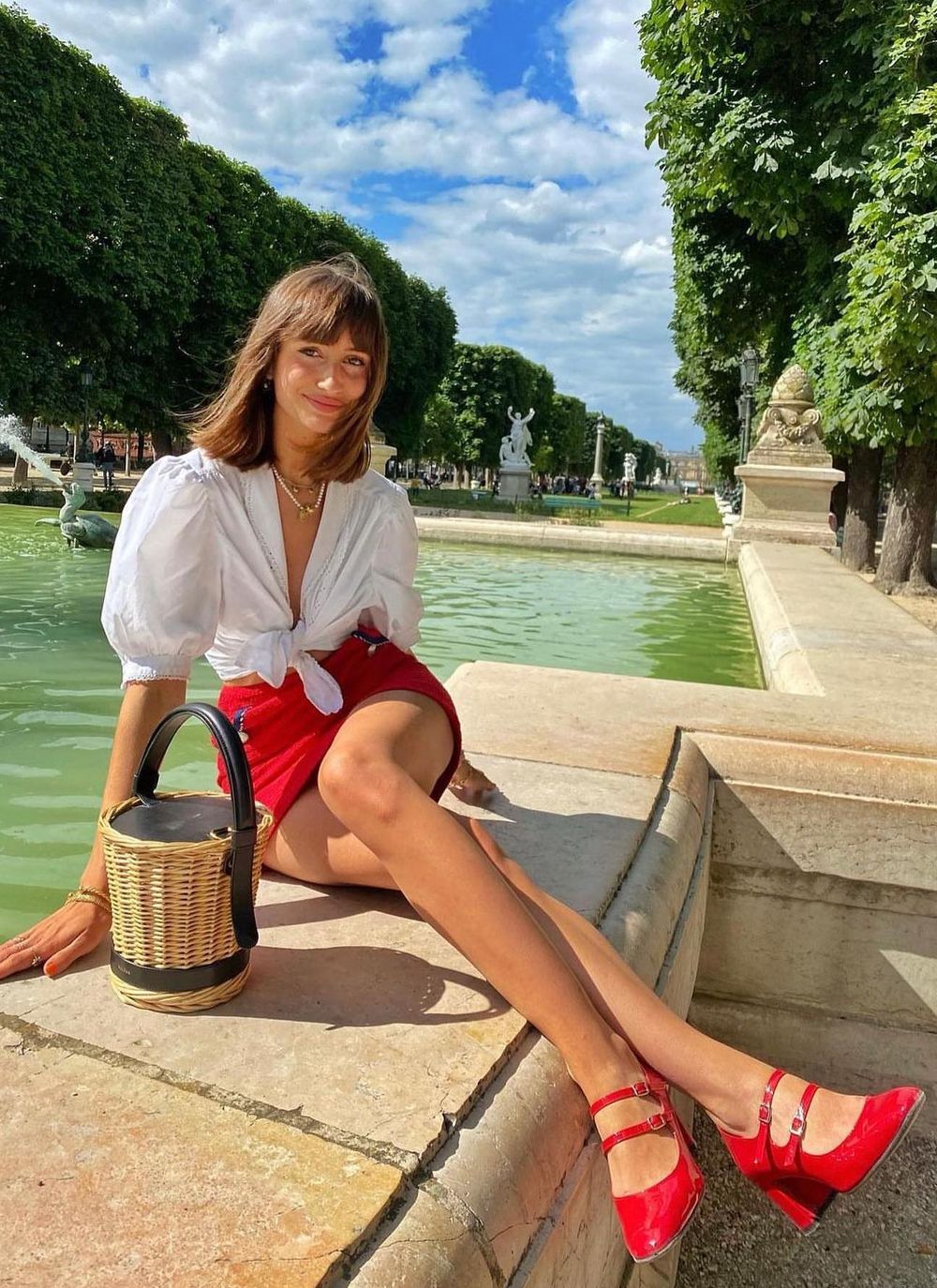 Modest Clothing and Nothing too Revealing
This may come as a surprise, but in Paris and other big cities in France, most people don't wear short shorts – even in the middle of summer!
France is a country that prides itself on its modesty and discretion, neither of which are qualities that come to mind when you think of short shorts or crop tops. So what are their preferences? It's simple: French women stick to classy and elegant pieces, no matter the temperature outside.
During the summer months, you'll find French women in dresses or skirts paired with a light cardigan or blazer. They like clothes that don't show too much skin but look beautiful. So if you're looking for ideas on how to dress this summer, think along these lines:
Longer dresses with higher necklines
Shorts that don't show too much skin
Loose tops with sleeves
Jackets or cardigans year-round
Of course, if you're near a beach in France, then you can definitely wear short shorts and crop tops as this kind of clothing is to be expected!
Cotton and linen fabrics only
When you think about the summer fabrics you will wear in France, make sure you stick to wearing cotton or linen. These two airy fabrics can breathe a lot easier during the summer when it is hot outside and help keep your skin cool. They also don't hold on to sweat as much as other materials do, which can be uncomfortable when you are out and about in the heat.
They also tend to be lightweight so you won't feel like you are weighed down with clothing, and if it happens to rain, they dry out quickly so you can change into a pair of dry clothes easily. Cotton and linen are soft fabrics that feel great against your skin, making them ideal for summer clothing.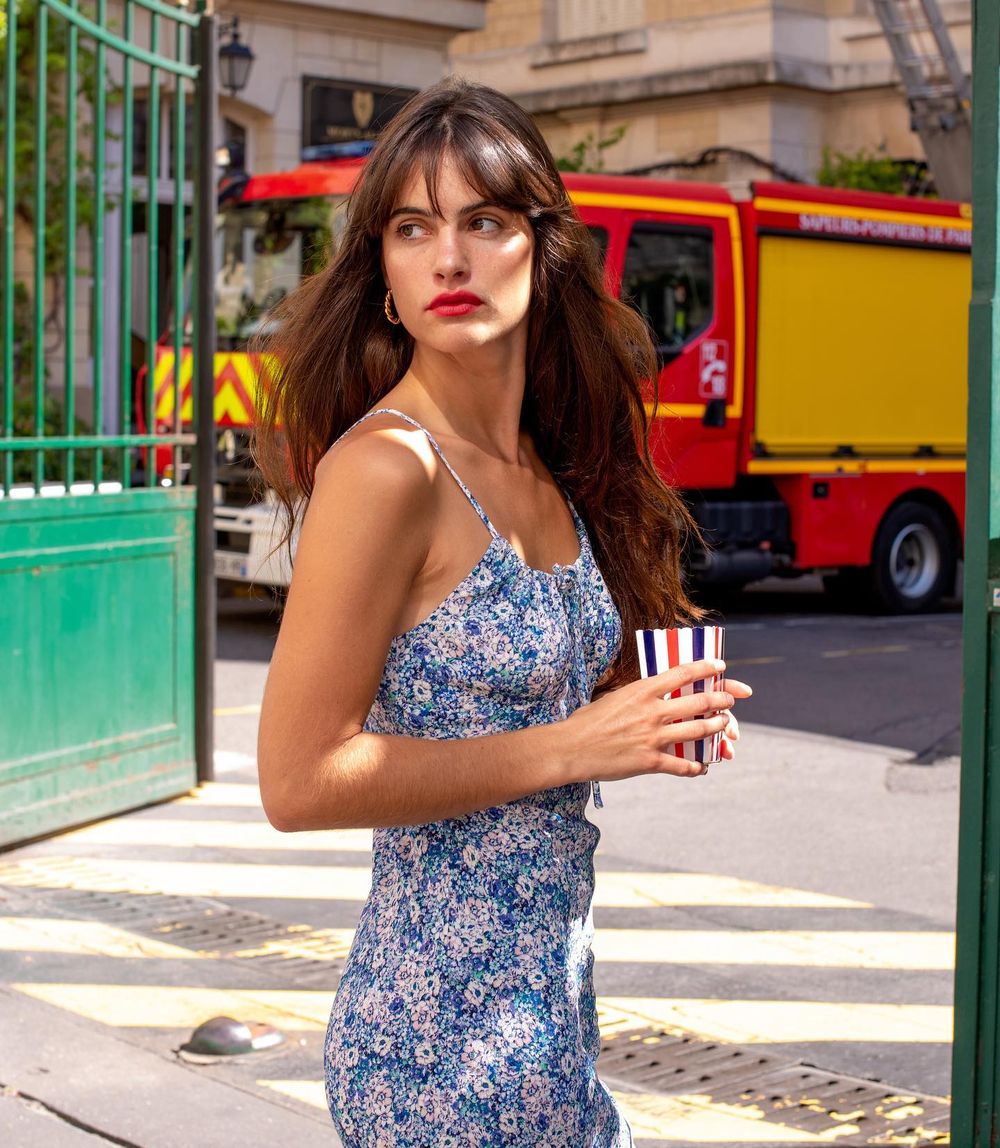 French Summer Wardrobe Staples
Summer has arrived, and with it, a slew of gorgeous new fashion trends. Here are a few of the most important French essentials to add to your summer wardrobe.
When the weather gets hot, you want a wardrobe that's easy to wear and can be put together in a jiffy. But you still want to look chic, right? Well, don't worry, we've got you! We've compiled a list of summer wardrobe staples that will keep you cool and stylish all summer long.
White Pants or Jeans
If you want to embody the effortlessness of French summer style, consider purchasing a pair of white jeans or pants that fit snugly yet comfortably. You can pair them with a feminine top like a lace crop top or a button-down blouse tied at the waist. Voilà! You'll be looking like a Parisian in no time!
Classic White T-Shirts
You can never go wrong with a classic white t-shirt in the summer. It is basic and easy to pair with jeans, shorts or skirts. Layer it under a blazer and add a statement necklace for a dressy look. Pair it with jeans or shorts for a casual look, and add some sandals or sneakers.
Camis & Tank Tops
Camisoles and tank tops are great to wear on their own or as layering pieces under jackets and cardigans. They are perfect for hot summer days when you don't want to be wearing anything too heavy on your skin. You can find them in many different colors and styles like spaghetti straps, racerback, deep V-neck, and more!
Floral Summer Tops
Floral Summer Tops are perfect for those warm sunny days when you want something cute but not too heavy. A floral top looks great paired with jeans or shorts for an easy-going casual look; however, if you're looking for something more dressy, then try pairing it with some black pants and heels!
Beige or White Linen Blazer
You can't go wrong with a beige or white linen blazer. You can wear it to work over your favorite dress, or you can dress it down with shorts and a tank top. It's lightweight, so it won't feel like you're wearing a heavy jacket, but it will still give you some warmth when the sun goes down.
Summer Dresses
Summer dresses are always a good idea for those hot summer days. They're comfortable, light, and airy – perfect for the beach! Plus, you can wear them to work too if you want to look professional without having to put on pants or anything else that might make you sweat more than necessary in this heatwave we've been having lately.
Linen and Jean Shorts
Linen shorts are great because they're breathable and lightweight, so they'll keep you cool even when it's hot outside! And jeans shorts are perfect for those days when all you want is casual yet stylish enough to wear anywhere from the grocery store to dinner with friends at night.
Floral Midi Skirts
The best (and chicest!) way to beat the heat is with a flowy midi skirt in a bold floral print. This will keep you cool on even the hottest day but still give you plenty of options for layering if things get chilly at night. Just make sure it hits at least halfway down your calf, so there's no chance anyone else will see anything besides those gorgeous legs!
French Girl Swimsuits
Nothing says summer quite like a bikini or one-piece swimsuit in a fun, bright color. The key to pulling off this look is to keep the rest of your ensemble simple—try pairing it with a pair of white shorts or a casual midi skirt. Bonus points if you can find matching sandals!
Espadrilles
Espadrilles are casual canvas shoes that can be worn with or without socks (although we recommend going sans socks for ultimate comfort). They have long been staples in French summers because of their durability and resistance to scuffing. These classic shoes are the perfect addition to any outfit. They're comfortable and easy to slip on, and they can be paired with a sundress or jeans for a chic look. They come in different colors, so finding one that suits your style is easy. You can also add some flair by getting them with tassels or beads.
Leather Sandals
These stylish shoes come in a variety of colors, so it's easy to find one that will match your outfit perfectly. They are also comfortable enough to wear all day without hurting your feet! Whether you're going for an edgy look or something more conservative, these sandals will always be appropriate in any setting (even if it happens at work).
Straw Basket Tote Bags
A bag like this one is perfect for carrying around all your essentials while keeping them organized and looking chic! Pair it with espadrilles or leather sandals during those hot summer days when you need something lightweight and airy but still want some style points on point! They're lightweight and perfect for carrying everything you need without getting too bulky or heavy. Plus, they're eco-friendly too—made out of straw material rather than plastic straws, which would harm our environment when thrown away after use.
French Girl Summer Outfits
From the effortless beauty of Brigitte Bardot to the berets and stripes of Juliette Binoche, we've always admired the way French women rock their summer looks. Now we're bringing you the top five summer outfits. French girls love so that you can look chic, sexy, and stylish in your unique way.
The French Girl Basic Tee
The most versatile piece in any French woman's wardrobe is a chic white t-shirt. Whether worn by itself or under another top, a basic crew neck tee goes with everything and makes any outfit effortlessly cool. Tuck it into your favorite pair of jeans, or slip it under a lace tank for a feminine style. Pair it with a long pencil skirt for a sultry take on the summer suit, or add it under your favorite jumpsuit for an easy day-to-night look that's perfect for all occasions.
The Silk Neck Scarf
Although neck scarves are often perceived as elegant and sophisticated, they're incredibly versatile! You can wear them with everything from jeans and boots to sundresses or even your swimsuit at the beach. Plus, they're perfect for keeping cool during hot days outside as well as protecting your skin from harmful UV rays while still looking stylishly chic.
The French Girl Summer Shorts
For the ultimate in summer comfort and style, add the most versatile piece of your summer wardrobe: French girl shorts. Whether you go for the classic white maxi or a lighter shade of beige to coordinate with your top, they're always a breeze to wear and can be paired with any top. From formal to casual, they'll always make you feel like a million bucks and get you from breakfast to dinner without sacrificing any style points.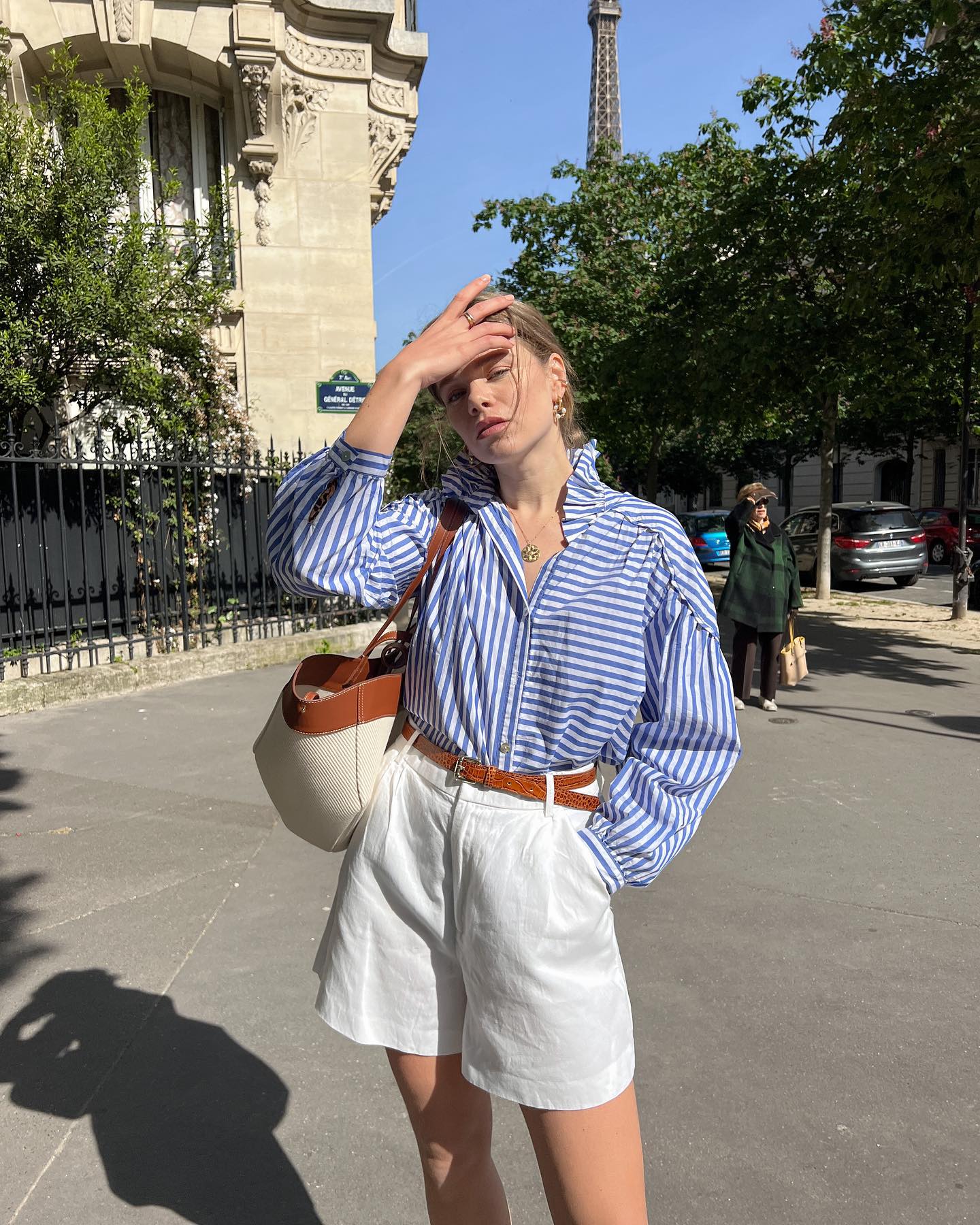 The French Girl Summer Dress
For the perfect summer dress that works from beach to bar, look no further than some of our favorite French ladies: Audrey Tautou, Bridget Bardot, and Charlotte Gainsbourg are always seen in breezy shift dresses are flirty yet simple and chic at the same time.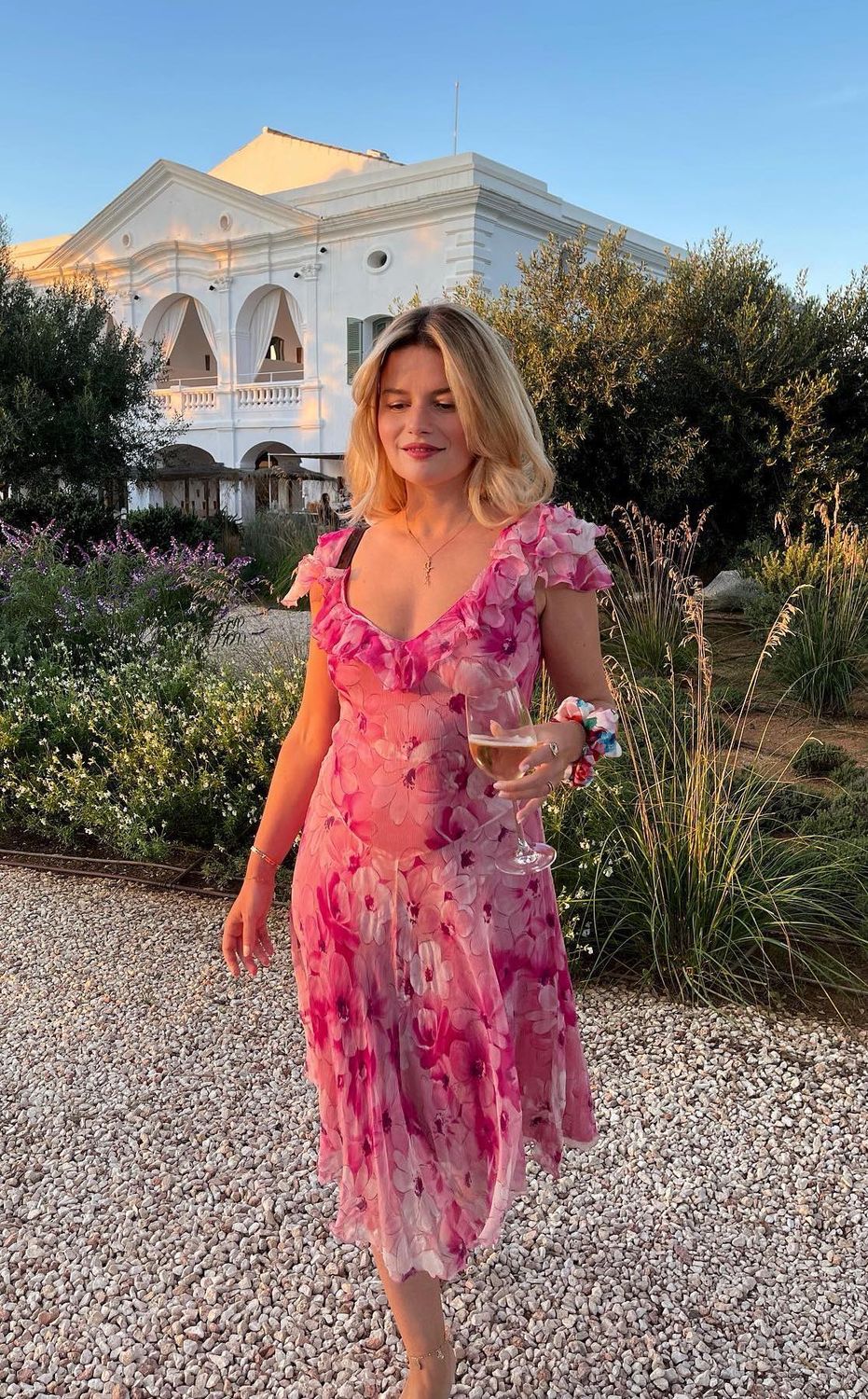 The French Girl Summer Pants
Fashion-forward ladies know how important it is to support the feminine silhouette and understand that "boyish" doesn't mean trying too hard or wearing ill-fitting men's clothing. Make sure you're wearing pants that accentuate all your best features while still effortless to wear with just about anything.
The French Girl Summer Sandals
Our favorite Sandals of Summer have got to be our French girl sandals, which work well for day-to-day wear or a night out on the town. These sandals are the ultimate mom shoes with an easy slip-on design and super comfortable footbeds—they're like walking on air! From beach days to weekend getaway trips, our favorite touches include adjustable straps and ankle strap closures so you can customize them to fit your exact needs!
The French Girl Summer Skirt
French girl skirts are the most versatile piece of your summer wardrobe because they can be worn from the beach to the bar and from dinner to drinks with equal ease. Whether you go for a classic white maxi or a lighter shade of beige, they're always a breeze to wear and will make you feel like a million bucks while getting you from breakfast to dinner without sacrificing any style points.
The French Girl Summer Hat
No sunburn for you this summer! Just pop on some classic straw hats, and you'll be set for anything. Not only will they protect your skin from harsh rays (and hot flashes), but they'll be a fashion statement that can be worn from breakfast to dinner without looking too casual or too put-together. They're always a great way to add an element of style without breaking the bank, as well!
---
It is clear to see that French summer outfits are modern, chic, and stylish. These designs are perfect for active women who like to wear fashionable clothing when spending a weekend at the beach in Corsica, a day out shopping near Place de la Concorde, or relaxing at the cafe terrace on Paris's Boulevard Saint Germain. Their summer outfits take this quite seriously and are truly eye-catching.