If you're visiting Paris soon, you may want to see the best French winter style ideas so you can dress like the locals. Even if you aren't going to France, dressing like a chic French girl in winter is something that everyone can appreciate. The French just have an enviably cool and chic way of dressing – even in the cold. Trust me, I've lived in Paris and there are so many chic French women walking down the street all bundled up.
Just because it's cold out doesn't mean you have to sacrifice your style! Take it from these women and follow the best French winter fashion ideas to dress well for the coldest season of the year.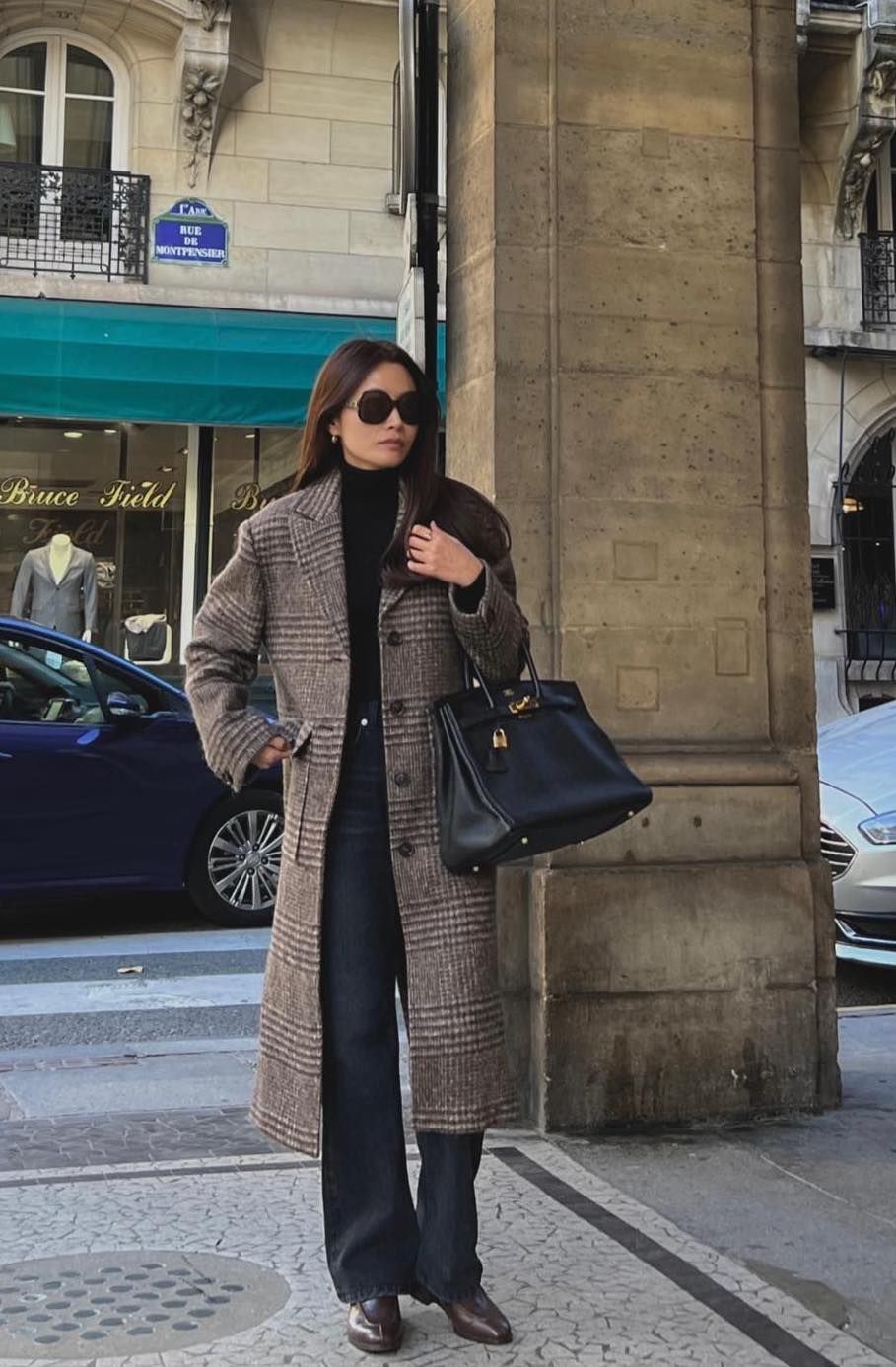 Chic French Girl Winter Style Rules
Dressing for winter like a French woman involves having a solid winter wardrobe full of warm clothing and winter footwear. Here are a few French winter style rules to keep in mind:
Only Wear Timeless Pieces: French winter fashion is all about dressing in classic clothing and elegant shoes. Don't buy anything too trendy (looking at you, Balmain x Rossignol collab!) for your winter wardrobe.
Go With Oversized Everything: In winter, Frenchwomen tend to wear oversized, thick clothing to stay warm.
Pick Warm Winter Materials: In winter, it's important to choose the warmest possible materials for your clothing. Sweaters made of wool and cashmere are ideal!
Opt for Waterproof Outerwear: Waterproof outerwear will keep you dry in case of unexpected rain or snow in France!
Avoid Logos: French women always avoid showing a brand's logo on their clothing or handbag. This goes for the French girl winter style too!
Winter is a time for keeping warm, cozy, and comfortable, but that doesn't mean you should sacrifice your personal style. There's no better way to look chic in the winter than with these French girl winter outfit ideas. The key elements of French winter style are delicate and simple, versatile pieces.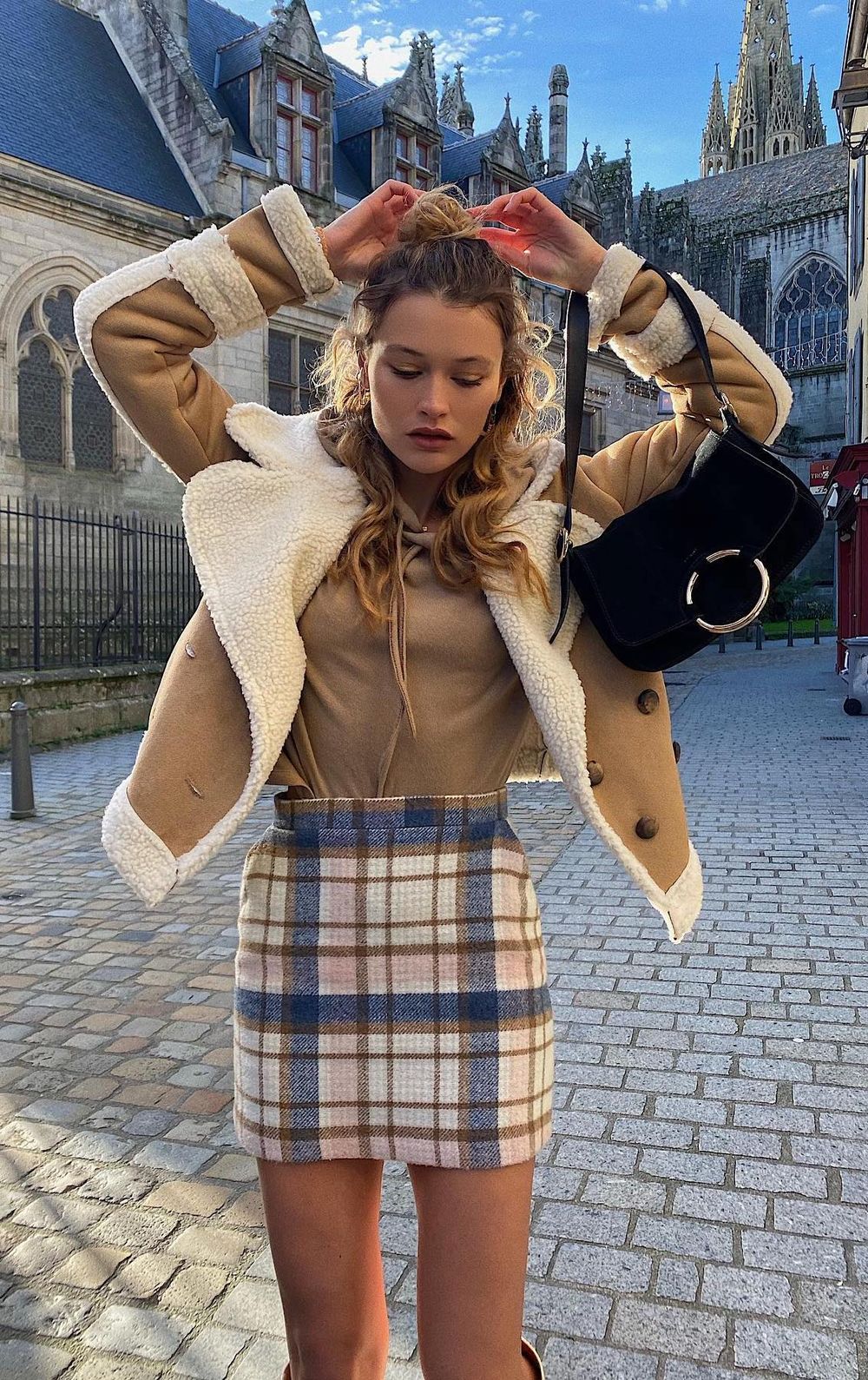 French Girl Winter Wardrobe
Over the weekend, I watched my French friend in Paris attending the famous haute couture Paris Fashion Week. I felt jealous sitting here in the northeast American snow! The wind was certainly blowing through the Seine, but everyone still looked so chic based on all the winter street style shots I saw. Here are the winter wardrobe pieces I noticed.
It may be the middle of winter and cold, but you can keep warm, and stylish, and put together with a complete French girl winter wardrobe. We've crafted a list of what French girls wear all winter long.
Wool Coats
An elegant wool coat is a versatile piece of outerwear that French women love wearing for various looks, from casual to formal. The French buy these coats in neutral colors like camel, brown, beige, off-white, or black. If you want something more colorful, try navy blue.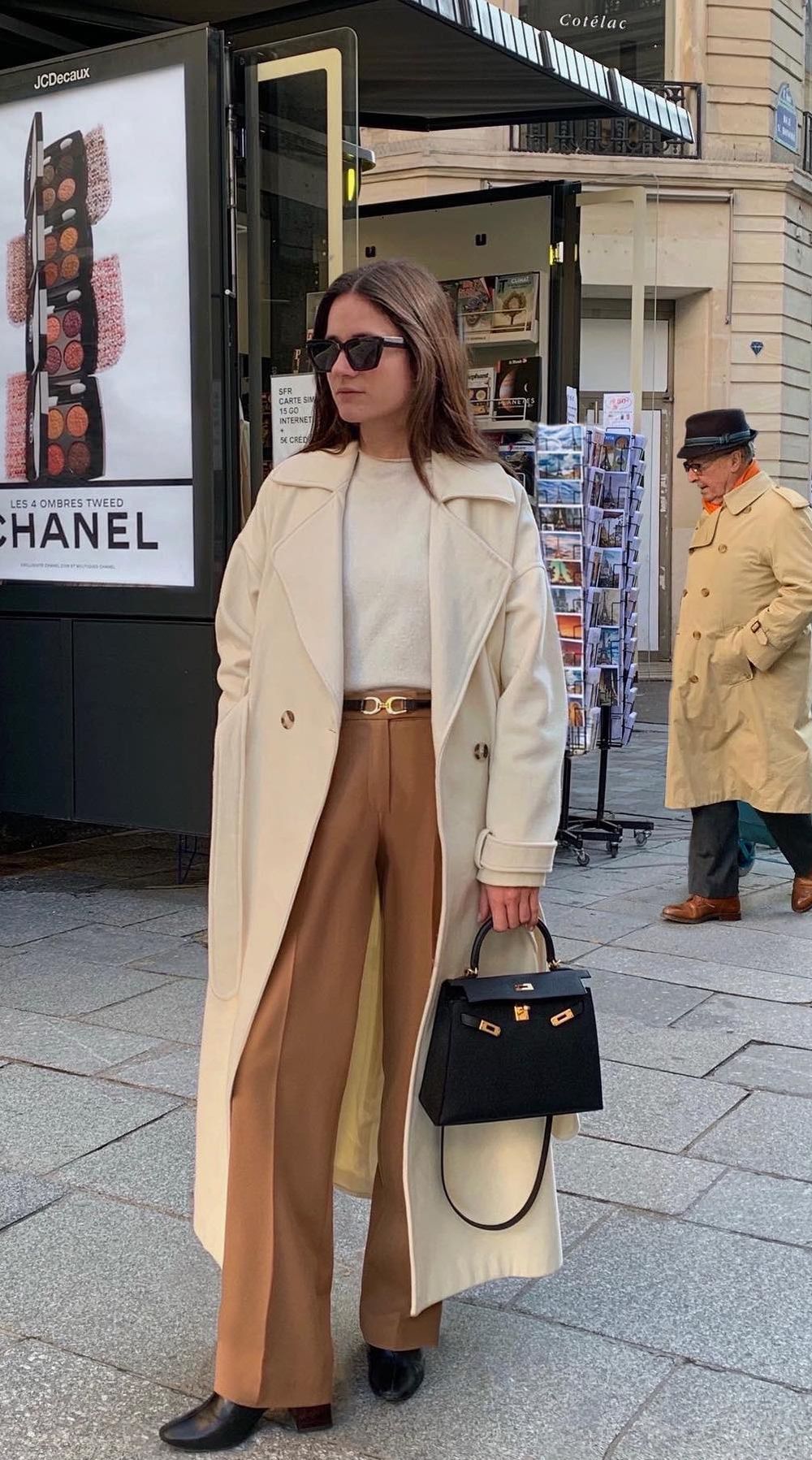 Shearling Coats
The shearling coat is the perfect addition to any French girl's winter wardrobe. These coats are the warmest and will keep you toasty during the cold weather months. They are also very stylish, making you look chic while staying warm. The only downside is that they can be expensive, but if you're willing to spend some money on a good quality shearling coat, it can be worth it because of how long they last.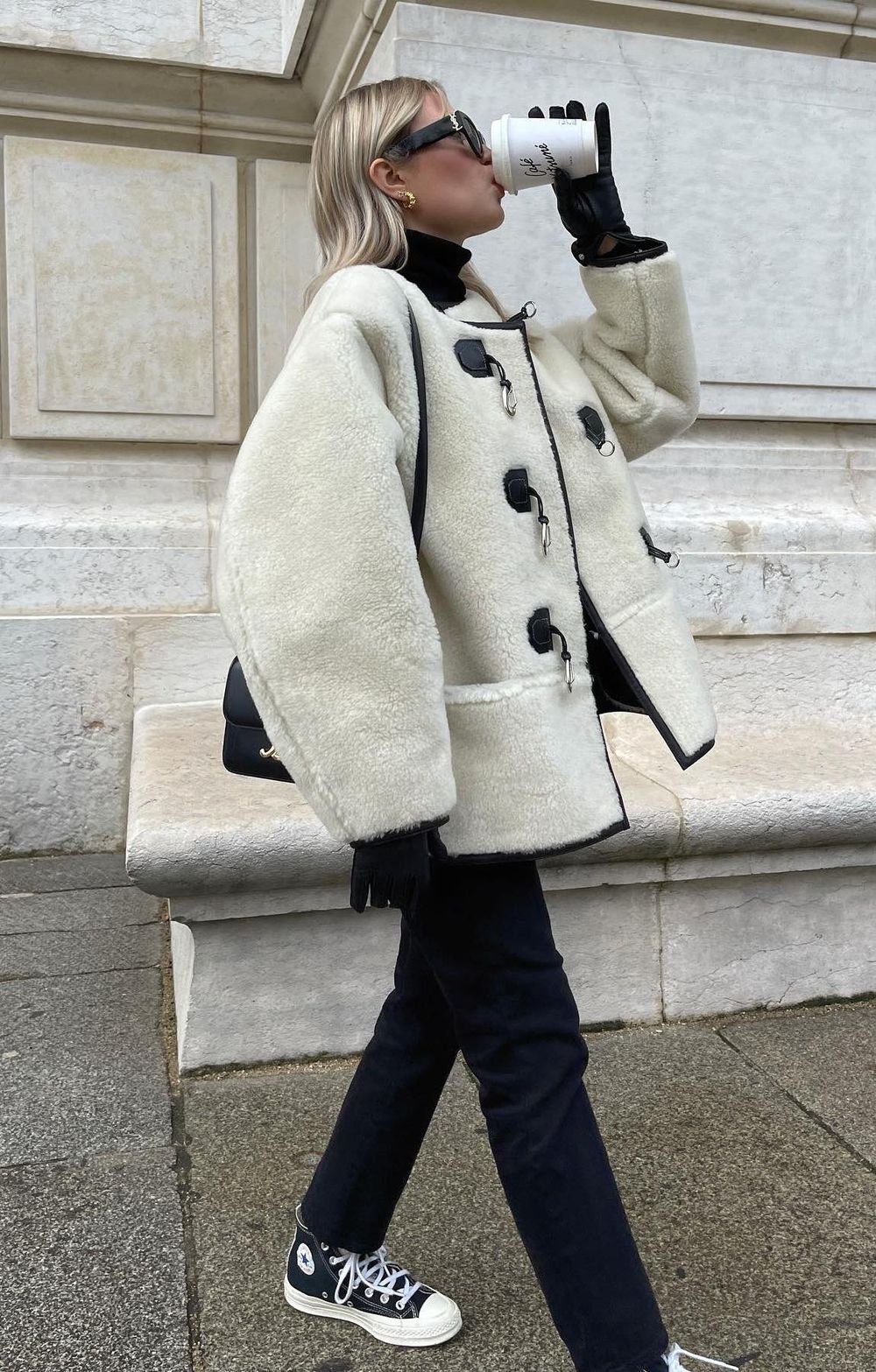 Waterproof Puffer Coats
A waterproof puffer coat is an essential piece of winter wear that every Parisian should have in her closet. These will come in handy for ski trips to the French Alps and the occasional Parisian snow!
Waterproof puffer coats are designed to keep you warm and dry in inclement weather. They're typically made with at least four layers of material, including a water-resistant outer shell, a down or synthetic filler layer, a moisture barrier, and a liner. The puffy (or quilted) appearance comes from the filler. This type of Parisian winter coat keeps you warm by trapping heat inside its layers.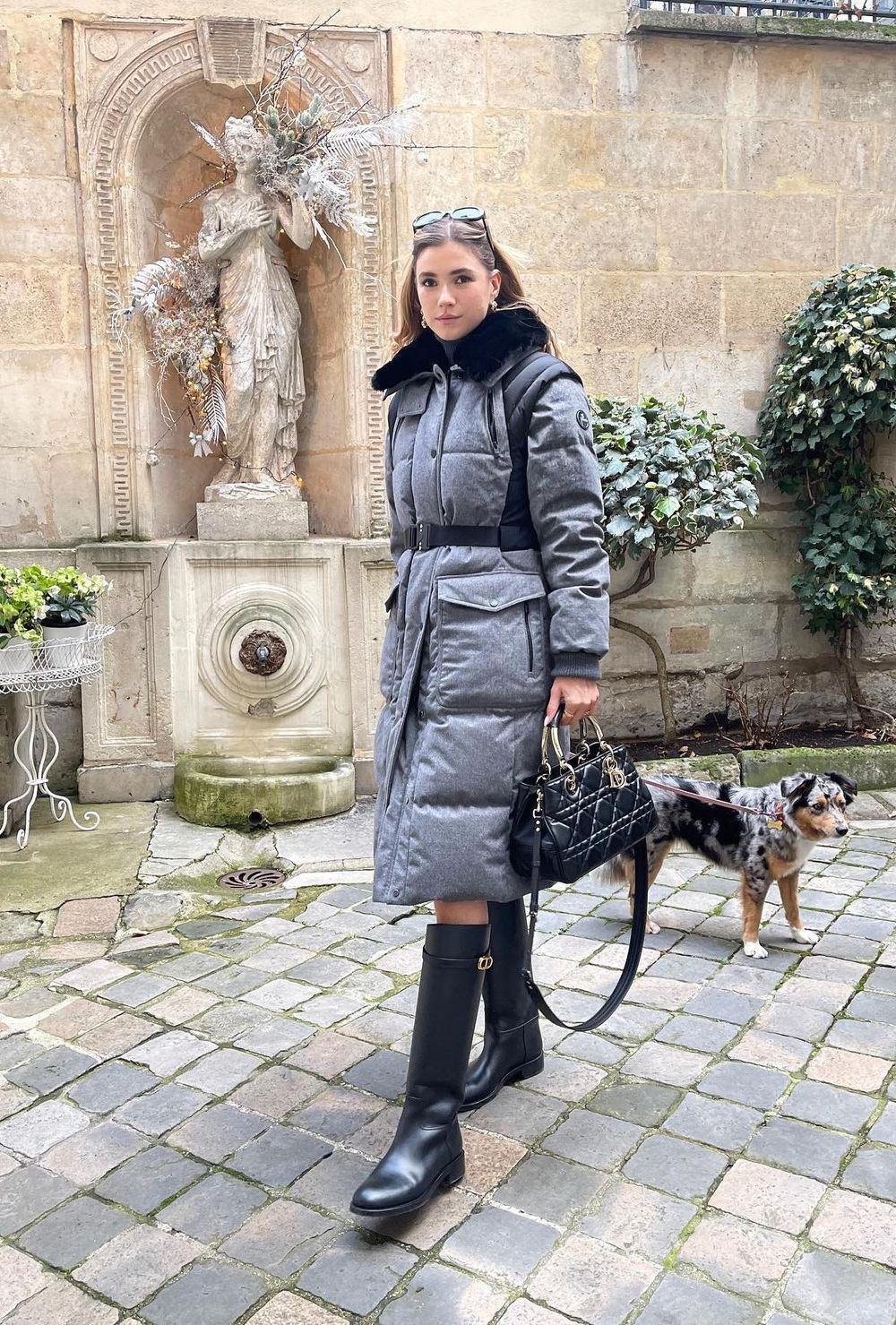 Because these coats are waterproof, the outer shell of a puffer coat can be made from a variety of materials, but most Parisians stick to classic fabrics like leather or wool for their winter coats. Puffer coats come in styles that range from short and fitted to long and bulky. You can also choose from various colors like black, white, green, red, brown, or even plaid.
Turtlenecks
Turtlenecks are beloved by French girls because they offer warmth without being too bulky. If you like the look of sweaters but don't want something too thick, then a thin merino wool turtleneck might be just what you need! Pair these tops with jeans or leggings for a casual look when layering is necessary during the coldest days.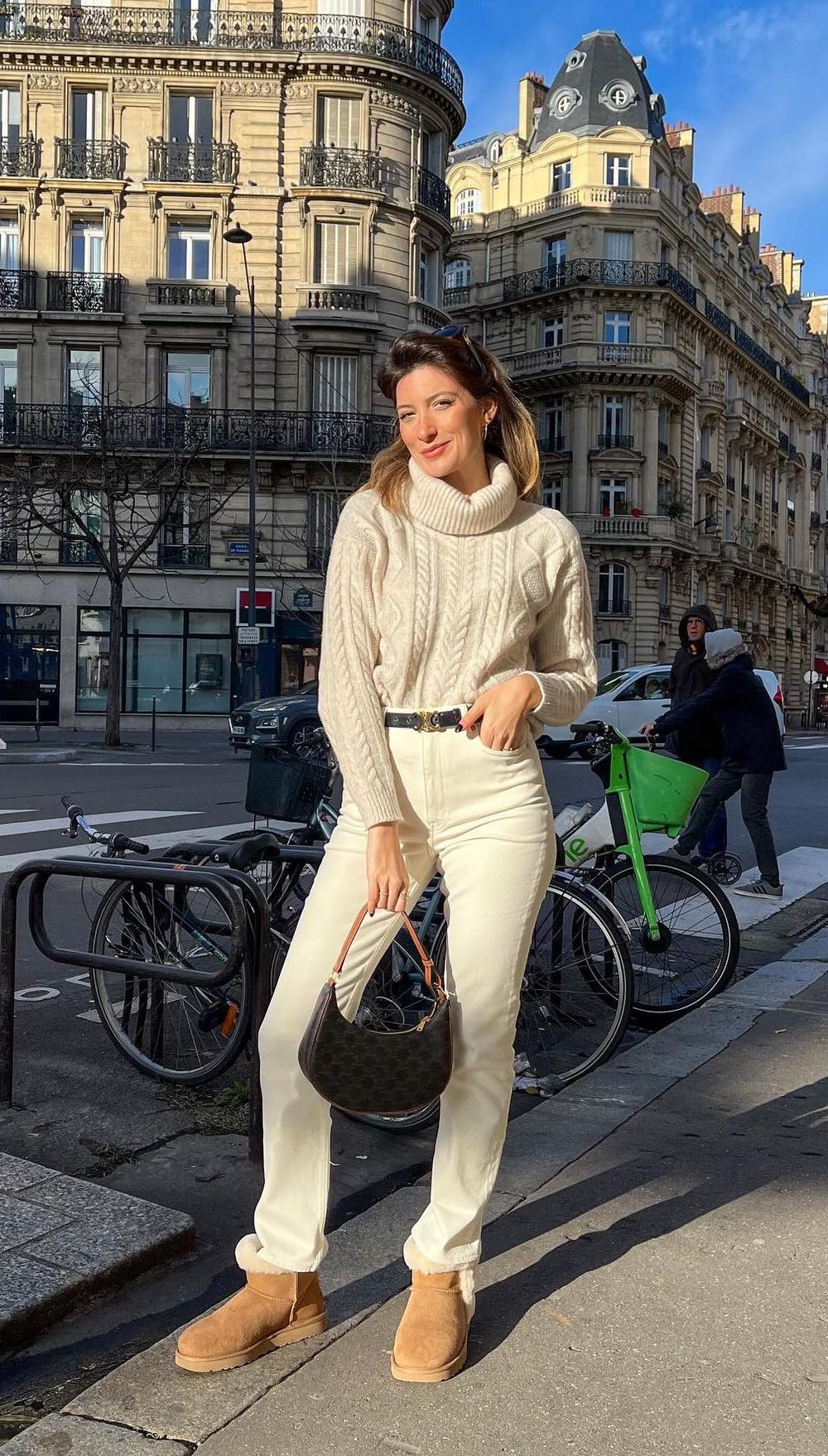 Lots of Knitwear
Winter is the perfect time for French girls to break out their knitwear, one of the essential items in a French Girl's winter wardrobe. Here is where you start to see some fun ski patterns and winter knits. The classic French striped sweater is certainly in season during winter.
Thick Ribbed Tops
When it comes to winter tops, French girls opt for thick ribbed tops that are thin yet keep you warm. They are definitely a layering piece, but they're perfect for wearing indoors during winter when it's easy to get chilly even inside. Get them in the basic colors like beige, black, and navy. These tops are versatile, and you can wear them with jeans or leggings for a dressed-down look or with a pair of dress pants for something more formal.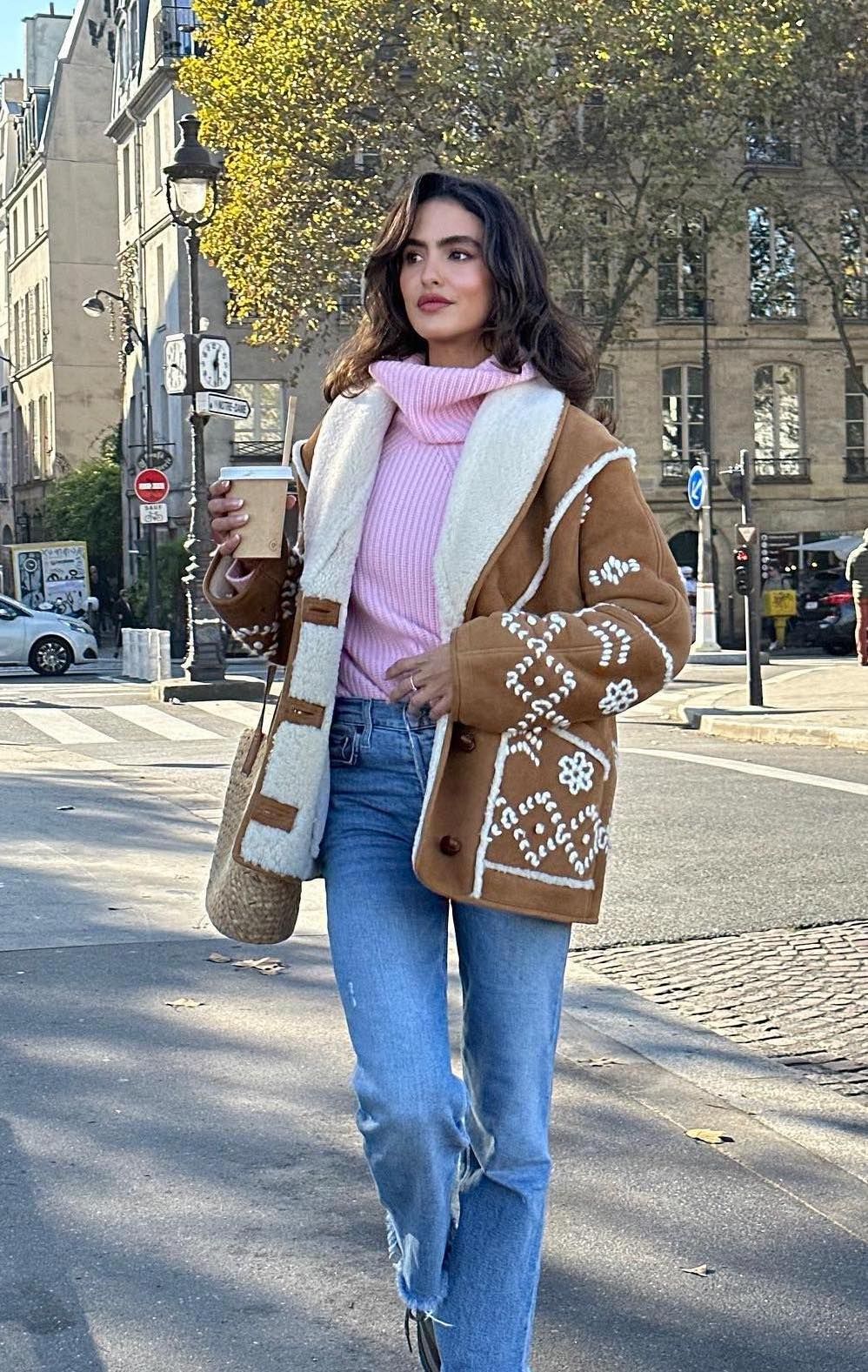 Knitted Dress
In the winter, it's hard to dress feminine while staying warm, so French girls wear knitted sweater dresses when they want to show some leg. The knitted sweater dress is a classic staple in any French girl's closet. Knitted dresses are fabulous because they can be dressed up or down depending on how you wear them.
If you're going to work, throw on some tights and booties, and you'll be ready to go! If you're pregnant and going out for brunch, pair your sweater dress with sneakers. A good sweater dress should be simple to pair with different coats and shoes easily.
French girls are all about the effortless aesthetic, so their clothes must reflect that!
Wool Pants
Black wool pants are a winter staple for most French girls. The wool material makes these pants an ideal choice for the winter season its ultra cozy. Black wool pants can be paired with almost anything in your wardrobe from your favorite blazer to a turtleneck top or even a cute little sweater. This is one item that every French girl owns, and you too must add this piece to your wardrobe if you want to emulate the style of a French girl!
Black Tights
Black tights are another essential element for every French girl's winter wardrobe. Since they are versatile and can be worn under skirts and with leather boots, they go well with almost any outfit in your closet. You can even wear them without being too self-conscious about showing off your legs when walking around town on those chilly days!
Ankle Boots
A pair of suede or leather ankle boots is a must-have for every winter wardrobe, particularly for the French girl winter wardrobe. Because it is so cold during the winter, wearing a pair of well-made leather boots is a must for keeping your feet warm. Suede or leather ankle boots look great when paired with dark wash jeans and tights and create a chic yet casual French look.
Leather Knee-High Boots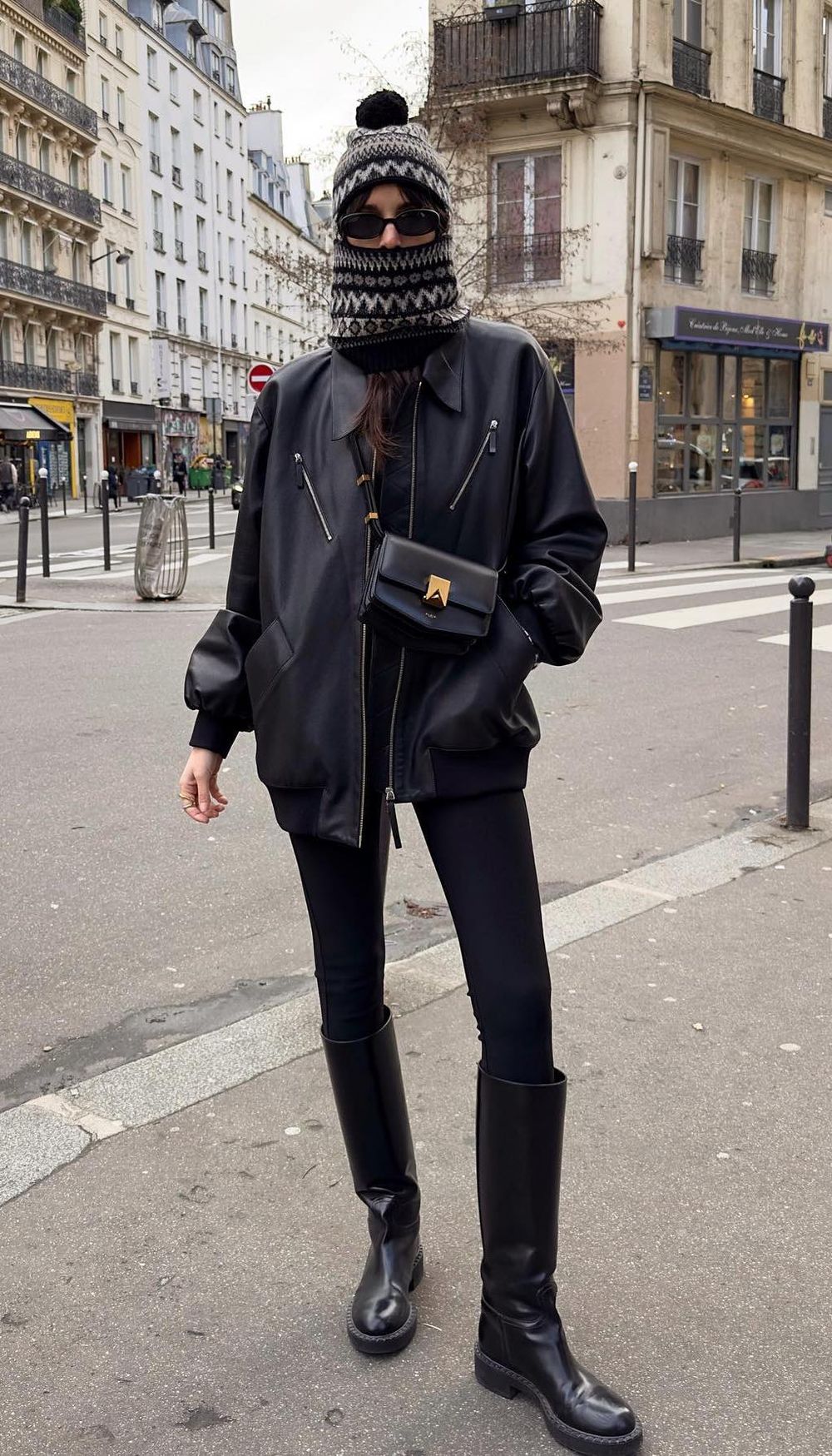 French girls love knee-high leather boots because they are perfect for winter! Get some with a comfortably cushioned footbed, so your feet stay warm during those cold nights out in Saint-Germain-des-Pres.
Winter Hats
Don't be fooled, the beret is actually not the most popular French girl winter hat! It tends to be the little old ladies who wear these hats in winter. Instead, cool French girls wear thick wool beanies in neutral colors to keep their heads warm. They will sometimes match them with the fabric on a winter coat or sweater. Your French girl winter wardrobe isn't complete without a winter hat!
Cashmere Scarf
French girls love cashmere! Unlike typical scratchy wool scarves, cashmere is soft, warm, and comfortable. It looks very understated which is exactly the French girl aesthetic we want. You can find cashmere scarves from Merci in Le Marais in lots of colors like pink or blue, but most commonly, it's black or grey because those are easy to match with anything else you're wearing!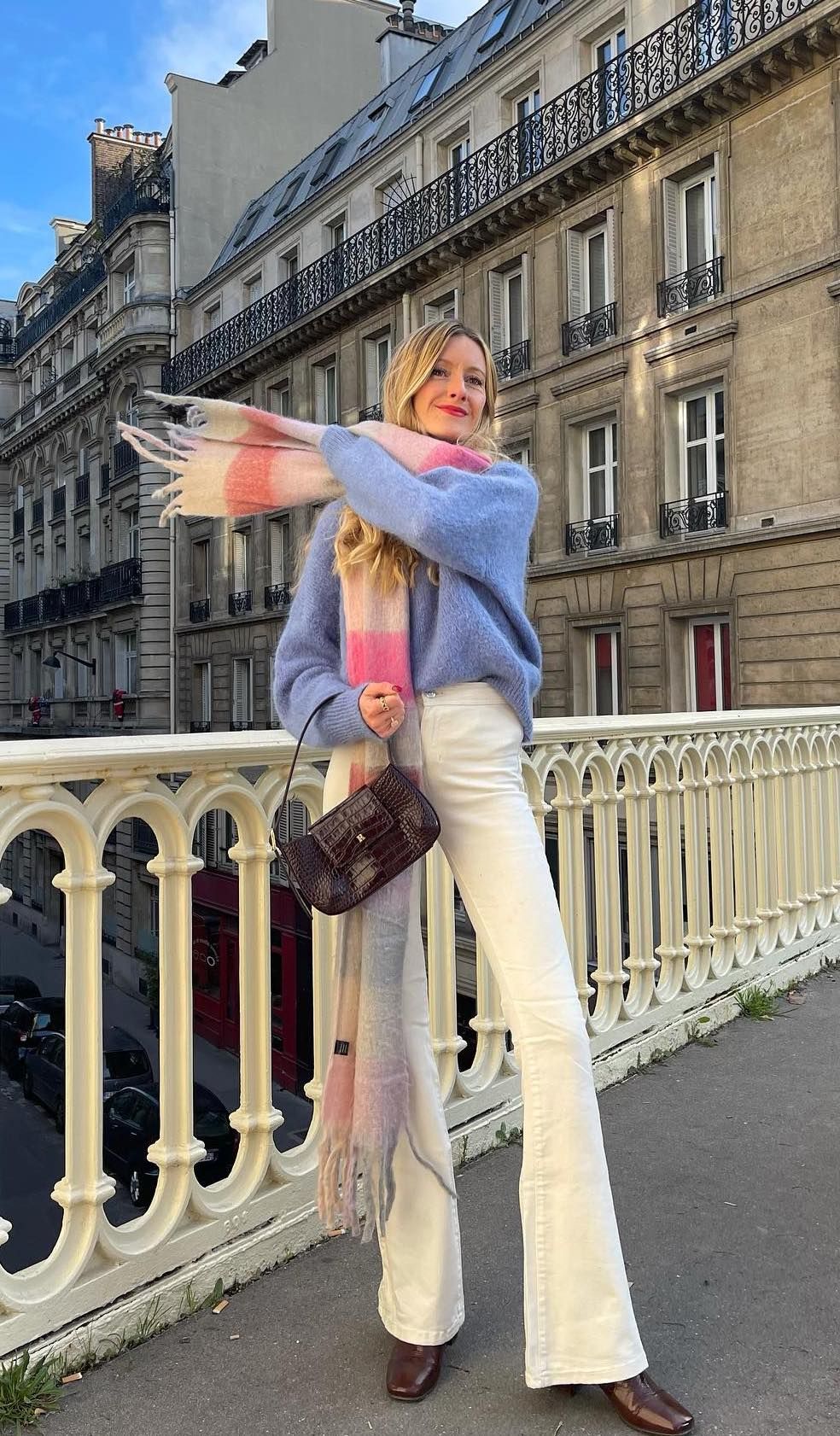 Leather Gloves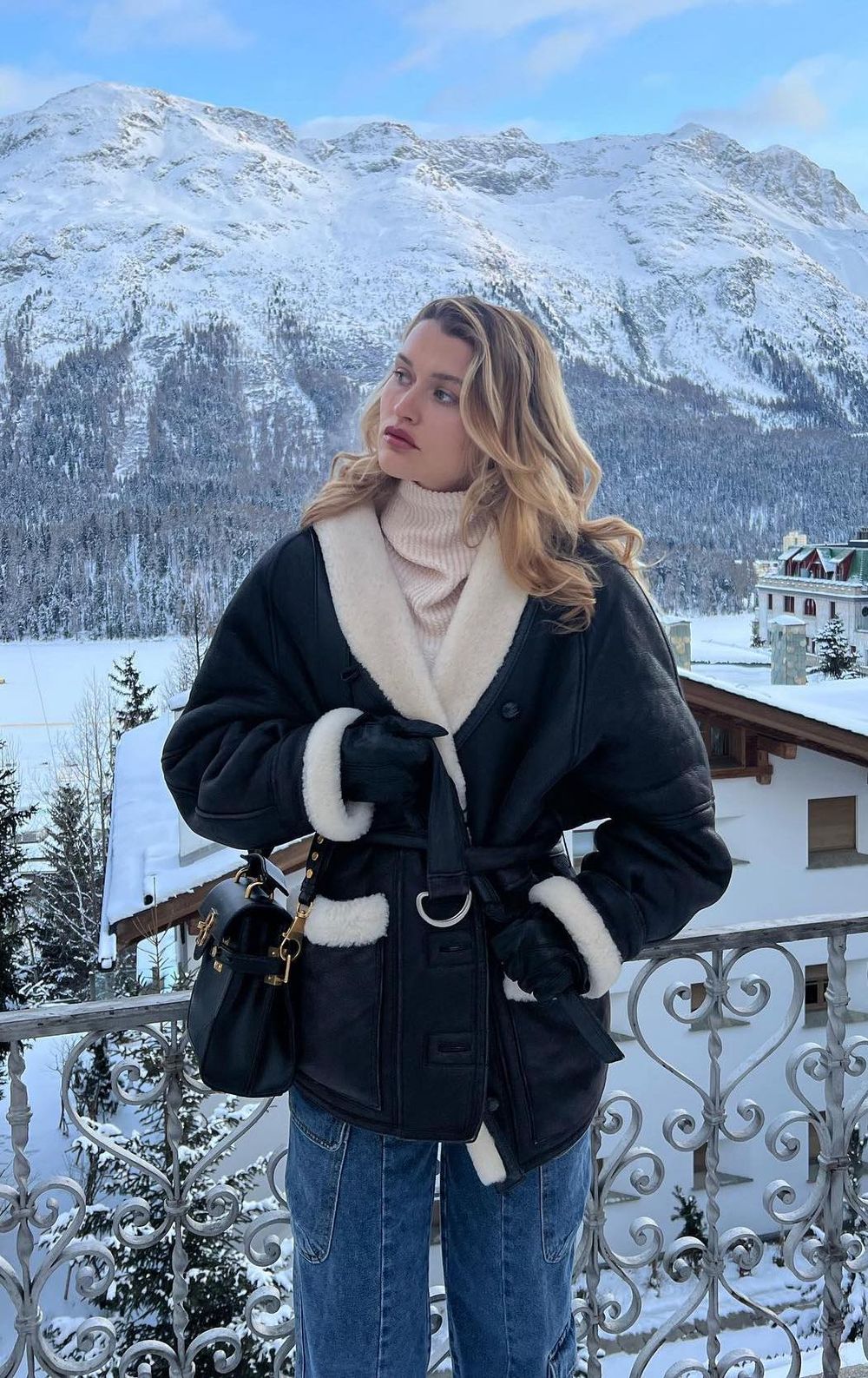 You can't forget about your hands when dressing for winter in Paris! French girl winter style definitely involves wearing a pair of chic leather gloves by a storied French glovemaker like Agnelle to keep your fingers warm and toasty!
Shearling Bag
The shearling bag is the ultimate luxury item for the fashion-conscious wintertime adventurer. A shearling bag is an elegant and compact way to carry your necessities while on the go. Not only is the shearling bag fashionable in France, but it is also functional. It can be used in all types of weather, including rainy days and snowy days. Get one that can fit all your essentials into a spacious bag.
Shearling handbags comes in various shades, including black and cream, brown and beige, and a few other color combinations! This is one French girl winter trend I don't see going away anytime soon! Saint Laurent has the cutest shearling bag if you have the budget!
French Winter Outfits
French women have a reputation for always looking chic, no matter the occasion, and even in the bitter cold winter temperatures. Whether they are dashing around Paris during winter or they are off to a French Alps vacation in the mountains, they always have the perfect outfit to put together for the occasion. French girls also don't hesitate to repeat their favorite outfits throughout the season, whether for work or play. So what kind of outfits do French women wear in winter?
If you want to achieve a French girl winter look, then you must know how to put together chic French winter outfits. French girl winter outfits tend to include wearing dark colors such as black and navy blue, or lighter neutral tones such as beige, off-white, and cream colors. French women tend to avoid wearing bright colors in winter. This helps them create a wintry look that is subtle but still stylishly put together.
Another thing that you might notice about French winter outfits is how they layer their clothing. It's not uncommon for French women to wear several layers of different fabrics on top of each other to keep themselves warm during the cold weather months in France! Think about layering striped cardigans over crewneck sweaters and shearling vests over sweaters.
When a French girl wears a very simple winter outfit like jeans and a wool coat, she will often personalize the look with a bold accessory such as a silk scarf, bright red lipstick, or dark red nails. That gives the outfit a little something extra.
How to Dress for Cold Weather Like a French Girl
All in all, it's not too difficult to dress like a French girl in cold weather. As long as you have the basic French winter fashion essentials and know how to put together chic French winter outfits, you're good to go!
---
So, do you want to dress in the French winter style? Not a bad idea, especially if you live in a more temperate climate. Many people will tell you that dressing for cold weather in France is easy—just layer up like crazy and throw a scarf on top, but there's more to being French than just that. Bonne chance!