The weather is getting chilly so it's time to start gathering these French winter wardrobe essentials so you're prepared for the winter season ahead. Whether you live in France or you're just fascinated by French girl style, this winter clothing and accessories wardrobe checklist will help you look chic and stay warm this winter.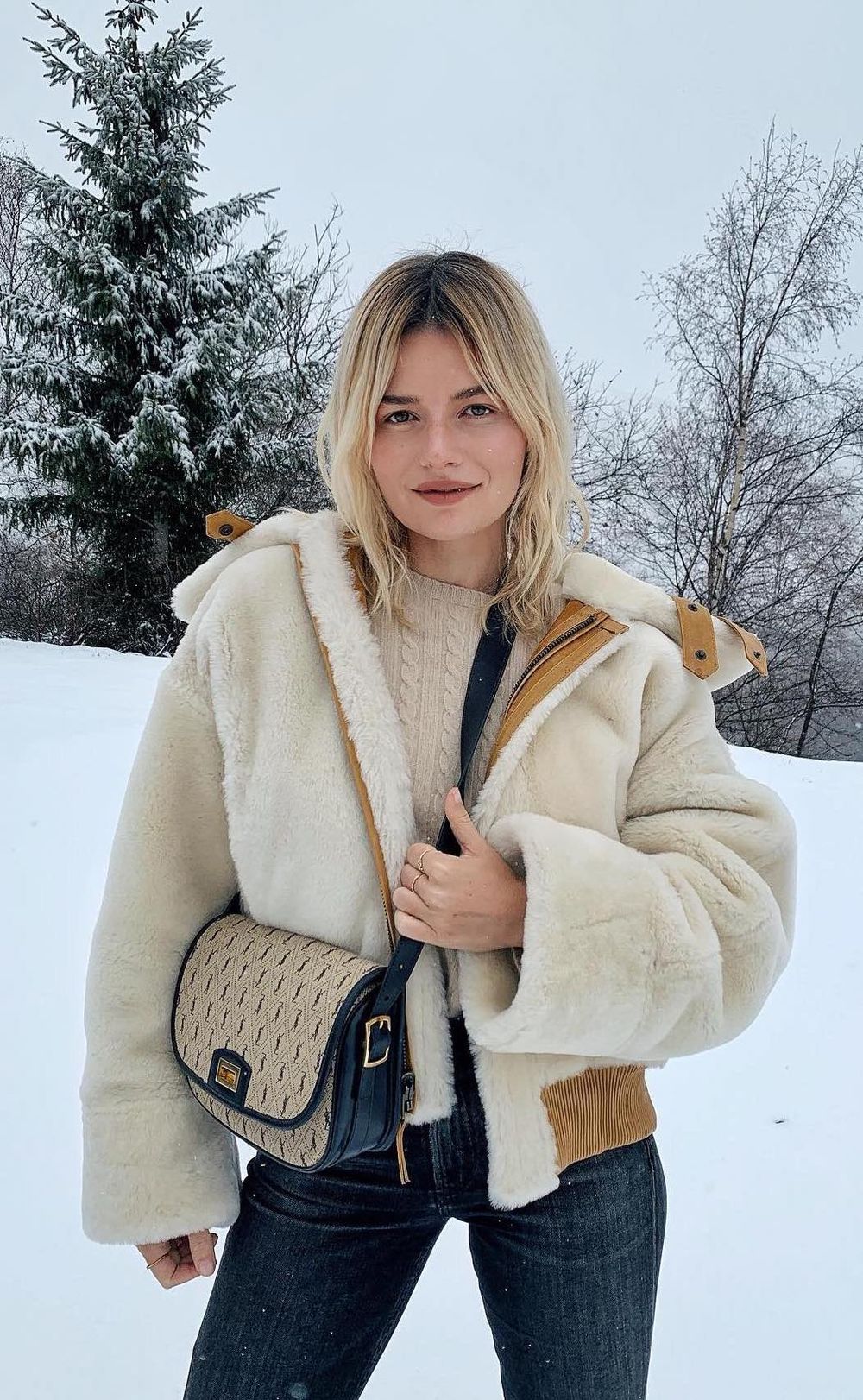 Winter Clothing Wardrobe
Let's start out with the key French winter clothing wardrobe pieces you should have ready to go for the cold months ahead.
Faux-Fur Coats
Fur coats need no introduction. You probably have seen old movie stars wearing them everywhere. Fortunately, they are no longer a thing because of how cruel the fur industry is – but that doesn't mean you can't rock a faux-fur coat and still look amazing.
These coats look like the real thing and feel glamorous, luxurious, and stupendous. They will keep you warm like no other thing – and you can combine them with almost every single piece of winter clothing you have.
Long Wool Wrap Coats
Are you looking for something more casual and less flashy? A long wool wrap coat will keep you warm and stylish no matter the weather. Now, long really means long – so you have to keep in mind these coats will be the main attraction of your outfit because everything from the knee up will be covered by them.
That doesn't mean you cannot combine it with a plain shirt, a small purse, and black sunglasses. In fact, that's the classic winter look!
Puffer Jackets
The puffer jacket is the coat French girls wear when visiting the French Alps. It's ultra warm and goes perfectly with ski pants and boots. You can also wear it in the city, too with a pair of jeans!
If the weather is terribly cold, puffer coats are the perfect look for a rough winter evening.
Black Wool Coats
Even though we've talked about the long wool coat, its black version deserves its own part – and needs no introduction either. For some people, it might seem too serious or too dark. But you know black never went out of style – and it combines with everything.
The long black wool coat is perfect for an all-black-everything occasion or for a formal dinner where you still want to look as stylish as possible.
Wool Blazers
Blazers used to be part of a man's world, but, throughout the last couple of decades, more and more women started wearing them – and it was the right choice all along. Keep in mind this isn't the warmest option you'll find in your winter wardrobe, but it's probably the most versatile out of them all.
If it's not too cold and it's getting hard to figure out your outfit, you can count on a wool blazer to save the day.
Shearling Coats
The simple yet elegant option is to go with a white or beige shearling coat. A cute shearling coat will keep you warm the same way it will make you look stylish and Parisian chic. It's definitely the go-to Parisian daytime winter outerwear choice.
Not all belted shearling coats are made equal, though. Some of them are short and some are long. Some are vintage and some are new. Choose according to your preference!
Turtleneck Sweaters
For a lot of people, a turtleneck sweater looks like Christmas. For everyone, it's a stylish look. One that you can wear with dark-colored pants and dark shoes.
Turtleneck sweaters have one sticking point: comfort. Some people do not like how the neck feels. Because of that, you have to shop around and see which one fits you best before you buy one. Once you find the right one for you, it'll feel comfortable and warm in all the right places.
Cardigans
Cardigans, both normal-sized and long ones, are a stylish look you can wear when winter is coming. They are not the warmest option out there – in fact, you shouldn't wear one alone once winter is in full force. When it's not that cold and you're looking for a stylish, effortless layering piece, you know you can wear a cardigan with plenty of confidence.
An opaque-colored cardigan with a plain shirt underneath is the perfect autumn/early winter look that you know you'll try when temperatures start to drop.
Cozy Knitwear Sweaters
If a turtleneck seems like a little too much on your neck (or you're a scarfs kind of girl), you can always go for the more cozy, more playful option. A knitwear sweater will help you fend off the cold and, at the same time, will help you look as stylish as possible (as long as you're not wearing an ugly sweater for Christmas!)
Oversized knitwear sweaters are also a thing now – and they are perfect for a more casual Parisian look. They look great when you tuck them inside your corduroy pants!
Corduroy Pants
We haven't talked that much about pants mostly because, when winter hits, coats and jackets become the protagonists. That doesn't mean we can't talk a little bit about what you should wear to combine your favorite jacket with.
Corduroy pants are everything you want during the winter: comfortable, stylish, and warm. It's hard to find something better for you during the coldest time of the year. Go for dark and opaque colors to best combine them with everything else in your winter wardrobe.
Winter Work Wardrobe
Heading to the office in winter can be a pain. Looking chic at the same time can be tough! These are the French girl winter work wardrobe pieces to look a little more fashionable.
Wool Trouser Suit
Going to work doesn't mean you have to wear boring or bad outfits. You can be the most well-dressed woman in the entire office with a French girl work wardrobe. It's not hard to accomplish with a smart wool trouser suit.
For French girl at work style, wear them in dark or light colors, not pastel or opaque ones. Keep it simple and combine it with an accessory or two, like a nice Cartier watch.
Classic Black Blazer
We have talked about blazers above, but the black blazer is the perfect choice to look stylish for work. You can wear it with a plain t-shirt or a shirt underneath; no matter what you choose, you know you will look great – and you will also be warmer than most.
For a more casual thing, you can combine your black blazer with a pair of denim jeans. When it's time to go to the office, we recommend black pants, they'll go perfectly with a black blazer.
Evening Wear Winter Wardrobe
These are the French winter wardrobe pieces you need for nights out during the evening.
Velvet Jumpsuit
A velvet jumpsuit is a daring outfit option – but a great one if you can pull it off with confidence. It's extravagant yet straightforward, fancy yet simple. This is one of those items that are perfect for a cold winter night when you need to dress up.
Word of encouragement to those women who don't want to wear a velvet jumpsuit: just try it out! You'll feel as comfortable and warm as you'll look amazing.
Silk Long Sleeve Top
Another somewhat daring option, silk clothing isn't exactly for everyone – but you should consider it, since it looks and feels amazing, and it's also a nice piece to combine with some of the clothes you have in your winter wardrobe.
Of course, this isn't a standalone option for winter – because you'll freeze! It's a great option if you don't know what to combine your favorite jacket or coat with, though.
The great thing about these silk tops is that you can play along with colors as much as you want.
Winter Accessories
These are the French winter wardrobe accessories you'll need in your closet!
Hats
Winter was made to wear beautiful hats. They are as stylish as they are comfy and cozy – as long as you choose the right ones! Knit or cashmere beanies, caps, berets, and other hats are great for cold temperatures. And, if you're daring enough, a shearling hat is probably the warmest and comfiest option you can find.
Then again, hats are not mandatory if you're trying to wear your best winter outfit. The right hat gives you extra points, though.
Wool Scarves
Hats and scarves go along like winter and a warm cup of coffee, so you know we have to talk about them!
There are a lot of scarves out there – and you may have more than one for different occasions. Try to balance your outfit with the right scarf. For example, try to go for oversized scarves when you're wearing cardigans or blazers. Thin ones go along better with coats and jackets.
Winter Shoe Wardrobe
Your French winter wardrobe isn't complete without proper footwear! Here are the must-have French girl winter shoes!
Ankle Boots
Last but not least, boots are an important part of your French winter wardrobe. We'll give you two great options for you to wear. The first one is simple – but that doesn't mean it's not a great idea. Ankle boots get the job done and let the rest of your outfit shine. Black or brown ankle boots should be your go-to everyday French winter shoe.
Knee-High Boots
If you want everything below the knee to get a little more protection from the elements, knee-high boots should be your weapon of choice. They come in all sorts of shapes and colors – and you know you're going to want more than one pair! We don't blame you, though – in fact, we encourage you to get them.
I hope you found this French winter wardrobe list helpful!