French girl fall outfits are cozy and chic, perfect for when the temperatures start to drop. The best French girl fall looks often feature a neutral palette with warm autumn hues mixed in. Think burnt orange, burgundy red, rich green, and beautiful burgundy. Here's our French fall fashion inspiration guide to help you dress chic for fall!
Camel Wool Coat
A brown, camel or beige wool duster coat should be the first item to purchase on your fall wardrobe list! Gabrielle wears hers well with a darker brown leather handbag.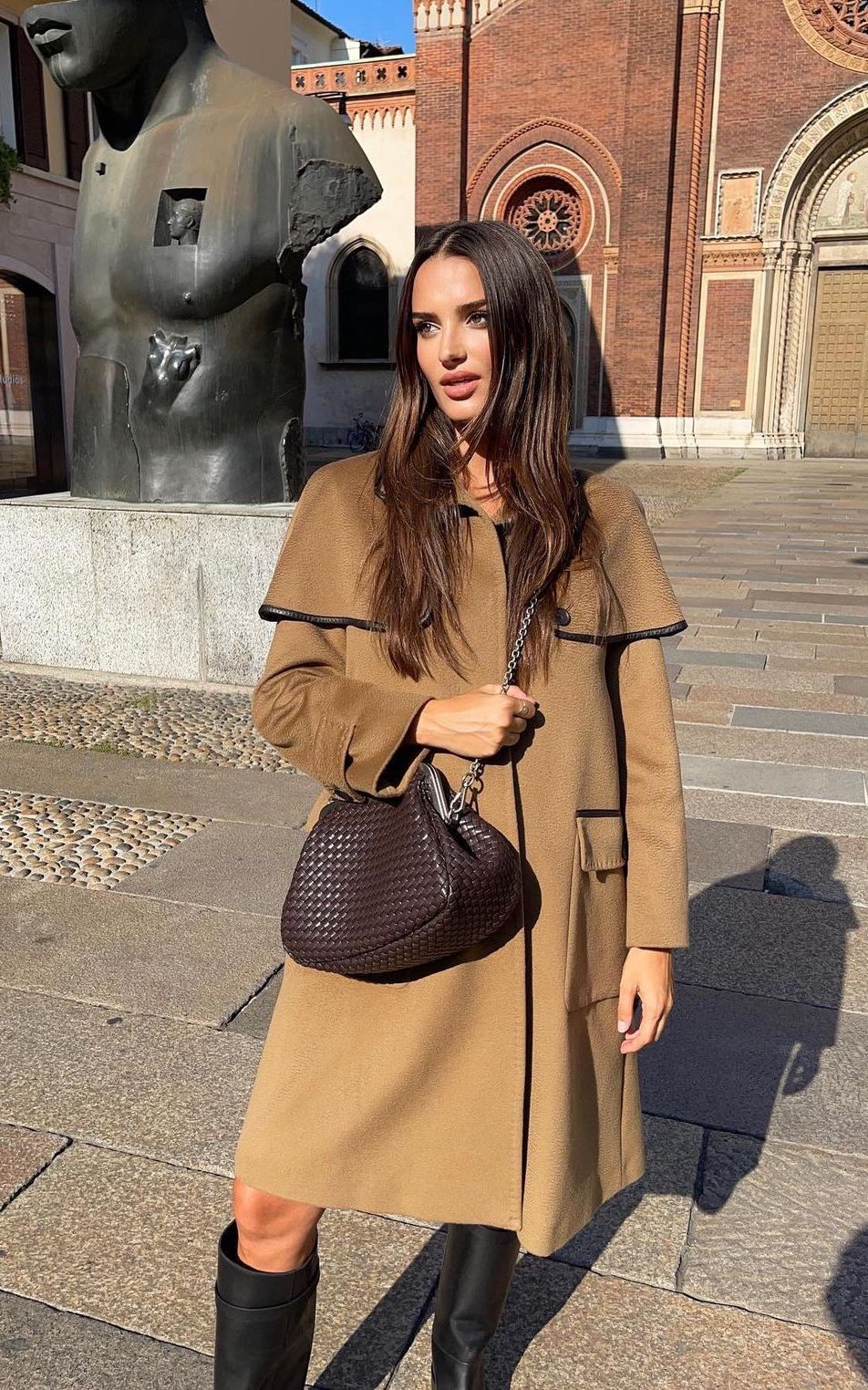 Plaid Blazer
Next up, is the brown plaid blazer, something many French women love to wear each autumn. If you want to dress like a Parisian woman, a plaid blazer is a must-have.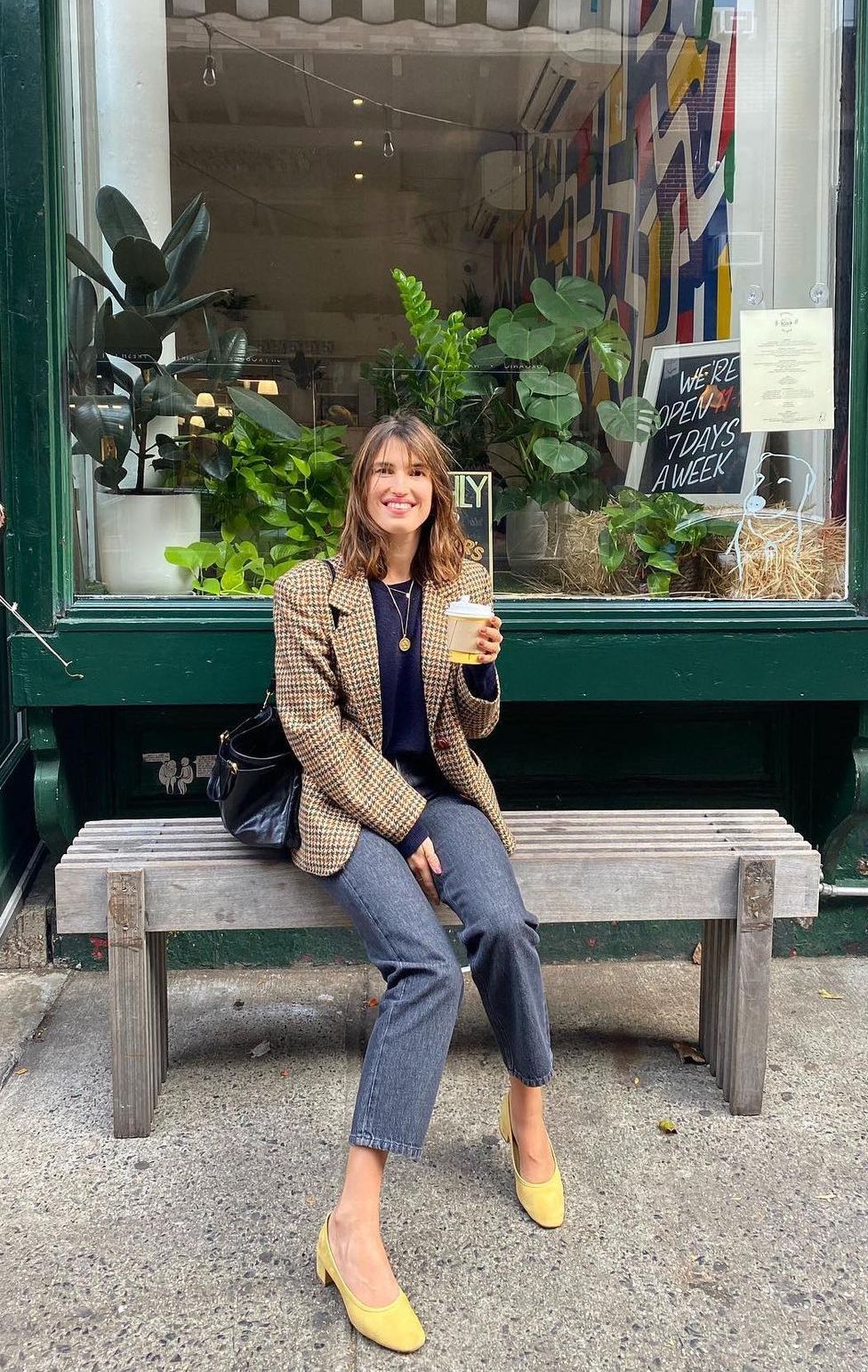 Brown Pants
Brown pants are an essential piece that can be styled many different ways for chic fall outfits!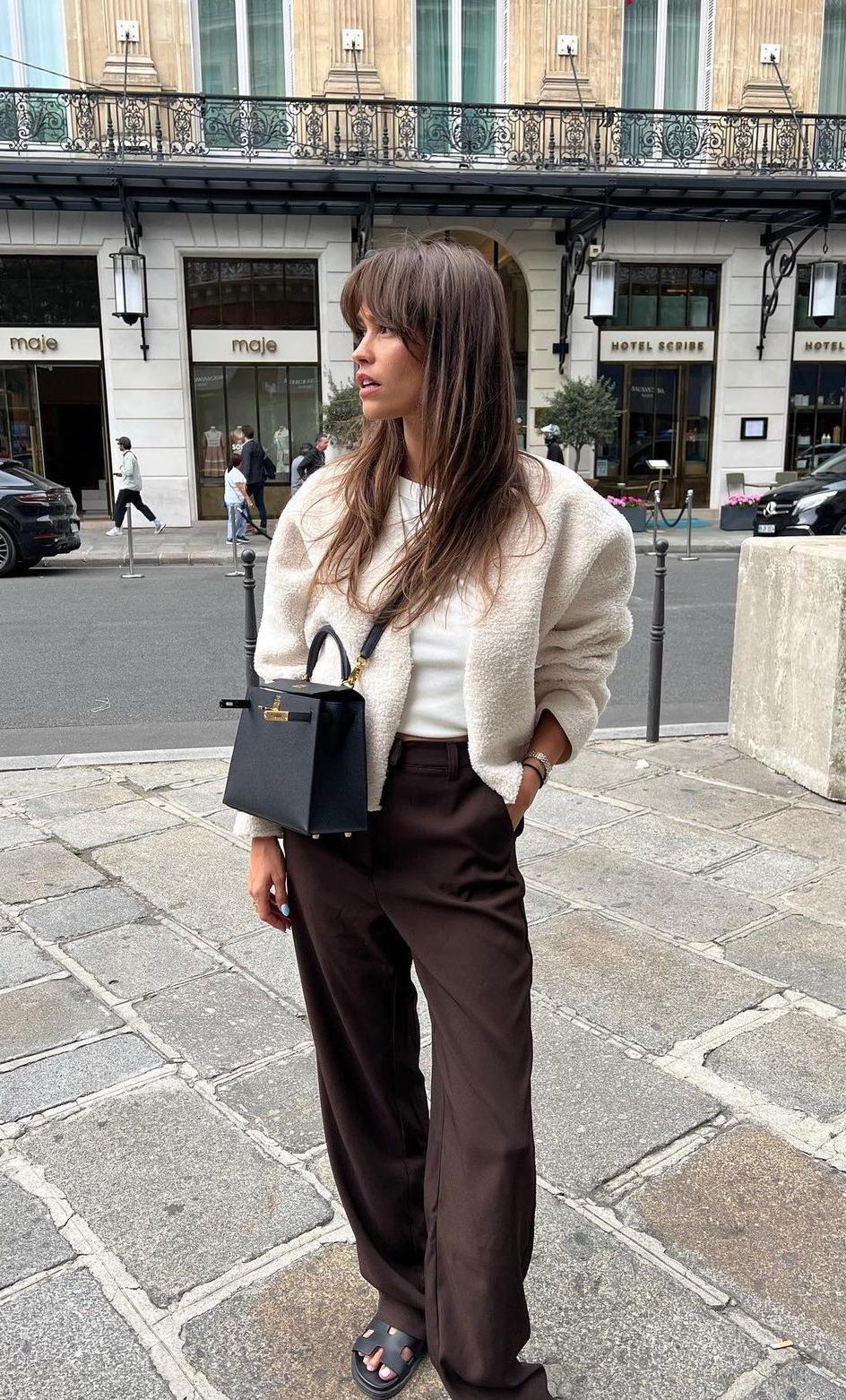 Brown Suede Boots
Sabina masters the art of brown layers with a brown wool coat, brown knitted dress, and brown suede knee boots.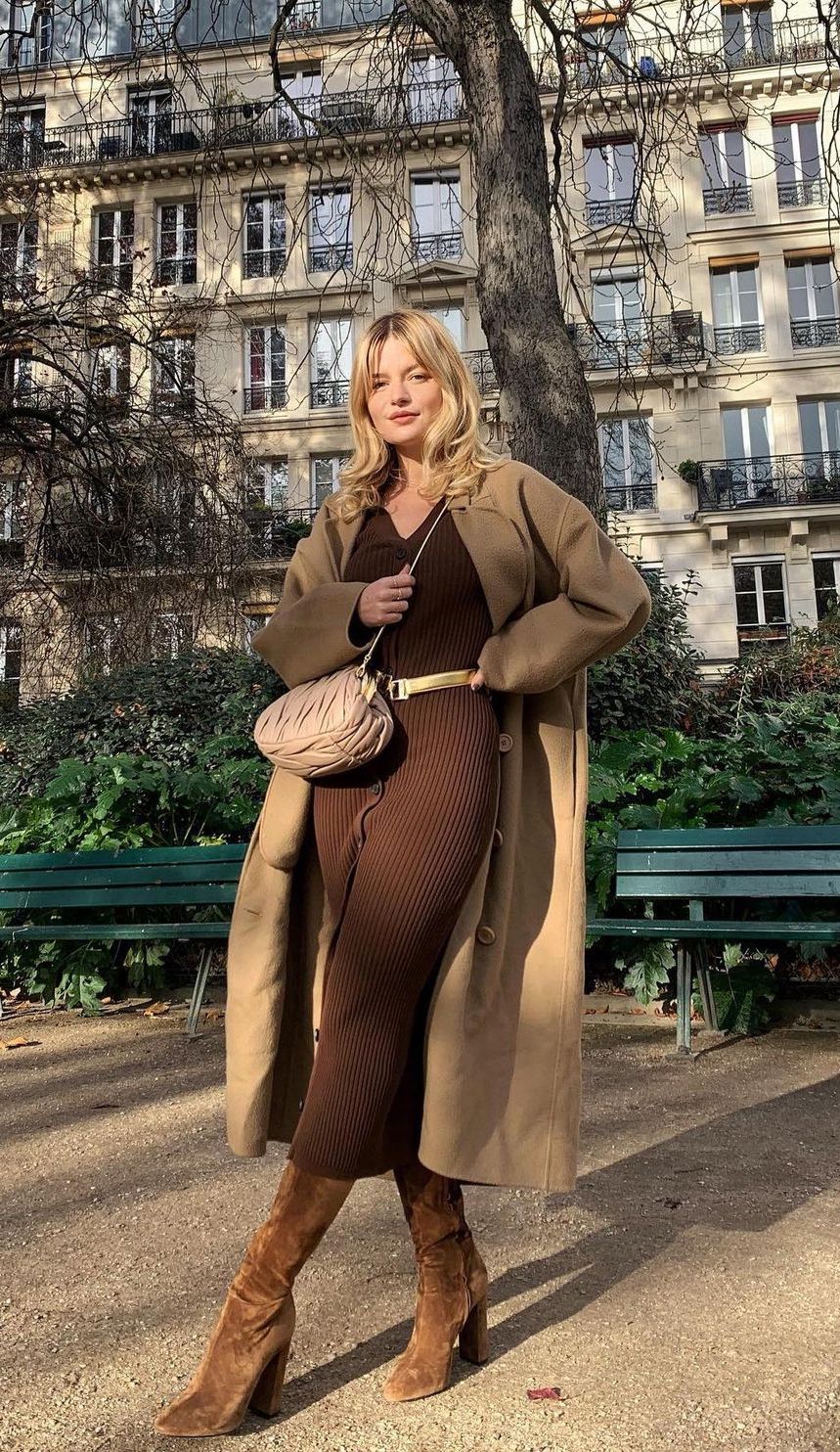 Black Layers
Black is another popular color for fall dressing in France. Here, Camille Charrière layers a black sweater over a white button-up shirt, underneath a black wool coat. She's also wearing black shorts over black tights and completes the look with black patent leather knee boots.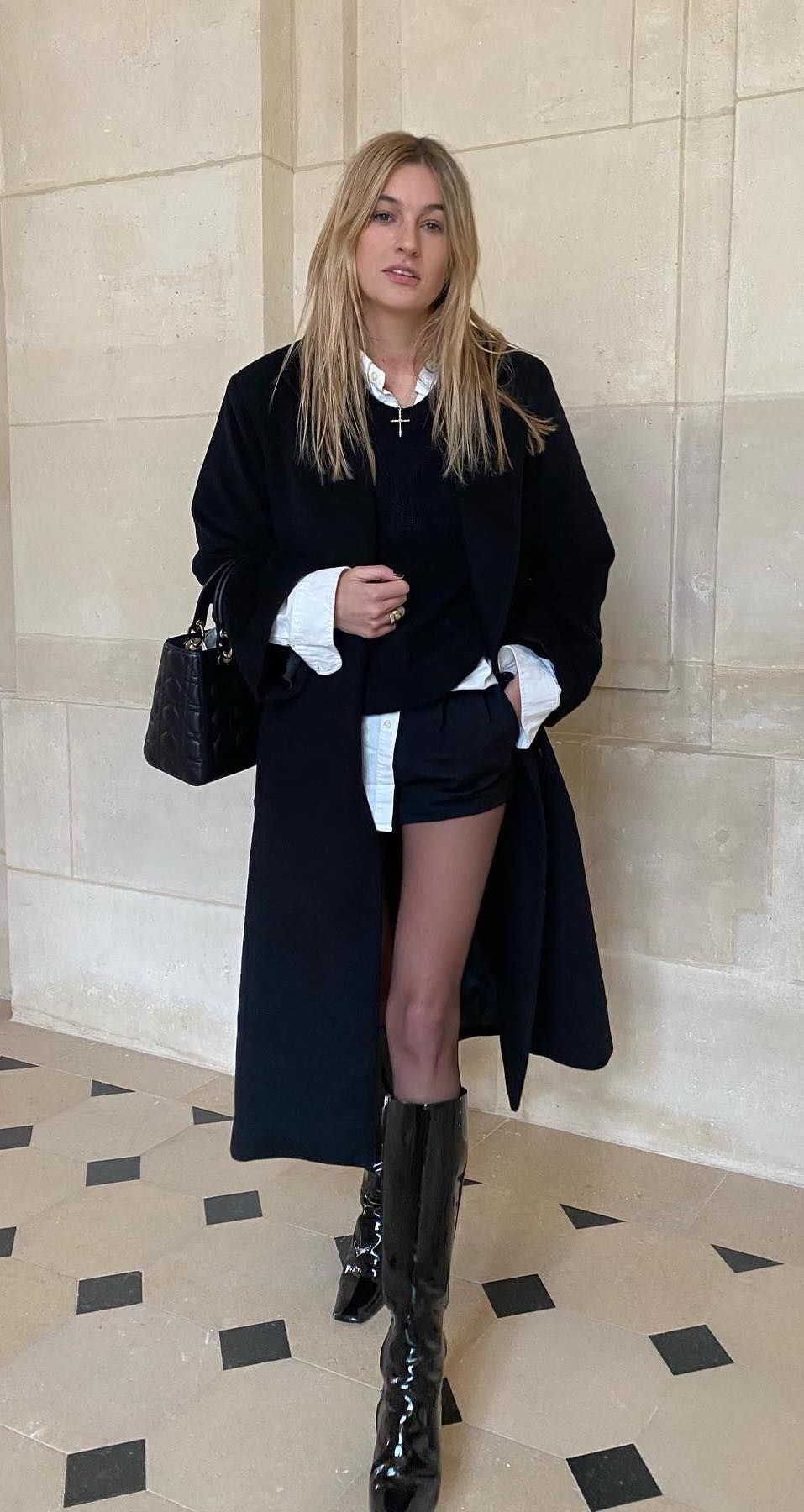 Black Pants and Chanel Flats
I love this simple and chic French fall outfit. Claire is wearing a black V-neck sweater with straight black pants, a simple gold necklace, Chanel flats and a black Hermès Birkin bag.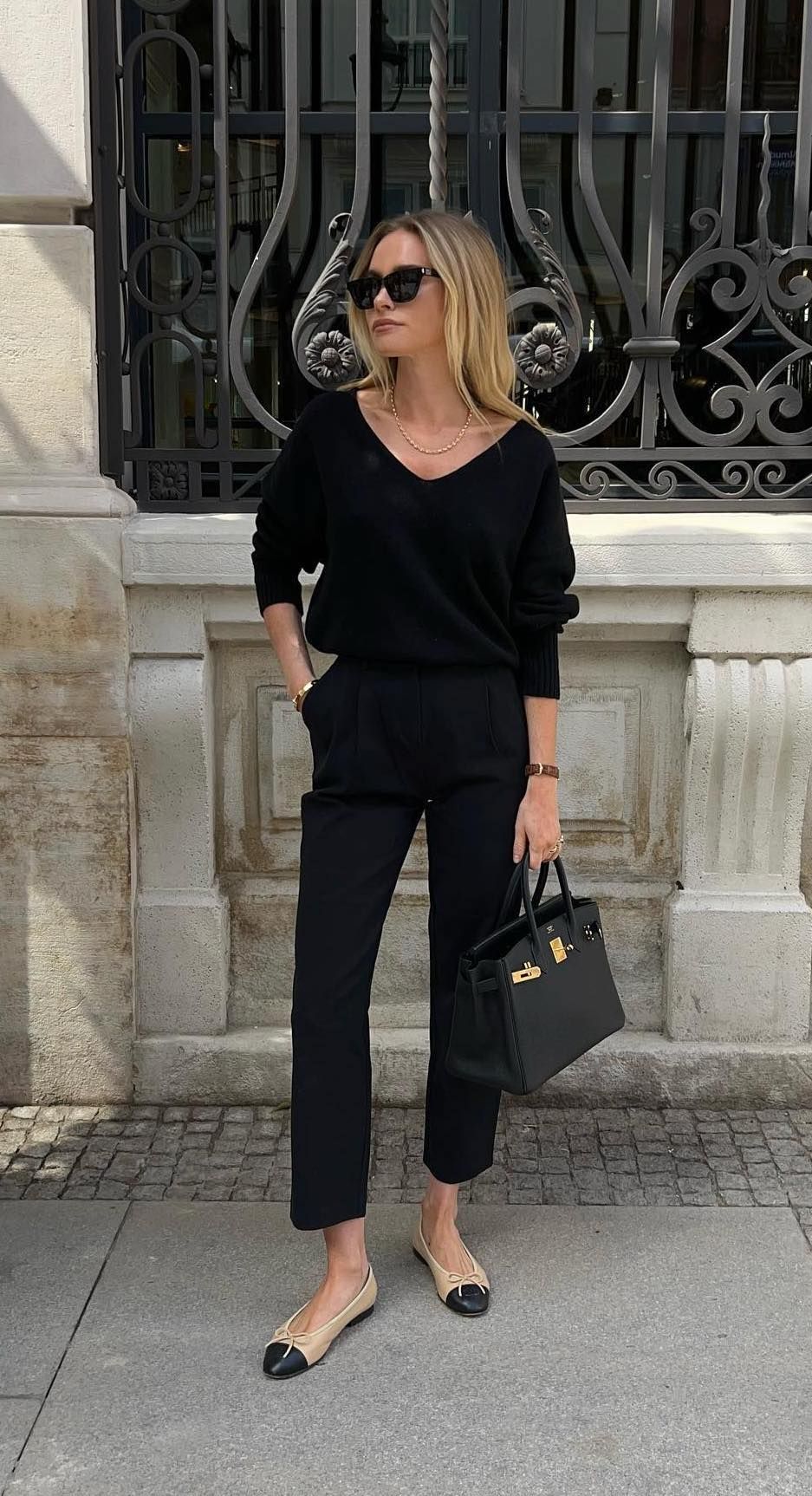 Beige Pants
Tailored beige pants help lighten up this look by Eunjin Do.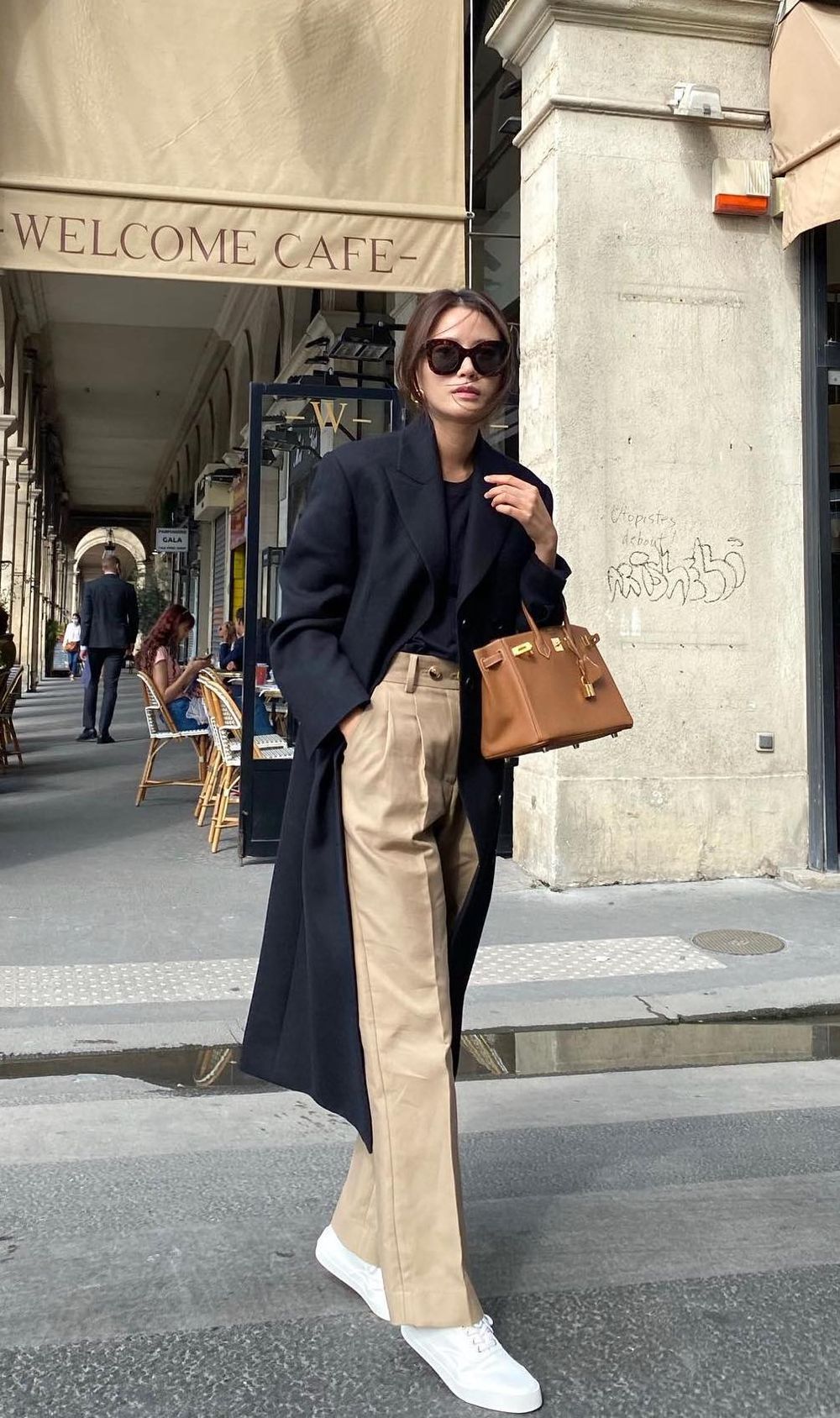 Plaid Skirt
Julie wears a brown plaid mini skirt for fall with a thick brown sweater to keep warm during the autumn season.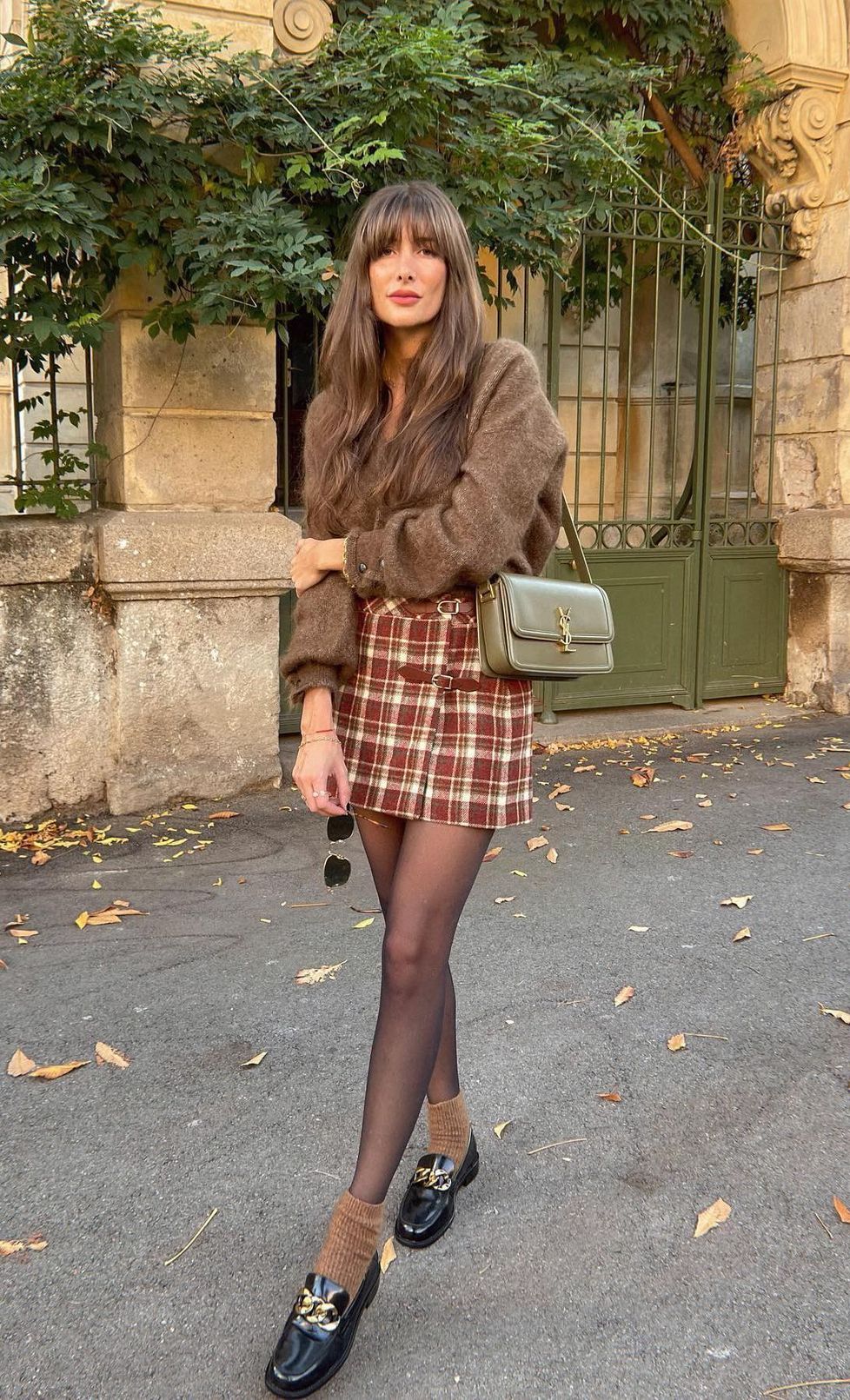 Brown Blazer
Camille Charrière wears a tailored brown blazer with black pants and black leather knee boots. Who said brown and black can't be worn together?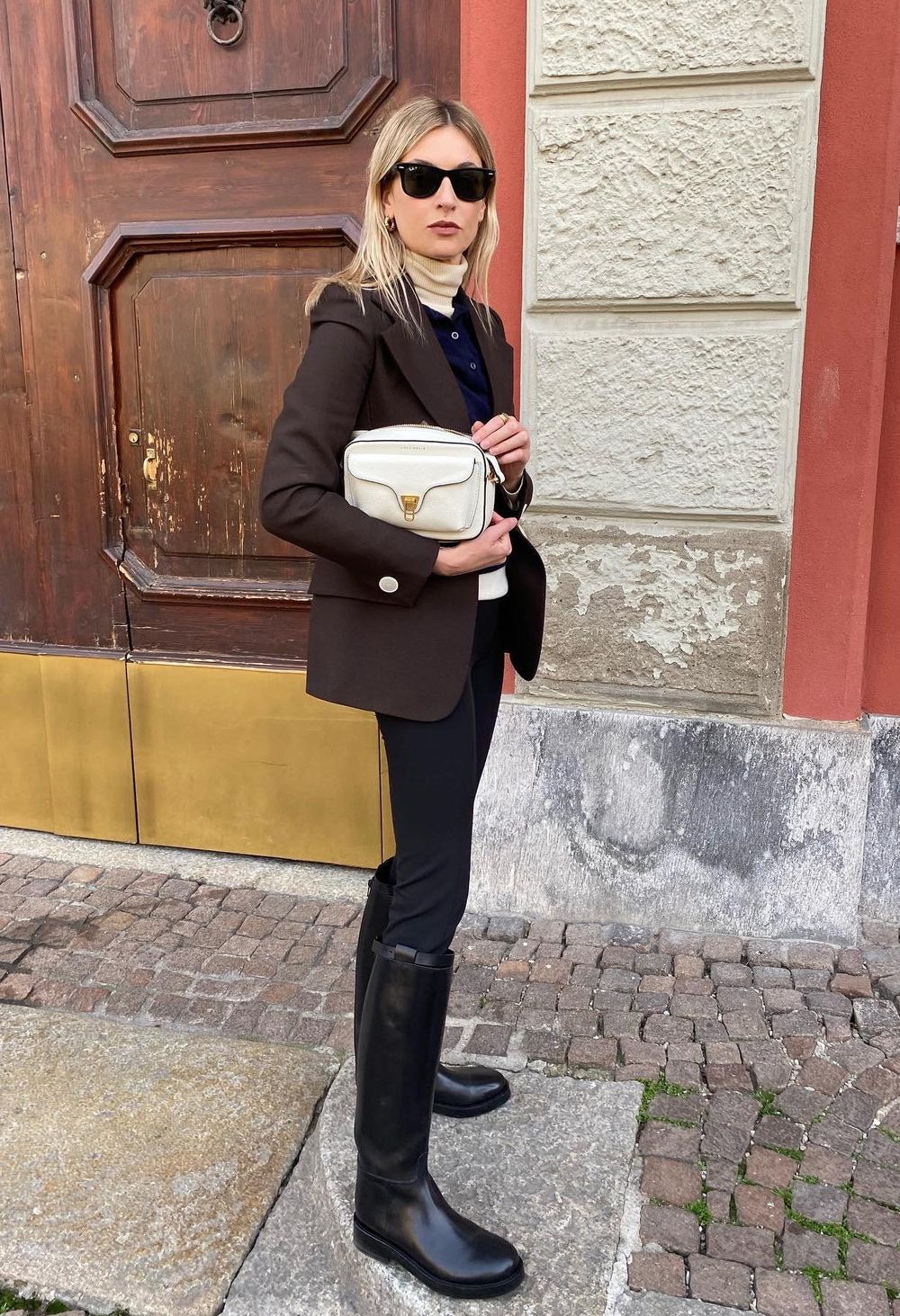 Brown Knitwear
Jeanne Damas wears a brown knit duster cardigan over matching brown flared pants on this fall day. It's most likely an outfit from her Rouje brand. She also has a snakeskin bag and burgundy leather boots on.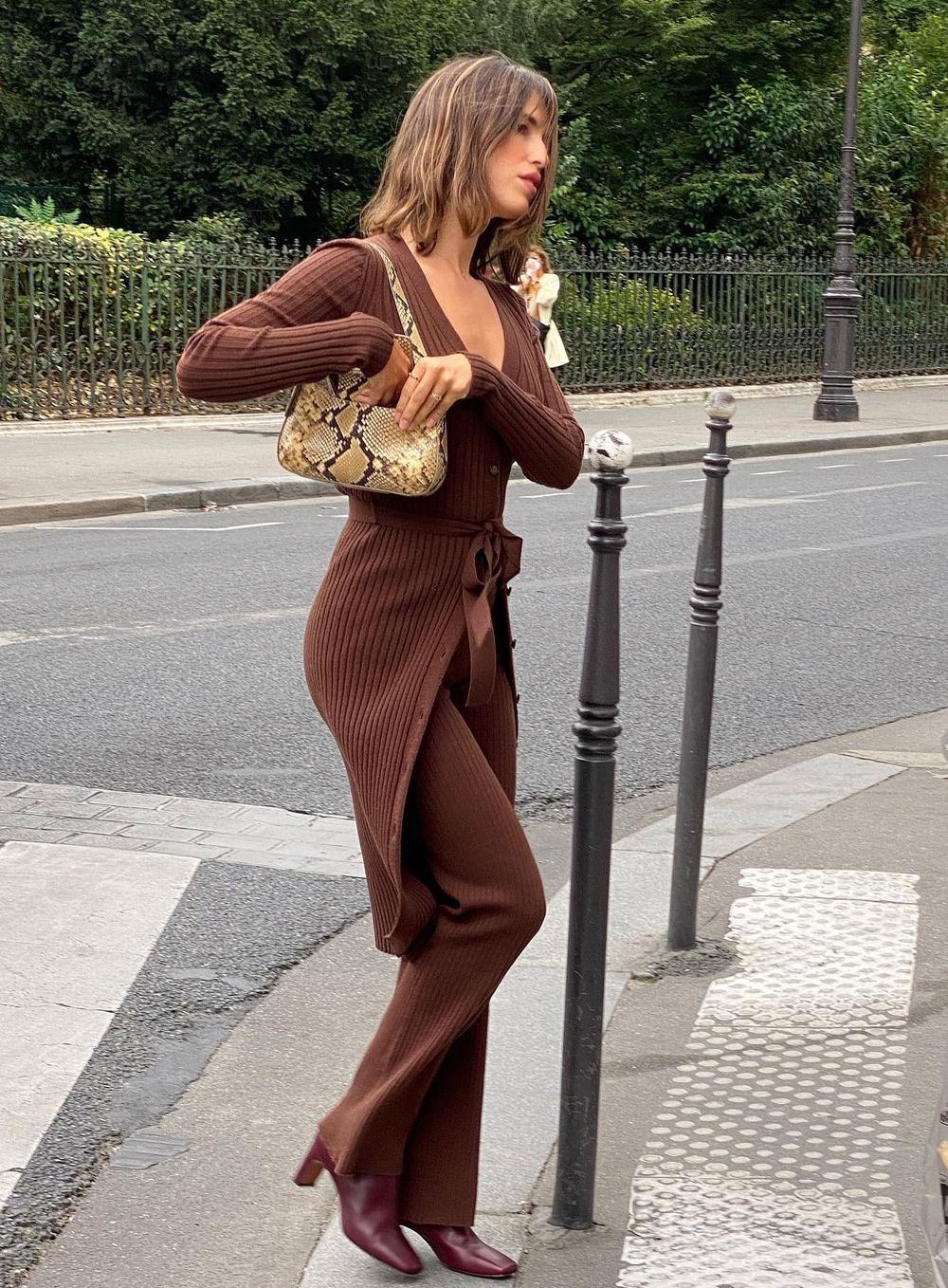 Beige Jeans
Beige jeans pair perfectly with a dark brown blazer and a creamy polka dot silk scarf for this French girl fall look.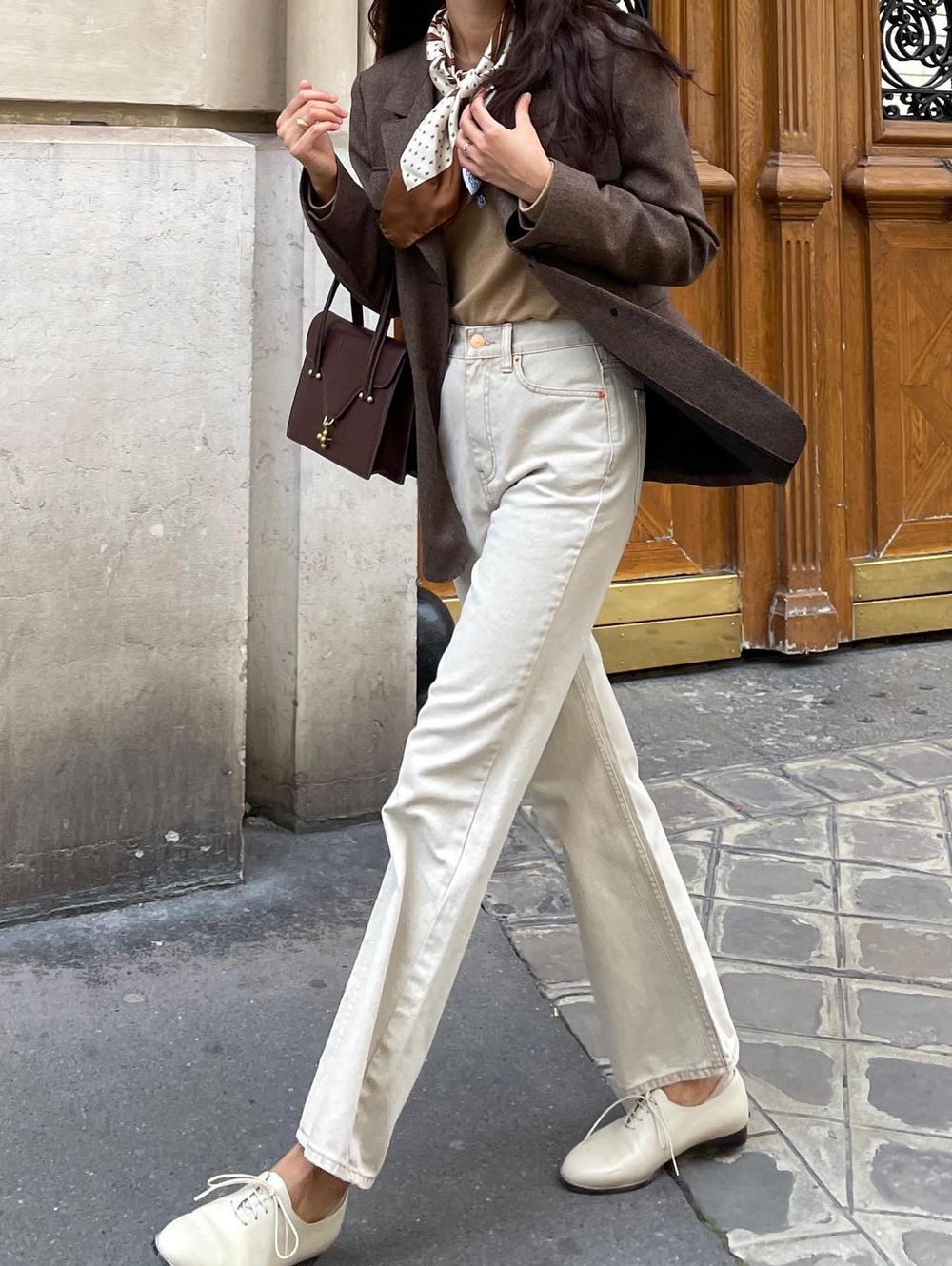 Houndstooth Print Scarf
An oversized thick houndstooth print scarf is the perfect way to keep warm during the chilly end-of-fall days in Paris, France. This fall outfit is so chic, worn over a trench coat and paired with a brown leather bucket bag.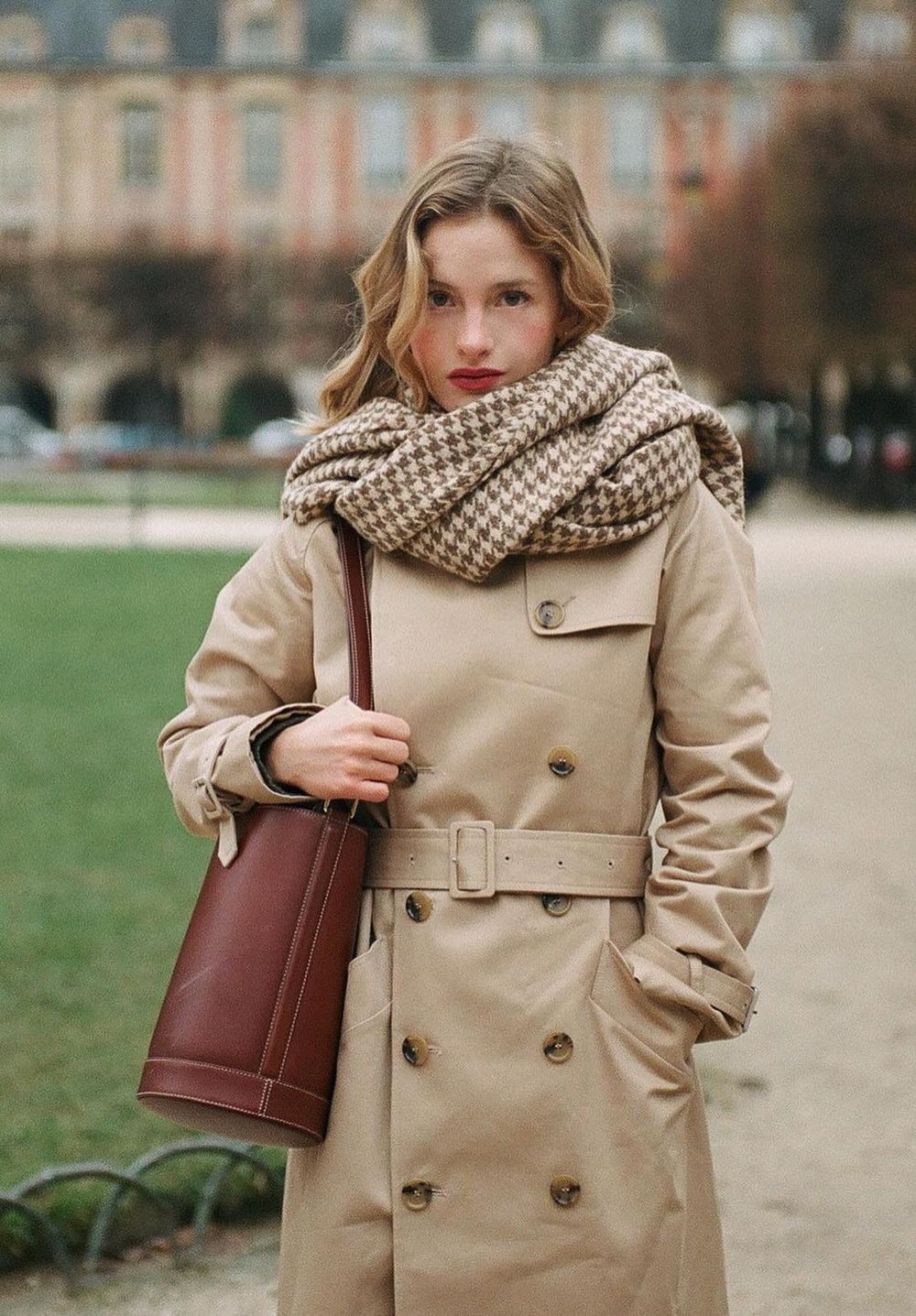 Burgundy Leather Knee Boots
This is a great transitional fall outfit. Salome wears a floral dress under a trench coat paired with burgundy leather knee boots.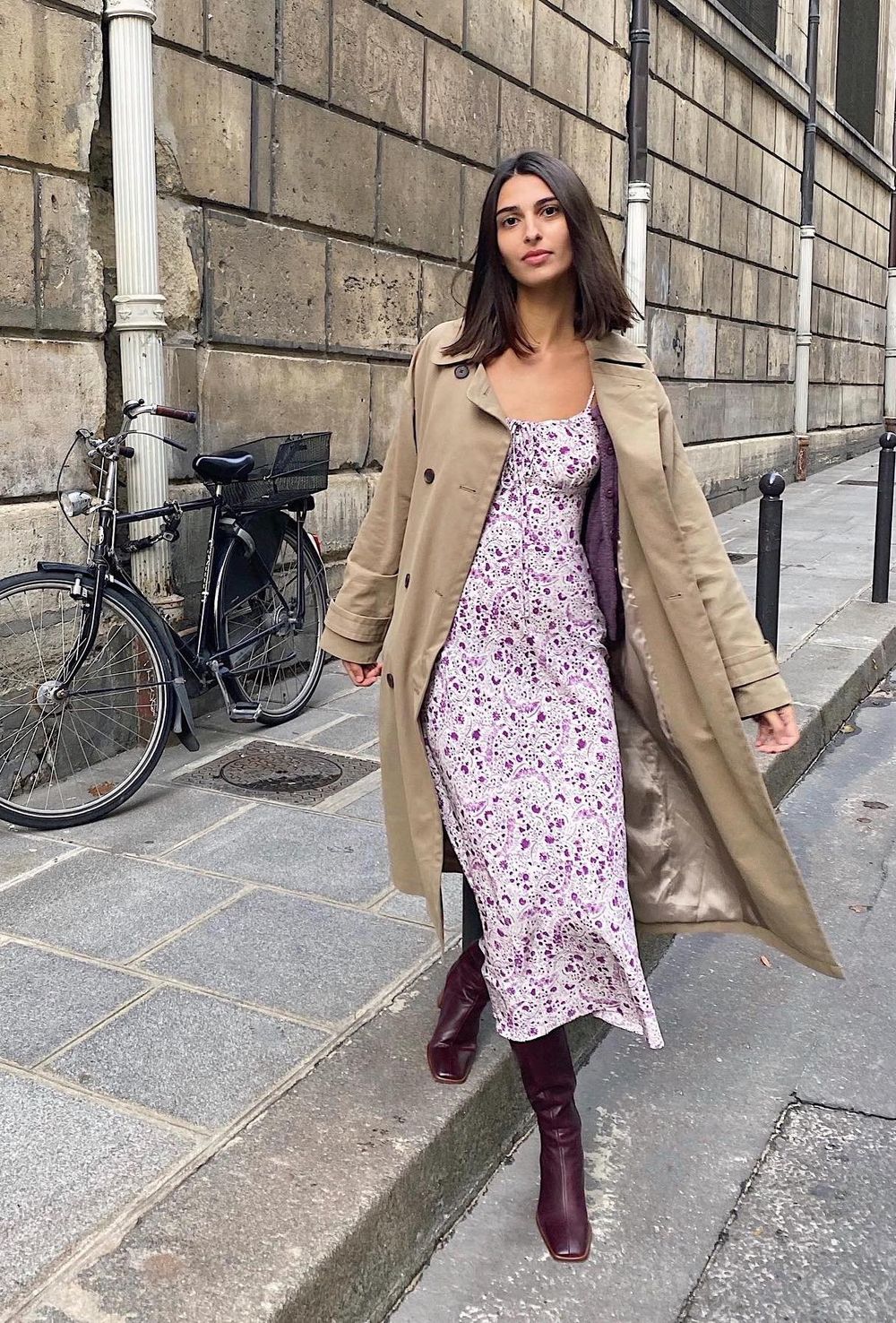 Brown Leather Ankle Boots
Jeanne loves her brown plaid blazers. Here she wears one over a navy sweater with black jeans and brown ankle boots. This is one of the classic French fall outfits to copy.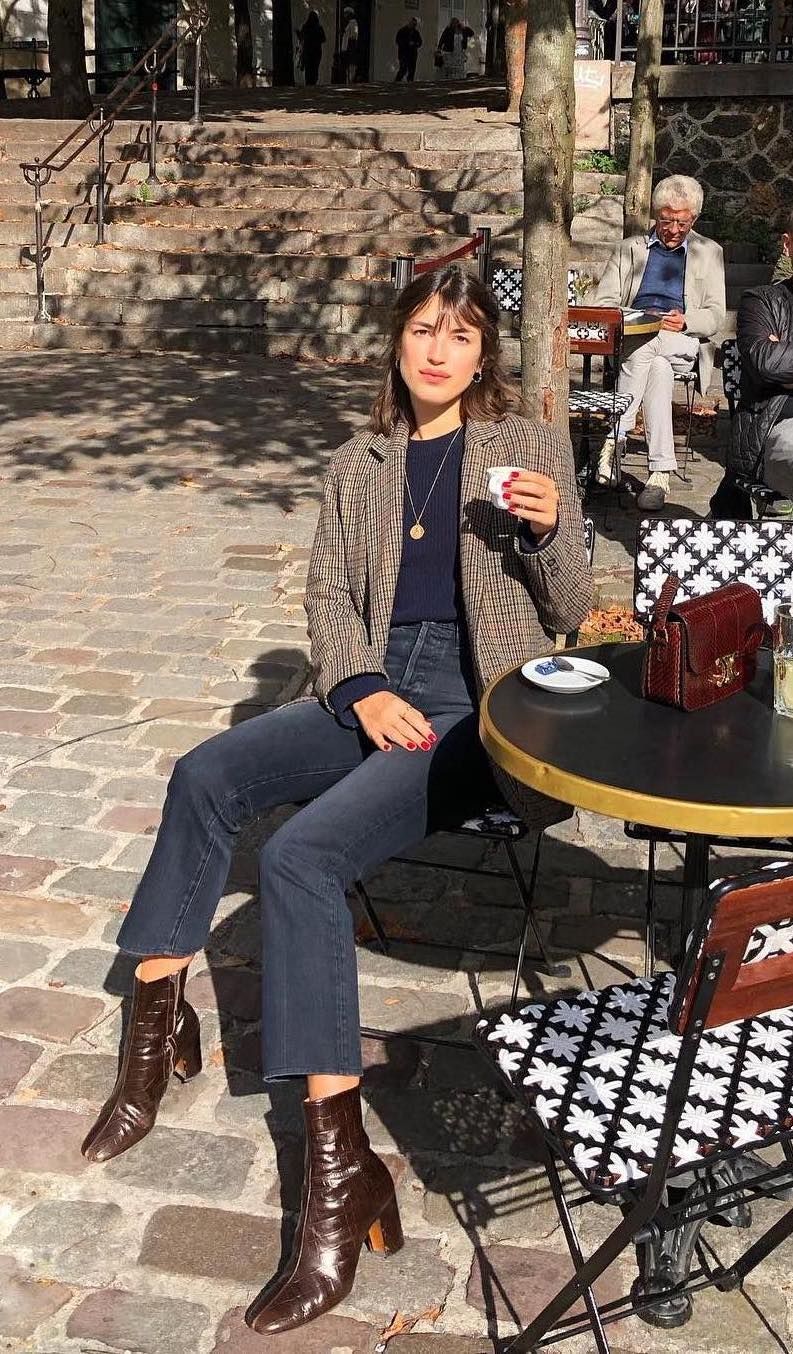 Khaki Wool Coat
Sabina looks amazing in this khaki wool coat for fall.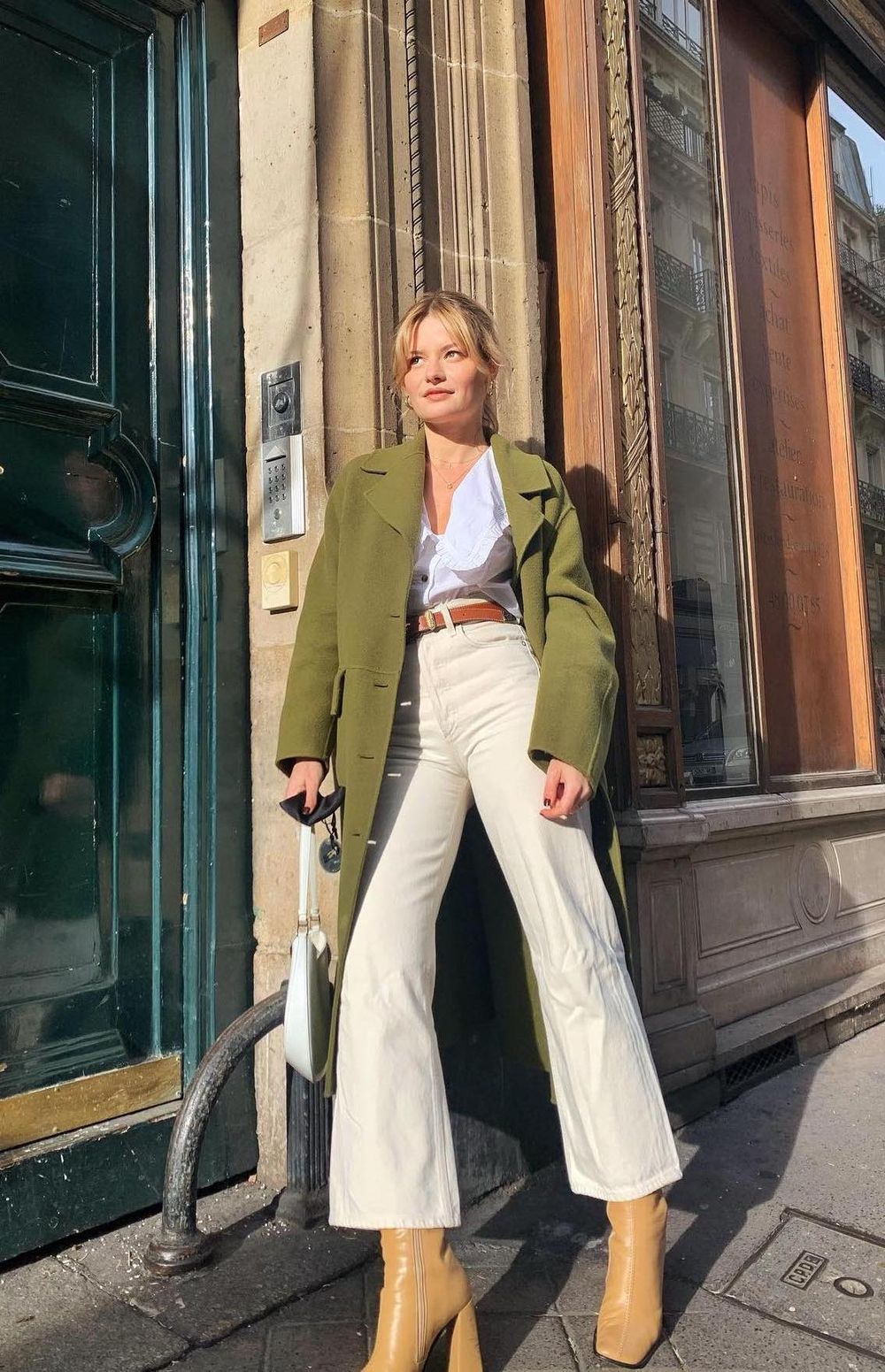 Orange Skirt
A fun, orange print skirt gives this cool French girl fall outfit a 70s vibe.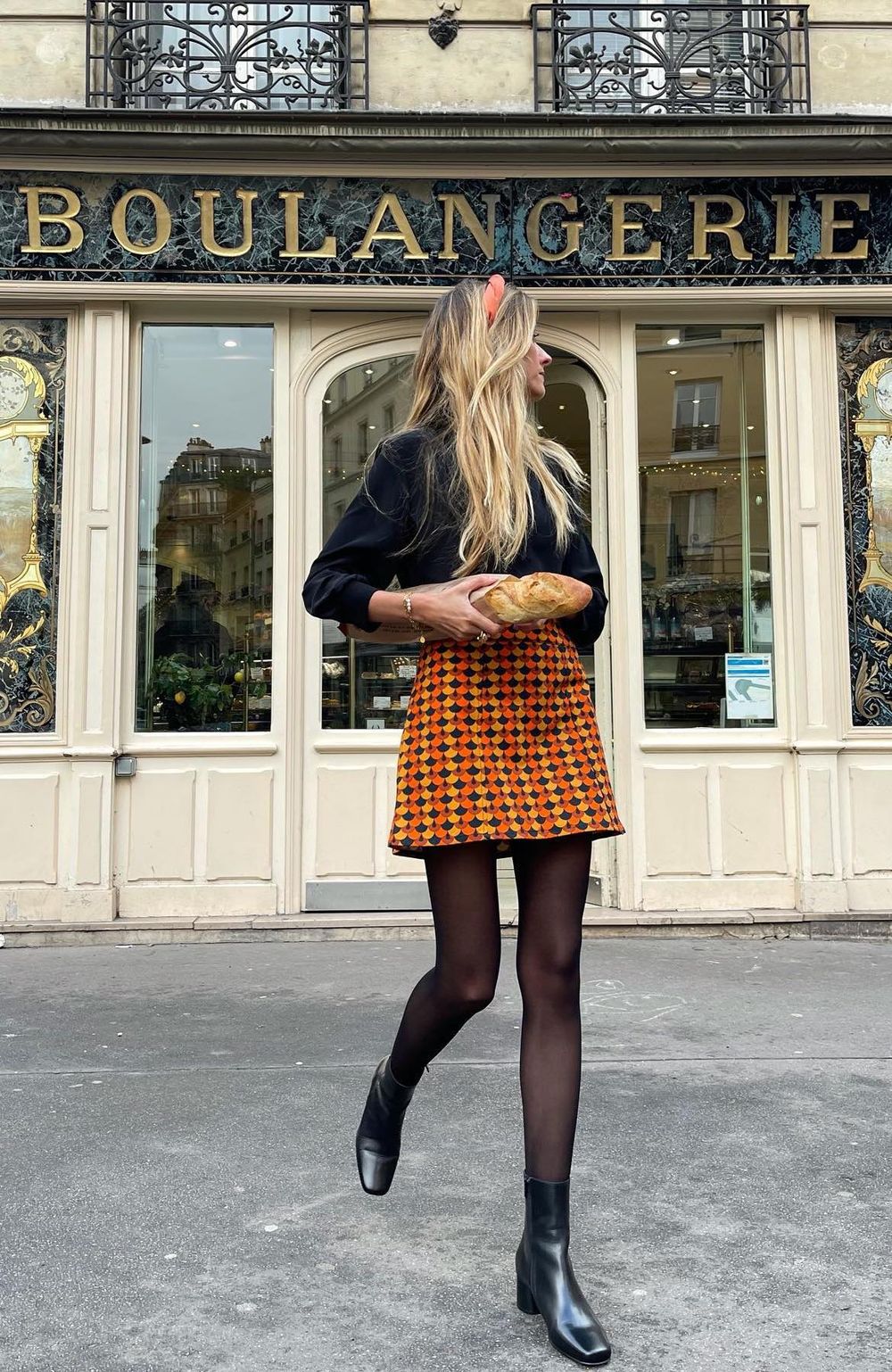 Beige Oversized Sweater
A black leather Celine bag and black leather Chanel flats are the perfect accessories to this French fall outfit comprised of a beige sweater and white pants. Who says you can't wear white during fall in France?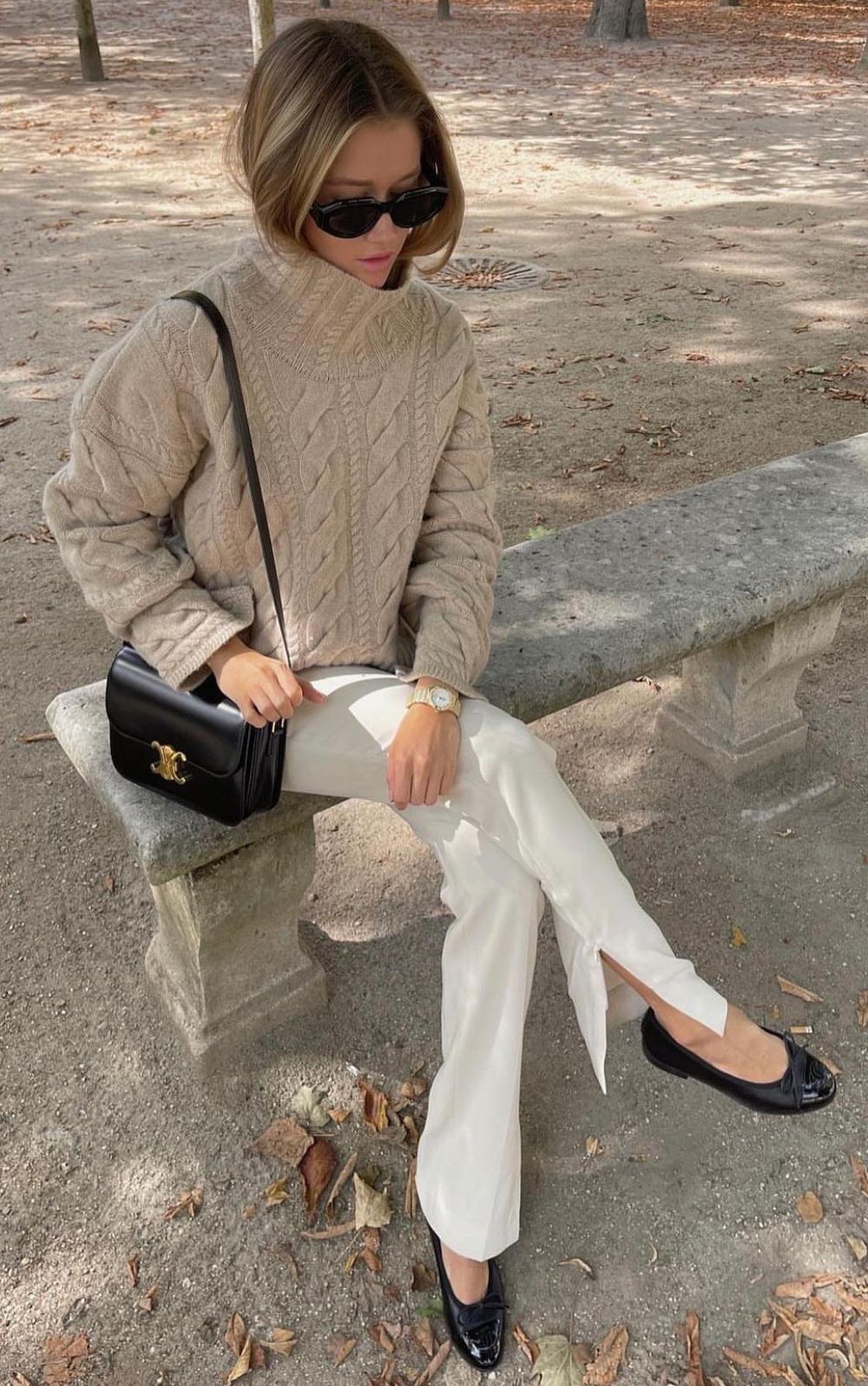 Beige Cashmere Cardigan
This beige cashmere cardigan has puffy sleeves and looks amazing on Julie. She paired it with brown corduroy pants to go shopping at a French farmer's market in autumn.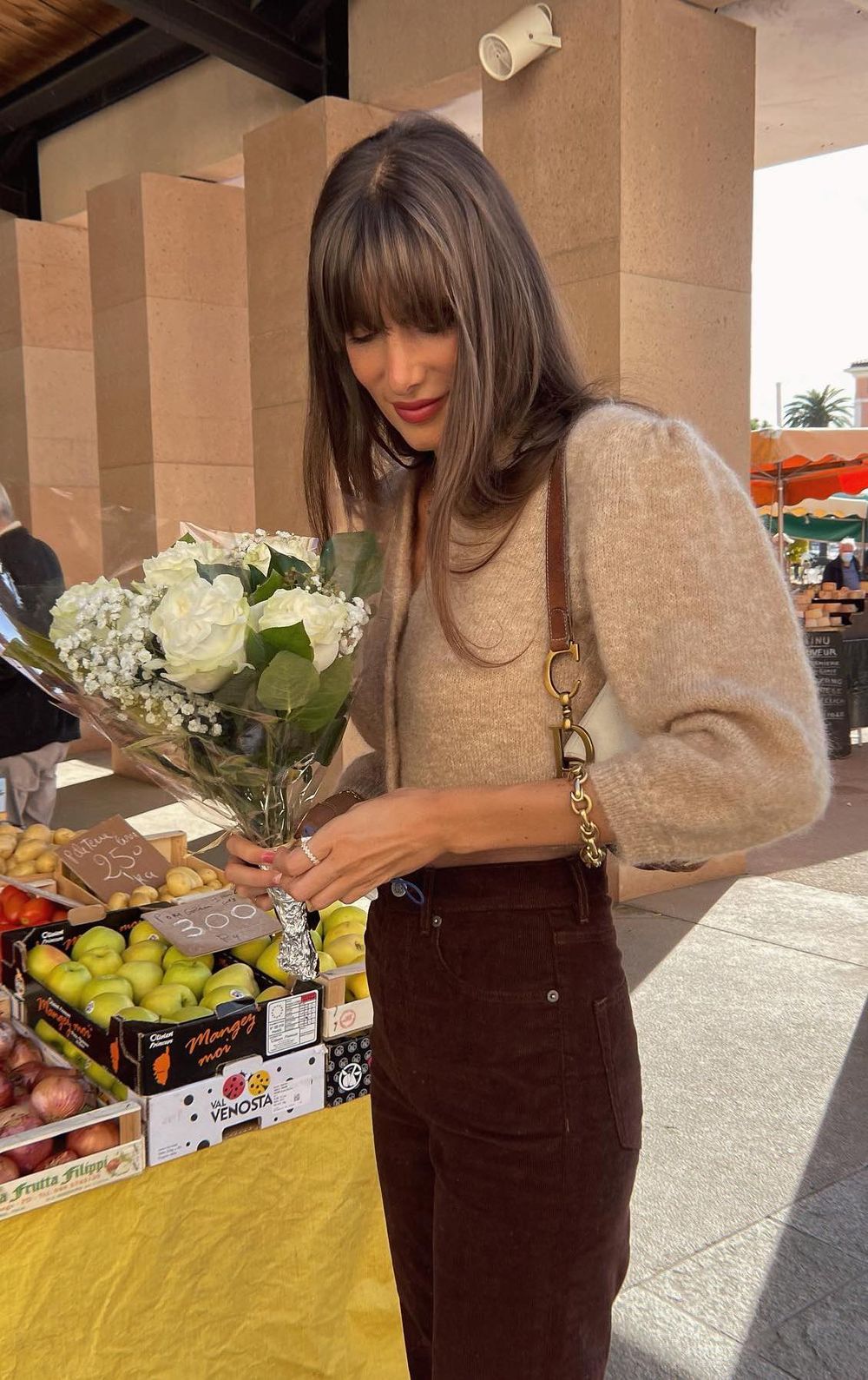 Brown Shorts, Sweater, and Knee Boots
Gabrielle looks stunning to attend the Hermès fashion show this September. She is wearing brown striped shorts, a long sleeve brown sweater, and brown suede knee-high boots. This fall outfit proves you can show some leg during autumn!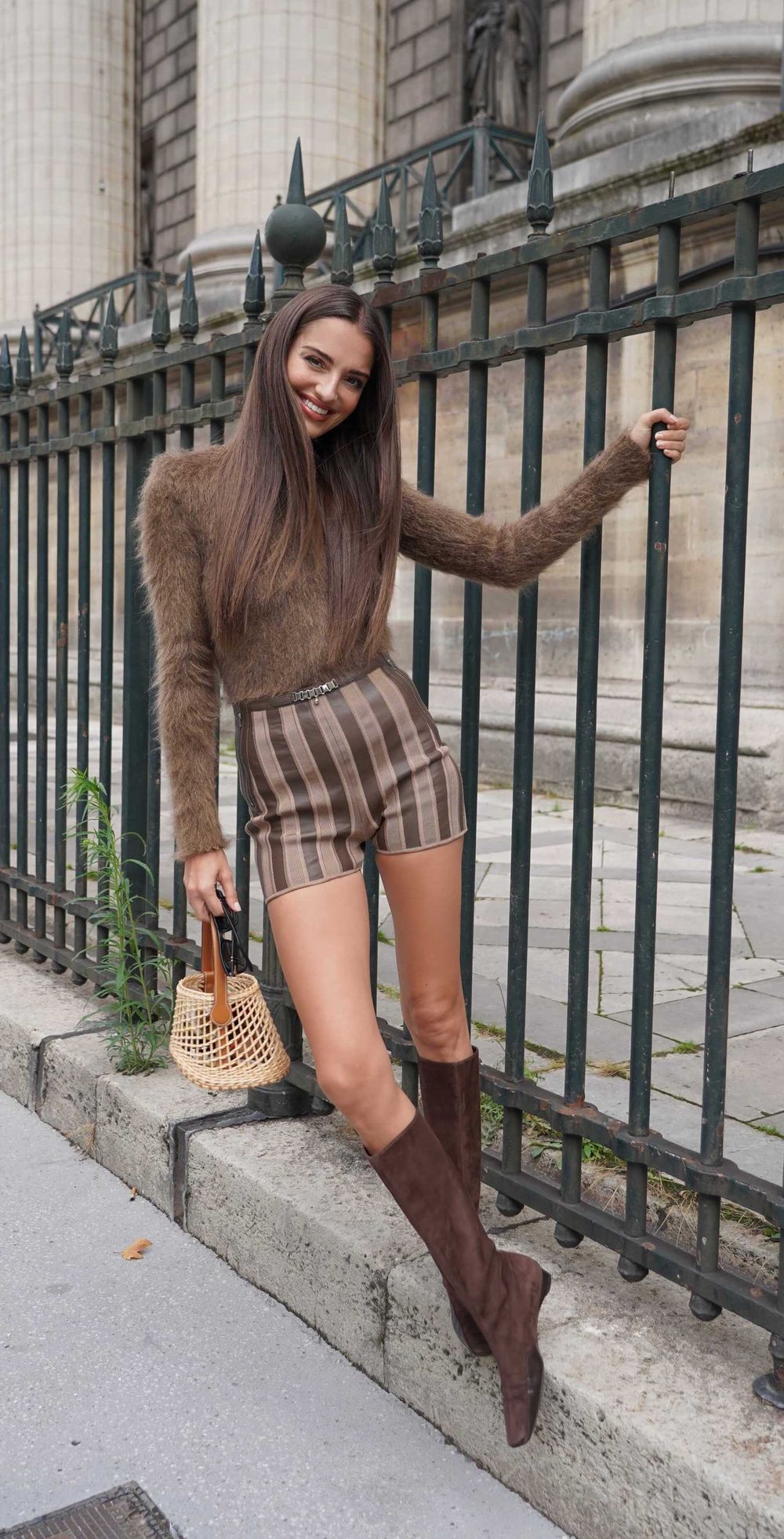 Black Tweed Jacket
Black and beige is a fall outfit color combination you can't go wrong with. Here, Julie wears a black tweed jacket over a black top, paired with cream palazzo pants and a black Hermès bag stuffed with croissants. Yum!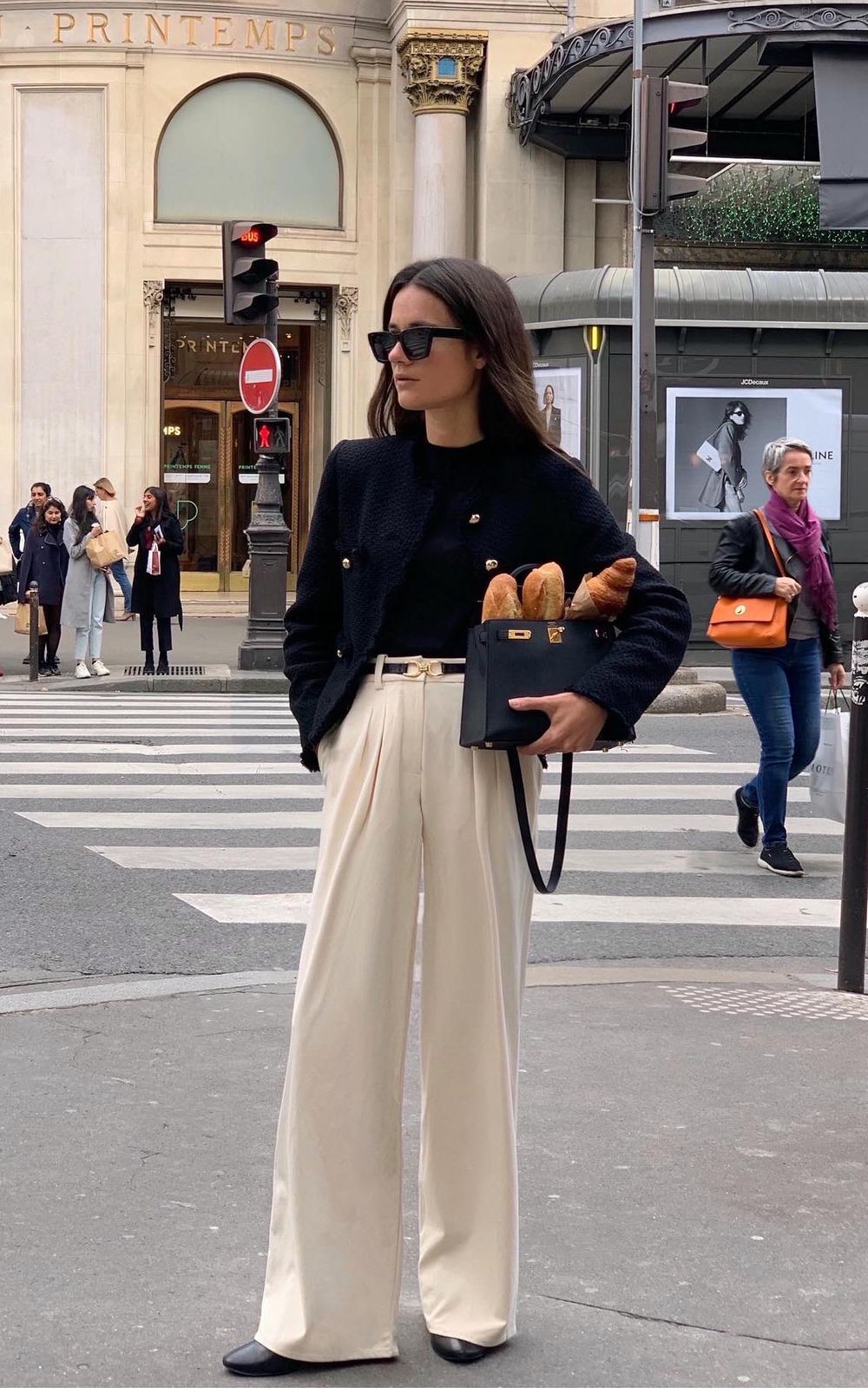 Brown Knit Cardigan
Marielle wears a brown knit cardigan with black jeans and a brown leather crossbody bag.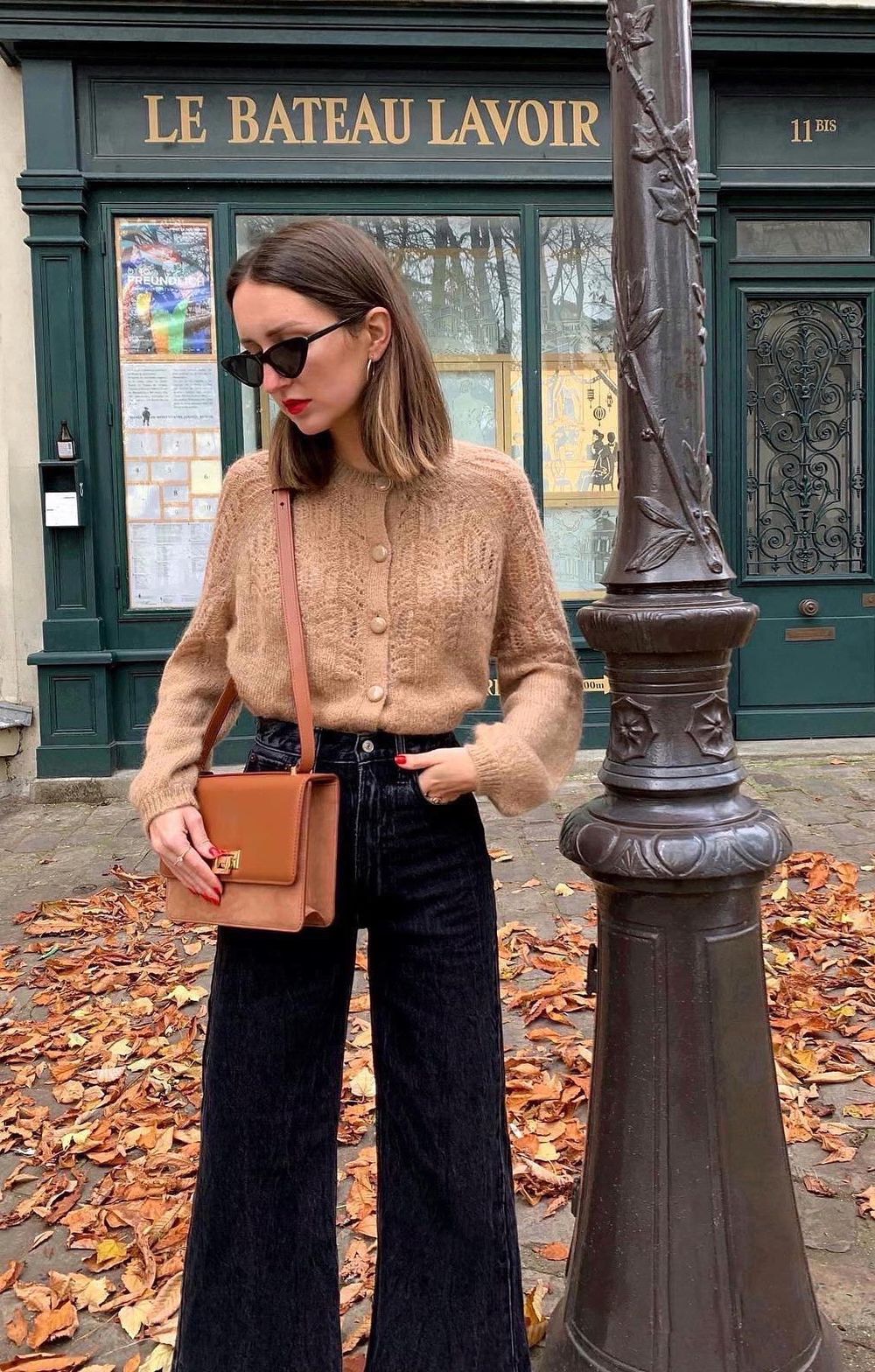 Navy Sweater
Leia wears a V-neck navy sweater paired with cool black leather pants. This is one of the more edgy French girl fall outfit ideas!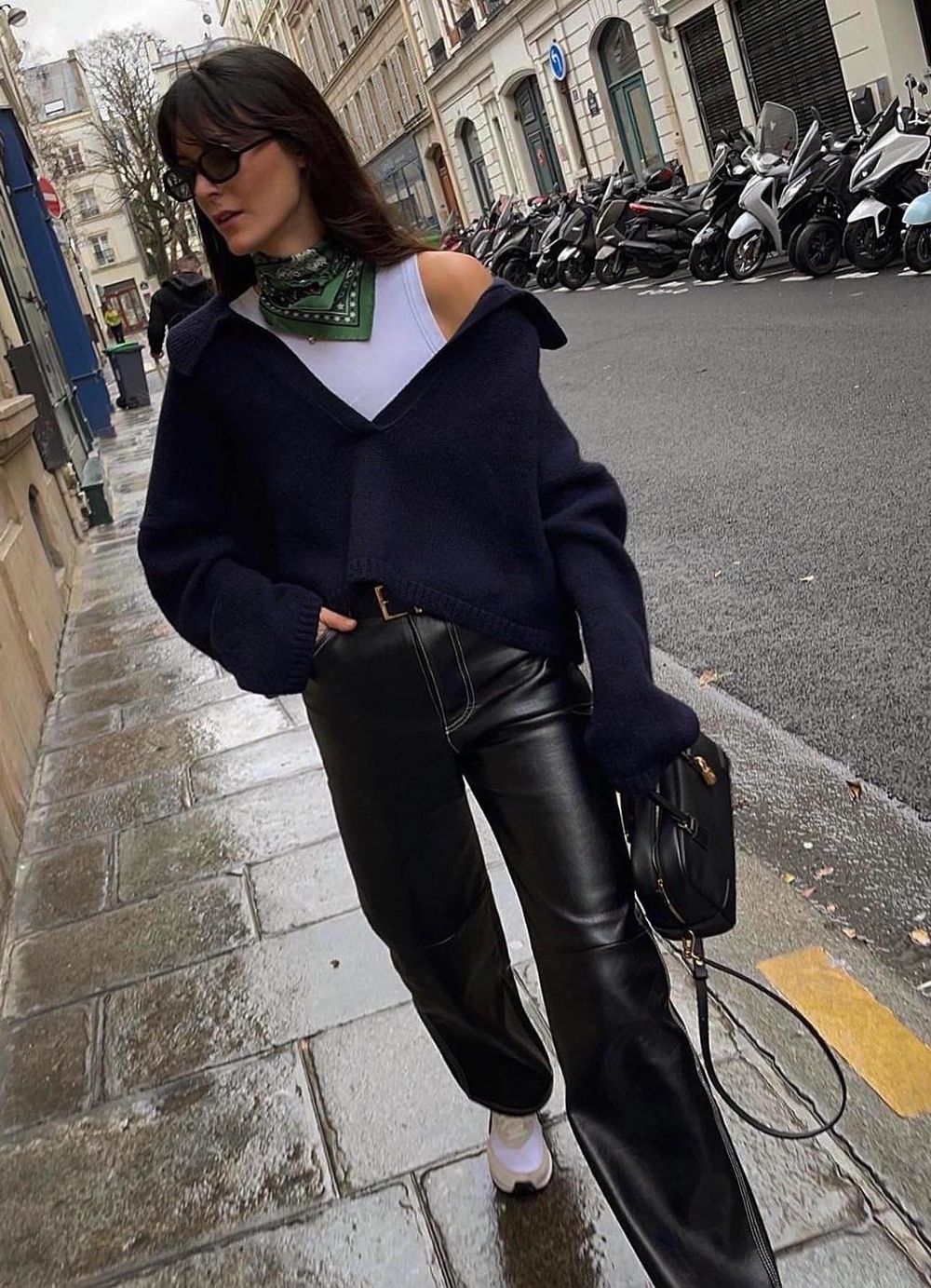 Brown Sweater Vest
A brown sweater vest is a great way to switch things up and keep your outfit interesting this fall. Wear it over a simple button-up.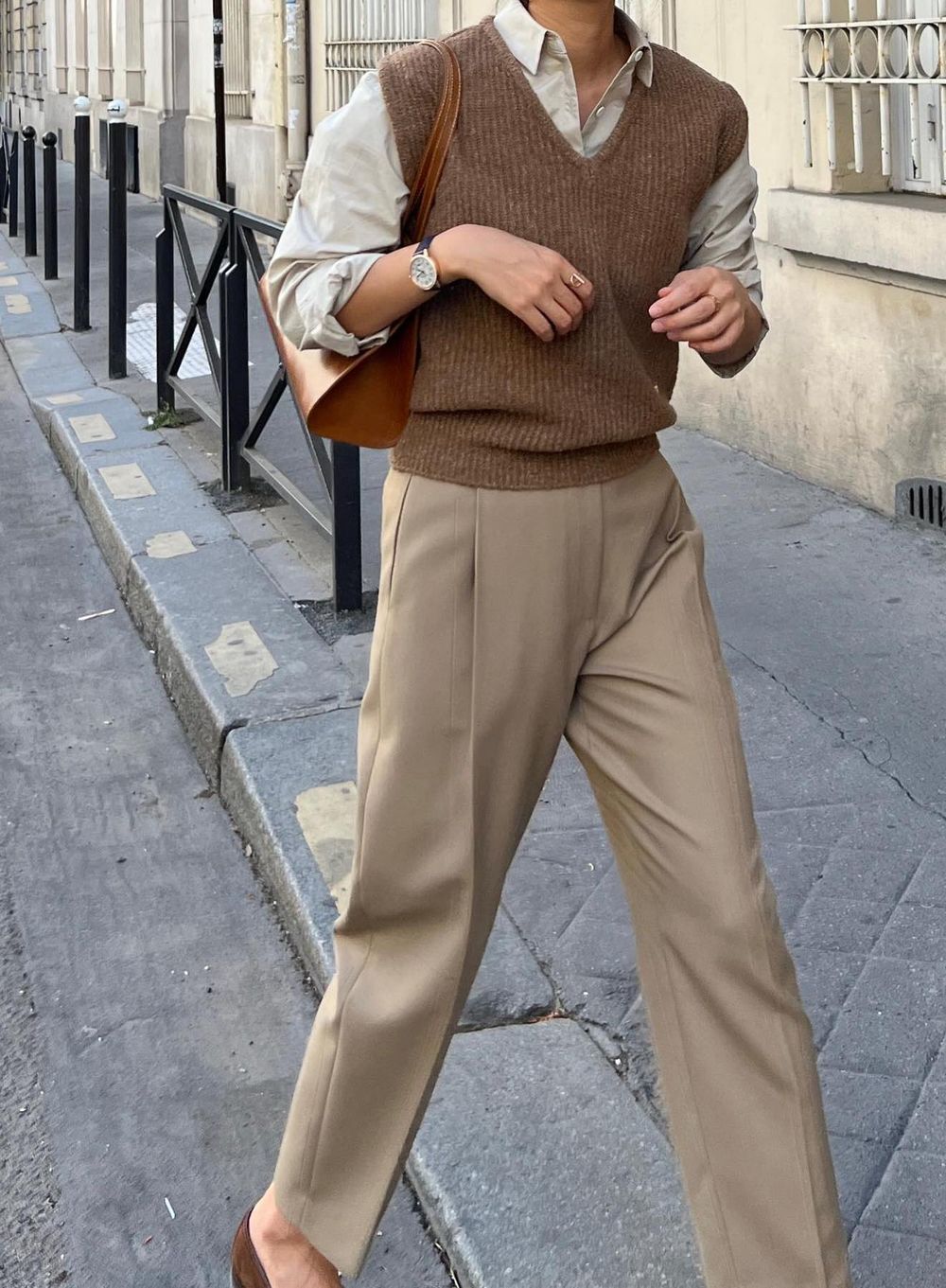 Corduroy Pants
Corduroy is a popular material for French fall clothing. From pants to blazers you really can't go wrong when creating your French girl fall outfits when you use corduroy!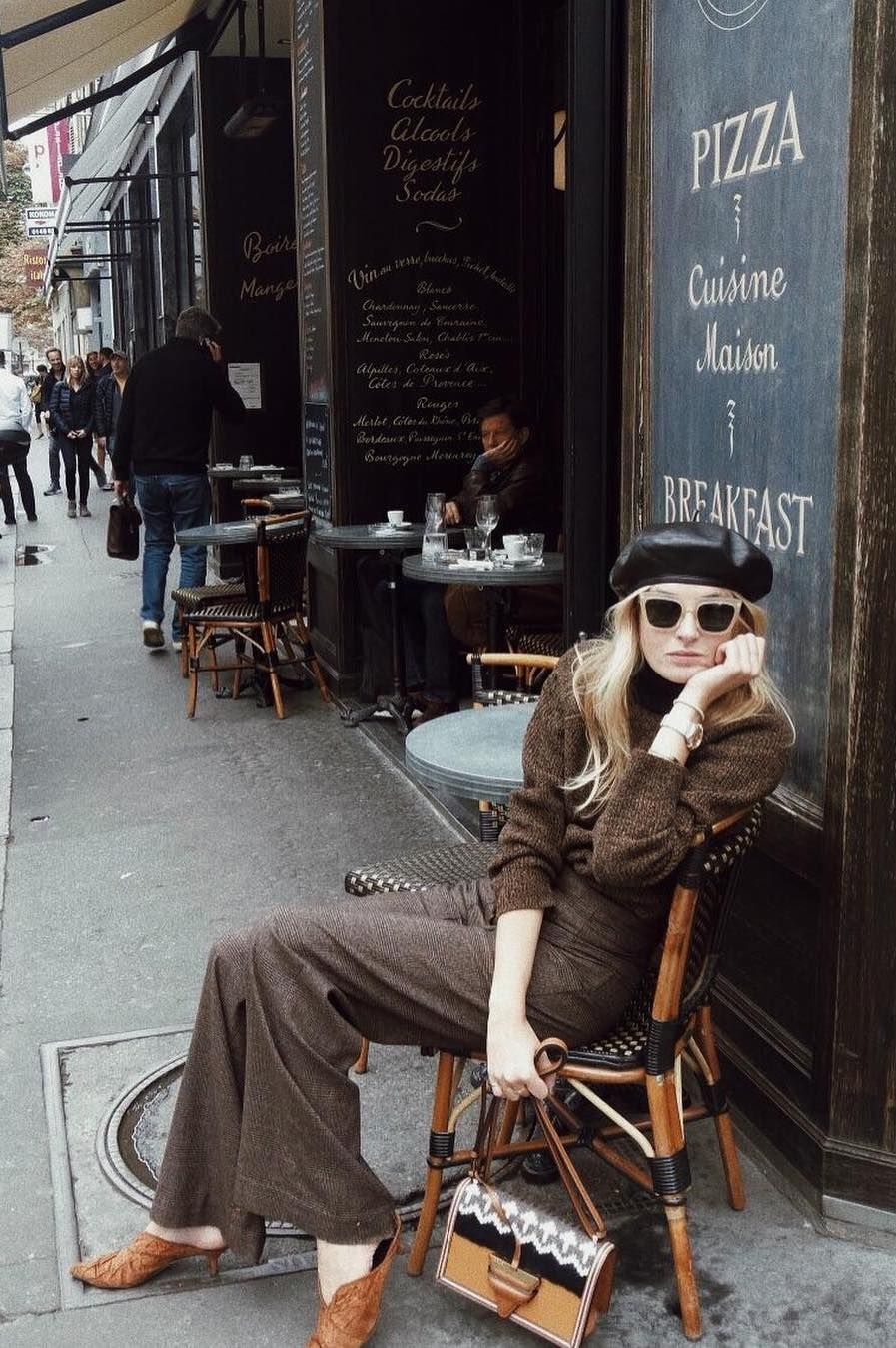 Brown Wool Coat
A chic brown wool coat can be brightened up with light beige pants. Wear a brown turtleneck underneath to stay warm when it gets nippy in fall!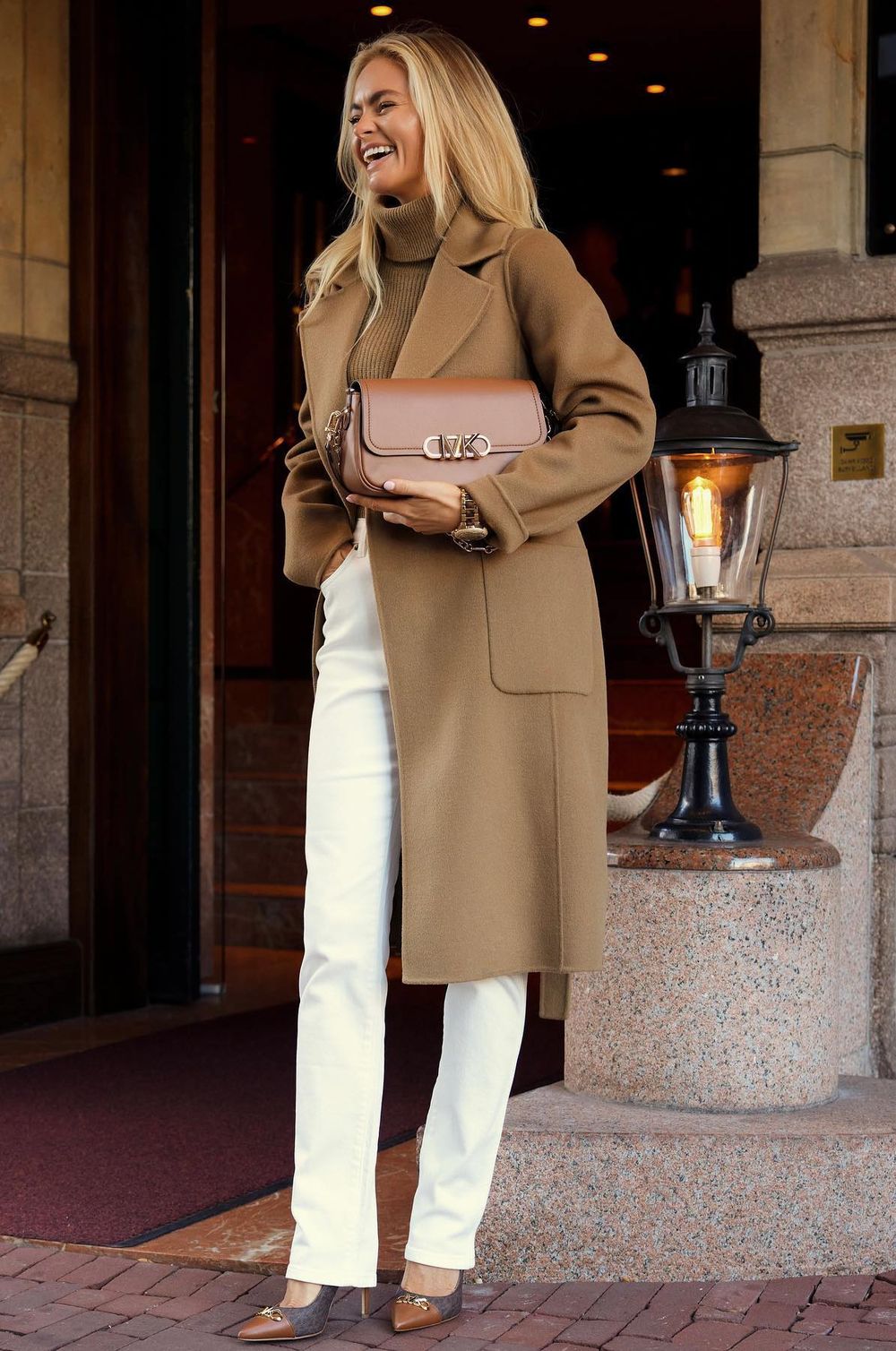 I hope you enjoyed these French fall outfit ideas!