No one can doubt that Parisians are some of the chicest people in the world when it comes to fashion. This Parisian fall style guide will help you dress like a real French woman in Paris this year.
Fall Fashion Trends in Paris
If you are wondering about the fall fashion trends in Paris, this post will share the top style ideas for dressing for Paris in fall! You'll get examples of how real Parisians dress as well as the fall wardrobe essentials in every Parisian girl's wardrobe.
Parisian Fall Style
Fall is in the air, which means it's time to start thinking about your wardrobe. Look no further if you're looking for an easy-to-follow guide to building your fall fashion wardrobe. A Parisian woman's closet is full of classic pieces that can be mixed and matched to create almost any outfit and complement any style. In this post, we'll discuss the Parisian fashion essentials and the dressing Parisian fall style.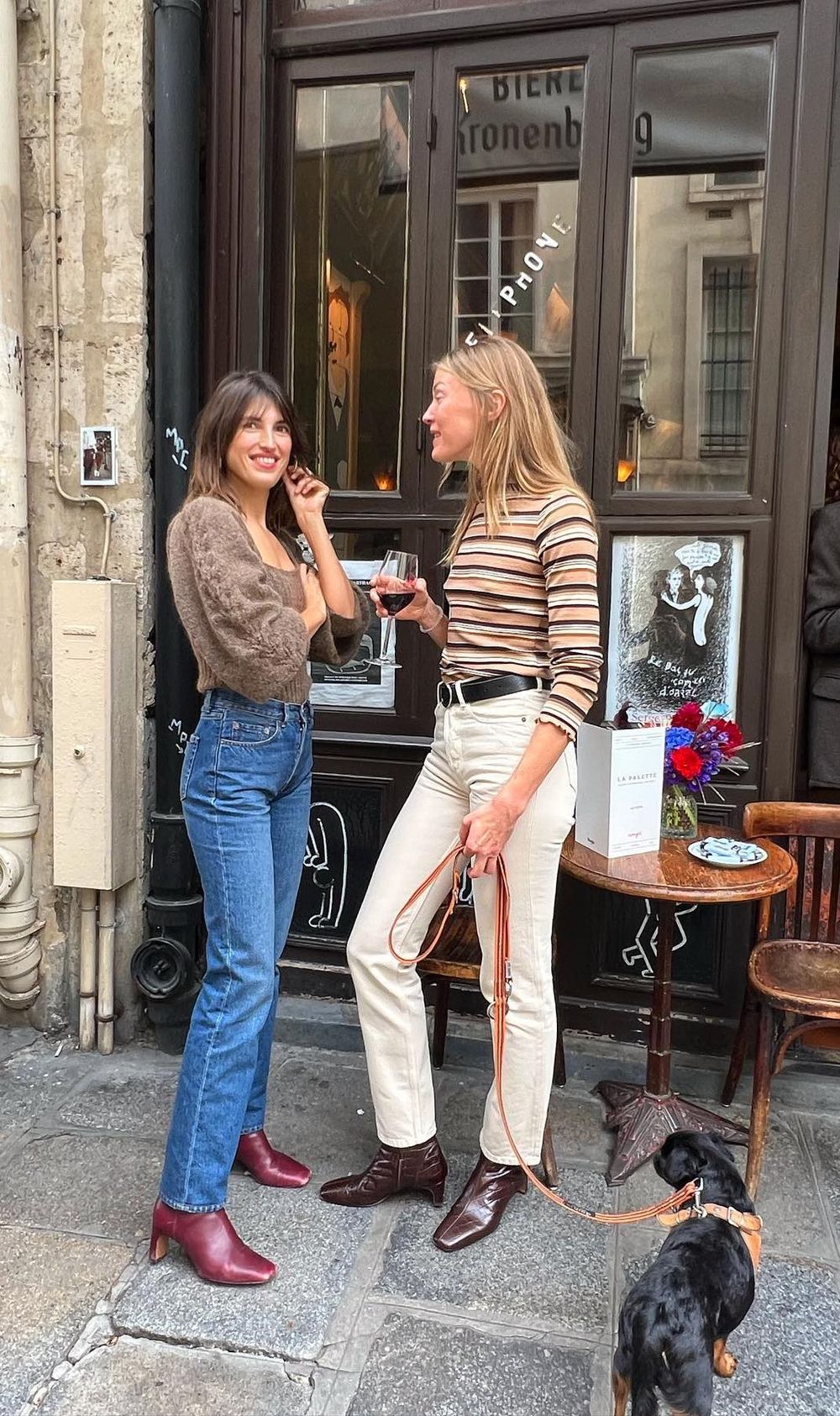 Parisian Fall Fashion Essentials
As the weather cools down and leaves begin to fall, it's time to start thinking about updating your autumn wardrobe. If you're looking for a few fashion tips to help you plan your fall look, we've got three essentials that will keep you looking chic no matter where you're headed. This is our Parisian style guide tailored for the fall season.
Parisian Cardigans
If you're going to wear something chic in the fall in Paris, it might as well be a cardigan. While everyone else is squeezing into thick shapeless turtlenecks and Irish knits, you'll be looking effortlessly sophisticated in a Parisian style cardigan.
This staple wardrobe item pairs perfectly with high-waisted jeans or skirts and can be worn over a button-down shirt or under a blazer for more formal occasions. It's a simple way to make any autumn outfit look clean and put together.
Straight Jeans
In Paris, they don't wear skinny jeans—they wear straight-leg jeans! These classic, versatile jeans pair well with almost any fall top, from cardigans to sweaters to blouses to sleeveless sweaters.
Straight jeans are flattering on every body type because they elongate the figure without clinging as skintight pants or skinny jeans do. So trade those leggings for straight jeans—and get ready for the compliments to start rolling in!
Little Black Dress
The little black dress is a staple of Parisian culture. It can be dressed up or down, worn with heels or flats, and styled with accessories. You can find this classic piece at any department store (or even copy the design from an old dress at home). There's no wrong way to wear this versatile item!
V-Neck Sweater Vest
What better way to keep warm when the weather turns cold than with a cable knit sweater vest? This simple item is surprisingly versatile; it pairs well with jeans or slacks, boots or sneakers, etc.
How to wear it? Throw it over a simple white button-up shirt. You'll also find that cable knit sweaters are available in various neutral shades, allowing you to create contrast depending on your mood and the occasion!
Knit Long-Sleeve Tops
What's the point of fall if you don't have knitted long-sleeve tops for layering? We know you're going to be tempted to wear a simple t-shirt under those trendy oversized sweaters that are all the rage right now, but make sure there is room in your closet for some cozier form-fitting options. Then, you can simply remove your thick sweater if you get too hot.
Ribbed tops will keep you warm and looking stylish, even on those days when you want to stay in and order takeout.
Corduroy Pants
The most stylish Parisians keep their bums covered in corduroy pants as the mercury drops. Whether you reach for a pair of distressed corduroy or opt for some ultra-cozy thick corduroy, these full-coverage pants can be dressed up or down and have a way of making everyone look as thin as a French model. Just make sure the cut is high-rise and straight-leg.
Faux Leather Jackets
It may be hard to believe, but faux leather is the fastest-growing trend among high-end designers in Paris this fall. The buttery texture and luxurious feel of faux leather make it perfect for creating statement pieces that won't get ruined by forecasted drizzle. Try it on a jacket or play around with accessories like skirts and purses—you'll love it!
Black Leather Jacket
Nothing screams "autumn" quite like a black leather jacket—especially when you're surrounded by the golden foliage that Paris is famous for during this season. A good black leather jacket can take you from day to night and can be worn with just about anything—from office attire to that adorable little black dress you've been dying to show off.
Crewneck Sweaters
A crewneck sweater is a must-have for any Parisian fall style wardrobe, as it offers an elegant way to stay warm while looking effortlessly chic. They are perfect for pairing with an oversized scarf and jeans on those brisk fall days or with tights or leggings and over-the-knee boots in the evening. The great thing about crewneck sweaters is that they can help make even the most basic outfit feel like something special, and you can find them everywhere from local boutiques to major department stores.
The key to making a crewneck sweater look Parisian is choosing one that is not too fitted and not too oversized! A loose fit will give you room to wear layers under your sweater, which means you can keep warm and look great all winter long. You will also want to avoid anything too tight or too baggy; instead, opt for something that falls just above your hips and has sleeves covering your shoulders (but don't go down past your elbows).
Fall Dresses
Parisians know how to do fall fashion better than anyone else. One of their best secrets is that they always incorporate dresses into their outfits, even when it's cold outside. This is because Parisian women know how versatile dresses can be when layering pieces over top. A dress can easily be paired with tights and boots for those colder days when you want something warm but still stylish.
Fall Midi Skirts
One of the must-haves for this season is a midi skirt. This article of clothing is a long skirt that comes down to about midway between your knee and ankle. These are perfect for those who are unsure if they want to wear a short skirt or a longer one, but they look fabulous on anyone. They complement any body type and can be worn with blouses, sweaters, and dresses.
Plaid Blazer Collection
Plaid blazers will never go out of style in Paris. Real Parisians pick them up in vintage shops for less than 20€. But you can also shop for them online! I love the blazers designed by Isabel Marant.
This fall, it's all about wearing a masculine-style blazer as much as possible! You can find plaid blazers and even velvet or corduroy blazers in all different shapes and sizes. The best way to pull off this look is by pairing your blazer with jeans and a matching pair of leather ankle boots or ballet flats.
How to Dress Parisian in Fall
Fall is the best season to dress like a Parisian. The cool air inspires you to play with layers, and the beautiful colors of autumn leaves can help you create a chic monochromatic ensemble. Whether you're exploring the city or heading out for dinner, you can use these tips to dress like a true Parisian this fall.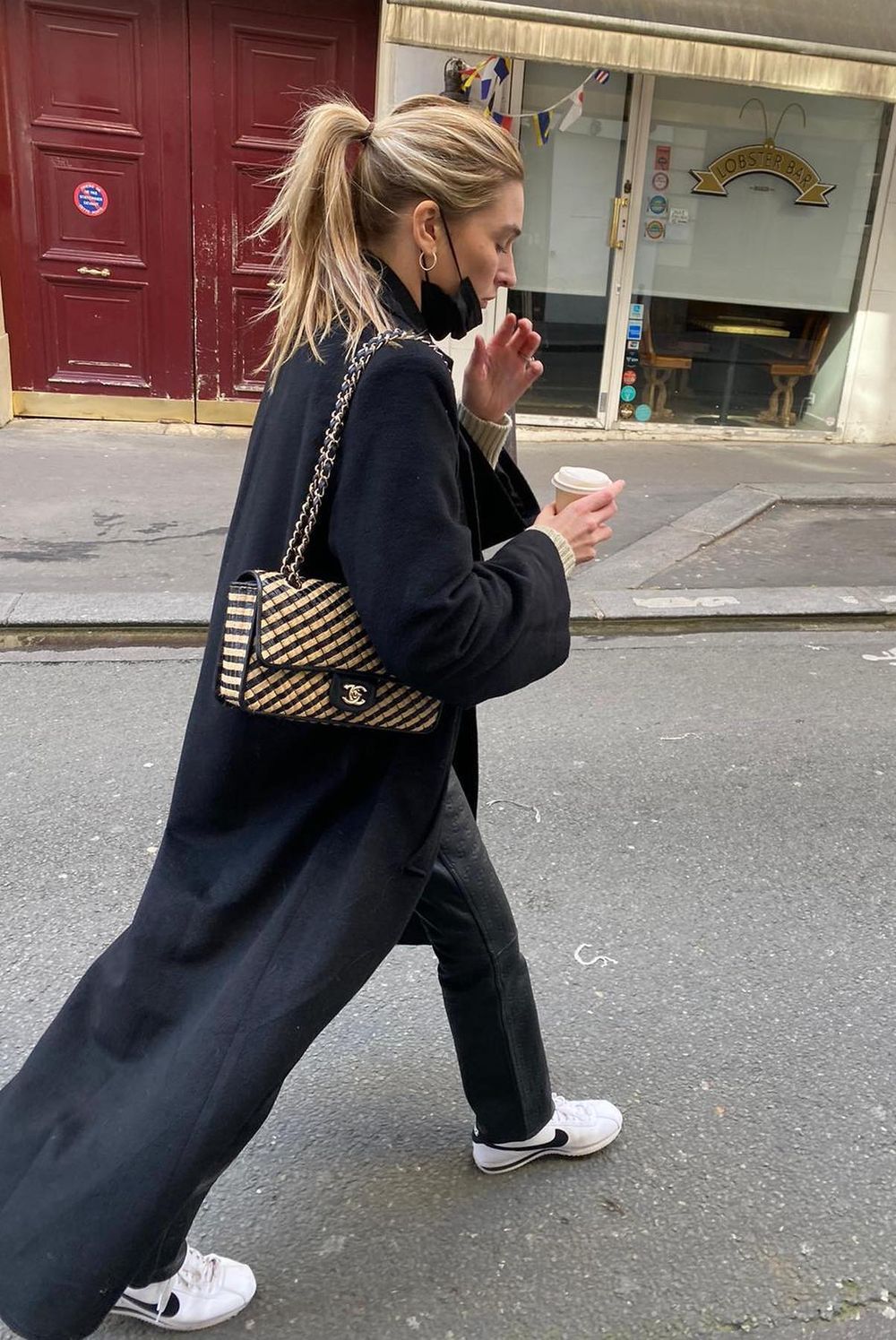 Fall Prints
If you want to know how to dress Parisian in fall, the most important lesson is to wear fall prints. Even if you're grabbing a latte with your friends, or running errands, embrace the foliage and wear prints with autumnal colors. This season, plaid is the print of choice for Parisians. It's perfect for all sorts of occasions, whether you work in an office.
Master Layering
Layering is essential for dressing like a Parisian in the fall. As temperatures fluctuate throughout the day and week, there's no better way to be prepared than with multiple layers. This season's outerwear has plenty of chic and functional options at the same time.
Fall Materials: Corduroy and Velvet
Corduroy is soft, warm, and easy to wear. It's an excellent material for fall because it's thick enough to keep you warm, but it doesn't feel too heavy or stiff. The best part is that corduroy comes in so many different colors and styles—you can find a pair of corduroy pants (or a skirt, or even a dress!) that looks great on you in almost any pattern or shade. We love the look of dark purple pants paired with a black turtleneck or brown pants with an orange top. You can also try pairing your corduroys with velvet—it's another excellent material for fall.
Leather Ankle Boots
Leather boots are the ultimate footwear choice for fall. They're stylish, flattering on most body types and sizes, and go with almost everything. Pair them with your favorite skinny jeans or leather jacket for a sleek look; wear them with your favorite maxi dress or skirt for an elegant outfit, or team them up with velvet leggings or cords for something truly Parisian-inspired!
Tights
Tights are a must when it comes to dressing Parisian in the fall. Choose tights that are sheer or opaque, depending on your personal preference and the style you are aiming for. You can also opt for tights in colors like black, tan, maroon, or even a bright, bold color to make a statement.
---
This simple set of tips will help anyone looking to dress in a chic yet casual Parisian style this fall. The no-fuss colors and cuts are the key to any wardrobe that can withstand the varying weather patterns of this season.