Although they may work at the most prestigious French fashion houses that have been around for decades, these contemporary French fashion designers have a tough task. They must bring the old French fashion aristocracy into the 21st century and attract new clients to keep the luxury fashion industry alive. Here are the top modern-day French fashion designers who define international style from the runway to the streets.
Nicolas Ghesquière
Nicolas Ghesquière, who's currently creative director of the house of Louis Vuitton, has been a member of high society ever since he was a child. with a golf-course owner father and fashionista mother, he always enjoyed horse riding and fencing which he uses as inspiration for much of his work. Ghesquière worked at Balenciaga for 15 years before replacing Marc Jacobs at Lous Vuitton. A fashion show with his designs was the first to take place at the Louvre Museum.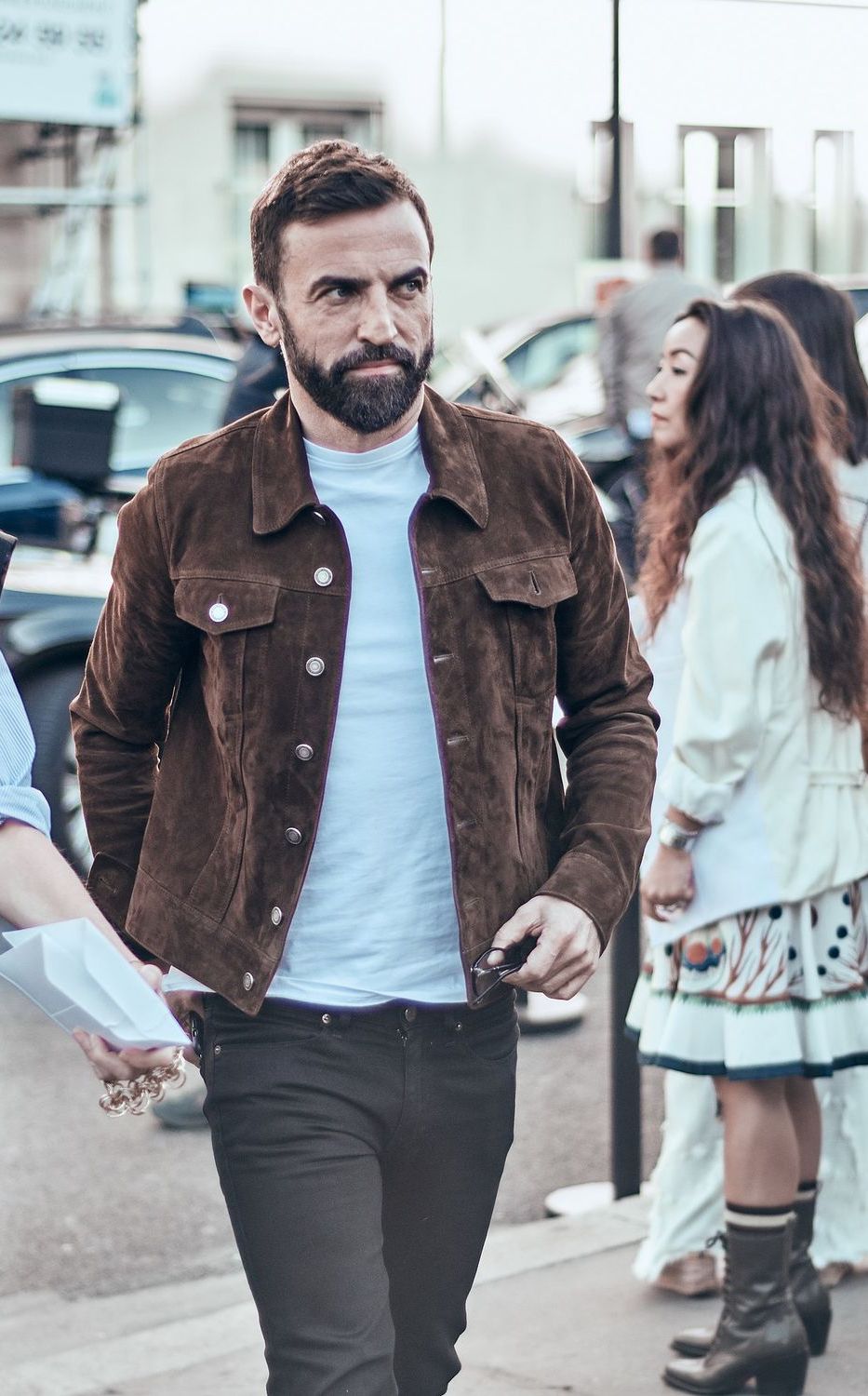 Karl Lagerfeld
Although he is German by nationality, Karl Lagerfeld is mainly remembered for his work in the French fashion industry. Lagerfeld was a multitalented individual and besides designing, he was also prominent as an artist, caricaturist, and photographer. The two companies that marked his career are Fendi where he worked from 1954 to 1982 when he moved to Chanel. He was the creative director at Chanel from 1983 until his death in 2019. Lagerfeld was always known as one of the most popular fashion designers, in no small part thanks to his distinctive personal style. He even launched a namesake brand.
Hedi Slimane
Born in Paris to a Tunisian father and Italian mother, Hedi Slimane's initial contact with fashion was through photography. As he grew older, he began to dabble in fashion design, and further pursued this career, going on to become one of the most influential modern designers in France. He is currently Celine's creative, artistic, and image director, after working as a creative director at Dior and Yves Saint Laurent. In 2018, he was named among the 50 most influential French people in the world.
Nadège Vanhee-Cybulski
The creative director at Hermès, Nadège Vanhee-Cybulski was born in Lille but got her education in Belgium, studying at the Royal Academy of Fine Arts of Antwerp. Before coming to Hermès, she spent time working at Céline and Maison Martin Margiela and the Row. Nadège was also the design director for the Olsen Twins brand. After being initially hired as artistic director of Hermès' women ready-to-wear, she has risen to the position of creative director.
Virginie Viard
Virgine Viard made her first steps in the fashion industry as an assistant to Dominique Borg, a costume designer. Pretty soon, Virginie managed to become a notable fashion designer herself. She worked at Chanel in embroidery before moving with Lagerfeld to Chloé. Today she serves as the head creative director of the esteemed French fashion house Chanel, a position she has held since 2019.
Isabel Marant
Born in 1967, Isabel Marant is a renowned French fashion designer known for her bohemian aesthetic. She owns the Isabel Marant fashion brand.
After high school, Isabel wanted to pursue economics. However, in 1985, she enrolled in the prestigious Studio Fashion School in Paris for a design course. In 1987, Marant worked as an intern with a Parisian designer. Then, she gained experience doing creative work for brands like Yohji Yamamoto, Martine Sitbon, and Chloé.
Five years later, she launched her eponymous brand. In 1998, Marant opened her first shop in eastern Paris. The following year, she launched a more affordable and casual brand, the Etoile line. In 2004, Isabel added kids' wear and collaborated with Anthropologie. The company has 13 shops in fashion-forward cities like NY, Tokyo, Hong Kong, Rome, London, and Beirut.
Isabel Marant churns out fervently coveted creations under the prestigious Isabel Marant brand. Her signature style is a mix of rock-n-roll and bohemian elements.
Christian Audigier
French designer Christian Audigier made a name for himself as the designer behind brands such as Ed Hardy and Von Dutch. he's a rather versatile designer and has created everything from hats to accessories to streetwear clothes. Audigier also has his own line of popular perfumes. His main themes as a designer come from the tattoo world and include bright colors, prints of skulls and roses, and sequins. He isn't typically "French" in style, but he sure has a distinct style!
Giambattista Valli
Giambattista Valli is in fact, an Italian fashion designer with a label based in Paris, known for his signature Haute Couture collections.
Giambattista completed his studies at an Italian Secondary school, Liceo. In 1987, he enrolled for a degree in London at Central Saints Martin College of Art and Design.
Valli has worked with famous designers like Kendi, Roberto Capucci, and Fendi to gain experience. He later moved to Paris to realize his dream of creating a true French Maison. Between 1998 and 2004, he worked as the creative director for Emanuel Ungaro.
In 2005, Valli launched his brand and held a ready-to-wear show in Paris. To recognize his achievements, Valli received the prestigious Star Honoree Award in 2011 from Fashion Group International.
The designer now runs the Giambattista Valli brand full-time and counts elegant women such as Amal Clooney as loyal customers.
Jean Paul Gaultier
Born in 1952, Jean Paul Gaultier is an icon in the French fashion industry. He's known for his unconventional designs with distinctive motifs.
Having grown up in the suburbs, Gaultier is one of the couturiers in the fashion world who became a great designer without attending a fashion school. For his early education, he attended Ecole Communale (a public primary school administered by a local French commune).
In the late 60s, Gaultier started to send sketches to famous couture stylists. In 1970, he was hired by Pierre Cardin as an assistant.
Six years later, the youthful Gaultier launched his first individual collection. Most folks were impressed by his mastery of tailoring and creativity.
In 1982, he founded his eponymous fashion label. In 1993, he expanded into a line of fragrances. Up until 2014, Gaultier designed ready-to-wear lines for both men and women.
The designer continues to run the eponymous Gaultier label.
Alexandre Vauthier
Born in 1975, Vauthier is a famous French fashion designer. His flamboyant creations continue to amaze fashion lovers and clients around the world.
Before coming to Paris, Alexandre studied Art and Law. Between 1991 and 1994, Vauthier was a student at the fashion school ESMOD.
Alexandre started as an intern at prestigious Haute Couture fashion houses in Paris. In 1997, he was in charge of the Jean Paul Gaultier collections. He later decided to focus on his own designs and collections. In 2009, he did his first fashion show week and created a full collection.
Alexandre is never afraid to push the brand to its limits – sheer tops, gigantic furs, and provocative open-back dresses. The fashion designer now runs his Alexandre Vauthier brand and continues to work with international celebrities.
Olivier Rousteing
Olivier Rousteing has transformed the fashion industry. Born in 1986, the creative designer continues to challenge Paris fashion at every run. Olivier is obsessed with black and gold looks.
At an early age, Mr. Rousteing moved to Paris to study at ESMOD fashion school. However, he dropped out due to a lack of creative freedom.
In 2009, Rousteing was named the creative director of Balmain – the youngest ever! He had worked closely with Christopher Decarnin, a French creative director. While he liked Decarnin's aesthetic, the label lacked some aspects of fine Haute Couture.
With the help of A-list celebrity friends, Olivier was the first designer to pass over a million followers on Instagram.
Rousteing still works full-time as Balmain's Creative Director and has a close friendship with Kim Kardashian.
Simon Porte Jacquemus
Born on 16th January 1990, Simon Porte Jacquemus understands how to keep his audience engaged.
At age 18, Simon enrolled at ESMOD fashion school. However, he left for the position of artist manager assistant before completing the course. Simon started his fashion design career immediately after his mother passed on. By age 20, he created his own brand, Jacquemus. To push his name, he encouraged friends like Jeanne Damas to wear his creations during fashion week in Paris and around town.
Simon continues to work at his Jacquemus fashion label. His brand continues to hold creative events and find unique ways to market its fashion brand. There's always a line outside the boutiques!
---
French fashion designers of today offer everything from haute couture to ready-to-wear designs and high-end collector pieces. Considering that France is the center of the fashion industry, these renowned designers will always have an audience for their collections. They are responsible for some of the hottest French fashion labels around. Which one of these top French fashion designers is your favorite?