Parisian spring style is something that you won't see anywhere else in the world. Only Parisians can take a simple trench coat and make it look so effortlessly elegant. From basket bucket bags to camel leather handbags, there are so many ways that you can imitate Parisian spring style too. Today I want to share the most inspiring spring style worn by real Parisians.
Parisian fashion is always in a league of its own. After all, it's the birthplace of some of the most iconic and revolutionary fashion statements in history. It's also the birthplace of spring, where the Parisian people celebrate everything that life has to offer during this one short time per year. In this article, you'll learn more about how to dress like a Parisian in spring!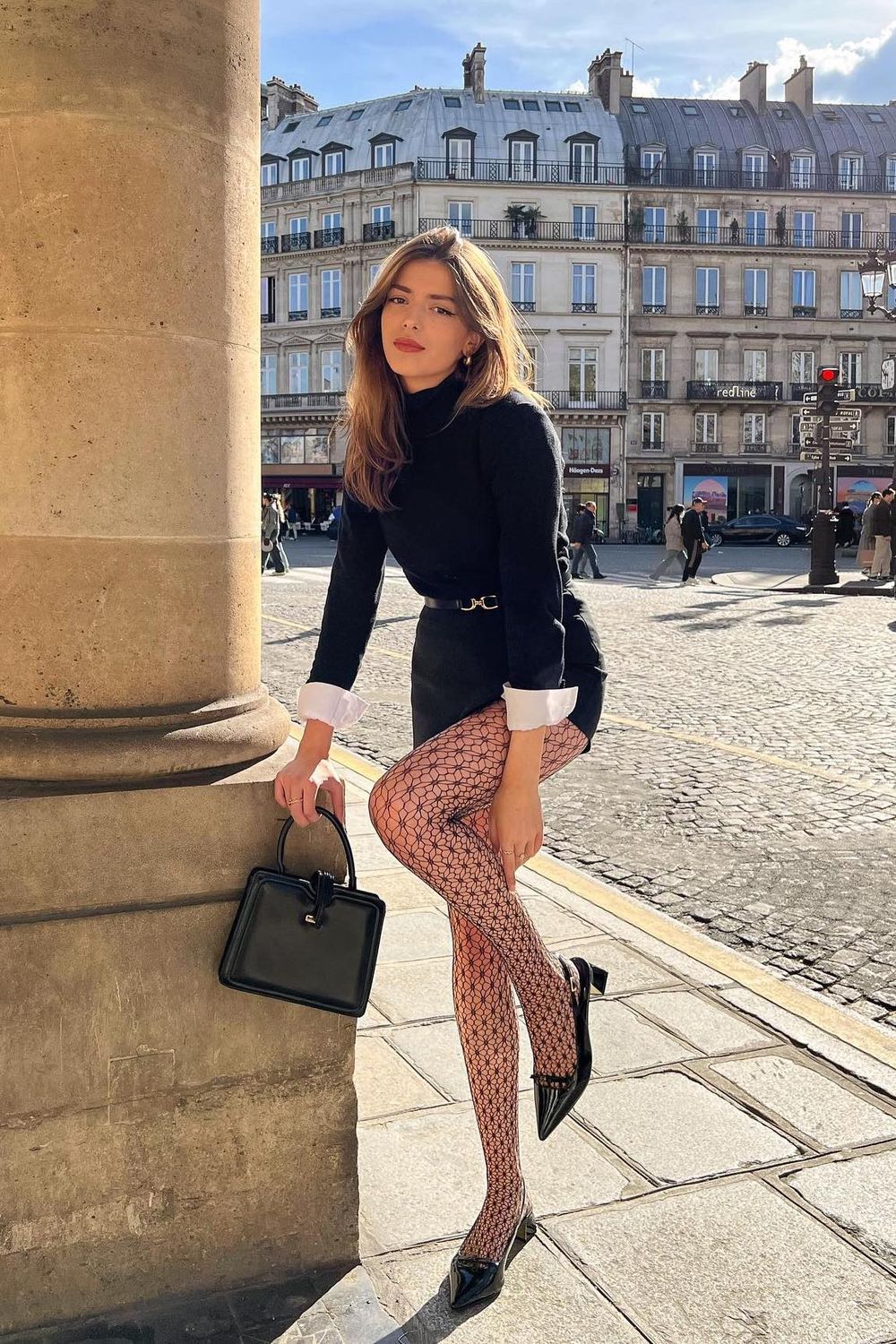 Parisian Spring Style Rules
Parisians are known for their chic and sophisticated style, so it's no wonder that we all want to be more like them. But copy-and-pasting their fashion sense isn't always simple. Follow these Parisian spring style rules when getting dressed that will make you feel like you're a local in the City of Light.
Wear Timeless Pieces
A Parisian's wardrobe should primarily have pieces that will stay in style forever regardless of the changing trends. Invest in timeless pieces that can last you for years to come. This way, you don't have to worry about constantly running out to the store to update your wardrobe. Focus on quality over quantity and don't feel guilty about spending a little extra money on a piece of clothing that will last you longer than two months.
Stick to Neutral Colors
Neutral colors like beige, brown, white, cream, and black are easy to mix and match with each other without having to worry too much about whether it is going to look good or not. They also make you look more put together and polished, which is always lovely! In addition to neutral colors, you can add a pop of red or navy, as these are some of the most popular color choices for Parisians.
Spring Prints
One of the secondary elements of Parisian style is prints. While not worn every day, clothing in a printed fabric can be appropriate during spring. If you're looking for Parisian-approved prints to try this spring, consider trying one of these three:
Gingham: Gingham is a classic print that instantly makes anything look cute and preppy. It's been popular for decades, especially in blouses and dresses. You can find it in a variety of different colors too, so you will be able to find one that works for your wardrobe.
Florals: Floral prints are another classic print to wear in Paris right now. You can find this type of pattern pretty much anywhere from tops and dresses to bags and shoes! Just make sure not to go overboard with them, or else it could look like you're wearing a grandma's curtains (and nobody wants that).
Polka Dots: Polka dots are also a classic pattern to wear in Paris this spring. This print can be found on everything from dresses to skirts! You'll have no trouble finding this print if you're looking for something new to wear this season.
High-Quality Spring Fabrics
To be truly Parisian, you need clothes that will last a lifetime. That's why it's so essential that your wardrobe features high-quality natural fabrics. Ditch the polyester, viscose, and modal. Some of the best fabrics Parisians prefer to shop for include:
Cotton: Cotton is the most common material used in clothing worldwide, and it's great for spring. If you're looking for something that won't wrinkle easily but that still looks nice and light for the season, try a cotton-silk blend.
Linen: Linen is a durable material with a light, breathable feel. It's easy to wash and quick-drying, so it is perfect for summertime wear when you want to stay cool.
Silk: Silk is a luxurious fabric with temperature-regulating properties, making it popular in both winter and summer. Not only is silk comfortable to wear, but it can also be dressed up or down depending on your mood and the occasion.
Wool: This heavy natural fiber is great at keeping you warm in winter, but some types of wool are also breathable enough to wear in spring and fall comfortably. If you're looking for something durable that will last through many seasons of use, look no further than wool!
Cashmere: For those days when it's not quite warm enough to go out without some jacket on hand, cashmere is perfect because it keeps you cozy while still being lightweight and breathable, so there's no need for bulky layers underneath—plus, it looks great with everything from jeans to dresses!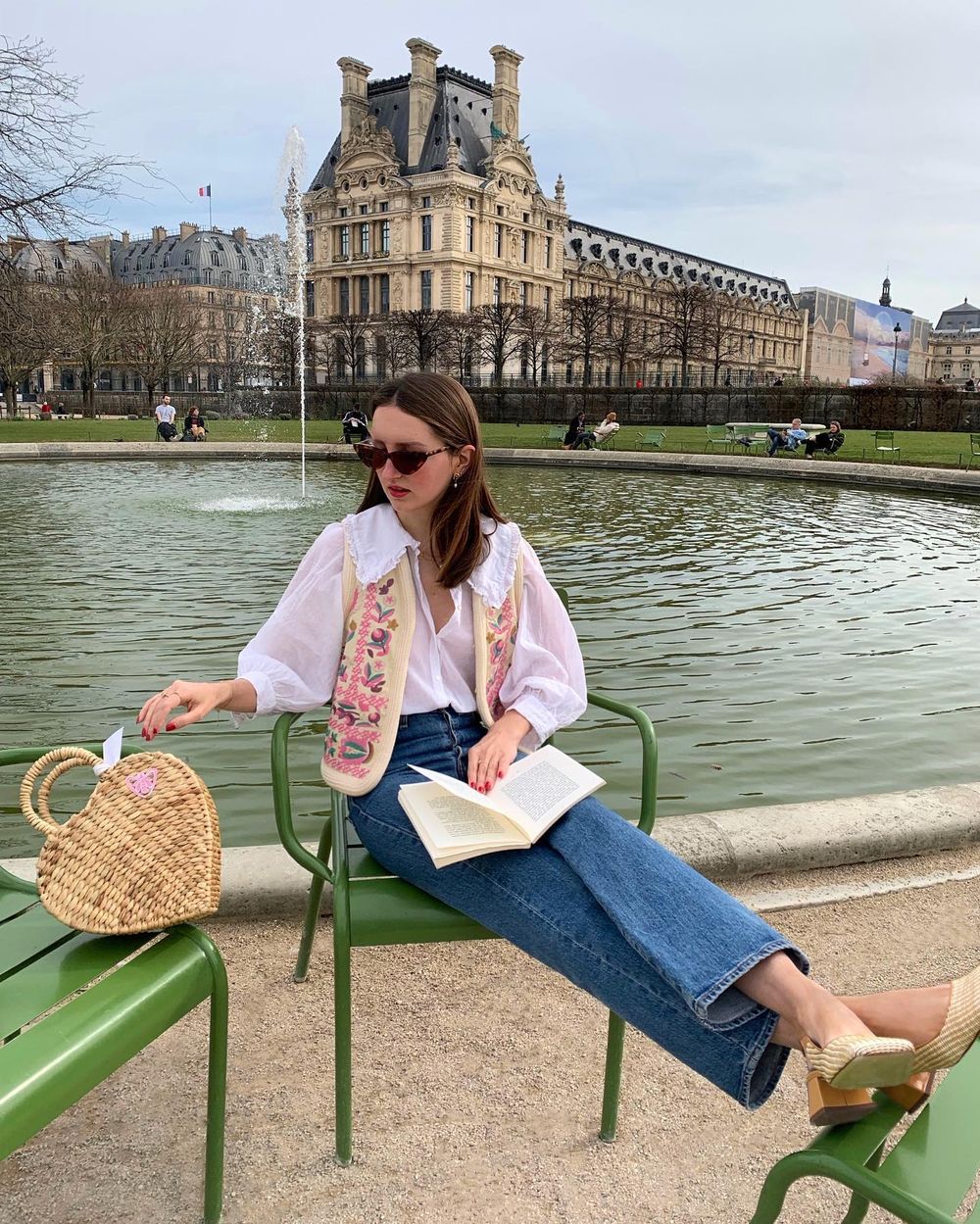 Parisian Spring Wardrobe Essentials
Spring is upon us, and so is the chance to update your wardrobe for the new season. If you're looking to dress like a Parisian this spring, here's a quick rundown of wardrobe essentials that will see you through the next few months in style.
The Trench Coat
Is there anything more elegant than a trench coat? It's simultaneously practical and stylish, serving up classic good looks while keeping you warm and dry when the weather turns on you. Parisians love trench coats for their versatility: they can be dressed up or down, worn over jeans, or with a skirt. Nothing beats this timeless classic for springtime wear!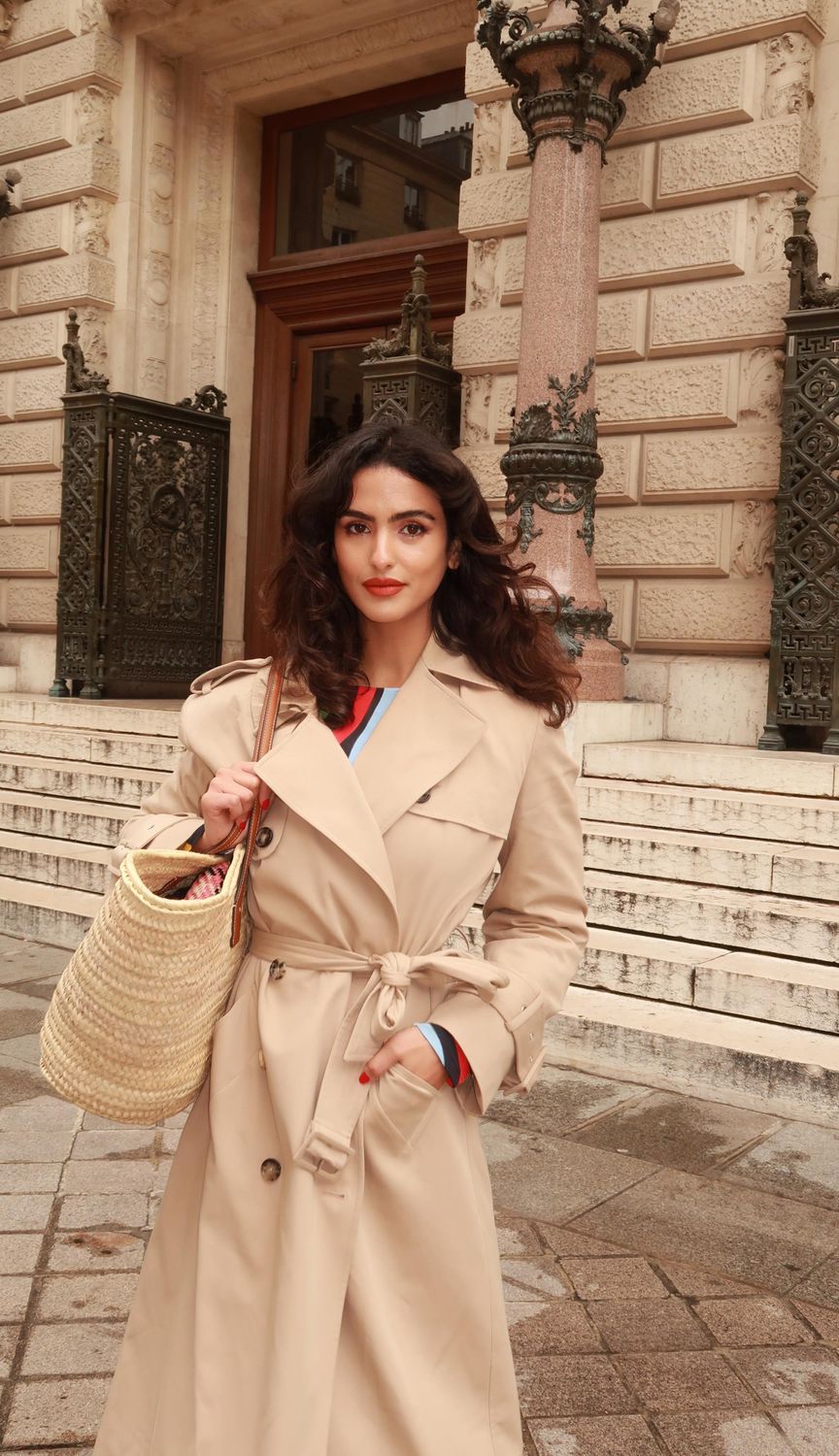 Beige Blazers
Blazers are a versatile addition to any outfit—and beige is the color of choice this spring. Beige blazers go great with nearly every other color so you can wear them again and again. For example, try pairing one with a white button-up shirt for an effortlessly sleek look.
Cozy Cardigans
Even though it's springtime, that doesn't mean the weather won't get chilly! A cozy cardigan is a great way to stay warm while still looking chic and keeping your outfit light and breezy. And it's easy to pair with other items in your closet—try wearing it over a graphic tee or blouse!
Floral Dresses
Come springtime, you can spot floral dresses of all lengths on the streets of Paris! I think floral midi dresses are the perfect choice for spring days when it's not too warm, not too cold.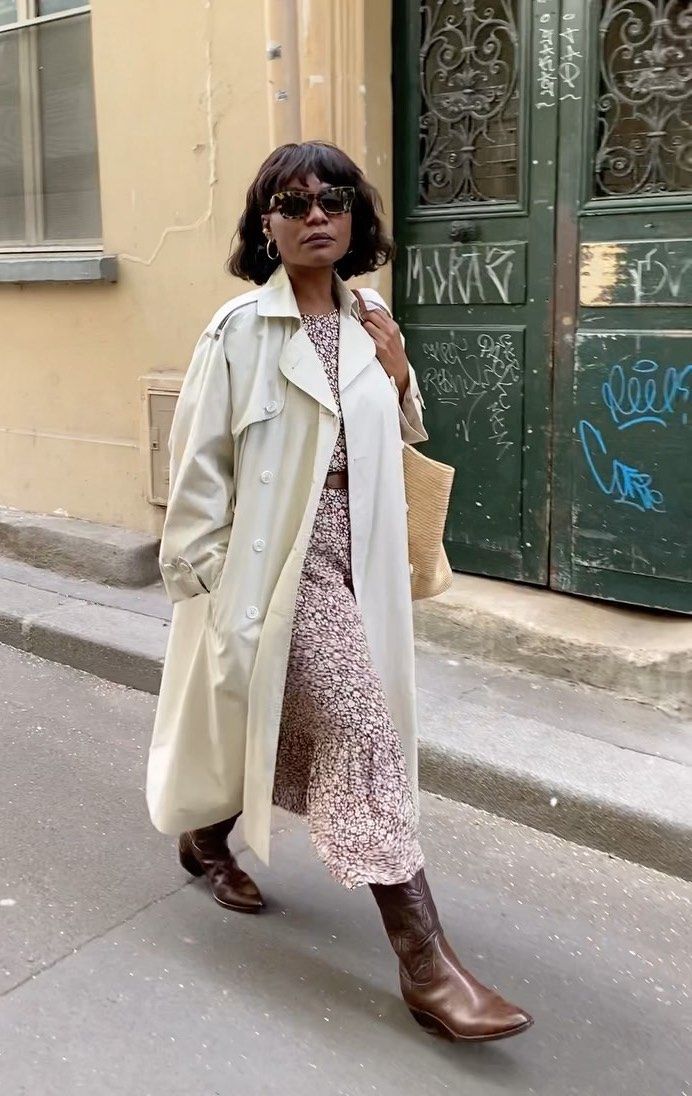 Blue Striped Marinière Shirt
This classic Marinière top can be dressed up or down and worn with just about anything. We recommend wearing it with a pair of jeans (light blue recommended) so that you can keep your look casual but still look put together.
White Button-up Oxford Shirt
A crisp white button-up shirt in cotton or linen will always be chic—plus, it's easy to dress up or down. Wear it with a blazer and heels for work, or pair it with jeans and sneakers for a casual day out with friends. Tuck it into shorts for a summery look or roll up the sleeves and wear it with jeans for a more laid-back outfit.
Light Blue Jeans
Light blue jeans are essential for spring and perfect for the girl-on-the-go who wants to look fashionable. Parisians don't wear ripped jeans, so make sure the fabric is smooth and has a solid color. There should be as little fading as possible. I recommend pairing them with a white t-shirt and a light denim jacket for a more casual look, or with a white button-down and a blazer for something more work appropriate.
White Pants
White pants are such an easy way to make a statement in spring—they're as bright as the season itself! We recommend pairing them with a favorite silk scarf and a classic white button-up shirt by Figaret. You can pair them with your favorite flats or sandals or throw on some pumps if you want to achieve a more polished look.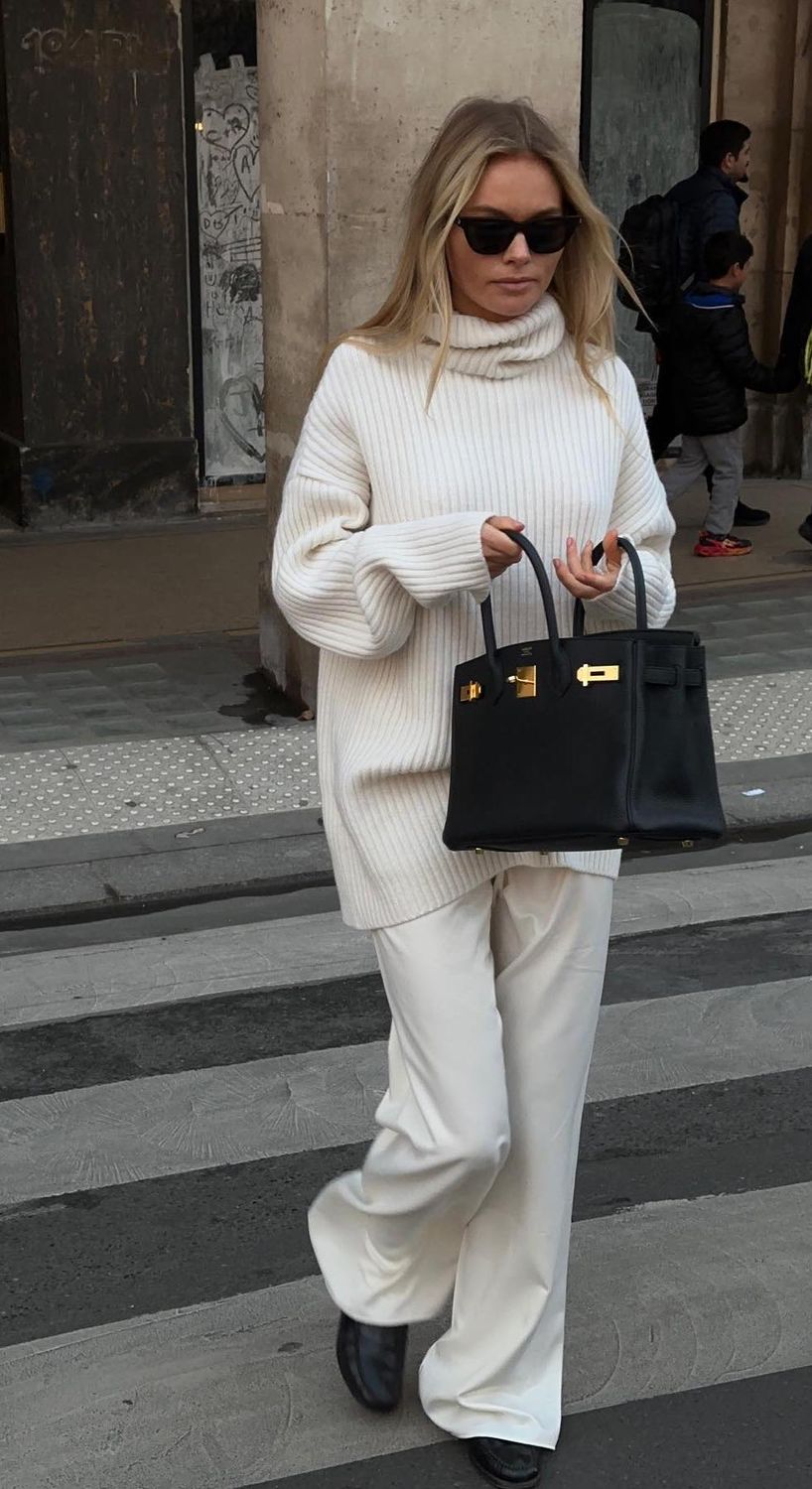 Floral Silk Scarf
Our favorite way to accessorize in spring is with a floral scarf—they add a feminine flourish to any outfit. We love pairing ours with jeans and wedges or wearing them over our shoulders when we're going out at night. It's also perfect for tying around your bag if you need some extra color!
Straw Basket Bag
A straw basket bag is an absolute must-have this spring if you want to achieve that effortlessly cool Parisian style. This straw basket bag by Saint Laurent doubles as a clutch or a cross-body bag, and it comes with a strap if you opt for the latter. Don't be afraid to pair this with your most casual looks—it's all about effortlessness in France!
Chanel Slingback Heels
These Chanel slingback heels in soft beige are perfect for parading around Parisian cobblestone streets this spring. A kitten heel and a pointed toe add a feminine touch, and the little bow adds a touch of femininity. Pair with a long flowy dress or jeans rolled up at the ankle—either way, you will look chic as ever.
Spring Outfit Ideas for Paris
Are you looking for some fresh ideas to help you plan your outfits for a trip to Paris this spring? Then look no further! These Parisian spring outfits and looks will help you look like the stylish Parisian you've always dreamed of becoming.
The Romantic
This look is perfect for a spring morning spent wandering the streets of Paris, with a light breeze and the scent of flowering trees filling the air.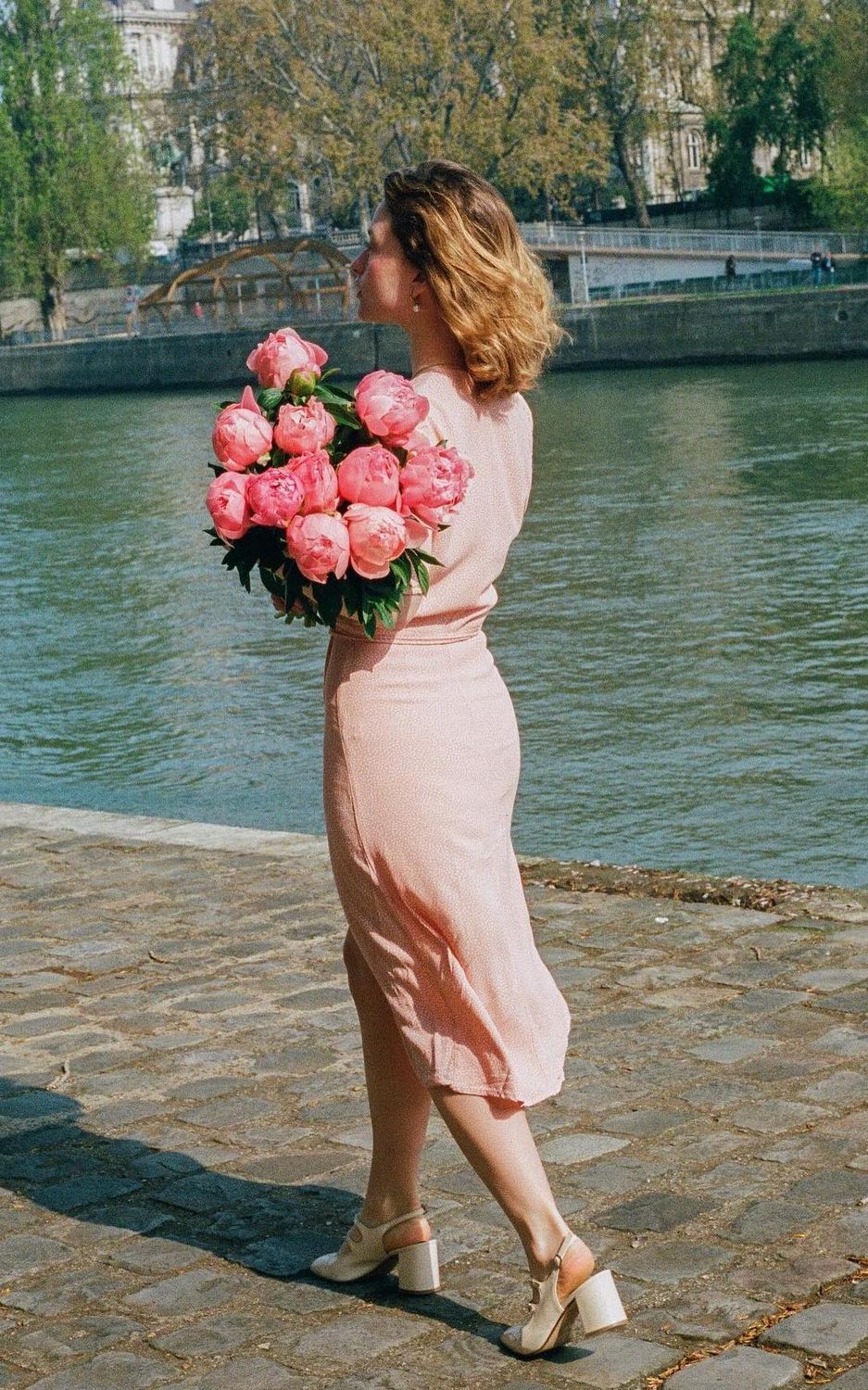 The best part? It's incredibly simple to put together. Pair a fitted red jacket with a navy skirt that hits mid-calf, then top off the outfit with some delicate gold jewelry and oxfords in a neutral color like taupe or beige.
The Minimalist
If you're looking for something more understated—but no less elegant—then this next look is for you!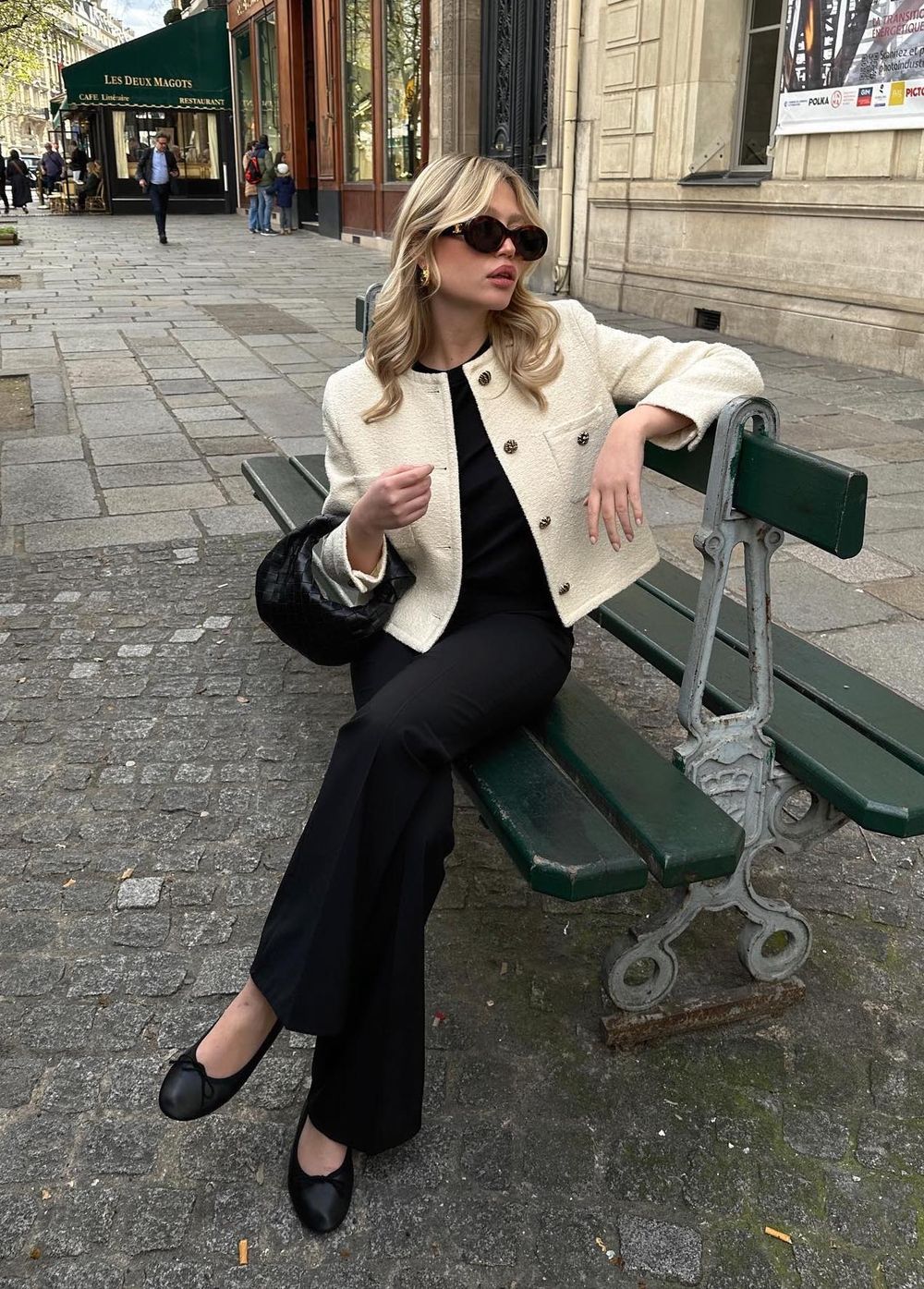 Pair slim black slacks with a pair of pointed-toe heels that, if possible, match the color of your pants as closely as possible (that's what makes it minimalist, after all!). Accessorize with silver jewelry for a sleek and chic effect that will turn heads no matter where your day takes you.
The Bold Statement Maker
If you're in the mood to make a statement wherever you go, then this last outfit has got you covered! Go bold in red pants and add a popped collar to your white button-up shirt to draw even more attention to your colorful style. This look is all about being noticed, so don't be afraid to accessorize with gold jewelry, too.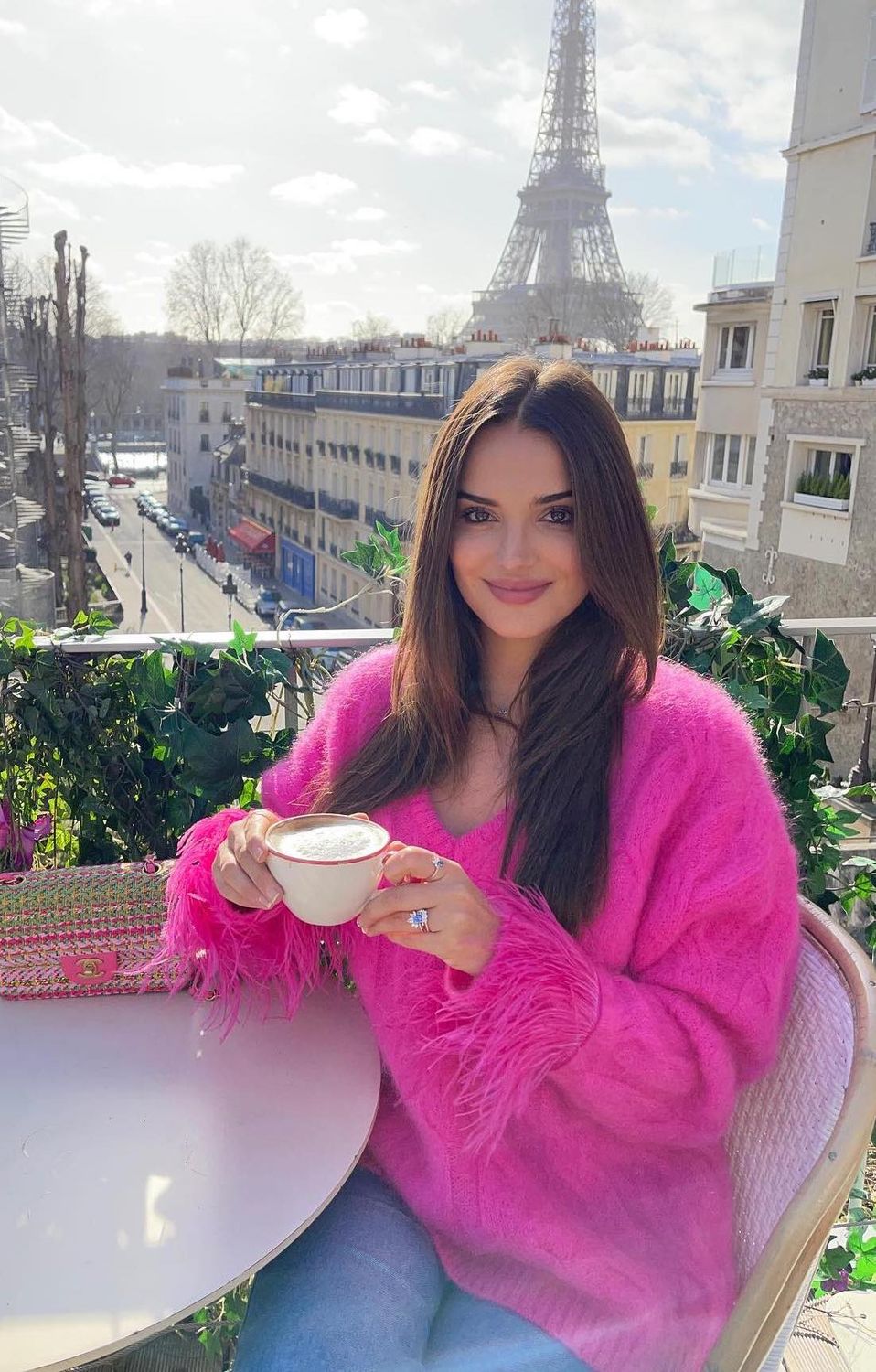 The Bohemian Chic Romantic
For all of us who love the romantic styles of eras past, we have an option just for you: pull out your favorite flowy skirt or dress, add some lace-up sandals, and let your hair down! Top it off with some dainty jewelry if that's your thing, but this look is all about embracing your inner romance novel heroine—and what better place to do that than Paris?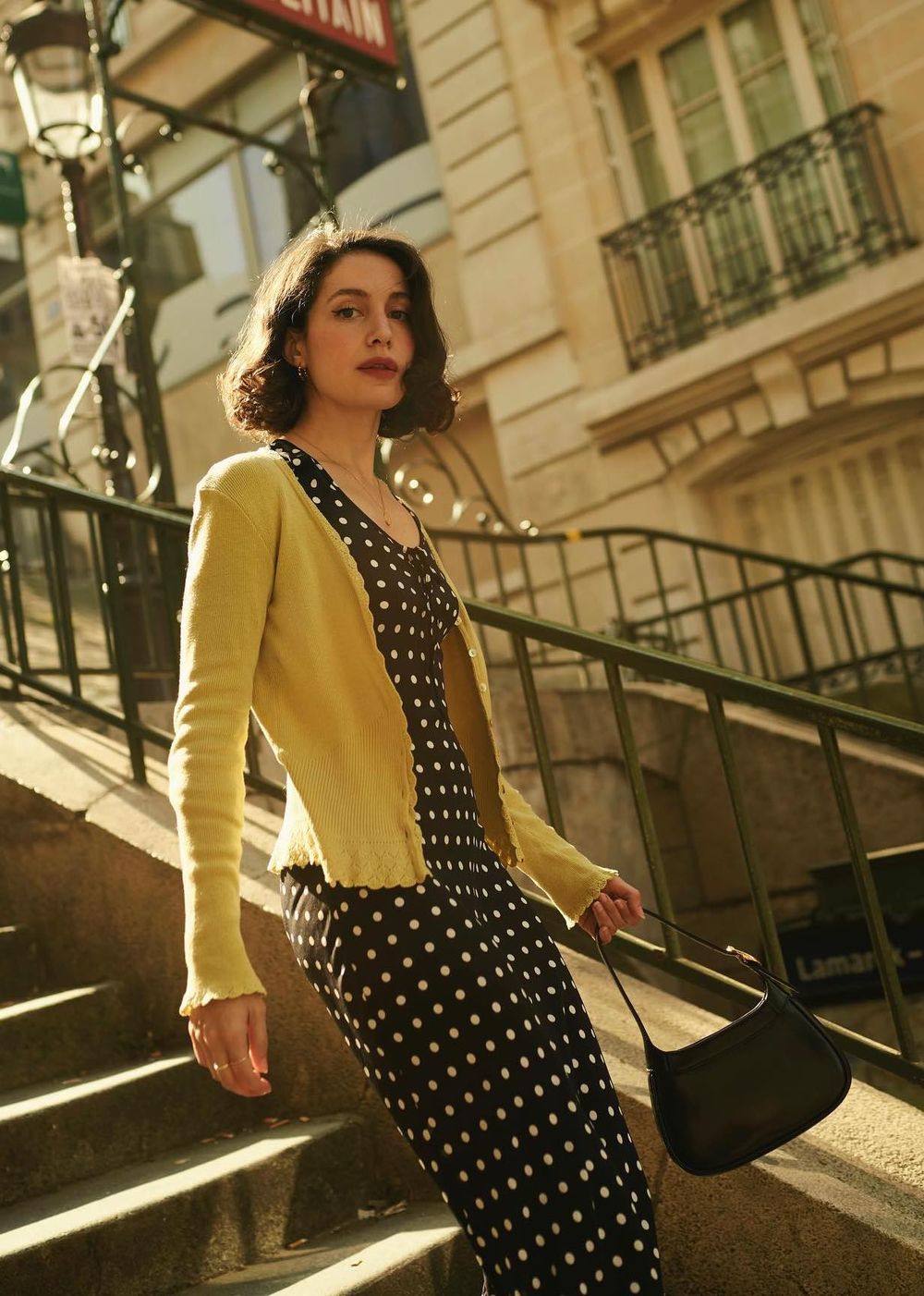 The Classic Parisienne
If you're going for that quintessentially Parisian look, we've got you covered there too! You can't go wrong with a classic striped top paired with black jeans (or a red lip if you're feeling bold), but we've got something special for those who want to stand out from the crowd: try pairing your black jeans with a leather jacket (preferably brown) for an edgier take on this classic look.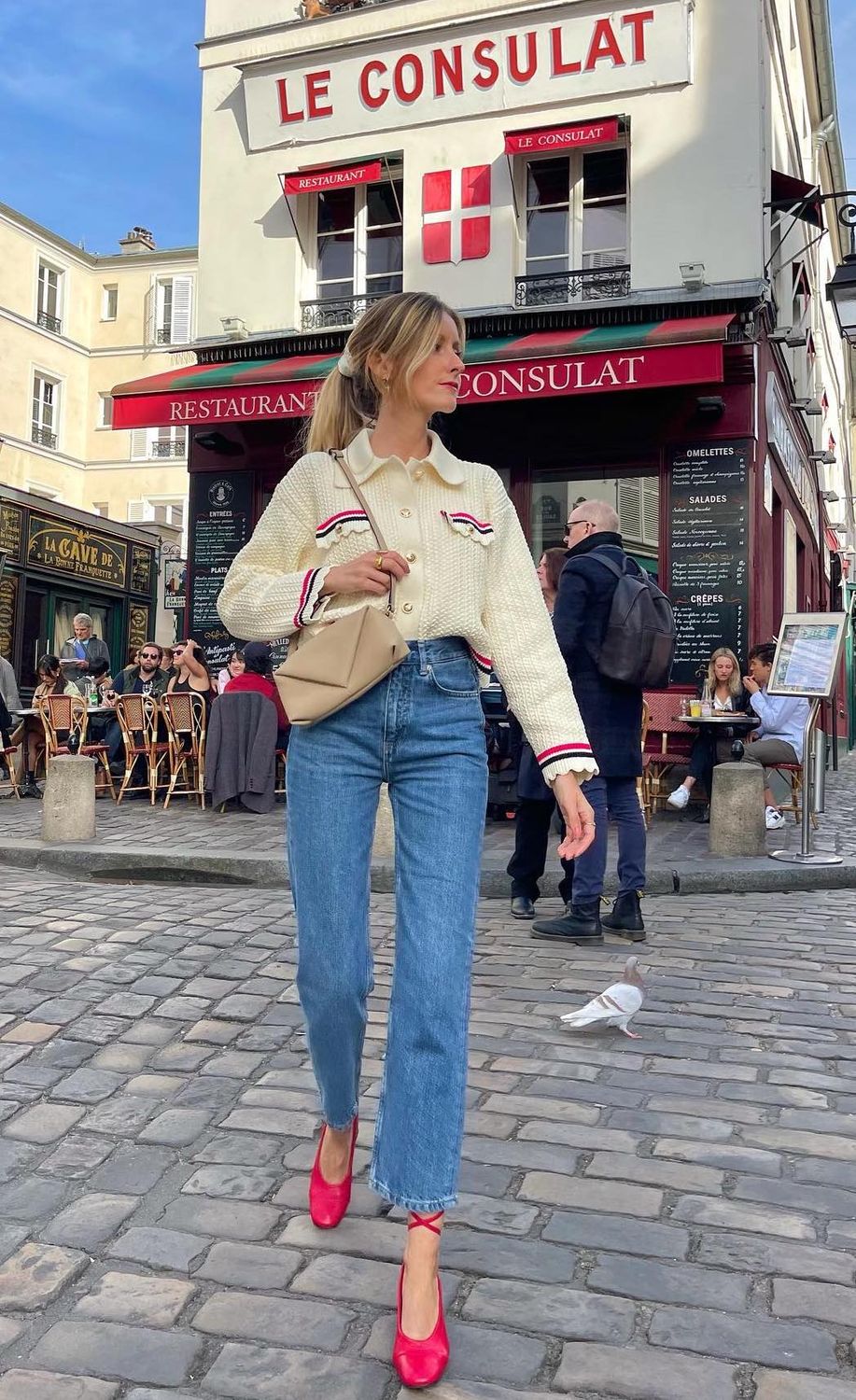 ---
Whether you're an American who loves French style, a new Parisian living in Paris, or an ex-pat living in the French capital, wardrobe changes that come with spring can be a fun way of being more adventurous with your outfits. I hope this article inspired you to up your Parisian spring style wherever you are!