There's nothing like the allure of Paris in the summertime! When the City of Lights bathes in golden sunlight, fashion takes center stage, reflecting a joie de vivre that's both timeless and utterly chic.
Parisian summer style is more than just a trend; it's an embodiment of elegance, comfort, and that distinctive French flair. These are the secrets behind achieving that effortless Parisian charm, from the perfect linen dresses to the must-have accessories that can make even the simplest outfit look sophisticated.
Whether you're vacationing in Paris or want to infuse your wardrobe with French sophistication, these style tips will guide you to a très chic summer.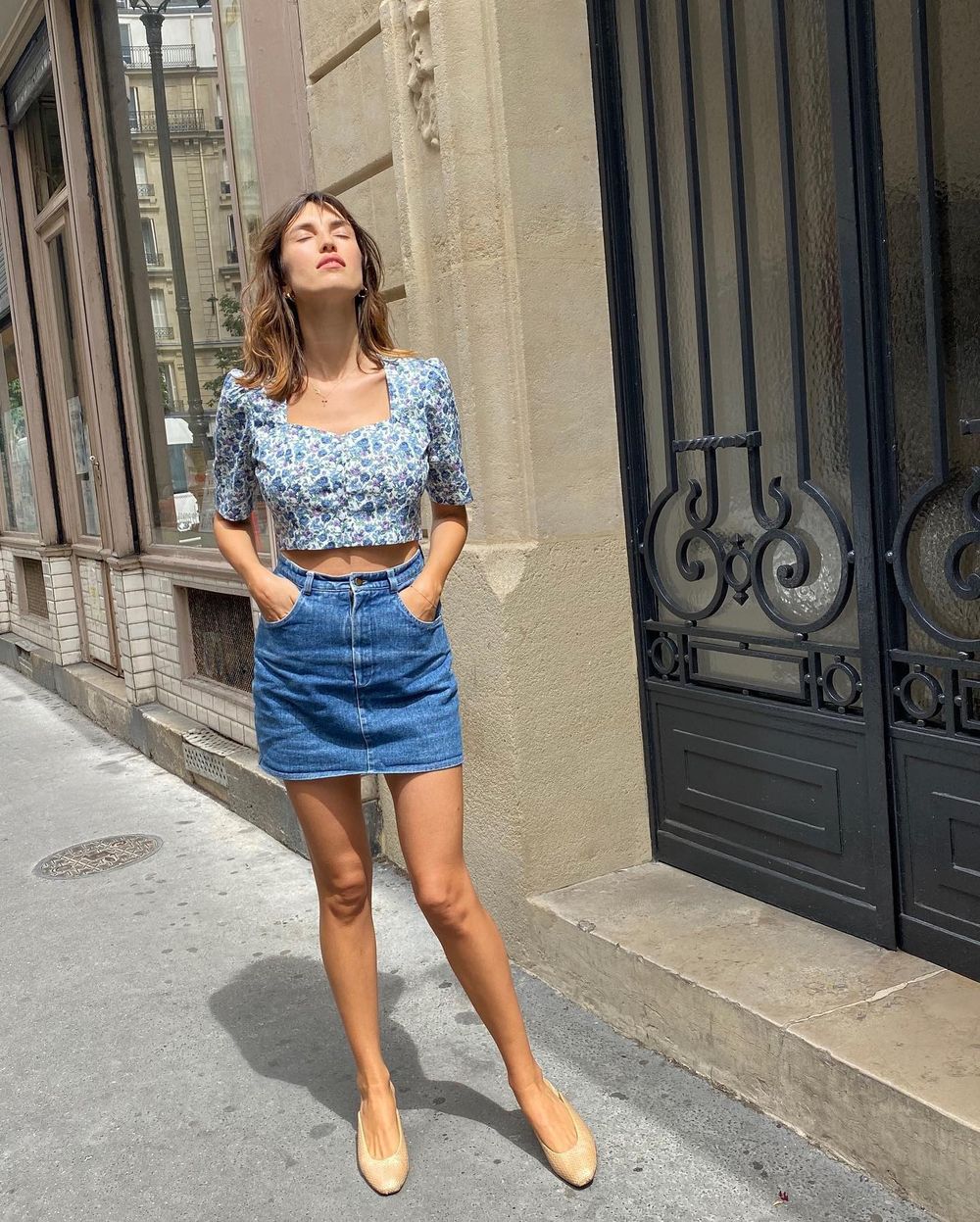 Parisian Style Rules
First things first. You must know about the key Parisian style rules before getting dressed.
Simple Outfits
The number one rule of French fashion is not to try too hard. Parisian girls want you to think they got out of bed and dressed right away, effortlessly. The best way to capture that sentiment is by using simple outfits and staying away from overcomplicated concepts or clothing.
Even though it sounds counterintuitive, it's not that simple to pull off a simple outfit! It'll take practice, but you'll get there eventually.
Don't Show Logos
There are never many logos on a Parisian's outfit – and, sometimes, one is too many! It all stems from the idea of keeping it simple and effortless. Owning expensive clothes makes you look like you're trying too hard – at least, that's how French people perceive brand association and clothes.
What you want is simple clothes with no names or logos on top. If anything, you'll have polka dots or a floral pattern on your shirt or dress, but nothing more than that.
Avoid Flashy Items
Similar to logos, flashy items are a no-no in Paris. Big watches, extravagant sunglasses, showy hats, and similar items will make you stand out for the wrong reasons if you're trying to pull the Parisian summer style.
That's not to say you shouldn't have a simple watch on your wrist or wear sunglasses out on the streets. If you decide to wear accessories, remember to keep them as simple as your outfit.
Aim for the 'Deshabille' Look
Remember, the key here is not making too much of an effort – or, at least, looking like it. The French word déshabillé can be roughly translated as dressing slightly undone and is the perfect way to describe how you should dress to pull off the perfect Paris summer style.
Half-untucked shirts, oversized summer blazers, and loose dresses encapsulate what the French girl déshabillé is all about. Simple and, as you probably can guess, effortless.
Wear Timeless Summer Pieces
Classic black sunglasses, floral sundresses, and a white shirt and jeans combination – those things will never go out of style. They're classics. Go for timeless pieces like that will make you look like you came straight out of Paris on a summer evening.
Remember that an American, British, or German classic may not be considered a timeless outfit in France. Simplicity is important as well!
Parisian Summer Wardrobe Essentials
Here are the summer wardrobe pieces you should have in your closet to dress like a Parisian in summer.
Summer Dresses
Does it get any more effortless than putting on a sundress, and off you go? Of course not! The summer dress is the perfect way for those who want to pull a Parisian summer style, especially for those starting out with this look. Try these feminine Sézane dresses.
These dresses usually come in neutral colors with polka dots or a floral pattern on top, which is exactly as far as you can push it outfit-wise when it comes to French summer fashion.
Fancy White Tops
If you're not feeling like wearing a dress, a fancy white top could be the next best thing during a Paris summer evening. Combine it with blue jeans and your favorite pair of sandals, and you're ready to do whatever you want, French style.
For those looking to add something else to your outfit, wearing a pair of black sunglasses will play perfectly with the white top and blue jeans combo. Anything more than that, and you may be going out of bounds!
Oversized Button-Up
A light blue or white oversized button-up shirt is a perfect addition to your wardrobe if you're after the Paris summer look. Remember to buy light fabrics. Even though French summers are not that hot, they're terribly humid – and, because of that, Parisians everywhere prefer cotton over more heavy stuff.
Combine that with denim shorts or a skirt, and you're good to go. A small tip: Parisian women prefer clothes that are not too revealing, so your denim shorts shouldn't be that short.
Slip Skirts
As we said, Paris summer outfits are usually not too revealing. They are both simple and casual, but they hide more than the eye can see. That's why the slip midi skirt is so perfect for these kinds of outfits. And, of course, you should go for neutral colors here as well, nothing too fancy or flashy.
Straight Leg Blue Jeans
Blue jeans are a classic. They combine with almost everything in your wardrobe and have that timeless feeling you're after. But wait! Not all blue jeans are made equal! Their shape is as important as the rest of your outfit is.
Since you're looking for light and comfortable options here, straight leg blue jeans are the way to go.
White Pants
If you're not a straight-leg blue jeans kind of girl, don't worry! There are other options for you. Wearing white pants is a more risky approach for a night out, but it's the perfect look for you if you're not into the other essential options we've displayed so far.
And, quite honestly, it doesn't get any better than wearing the right shirt and white pants – as long as you choose the right sandals for your feet!
Brown Leather Sandals
If you think the effortless, classic vibe Parisian fashion has stops at the feet, you should think again. French women love wearing sandals during summer and avoid anything too luxurious or complicated for their feet. Having a little high heel here is okay – but don't overdo it!
A nice pair of leather sandals will get your feet ready to walk the Parisian streets like any other Frenchwoman would do – no matter where you are.
Gold Strappy Sandals
Every rule has an exception – and the effortless, comfortable, and relaxed aesthetic of the Parisian summer look finds its exception in a pair of gold strappy sandals.
Of course, you shouldn't get too much of a high heel down there. It's definitely something that shows that you care a little bit, which might seem like it goes against the Parisian fashion no-effort way of doing things.
They look amazing, though – so you might as well wear them and combine them with an effortless look everywhere else.