In this Parisian winter fashion guide, I'm going to share what to wear in Paris in the winter! Whether you're moving to Paris or just want to dress more Parisian, this guide will help you learn how to put together outfits like a Parisian woman. The cold weather shouldn't stop you from dressing chic and elegant. It doesn't stop the Parisians after all! Here is the ultimate Parisian winter style guide.
Parisian Style Rules
First, let's talk about the key Parisian style rules you need to keep in mind!
Forget the Beret: Contrary to popular belief thanks to a Miss Emily Cooper, Parisians actually don't walk around Paris wearing a bright red beret! While this cliché French fashion item is often seen in popular culture, it's rarely seen on the streets of Paris.
Timeless Fashion: French women prefer to wear timeless clothing, especially in winter. They'll go for a solid-colored wool coat for example, instead of a patterned winter coat that happens to be in fashion that season. 
Natural Fabrics: Parisians prefer to go with natural fabrics like wool and cashmere over synthetic materials.
Avoid Flashy Items: Parisians never wear clothing or accessories with a brand's logo splashed all over it. A logo can be tiny, but never a monogram pattern. Leave the LV bag at home!
Parisian Winter Style Trends
Let's talk about the Parisian winter style tips you need to keep in mind as you dress for Paris in winter.
The French Art of Layers
Parisians love to layer their clothing in winter. They might wear a chunky sweater and then tie a striped sweater around their neck for an added winter layer. They could also wear a thick wool coat and toss a sweater over their shoulders for a chic layered look.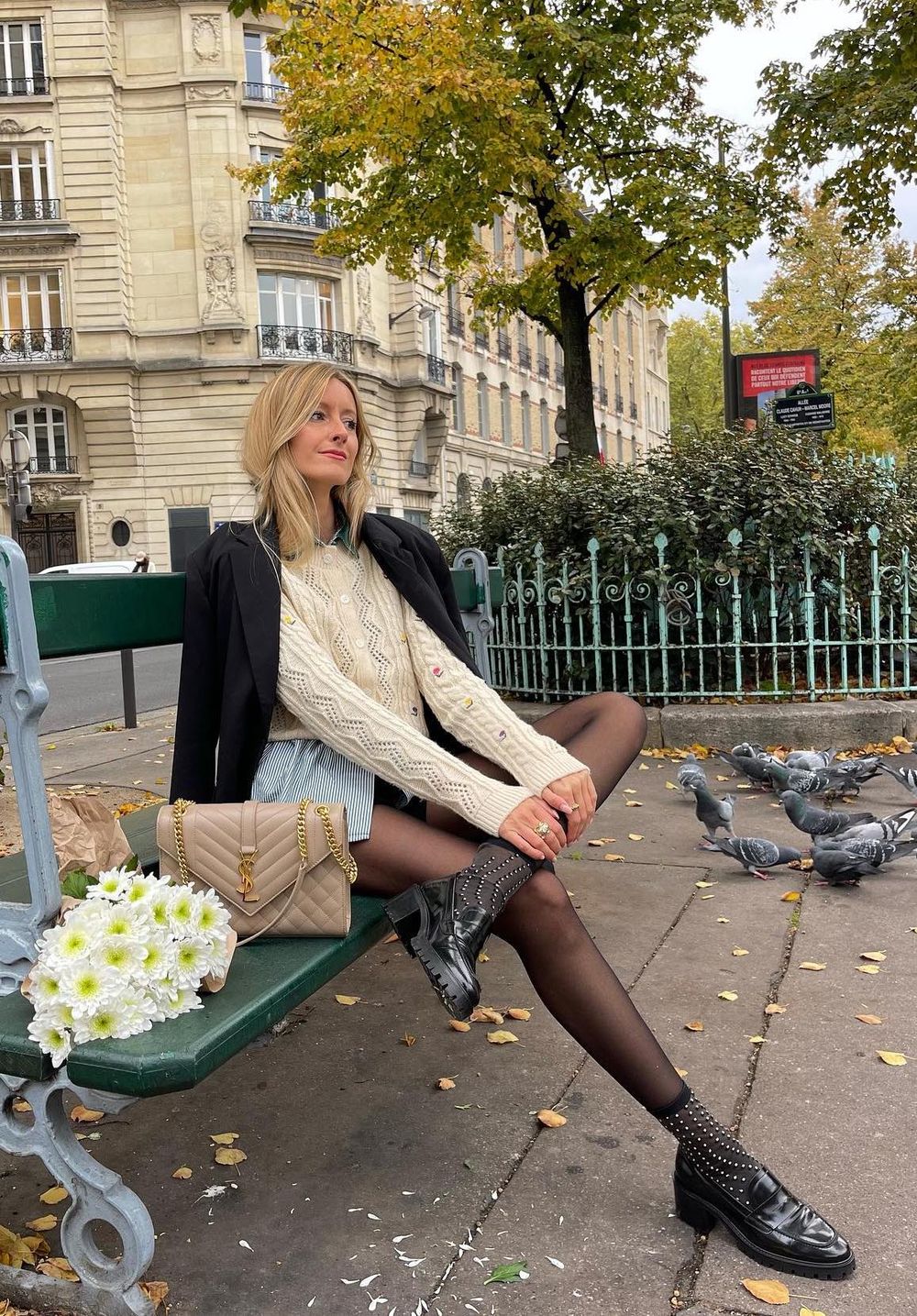 Lots of Wool and Cashmere
Parisians only wear clothing made of extra warm materials in winter. Wool and cashmere are the preferred fabrics for winter wear in Paris.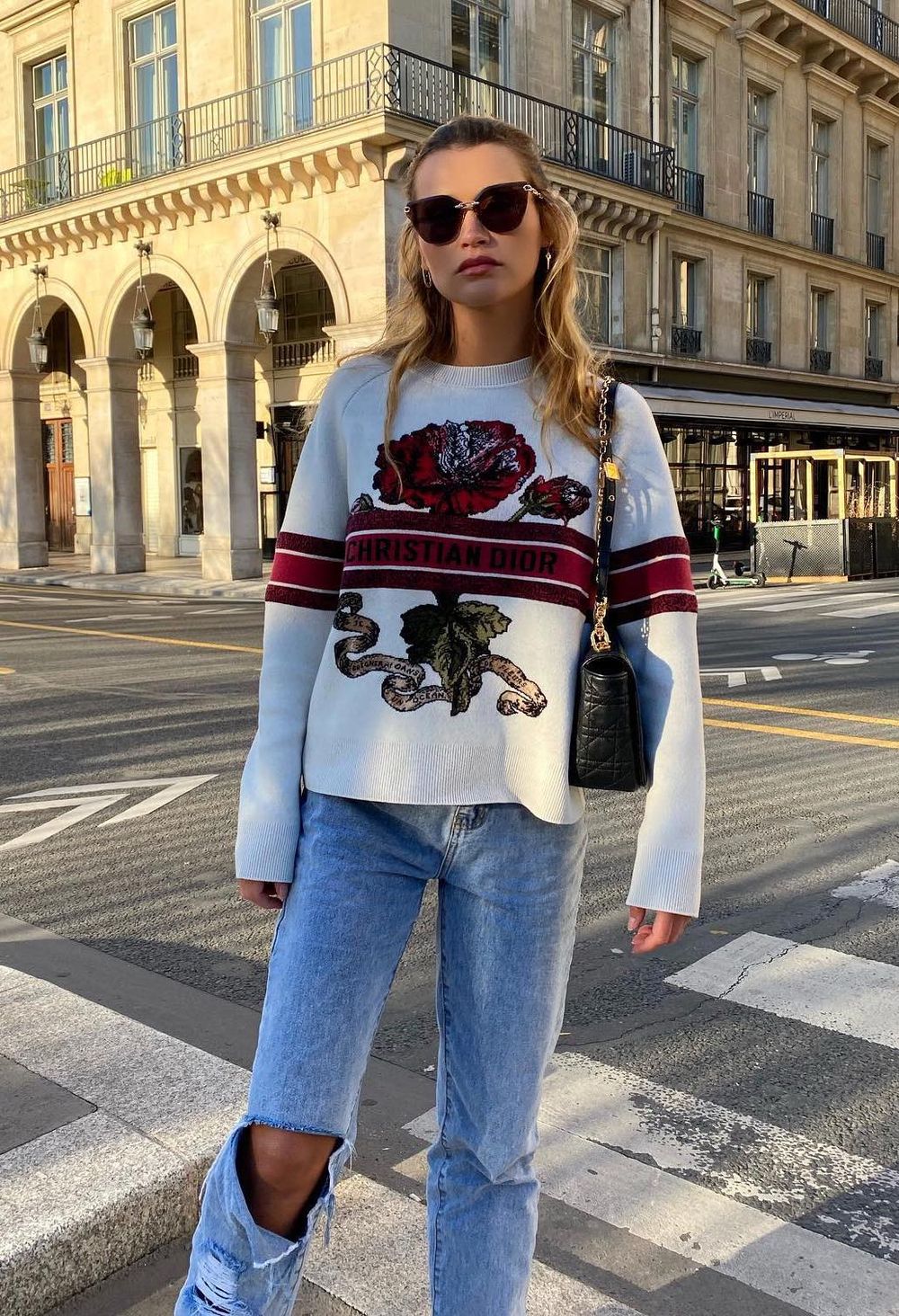 Cozy Outerwear
With lots of rain and a chance of snow in Paris during winter, waterproof outerwear is a must! From rain jackets to thick puffer coats, be sure to choose at least one or two impermeable outerwear pieces for your winter in Paris.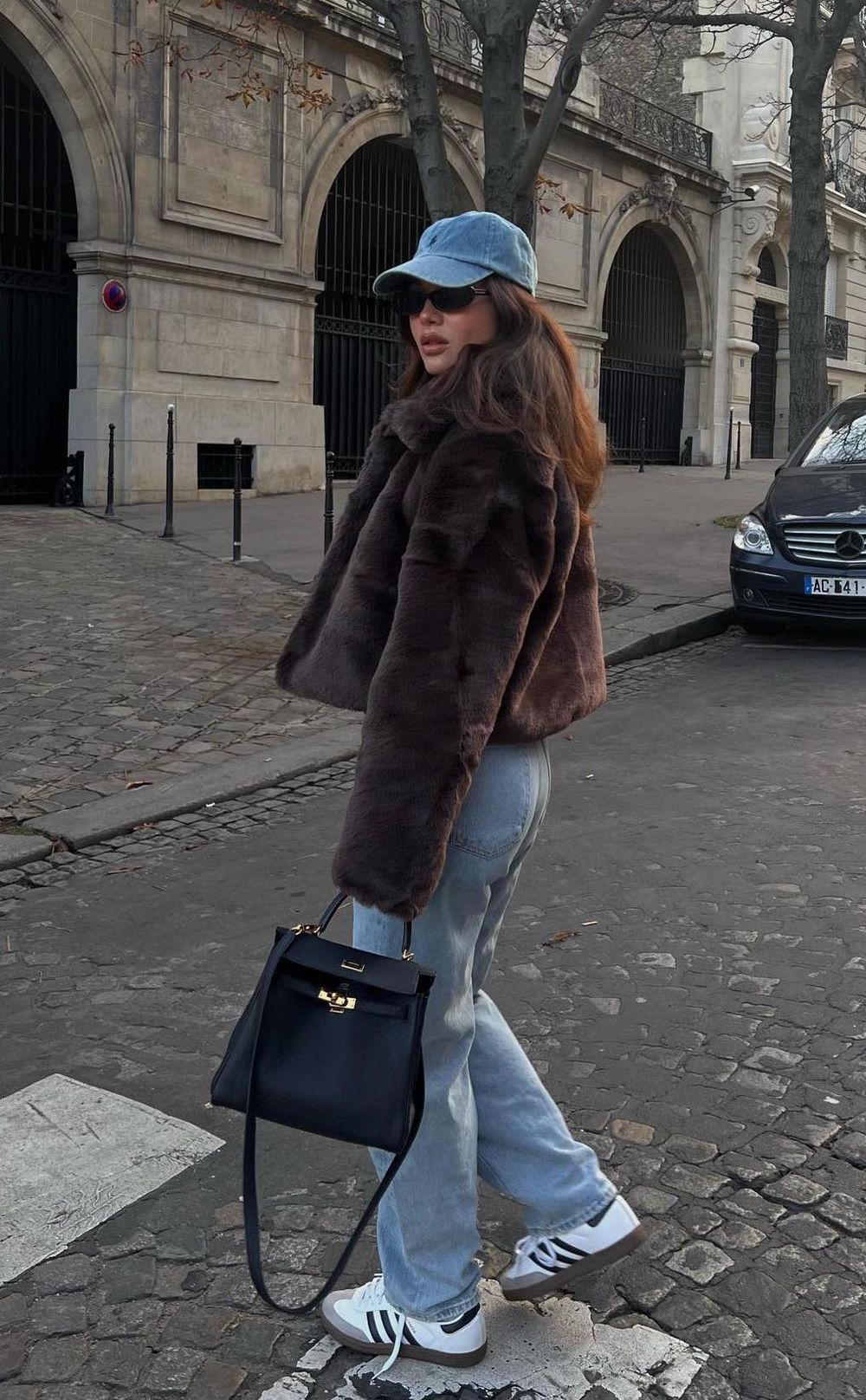 To keep warm, stay comfortable, and look chic during the winter, you need to know what the Parisian fashion essentials are. There is a lot of winter clothing to choose from so it can be hard to decide which pieces are truly Parisian style. To make things easy for you, I'll share the top winter fashion essentials for dressing like a Parisian in winter.
Parisian Winter Fashion Staples
With the French capital's legendary reputation for style, attempting to create an outfit that could pass as Parisian chic can be daunting. But don't worry, these Paris winter fashion essentials will help you put together a sophisticated and elegant look while keeping you warm and dry throughout the chilly winter months. You'll easily fit in with the locals in Paris!
Long Black Wool Coat
When it comes to outerwear, Parisians know that a long black wool coat is a timeless option that will always look elegant, no matter what the rest of your outfit looks like. When choosing a long black wool coat, make sure the length hits just around your knee. This will provide optimal warmth and comfort for long walks in Paris on chilly days.
The wool coat can be either button-up or have a wrap belt on it. Both of these coats can be found in equally stylish designs so it's really up to your preference.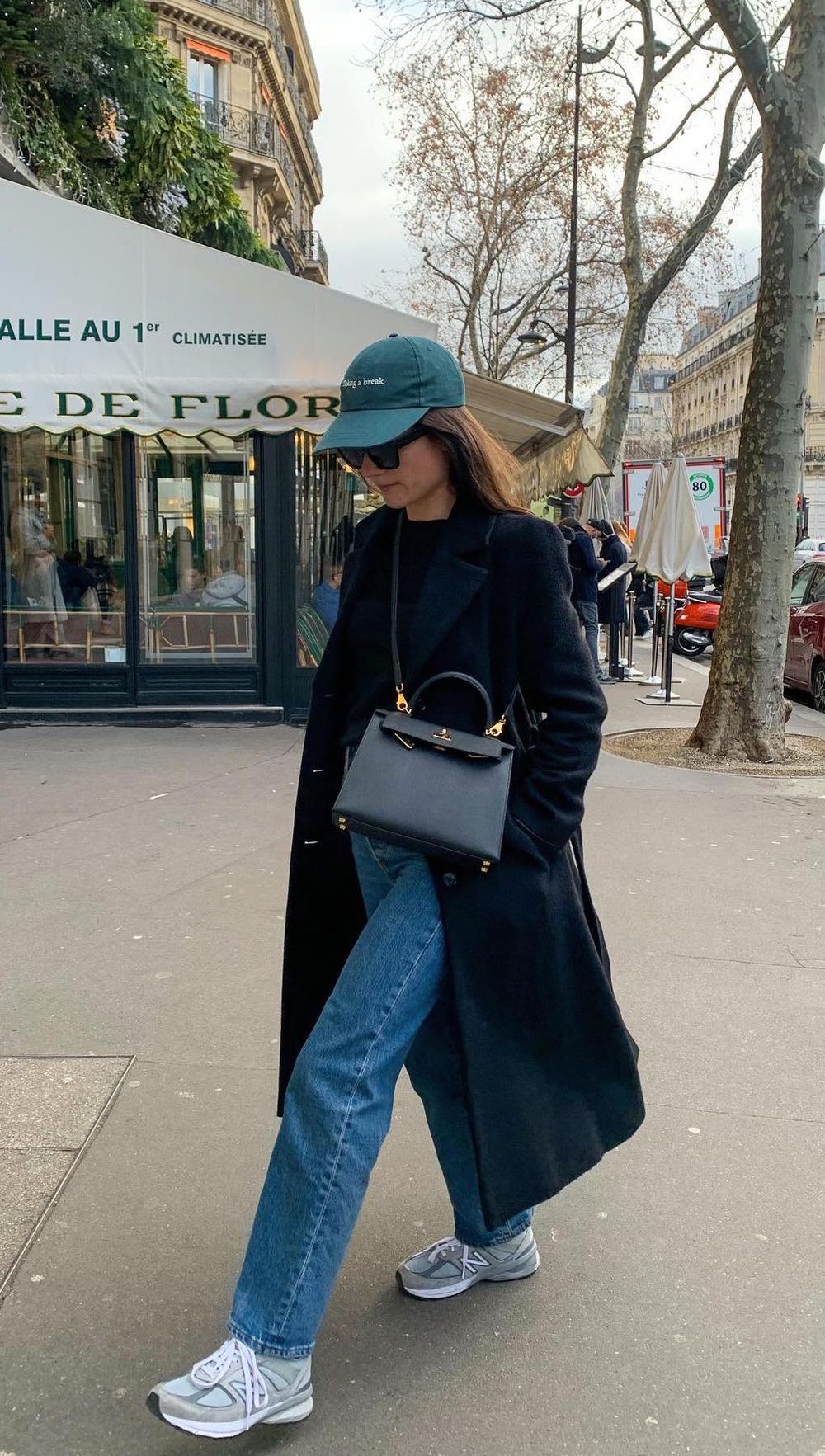 Go for 100% wool if you can afford it, but if you're on a budget, feel free to opt for a synthetic fabric mix – no need to go into debt for fashion! If you're vegan or vegetarian, options exist in high-quality cruelty-free materials like synthetic fiber blends that imitate wool and keep you equally toasty!
Camel or Beige Winter Coat
For more casual daytime looks, Parisians often wear a beige or camel winter coat. This helps them brighten up their looks when the grisaille (endless gray clouds) sets in for the winter months. Camel coats can be found in different styles like wool wrap coats and button-up peacoats.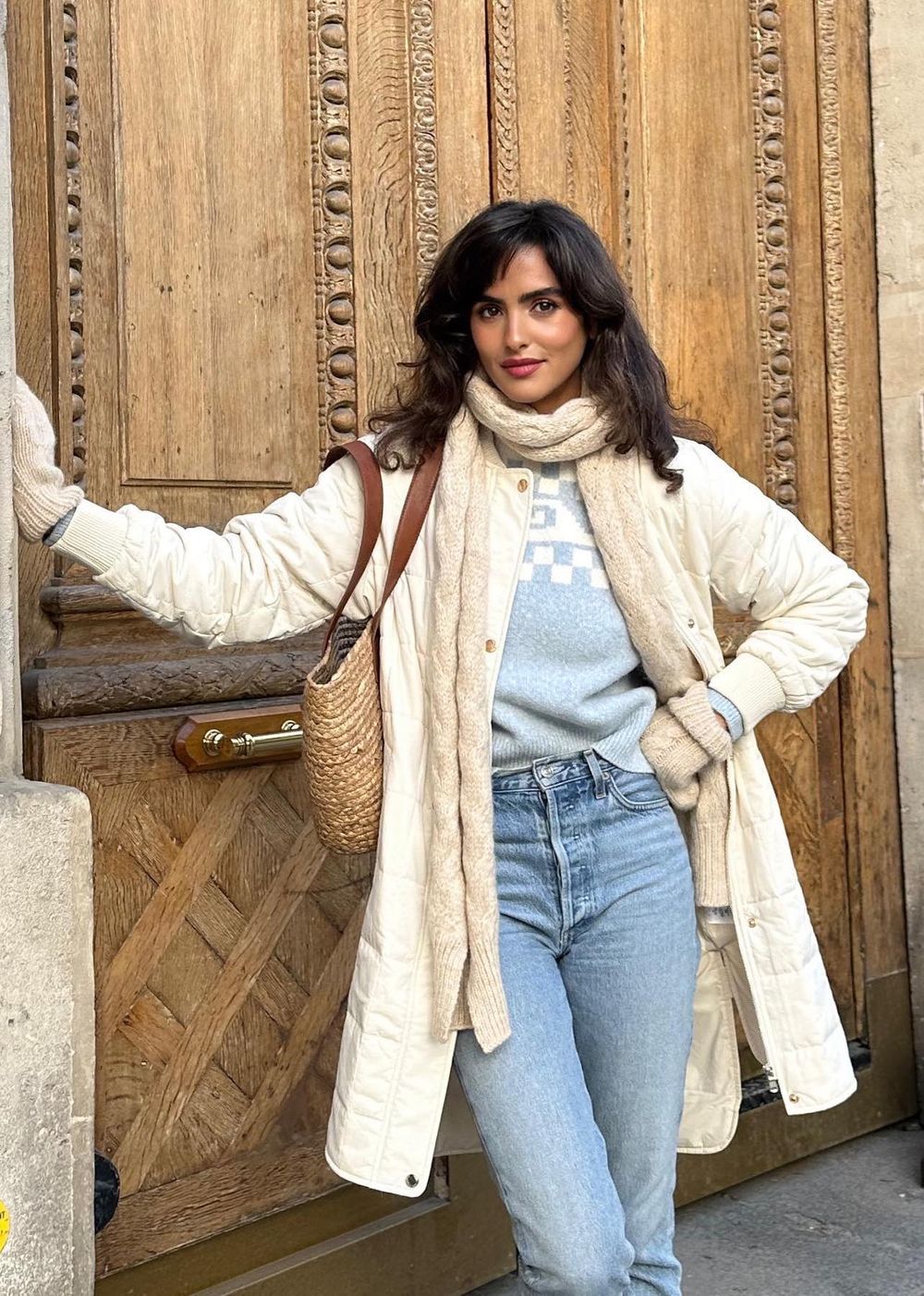 Winter Sweaters
Winter sweaters are an essential part of a Parisian woman's winter wardrobe, and there are many different styles to choose from. The most important feature of a winter sweater is keeping you chic and warm. Winter sweaters should be made out of wool or another natural material. The sweater should fit loosely around the body to not constrict movement but still cover the skin. Most Parisian women prefer sweaters with long sleeves to cover their arms.
Parisian style winter sweaters are available in many different colors, and Parisian women usually choose dark colors such as black, navy blue, or burgundy. Parisian women also like to wear winter sweaters in neutral colors such as gray, beige, and off-white. They'll sometimes wear sweaters that are red or green.
When choosing a winter sweater, it is important to keep what you will be wearing underneath it. Some women prefer to wear t-shirts under their sweaters while others prefer to wear nothing. It is essential to make sure that there is no visible gap between your shirt and sweater so that you do not look disheveled or messy when wearing them together. Wearing two layers of clothing can also make you feel warmer so for me, it's a plus!
Thermals Under Your Clothes
Thermal leggings and t-shirts are one of the most important parts of winter fashion. When it's cold outside, you want to stay as warm as possible. Make sure you put on your thermal leggings and t-shirts before anything else to ensure you stay extra warm when walking around Paris.
Many people think that thermals are something you only wear skiing or snowboarding. But even if you're going for a stroll in the park or visiting your favorite museum and it's below freezing, having a good pair of thermals underneath your clothes will keep you feeling warm and toasty while looking stylish and chic.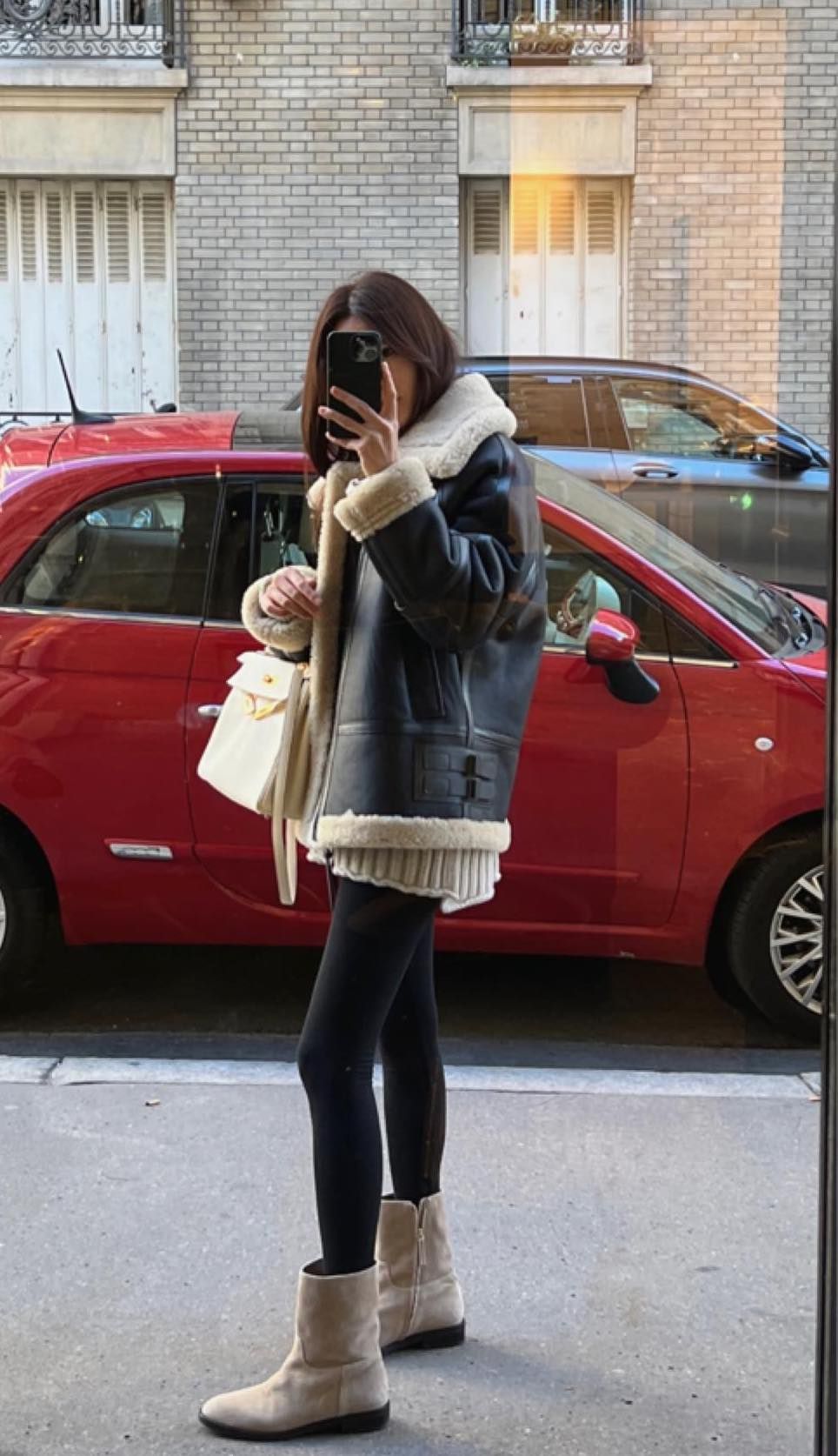 You can get thermal undergarments like leggings or tops with long or short sleeves. Some Parisians even like to wear thermals under their pants to have an extra layer of warmth between them and their legs when they're out in cold weather conditions.
Wool Pants
Winter in Paris can be incredibly cold, and you're going to need a bottom layer that is warm and comfortable. You don't want to be pulling at your leggings or tights all day, so a good pair of wool pants is the way. They will keep you warm and comfortable all day long.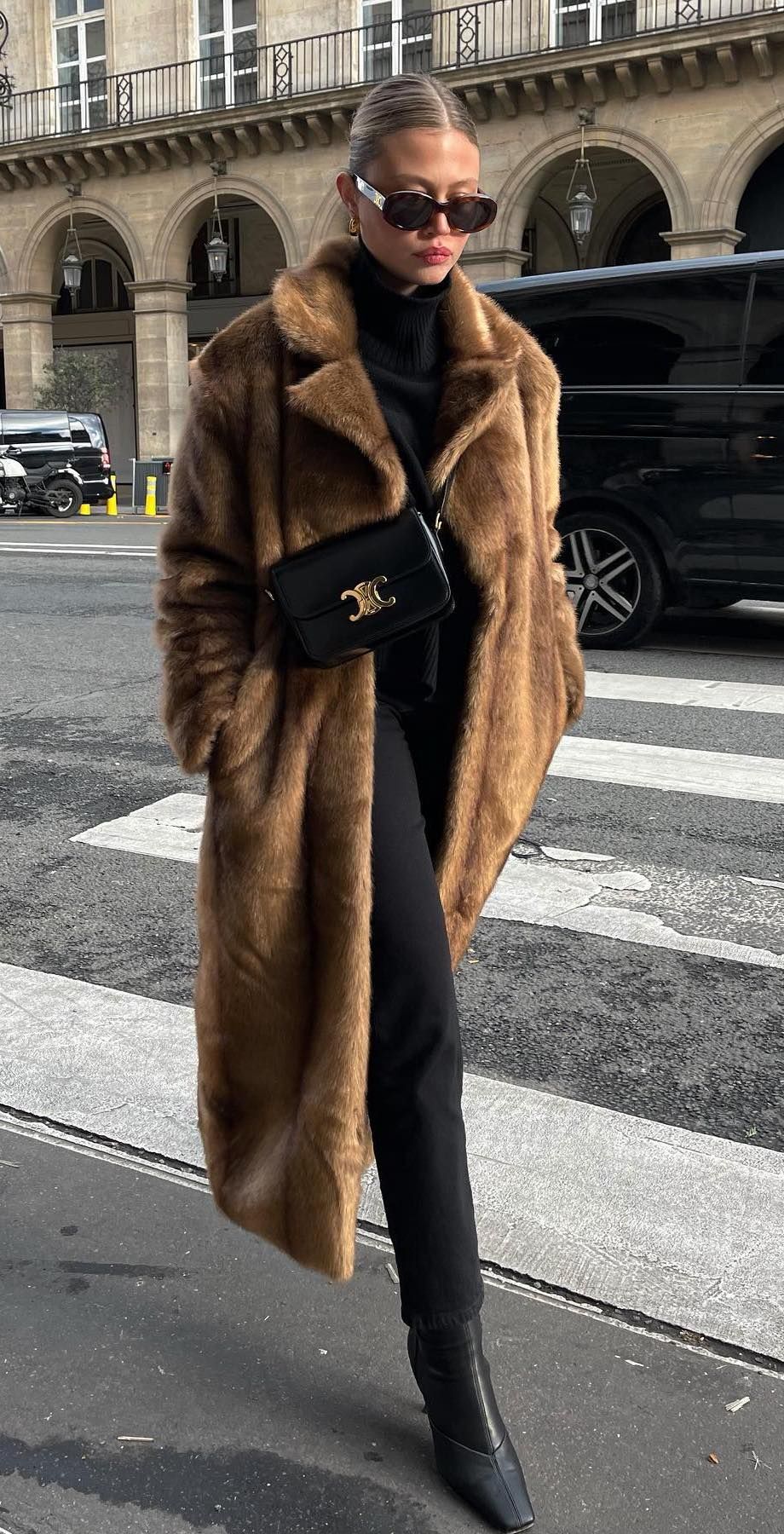 Knee-High Boots
No Paris girl winter wardrobe is complete without a pair of knee-high boots! These chic boots will make you look stylish while also keeping your feet nice and warm. A pair of black leather knee boots are always a good option but if you want something more casual, then try brown instead.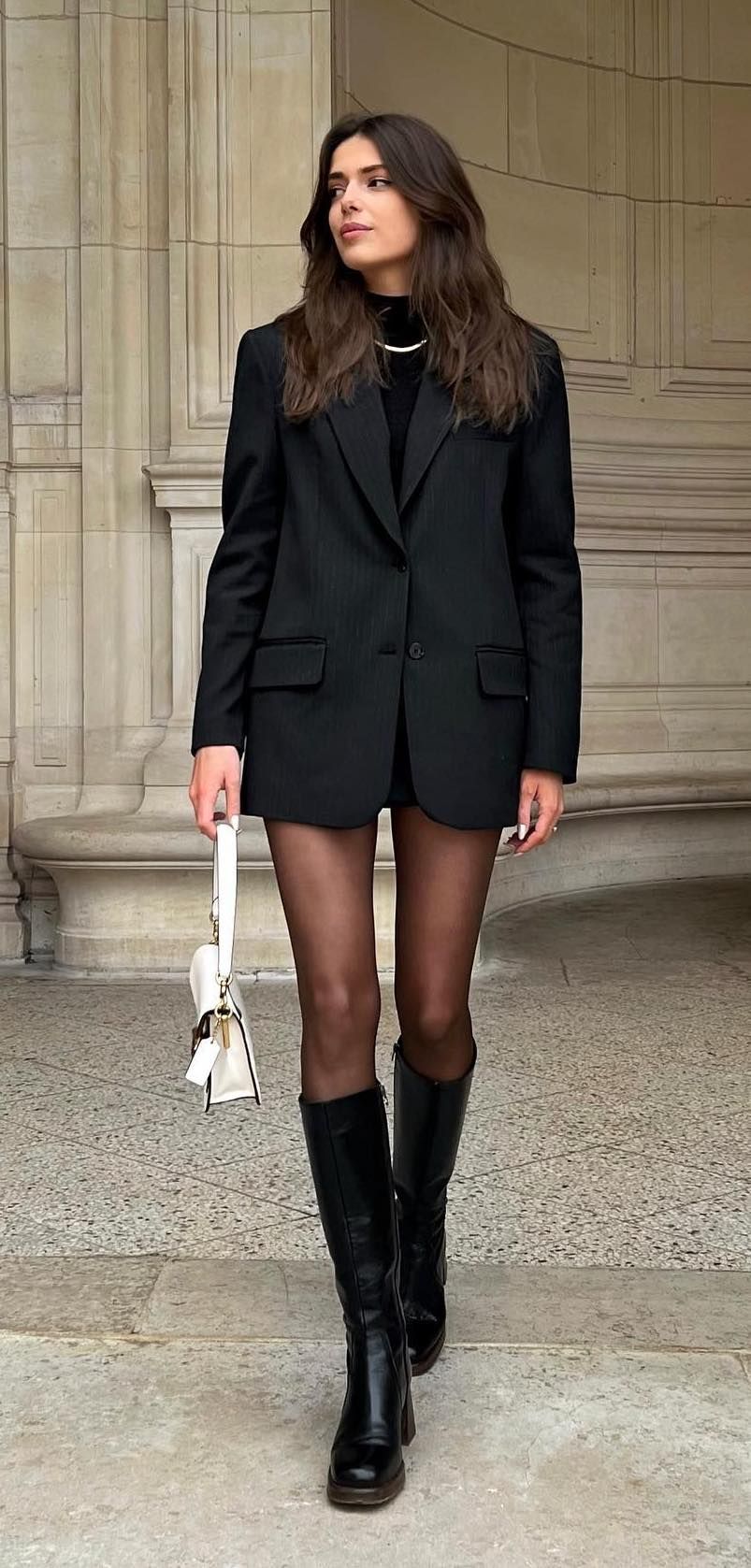 Winter Hats and Chic Earmuffs
A winter hat or a pair of earmuffs is essential for Parisians to stay warm when the weather gets cold. The most popular color is black, but it's fun to mix and match colors so that you make a statement in your outfit. Try a pair of dark blue earmuffs or a gray baseball cap, a white fur-trimmed hat, or cream earmuffs!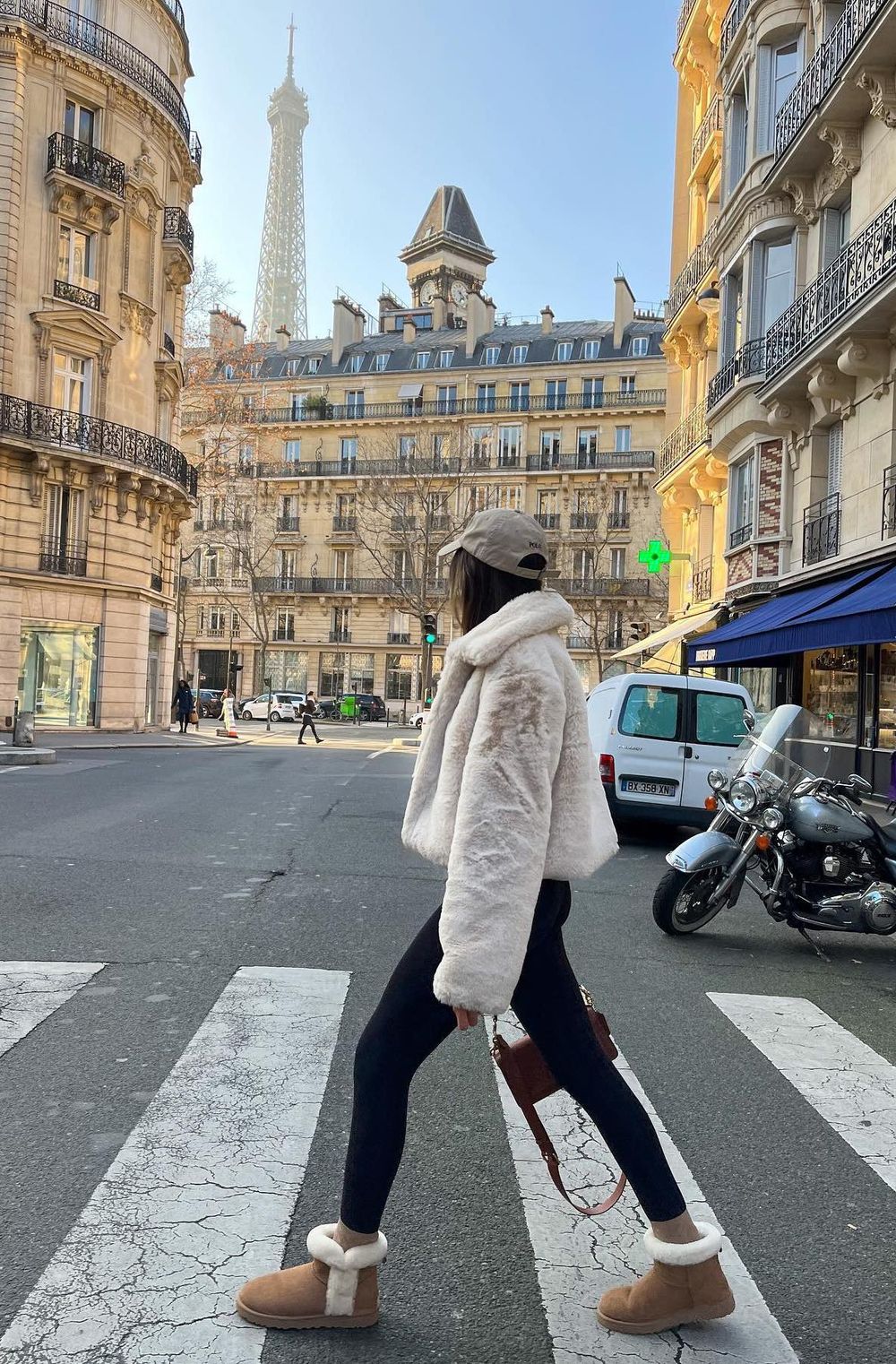 Thick Socks
Thick socks should be worn with any shoe style during the winter. They are especially good for wearing with ankle boots, which are not always thick enough to keep your feet warm on their own. They also help keep your feet dry in rainy weather because they absorb some water from puddles as you walk through them.
Cashmere Scarf
A luxury cashmere scarf is a must-have for any Parisian-inspired wardrobe. The French love their cashmere, and when you're walking around Paris, you'll see locals sporting it every day. A cashmere scarf is also essential if you plan on sightseeing during your trip—a good one will keep your neck warm and cozy while also adding a touch of elegance to your outfit. Cashmere scarves come in many different colors and styles but Parisians love solid neutral scarves the most.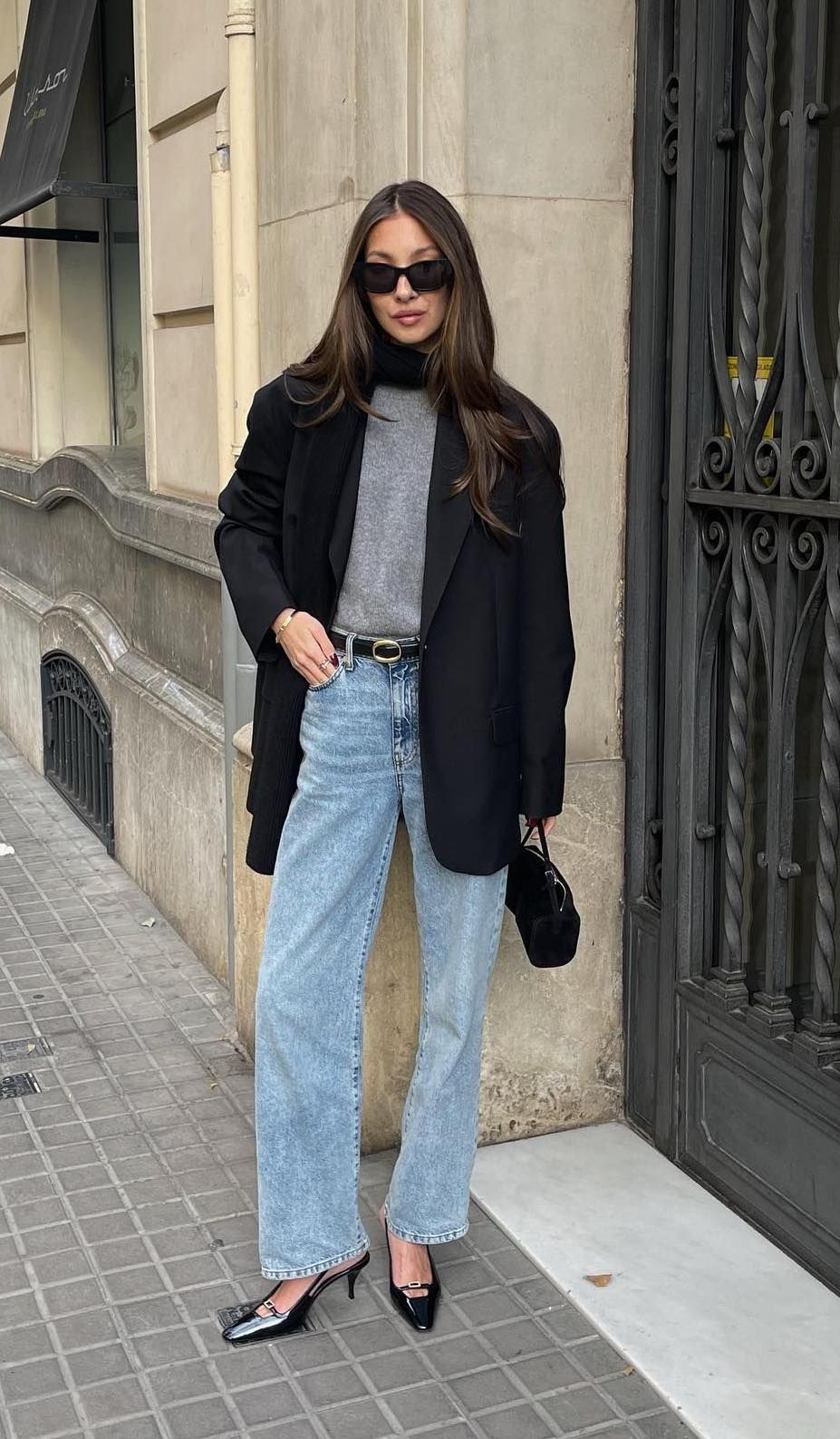 Leather Gloves
Leather gloves are another essential accessory for a Parisian winter visit. Agnelle and Maison Fabre are two brands known for crafting beautiful French gloves for decades. They keep your hands warm and they add an air of sophistication to any outfit. Pair your black ones with dressier outfits when you're going out at night, and save the brown ones for more casual looks.
---
I hope you found these Parisian winter style tips useful! We've got you covered if you're looking for ways to stay warm and look chic this winter. These chic Parisian winter essentials will certainly help you make it through the cold season in style.