These French style icons of the 2000s influenced our contemporary way of dressing much more than you might think. The 2000s were an interesting period of time. The start of the 21st century brought us into the modern world and styles shifted dramatically. While Americans reached for their popcorn tops and terry cloth tracksuits, the French kept it much more classic.
2000s Fashion Icons from France
Here are the French 2000s style icons I look to for inspiration when I want to take a trip down memory lane!
Carla Bruni
French-Italian model turned French First Lady Carla Bruni made a splash on the international fashion scene in the 1990s and 2000s. Her elegant looks were copied by women around the world.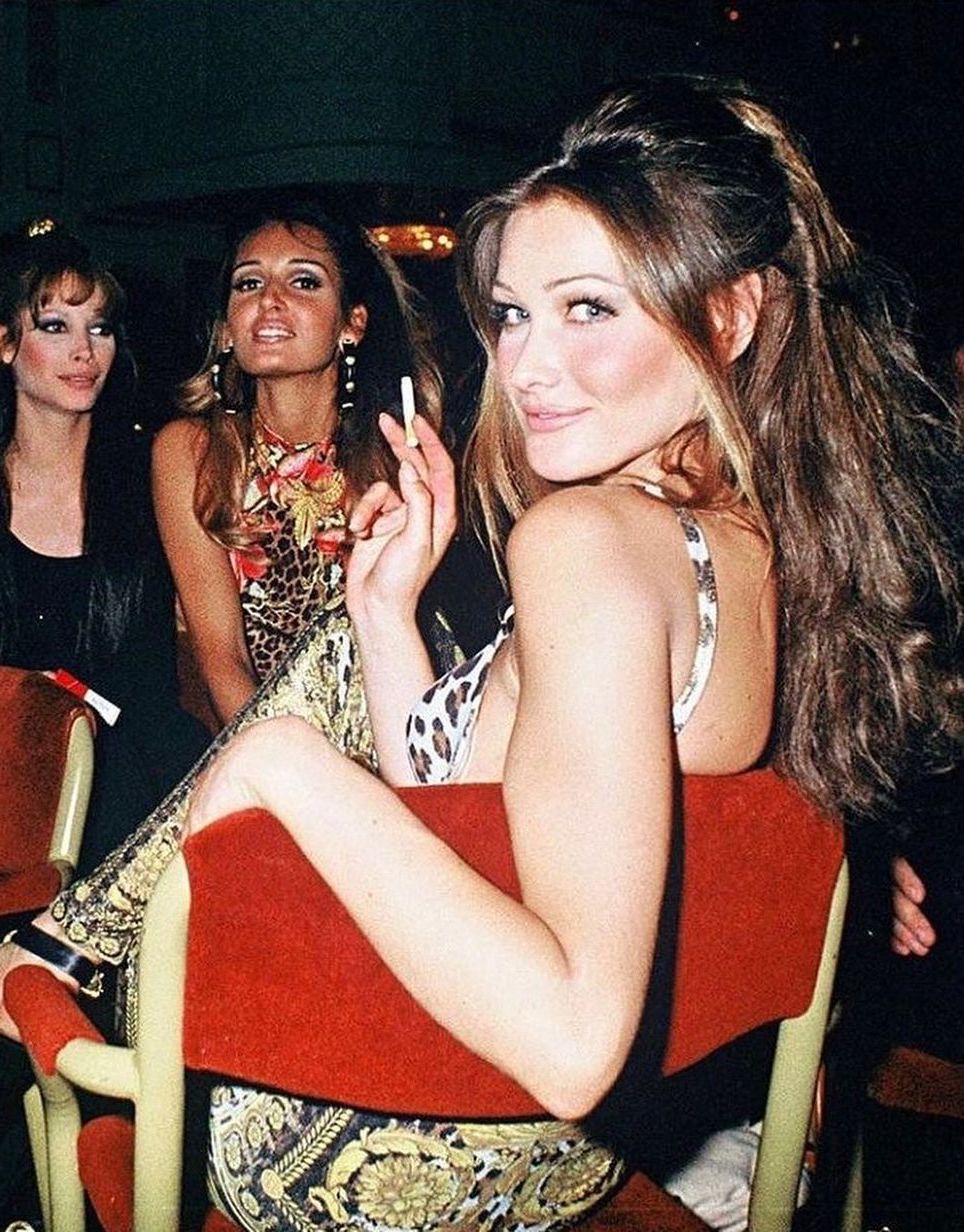 Carla Bruni-Sarkozy is a fashion model turned musician who married former French President Nicolas Sarkozy in 2008. She worked as a model from 1987 to 1997 before pursuing a career as a singer.
Bruni was born in Italy but moved to France when she was seven. She got her musical talents from her parents. Her mother was a pianist, and her father was a composer. She is the heiress of her grandfather's company, CEAT.
She became a model at 19. Her first major gig was promoting jeans for the clothing company Guess. Since then, she became a leading figure in the world of fashion.
Marion Cotillard
Academy award-winning French actress Marion Cotillard made everyone swoon in the 2000s with her chic French style. 
Famous for her roles in indie films and blockbusters, Marion Cotillard is an award-winning actress and singer. Some of her most notable accolades include a Golden Globe Award, an Academy Award, and a European Film Award.
She grew up in a household that nurtured her to become the artist that she is. Her father is an actor, theater director, and former mime. Her mother is also an actress and drama teacher.
Marion began performing in one of her father's plays when she was a child. In 1993, She sought an acting career in Paris, and now, she is one of the best in the industry.
Ines de la Fressange
French model Inès de la Fressange gave us classic, easy-to-replicate French style no matter your age. 
Ines de la Fressange found success in several fields as a model, perfume expert, and aristocrat. She shot to worldwide popularity in 1998 by being included in the International Best Dressed List Hall of Fame.
Her mother is the Argentine-Colombian model Cecilia "Lita" Sánchez-Davila, linked to two past Colombian presidents. Her father's side of the family descends from a line of French nobility.
With her ideal physique and well-formed commentary on fashion, she was dubbed "the talking mannequin" at age 17. Her name and brand became famous across France, USA, and Japan.
Caroline de Maigret
Caroline de Maigret was the ant-fashion French model who showed us how to do French rocker chic and play with masculine fashion. A woman of many talents, Caroline de Maigret is an international model, music producer, and author. Later on in her career, she also engaged in acting and directing. Caroline is the child of a French count, and her grandfather is former Polish Prime Minister Michel Poniatowski. Her modeling potential was discovered when she started college. She was signed by Next Model Management in New York City to join big fashion shows of Dior, Balenciaga, Louis Vuitton, Chanel, and more. When she returned to Paris, she established her recording label.
Vanessa Paradis
French singer-songwriter Vanessa Chantal Paradis had impeccable style during her heyday in the 90s and early 2000s. She is a prominent model, singer, and actress who started out as a child star. She received France's highest honors as a singer and actress at the young age of 18. Her musical career began at eight years old when her uncle, music producer Didier Pain, arranged for her to perform in a television talent contest for children. Afterward, she dove into the artistic fields of acting and modeling, finding success in each of them. She has also served as an inspiration for several musicians in France.
As you can see, France is filled with women of class. However, only a few of them become style icons of their generation. Here are the most influential French women who became 2000s style icons.